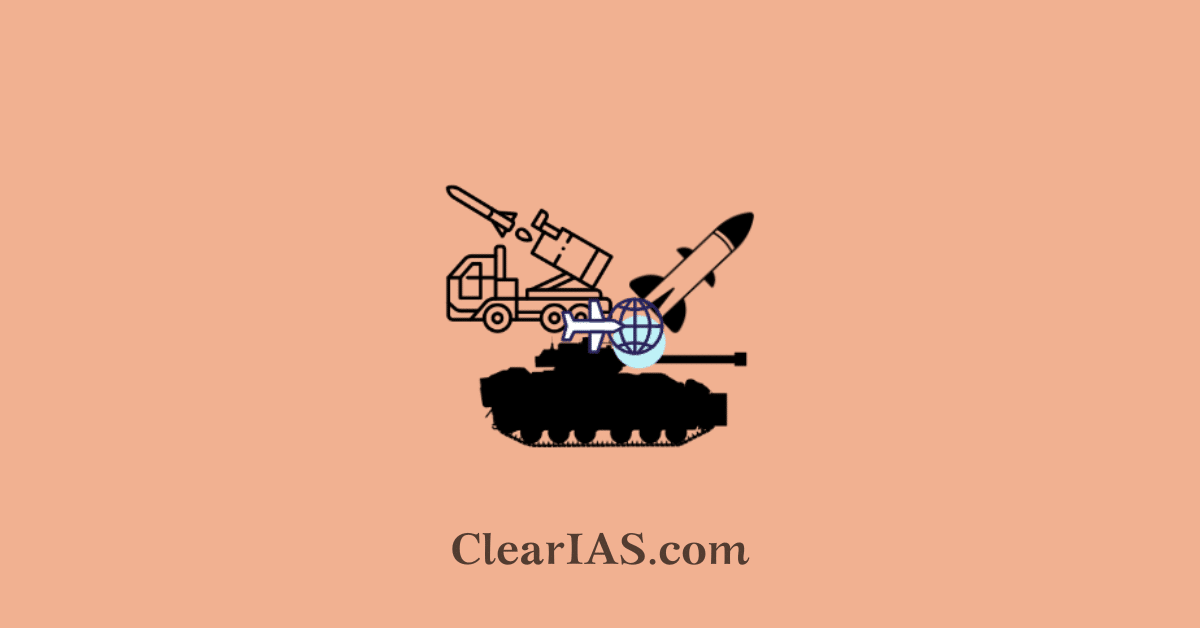 India's defence exports are seeing great growth in the past few years. Recently, a tenfold jump in defence exports was reported. Even though India is still the largest importer of arms globally, the exponential growth in exports is a positive sign to turn the balance in India's favour. Read here to learn more about the strategies for enhancing India's defence exports.
India's defence exports have reached an all-time high in the financial year 2022-2023, a tenfold rise since 2016-17.
Self-reliance and indigenization in defence are important for both strategic and economic reasons and have, therefore, been an important guiding principle for the government.
The government considers that the industrial and technological development in the sector has made it possible to achieve this objective by harnessing the potential of the Indian industry along with the technological capabilities developed by academic and research institutions.
India's defence export
Though India has made rapid strides in defence technology and industrial base in the recent past, it is yet to cover significant ground in terms of new product development and scale of production.
The domestic defence industry would have limited scope for investment in R&D and production if it relied only on domestic demand.
A key component of the government's effort to achieve self-sufficiency in the manufacture of defence is defence exports.
Italy, the Maldives, Sri Lanka, Russia, France, Nepal, Mauritius, Sri Lanka, Israel, Egypt, the United Arab Emirates, Bhutan, Ethiopia, Saudi Arabia, the Philippines, Poland, Spain, and Chile are just a few of the nations to which more than 30 Indian defence companies have exported weapons and equipment.
Personal protective equipment, defence electronics, engineering machinery, offshore patrol boats, sophisticated light helicopters, avionics suites, radio systems, and radar systems are among the exports.
India has struggled to turn interest in its products, such as the BrahMos and Akash missile systems, from nations like Indonesia, Malaysia, Singapore, Vietnam, Egypt, South Africa, and Brazil into commercial activity.
The BrahMos missile system has drawn the attention of these nations, but India hasn't been able to turn that interest into commercial activity.
India has also failed to get significant orders for naval defence from nations like Oman, Burma, Mauritius, and Vietnam.
Also read: Indian Arms Import
Challenges
In comparison to other major defence exporters like the US, Russia, and Israel, India's defence products are frequently seen to be of poorer quality and greater price.
India only exports defence products to a small number of nations and product groups. This restricts its ability to access the world's defence market.
It is challenging for exporters to traverse India's bureaucratic red tape and obstacles in the way of defence exports.
Potential exporters may be perplexed and hesitant due to India's unclear defence export policy.
India continues to import a sizable portion of its defence hardware, which restricts its ability to export cutting-edge defence technologies.
Government initiatives for defence export
The Government had already announced a Defence Production Policy in 2011 to achieve:
substantive self-reliance in the design, development, and production of equipment/weapons systems/platforms required for defence in as early a time frame as possible;
to create conditions conducive for the private industry to take an active role in this endeavour;
to enhance the potential of SMEs in indigenization to broaden the defence R&D base of the country.
The Defence Production Policy lays due emphasis on the indigenous production of defence equipment with a greater role of the private sector, SMEs, and R&D institutions.
However, the objective of the Defence Production Policy will not be achievable without having a well-thought-out export strategy so that the industry is assured of access to export markets in addition to the domestic markets for investing in the sector.
Defence Procurement Procedure (DPP) 2016
The DPP 2016 came out with a new category called Indian IDDM (Indigenously Designed, Developed, and Manufactured).
If any Indian company opted for Indian IDDM, it was given preference over all other categories.
Defence Production and Export Promotion Policy 2020 (DPEPP 2020)
The DPEPP 2020 is imagined as an overarching guiding document to provide a focused, structured, and significant thrust to the defence production capabilities of the country for self-reliance and exports.
Promotion of India's defence export sector
A multipronged strategy has been adopted to encourage the export of defence products:
Export promotion body
A specific export promotion/ facilitation body would be set up with participation from industry representatives.
The body could be in the form of a society or a not-for-profit company under the Companies Act.
The role of the body would be to render advice to the government on various export-related issues, coordinate all export facilitation schemes of the government, increase awareness amongst the industry about various export facilitation measures, and promote exports through specific
Defence Export Steering Committee
In the government, a body namely the Defence Exports Steering Committee (DESC) under the Chairmanship of the Secretary, Department of Defence Production would be constituted.
The Committee will have representatives of the Armed Forces, DRDO, PIC Wing, Acquisition Wing, MEA, and DGFT.
The functions of this Committee would include considering and taking decisions on cases of export permissions, which are outside the purview or scope of subordinate authorities/committees particularly the export of indigenously developed sensitive defence equipment, monitoring the progress in defence exports, and suggesting specific steps/ strategy boost exports. marketing efforts in targeted countries.
Government support
Defence exports are covered by the defence diplomacy between friendly countries which contributes to building local operational capabilities and, therefore, enhances inter-operability with our forces, especially during UN peacekeeping missions.
Industry delegations would be taken to target countries under the leadership of officials or DPSU representatives.
Indian Embassies/ Missions abroad would be associated with making targeted efforts to promote the export of Indian defence products.
Export financing and incentives
Specific incentives and promotion schemes for defence exports may be implemented in consultation with the Department of Commerce, industry associations, and the Ministry of External Affairs within the purview of Foreign Trade Policy.
A separate strategy to finance the exports to weaker countries would be worked out in consultation with MEA, EXIM Bank, DPSUs, the private sector, and other financial institutions.
Offset policy
Offset is an important mechanism available to the domestic industry to enhance export capability.
The Offset Policy may be reviewed and aligned towards the final integration of weapons/systems in India and promoting the export of such systems from India.
The Policy may also be reoriented towards the acquisition of critical technologies required for high-end weapons/platforms so that the same can be leveraged for export.
Also read: India's Nuclear Weapon Programme
Way forward
There is a need to promote investment in the defence sector, both in R&D and production, thereby resulting in higher self-reliance and indigenization.
While putting in place the policy framework and procedural mechanisms, the thrust would be on indigenous production and exploring possibilities of exports to other nations that may look forward to supplies from India.
Defence technology has a high degree of attractiveness and poor economies of scale since it requires a long-term commitment. Hence, boosting domestic output without a solid R&D program and export plan may not produce the intended benefits.
Therefore, the defence industrial policy has to be supplemented by the strategy for defence exports without which the economic base of the defence industry would be difficult to sustain in the present economic competitive environment.
-Article written by Swathi Satish