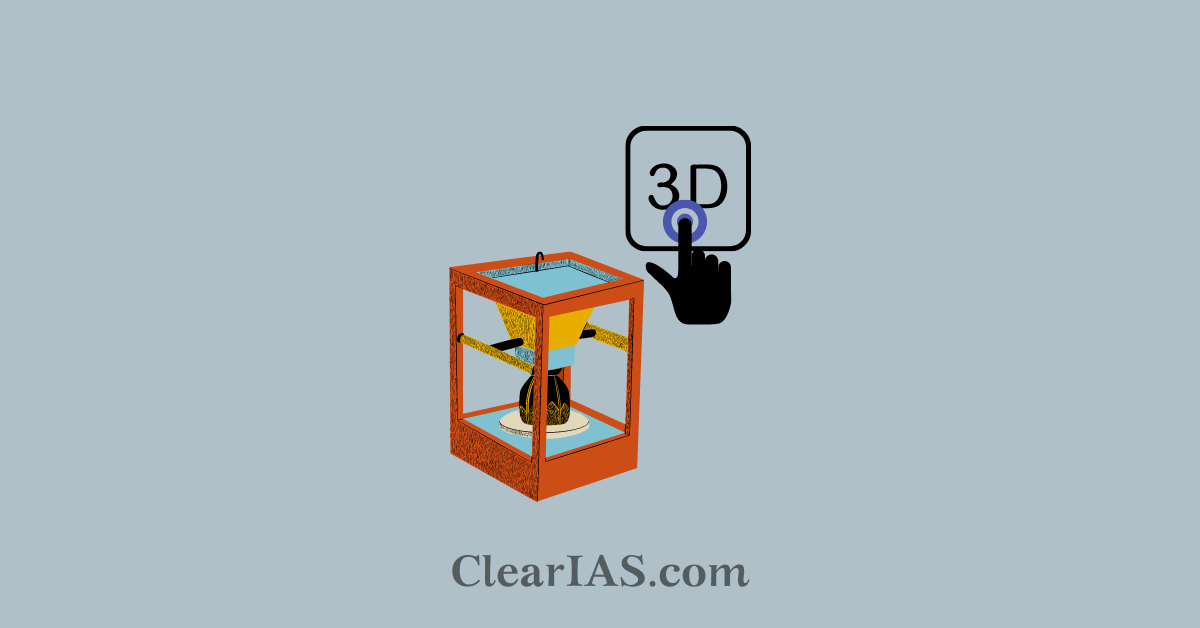 The National Strategy for Additive Manufacturing policy was announced recently. Read here to know more about the policy.
Ministry of electronics and information technology (MeitY) released the National Strategy for Additive Manufacturing policy to cater to next-generation digital manufacturing and mitigate immediate disabilities of local industries.
What is additive manufacturing?
Additive manufacturing is also known as 3D printing, refers to the construction of a three-dimensional object from a digital 3D model by adding materials layer by layer.
It uses computer-aided designing to make prototypes or working models of objects by laying down successive layers of materials such as plastic, resin, thermoplastic, metal, fiber, or ceramic.
With the help of software, the model to be printed is first developed by the computer, which then gives instructions to the 3D printer.
These are built layer by layer which is in contrast to traditional manufacturing that often requires machining or other techniques to remove surplus material.
Additive Manufacturing (AM) has immense potential to revolutionize India's manufacturing and industrial production landscape through digital processes, communication, imaging, architecture, and engineering.
Key points of National Strategy for Additive Manufacturing policy
The National Strategy on Additive manufacturing (AM) will aim to create a conducive ecosystem for design, development, and deployment, and to overcome technical and economic barriers for Global AM leaders to set up their operations with supporting ancillaries in India.
The mission is to ensure the creation of a sustainable ecosystem for the AM industry to compete globally, encourage AM transformation and driving capabilities in the country for developing core competencies, and position India as a global Innovation and Research hub for AM.
It aims to ensure AM manufactured end-user functional components for domestic and export markets, and promote the creation of Indian IPR.
The MeitYaims to increase India's share in global additive manufacturing to 5 percent by 2025, with hopes that it could likely add $ 1 billion to the GDP by that time.
As per the strategy, by 2025, India will aim to achieve certain targets such as 50 India-specific technologies for material, machine, and software, 100 new startups for additive manufacturing, 500 new products, and jobs to at least 1 lakh new skilled workers.
An apex body that has subject matter experts and leaders from local and global industries could be established to lead the mission.
Advantages of National Strategy for Additive Manufacturing policy
With the release of the Strategy by the Ministry of Electronics & Information Technology, the Innovation and R&D ecosystem will be encouraged in PPP mode.
This will lead to the transformation of existing research knowledge to develop Additive Manufacturing grade materials, 3D printer machines, and printed indigenous products for the vast domestic and international markets in various sectors including electronics, photonics, medical device, agro, and food processing, etc.
Simpler supply chain: Additive manufacturing will simplify supply chains as semi-fabricated products will substitute raw materials and suppliers consolidate. Procurements and labor costs will also decrease. This will help make the Make in India campaign and the Atma nirbhar Bharat Abhiyan successful.
Value Addition: AM can lead to an egalitarian system in innovation by empowering individuals to create and actively participate in the global value chain. Many product designs are freely available and individuals can purchase a 3D printer and start manufacturing and selling products.
Employment: AM is expected to increase productivity which may lead to a reduction in employment. However, higher productivity and new products create new employment opportunities. Workers may need to be provided upskilling opportunities to ensure they remain competent.
Sustainable Development: AM is likely to lead to a significant reduction in raw material, due to material-efficient designs; reduced wastage; and less need for manufacturing tools, molds, and dies. Also, the products will be more energy-efficient which will help India reduce its carbon footprint and lead to the sustainable development of the nation.
Redesigning: AM technologies allow manufacturers the ease to redesign their products. This reduces design constraints and associated costs. This will allow small businesses to innovate and experiment, thus making their products more efficient and enabling product differentiation.
Key challenges to National Strategy for Additive Manufacturing policy
High cost of equipment and material due to dependence on import
Lack of formal industry standards
Lack of skilled manpower
Uncertainty in the regulatory and legal framework
More technology may reduce the need for skilled workers leading to loss of employment.
Way forward
The strategic policy is a step in the right direction as research and development needs premier engineering technology and methods to boost manufacturing in the country.
Government support is necessary for manufacturing facilities to reach smaller towns and the IT industry to create more platforms for meeting consumer demands as well.