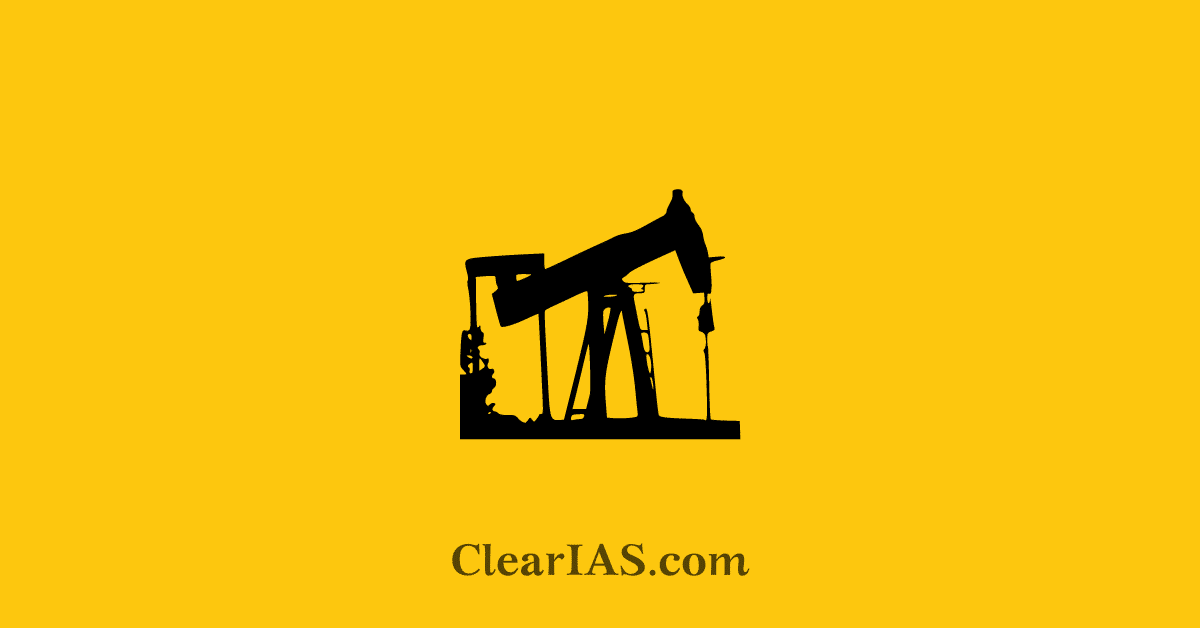 The oil and gas sector is among the eight core industries in India which has a significant impact on all other significant economic sectors. India is the world's third-largest oil consumer and the oil demand is steadily growing each year at 3-4 %. Read here to learn more about the oil and gas industry of the country.
The need for oil and gas is expected to rise as a result of the direct connection between India's economic growth and its energy needs, making the industry highly favorable for investment.
As of 2021, India remained the third-largest oil consumer in the world.
The Government has adopted several policies to fulfill the increasing demand. It has allowed 100% foreign direct investment (FDI) in many segments of the sector, including natural gas, petroleum products, and refineries, among others.
Oil and gas industry in India
The first oil resources in India were found close to the town of Digboi in the state of Assam in 1889, launching the nation's petroleum industry.
With the discovery of gas reserves in Assam and Maharashtra in the 1960s, the natural gas industry in India got its start (Mumbai High Field).
India had estimated crude oil reserves of 594.49 million metric tonnes (MMT) as of 2018, and natural gas reserves of 1339.57 billion cubic meters (BCM).
India's crude oil production in FY22 stood at 29.7 MMT.
The Government has adopted several policies to fulfill the increasing demand. It has allowed 100% foreign direct investment (FDI) in many segments of the sector, including natural gas, petroleum products, and refineries, among others.
The FDI limit for public sector refining projects has been raised to 49% without any disinvestment or dilution of domestic equity in existing PSUs.
Today, it attracts both domestic and foreign investment, as attested by the presence of companies such as Reliance Industries Ltd (RIL) and Cairn India.
The industry is expected to attract US$ 25 billion in investment in exploration and production by 2022.
India is already a refining hub with 21 refineries, and expansion is planned for tapping foreign investment in export-oriented infrastructure, including product pipelines and export terminals.
According to the IEA (India Energy Outlook 2021), primary energy demand is expected to nearly double to 1,123 million tonnes of oil equivalent, as India's gross domestic product (GDP) is expected to increase to US$ 8.6 trillion by 2040.
As of September 2021, India's oil refining capacity stood at 248.9 MMTPA, making it the second-largest refiner in Asia.
Private companies owned about 35% of the total refining capacity.
India is expected to be one of the largest contributors to non-OECD petroleum consumption growth globally.
India's consumption of petrol products stood at 126.12 MMT in April-October, 2022.
High-Speed Diesel was the most consumed oil product in India and accounted for 38.84% of petroleum product consumption in FY22.
According to the International Energy Agency (IEA), the consumption of natural gas in India is expected to grow by 25 BCM, registering an average annual growth of 9% until 2024.
India plans to almost double its oil refining capacity to 450 MT in the next 10 years to meet the rising domestic fuel demand as well as cater to the export market.
The Oil and Gas industry in India is set for a sea change with recent developmental ambitions of the Government of India:
175 GW of installed capacity of renewable energy by 2022
the aim to achieve the 100 smart cities mission
10% reduction of oil and gas import dependence by 2022
provision of clean cooking fuels.
The Government has advanced the target of achieving 20% blended ethanol by 2025, which is commonly known as the E20 target.
Oil imports by India
According to the Petroleum Planning and Analysis Cell (PPAC), India imported 212.2 million tonnes of crude oil in 2021-22, up from 196.5 million tonnes in the previous year.
For 2022-23, the oil import dependence was around 86.4% against 85.9% in the corresponding year-ago period.
Russia has for the second month in a row remained India's top oil supplier in November 2022 surpassing traditional sellers Iraq and Saudi Arabia.
Russia now makes up for 22% of India's total crude imports, ahead of Iraq's 20.5% and Saudi Arabia's 16%.
The European Union ban on imports of Russia's seaborne oil from 5th December has driven Russia to seek alternative markets, mainly in Asia, for about 1 million barrels per day.
Oil exports by India
India is a net exporter of petroleum products since FY 2001-02 and also the largest exporter of petroleum products in Asia since August 2009.
The Netherlands has emerged as India's third largest export destination after the US and UAE.
India has been seeing an increase in oil exports, especially at a time when the Russia-Ukraine conflict has upset the oil economies around the globe.
During April-October 2022, the oil exports from India went up 12.5% and oil product exports went up 70%.
Also read: Chemical and Petrochemical Industry
Government initiatives for the oil and gas industry
Some of the major initiatives taken by the Government of India to promote the oil and gas sector are:
In 2022, the Government announced a reduction in excise duty of Rs. 8 (US$ 0.10) per liter of petrol and Rs. 6 (US$ 0.077) per liter of diesel.
In 2022, the government approved changes in the Biofuel Policy to bring forward the target for 20% ethanol blending with petroleum to 2025-26 from 2030.
In the Union Budget 2022-23, the customs duty on certain critical chemicals such as methanol, acetic acid, and heavy feedstocks for petroleum refining was reduced.
In 2022, it was intimated that India will more than double its exploration area of oil and gas to 0.5 million sq. km. by 2025 and to 1 million sq. km. by 2030 to increase domestic output.
In November 2021, India announced that it would release 5 million barrels of crude oil from its strategic petroleum reserves in a concerted effort to bring down global crude oil prices. This is roughly equivalent to a day's consumption in the country.
In October 2021, the Union Ministry of Petroleum & Natural Gas approved a revised project cost of Rs. 28,026 crores (US$ 3.8 billion) to increase refining capacity for the ongoing Numaligarh Refinery Expansion Project from 3 to 9 MMTPA.
In September 2021, the Indian government approved oil and gas projects worth Rs. 1 lakh crore (US$ 13.46 billion) in Northeast India. These projects are expected to be completed by 2025.
In September 2021, India and the US agreed to expand their energy collaboration by focusing on emerging fuels. This was followed by a ministerial conference of the US-India Strategic Clean Energy Partnership (SCEP).
In July 2021, the Department for Promotion of Industry and Internal Trade (DPIIT) approved an order allowing 100% foreign direct investments (FDIs) under automatic routes for oil and gas PSUs.
The Government is planning to set up around 5,000 compressed biogas (CBG) plants by 2023.
One Nation One Gas Grid
A total of 21,946 km of the natural gas pipeline is operational and about 13,262 km of gas pipelines are under development as of June 2022, as part of the Gas Grid.
India targets increasing the pipeline coverage by ~60% by 34,500 km by 2024-25.
All states are intended to be connected by a trunk national pipeline network by 2027.
As of September 2022, 221 GAs have been operationalized for the supply of CNG.
Also read: Gas-based economy
Way forward
The energy demand of India is anticipated to grow faster than the energy demand of all major economies globally on the back of continued robust economic growth. Moreover, the country's share in global primary energy consumption is projected to increase twofold by 2035.
India needs to concentrate on decreasing its dependence on imports by facilitating more domestic production and expanding the India-owned exploration assets overseas.
Alternatively, the green energy sector should also be simultaneously advanced to meet the increasing power demands. This will also help in honoring the Paris agreement commitments.
Also read: SATAT Scheme for cleaner transportation fuel
-Article written by Swathi Satish