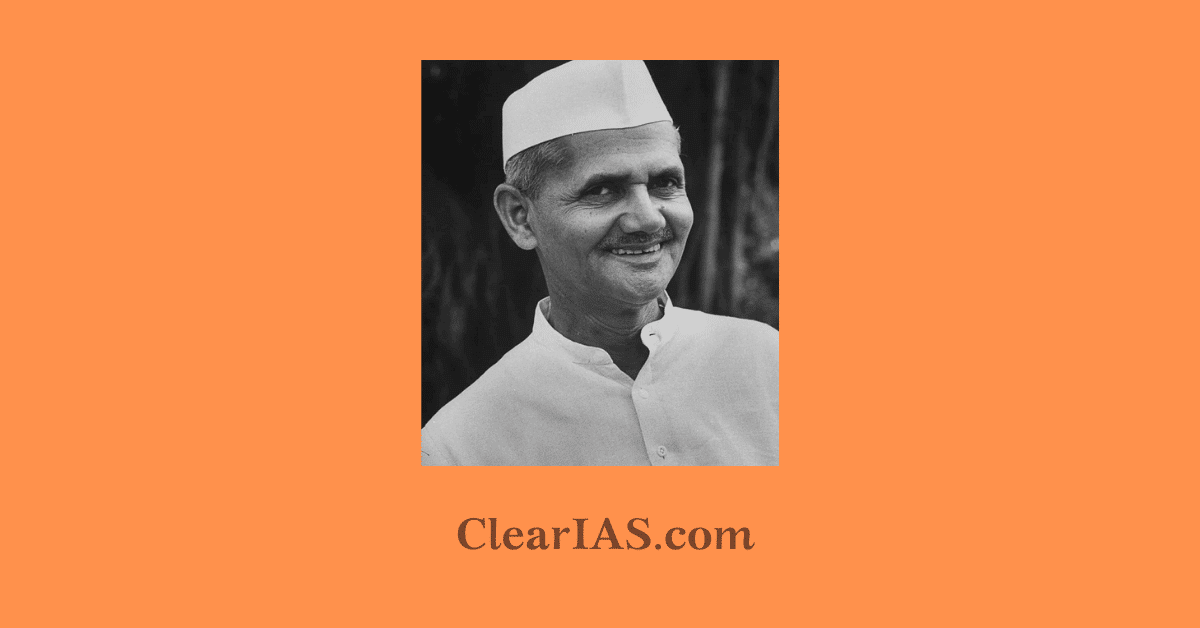 Lal Bahadur Shastri, the second Prime Minister of India was a great statesman known for his honesty and humility. Read to know more about his extraordinary life.
Lal Bahadur Srivastava, or Shastri Ji as India knows him was a humble yet strong statement who guided India through tough times.
He served the country in various roles and was one of the most down-to-earth personalities of our history.
Shastri promoted White Revolution and Green Revolution.
Lal Bahadur Shastri led India during the India-Pakistan War of 1965 and gave the slogan 'Jai Jawan, Jai Kistan'.
The early life of Lal Bahadur Shastri
Birth: 2nd October 1904
He was born to Sharada Prasad Srivastava and Ramdulari Devi in Mughalsarai, Uttar Pradesh.
Education:
His early education was in Urdu at East Central Railway Inter College, Mughalsarai till sixth class
He then moved to Harish Chandra High School, Varanasi for further studies.
At this time he dropped his caste-derived surname Srivastava, in order with his view that the caste system is derogatory.
1925: He further completed his studies with a first-class degree in philosophy and ethics from The Kashi Vidyapeeth (which was inaugurated by Gandhi Ji in Benares in 1921).
He was given the title of 'Shastri' (scholar) as it was the norm in the institution after completion of a bachelor's degree.
1928: He married Lalita Devi and later the couple had four sons and two daughters,
Lal Bahadur Shastri's foray into the Freedom movement
His high school teacher Nishkameshawar Mishra's patriotism inspired Shastriji to take interest in the freedom struggle.
1921: He started attending public meetings in Benares hosted by Gandhiji and Madan Mohan Malviya while in 10th
Shastri withdrew from Harish Chandra High School to join Non-Cooperation Movement inspired by Gandhiji's call for students to withdraw from government schools.
He joined the local branch of the congress party as a volunteer and actively took part in picketing and anti-govt demonstrations.
He was arrested and jailed but was let go as he was still a minor.
He later became a life member of the Lok Seva Mandal (The Servants Of The People Society) founded by Lala Lajpat Rai and began to work for the betterment of Harijans at Muzaffarpur.
He later became the President of the society.
Shastriji's Political path:
1928: Joined Indian National Congress as an active member on the advice of Gandhiji
1929: He was appointed as Secretary of the Allahabad District Congress Committee.
1935: He was made the General Secretary of UP Pradeshik Congress Committee (PCC).
1937: He was elected to UP Legislative Assembly and became the organizing secretary of the parliamentary board of UP.
He served as an elected representative for United Provinces in 1937 and 1946.
1940: He supported the individual satyagraha movement and was sent to prison for 1 year because of this.
1942: He was released from jail but jumped back into the independence movement on the call for Quit India Movement by Gandhiji in Bombay. He travelled to Allahabad to organize the movement there.
The political journey of Lal Bahadur Shastri post-independence
1947: Shastri was appointed as the Parliamentary Secretary in Uttar Pradesh.
He later became the Minister of Police and Transport under Chief Minister Govind Ballabh Pant in 1947.
He appointed women conductors for the first time.
1951: He was made the General Secretary of the All India Congress Committee with Jawaharlal Nehru as Prime Minister.
1952: He won the UP Vidhansabha seat from Saraon North and Phulpur West and was supposed to be retained as Home Minister of UP.
But he was rather called by Nehru to the centre as Minister of Railways and Transport in the first cabinet of the Republic of India.
1956: He resigned after a couple of railway accidents that killed 144 people in Tamil Nadu; he believed he was responsible as the topmost authority.
1959: He was called back as Minister of Commerce And Industry.
1961: He was made the Minister of Home Affairs.
Lal Bahadur Shastri, Prime Minister of India (1964-66):
1964: Jawaharlal Nehru died in May 1964 and Lal Bahadur Shastri became the second Prime Minister of the Republic of India, under President Dr. Sarvapalli Radhakrishnan.
He handled the portfolios of external affairs and atomic energy initially but later transferred external affairs to Swaran Singh.
He retained the main ministers of the Nehru cabinet and also included Indira Gandhi as information and broadcasting minister.
Shastri was the first Prime Minister to have a secretary, a senior ICS officer to advise him. He thus laid the foundation of what later became the Prime Minister's Office (PMO).
1964: He gave India the White Revolution by supporting the Amul Milk Cooperative of Anand, Gujarat.
1965: He established National Dairy Development Board (NDDB) in Anand.
1965: He set in motion the start of the Green Revolution to fight the growing food crisis in the country.
January 1965- The Agricultural Prices Commission (APC) was set up.
Food Corporation of India (FCI) came into being.
National seeds corporation was set up
Central warehousing corporation came up.
India's foreign relations during Shastri Ji's tenure:
Lal Bahadur Shastri's tenure was marked by many important events like the Indo-Ceylon Agreement, the Deportation of Indian families from Burma, and the Indo-Pak war of 1965.
Indo-Ceylon Agreement/ Bhandarnaike-Shastri Pact:
It was an agreement signed between the Prime Ministers of both countries in 1964.
The agreement was significant in determining the status and future of people of Indian origin in Ceylon (later Sri Lanka) who were successor generations of the tea estate labourers British had taken there.
Burma
Burma had deported several Indian families in 1964 after a military coup in 1962; this caused a strain in relations between India and Burma.
Shastriji made an official visit to Rangoon in 1965 and cordial relations were again established between the countries.
Indo-Pak war of 1965:
Also known as the Second Kashmir war was the culmination of numerous skirmishes between India and Pakistan in 1965.
The conflict began with Pakistan's operation Gibraltar to infiltrate forces to Jammu and Kashmir,
Even though a strict follower of Gandhiji's principle of non-violence, Shastriji led India in the war courageously.
He addressed the nation by giving the slogan "Jai Jawan, Jai Kisan"– a tribute to the farmers fighting the food crisis and soldiers fighting at the border.
The hostilities came to end after a ceasefire was declared through UNSC resolution 211 by the diplomatic intervention of the Soviet Union and the United States, leading to the Tashkent declaration.
The death of Lal Bahadur Shastri
11th January 1966: Lal Bahadur Shastri died in Tashkent, Uzbekistan (then the Soviet Union) – one day after signing the peace treaty to end the 1965 war.
The official reason for his death has been given as heart attack- the controversial circumstances such as the fact that a prime minister of the country was not attended by a doctor on time has led to numerous speculations.
Many controversies are surrounding his death, but all the documents of investigations conducted are classified to date.
Most of the doubts are generated due to the fact was Shastriji was not a Prime Minister who could be controlled by the Soviet Union or western powers.
1977: Raj Narain committee was constituted to look into the mysterious death of Shastriji by the Janata Party government.
The committee's investigation was also riddled with mysterious happenings as two crucial witnesses- Shastriji's physician, Dr RN Chugh, and personal servant, Ram Nath, were killed in accidents en route to their statement recording before the committee.
The report of the committee was never made public and many petitions have been filed to declassify them.
The central information commission has directed PMO, home, and external affairs ministries to make the records public.
Shastriji's resting place is called the Vijay Ghat situated in Delhi.
A book by M.L Verma, 'Lalita ke Aansoo' was published in 1978, in which the tragic story of his death is narrated by his wife Lalita Devi.
Legacy of Shastri Ji
Lal Bahadur Shastri was in true terms the most honest prime minister and politician of India.
Despite being a minister he did not amass any wealth and was a true believer of Gandhian philosophy to not accumulate any wealth and personal belongings.
He was posthumously awarded Bharat Ratna in 1966 and a stamp featuring him was also released the same year.
He was nicknamed "The man of peace" as he always preferred maintaining cordial relations with the neighbours through peaceful means.
The IAS training institute in Mussoorie is named in honour of him- Lal Bahadur Shastri National Academy of Administration (LBSNAA).