Looking for the best option to connect with the right audience? Then look no further than ClearIAS!
ClearIAS – the comprehensive self-study package – is the favourite choice of lakhs of IAS aspirants for online UPSC exam preparation. With a presence in both web as well as mobile platforms, we provide space for value-for-money advertising options too.
Our popular products include the www.clearias.com website, the ClearIAS Android app and the www.cleariasexam.com website.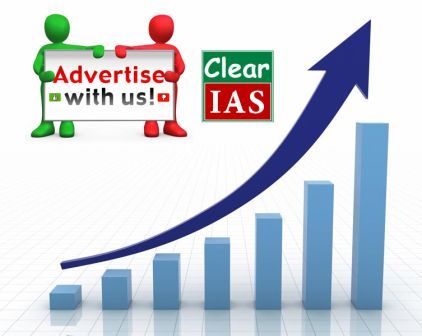 Know more about ClearIAS!
Rated among the top quality websites for IAS preparation by serious aspirants, we provide free online study materials, guidance, toppers interview, online mock exams and a lot more.
ClearIAS website receives around 30 lakh page views per month.
ClearIAS app crossed 5,00,000+ downloads within a short time since its launch and now is the most popular app entirely dedicated to UPSC CSE preparation. Clear IAS app was ranked among the top 5 new apps under the education category in the Google Play store.
ClearIAS Facebook page is one of the most popular social media pages of an online education initiative with more than 4 lakh followers.
What motivates us is not this news and statistics, but the enthusiasm and affection of aspirants across the globe who acknowledge our service in the field of quality online education.
ClearIAS and Media
Value for Money Advertising!

ClearIAS being an initiative for affordable online education and since this platform is free for users, we use advertising as our revenue model. At a time when print media charge hefty rates for single day ads, we provide value-for-money advertising. As per industry standards, our CPM rates (cost per thousand views) are very modest when compared with any other print or visual media. Much more than that, no other platform offers such a targeted audience. Once paid for ad slots like 300250 px banner or 300100 px banner, your ad will run for 30 days period generating ad views every single day. For continuous campaigns, ad units can be renewed again after 30 days.
Book slots to advertise at ClearIAS: Pay Online!
We have ad slots of different price ranges, and now it's very easy to pay for the ad slots at clearias.com. Once your ad slot is confirmed by writing to contactus[at]clearias.com, you can pay online to launch the ad. Just use your credit card, debit card or net banking facility for cash transfer. That's the beginning of a long-term relationship!