Prelims cum Mains Integrated Approach To Clear IAS
Clearing UPSC Civil Services Exam is the dream of millions. Some candidates achieve success in this exam with relative ease while many others toil day and night wondering how to tackle this exam. Have you ever wondered why?
Of course, there are many roads to clear IAS.
Certain roads are long and risky while certain roads are short and smooth.
Our approach is 'Prelims cum Mains Integrated Approach To Clear IAS' – which is fast and easy. We don't overburden our students. We make learning a pleasant experience.
Prelims cum Mains Integrated Approach To Clear IAS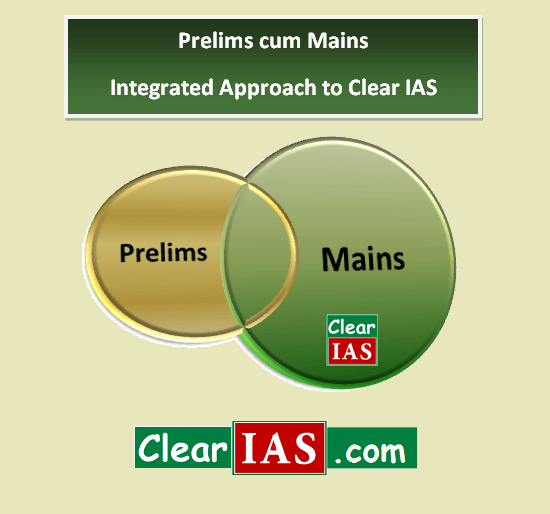 Prelims cum Mains Study Materials
In this approach, we offer free study materials under two categories.
Category 1: "Prelims + Mains" – For overlapping topics in Prelims and Mains.
Category 2: "Mains Only" – For additional topics relevant only for Mains.
UPSC CSE Free Study-Materials – Prelims cum Mains
UPSC CSE Free Study-Materials for Mains
UPSC Civil Services Mains Exam Paper Wise Notes
Prelims cum Mains Integrated Approach To Clear IAS
Prelims and Mains, though two separate stages of UPSC Civil Services Exam, are not water-tight compartments. Main Exam presents a bigger picture than Prelims as it touches 15+ subjects inside the 4 GS papers – GS1, GS2, GS3 and GS4. It includes many topics prescribed in the Prelims syllabus too. This raises two questions: Should candidates study mains and prelims separately? Will an approach focused on Mains stage, automatically let the candidate sail through the Preliminary Stage too?
The answer to these questions lies in understanding the nature of Prelims and Mains questions. Preliminary stage, since being objective in nature touches the conceptual knowledge on certain traditional subjects like History, Geography, Polity, Economy etc. But mains exam, being a subjective exam, the questions are of analytical nature and often revolves around current issues. But without a fundamental conceptual knowledge of things around the world, a candidate will not be able to frame a good answer. So building the fundamentals is the first step in mains too, which very well is in tune with the Prelims requirement.
Building strong fundamentals without putting pressure on aspirants is what ClearIAS.com believes in. If fundamentals are strong, students rarely go wrong in Prelims and Mains. We have a unique and simple way of explaining concepts and we restrict ourselves from creating long posts about each minute subjects but keeps exam requirements in focus.
Features of Prelims cum Mains Integrated Approach by ClearIAS.com
Affordable to all. Study materials are completely free of charge.

Focus on fundamental concepts for Prelims and background details of current issues for mains.
Overlapping areas are coupled together and non-overlapping areas are dealt with separately.
Guidance for Prelims, Mains and Interview.
Online Study materials for Prelims, Mains and Interview.
Mock tests for Prelims and Mains which integrate learning with testing.
Combination of online study materials and offline study materials (UPSC Textbooks and NCERT).
Detailed list of essential books for each subject as per lthe atest UPSC syllabus.
Separate focus on Prelims and Mains during the last 3 months preceding the respective stages.
Active participation from student community.
Study materials and guidance provided in this website is in tune with Prelims and Mains Integrated Approach. We know an approach entirely focused on prelims will not help candidates in long run. Similarly ,an approach concentrated on mains, without building the necessary basics for current affairs related issues of general studies will not help students. Our approach is developed by incorporating the experience and tips shared by toppers based on their success and mistakes.