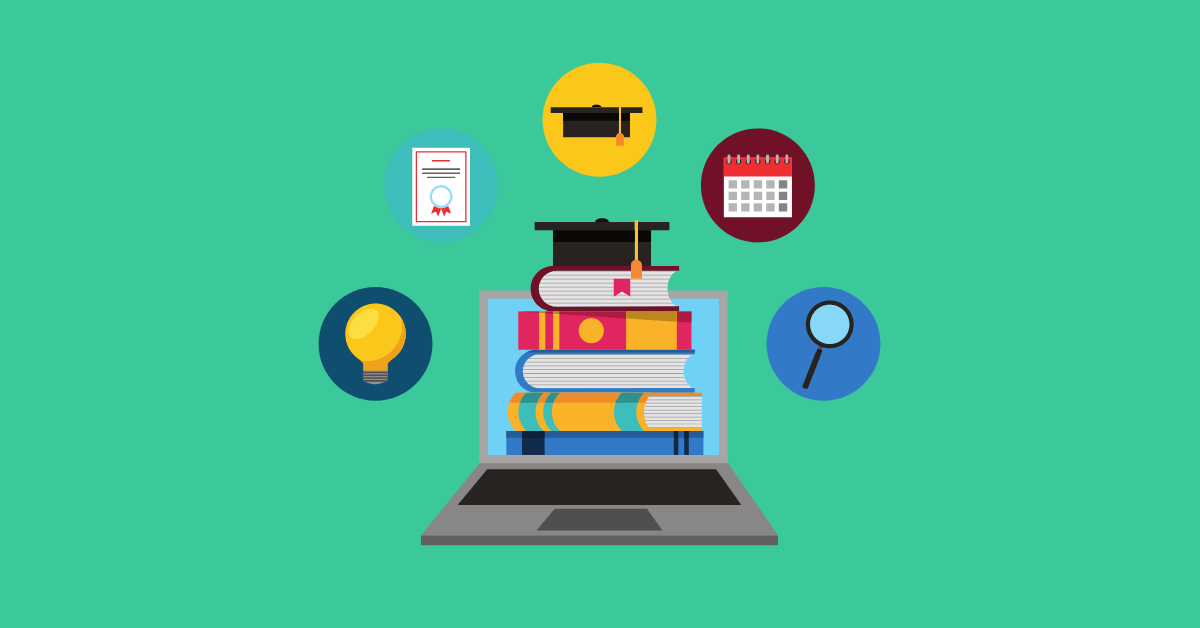 Are you in search of free UPSC study materials? Have you ever come across IAS study materials by ClearIAS, before?
ClearIAS provides both free and premium programs.
In addition to ClearIAS Blog where you get the latest updates, we have arranged articles published on ClearIAS in an orderly fashion using a hierarchical index. You can read online notes for every subject mentioned in the UPSC Syllabus.
Free UPSC Study Materials: Online Notes of ClearIAS for Prelims and Mains
Free IAS Study Materials – Latest Notes for UPSC Prelims and Mains
Free IAS Study Materials – Latest Notes For Additional  areas in UPSC Mains
UPSC Mains Special – Paper-wise Study Materials
ClearIAS Blog
We have 1000s of highly useful notes published topic-wise. To find the latest articles published on the ClearIAS website/app, check ClearIAS Blog.
ClearIAS online study materials are one of the most simple and easy-to-learn notes on any subject. That's the reason why we are equally loved by school students just like IAS exam toppers.
All the online notes of ClearIAS given below are completely free. We are on a mission to support the free learning of 1 million+ learners and to make their learning an enjoyable experience.
ClearIAS Study Materials are widely used by UPSC Toppers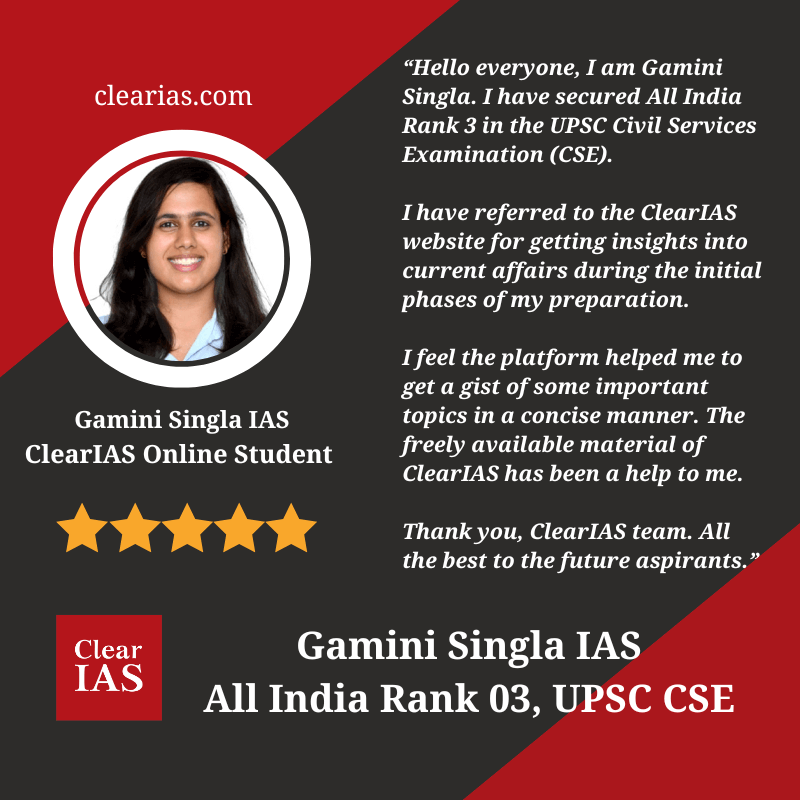 Download PDFs from ClearIAS Online Store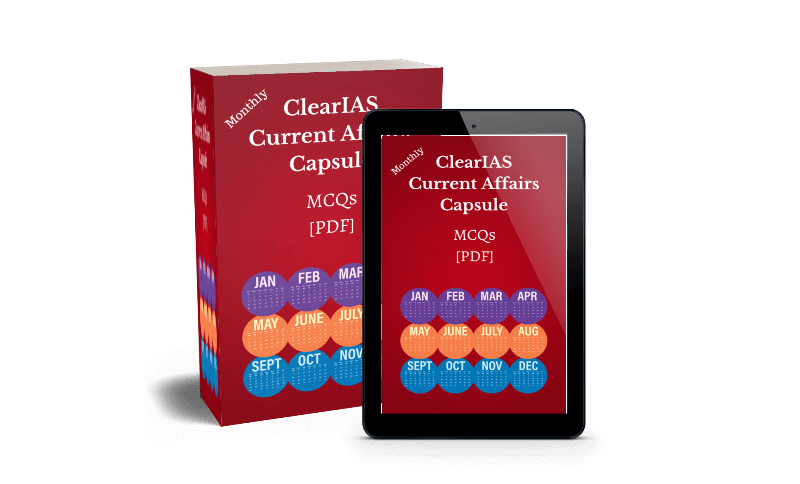 In addition to our online notes, ClearIAS also releases PDF notes (eBooks).
Some of our popular ebooks are:
ClearIAS Current Affairs Capsules (Red Books)
ClearIAS Most Probable Prelims Questions (Green Books)
Budget/Economic Survey Summary (Orange Books)
Toppers Notes (Blue Books)
Check ClearIAS online store.
ClearIAS Classes – Online Courses by Top Faculties and Mentors in India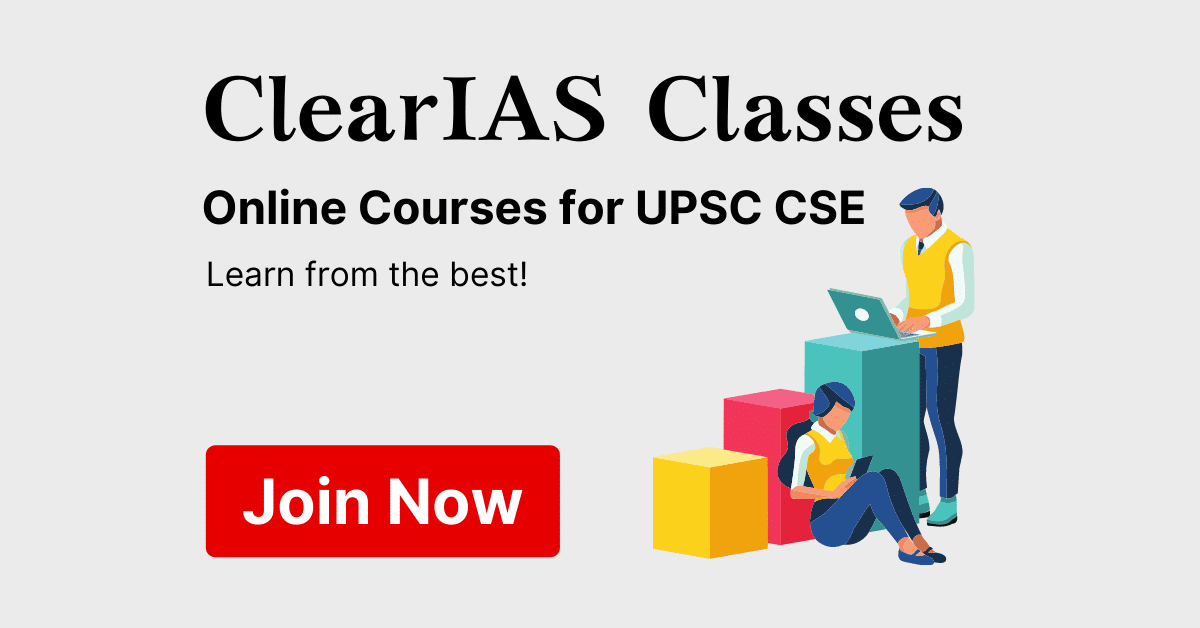 If you are looking for online classes and personal mentorship for UPSC Civil Services Exam, join ClearIAS Classes.
ClearIAS Classes involve expert guidance from top faculties and mentors in India – which will help you learn fast and focused.
ClearIAS Prelims cum Mains (PCM) course is an umbrella program which offers most of the resources of ClearIAS like video classes, mock exams, study materials etc in a single package.
The PCM Course of ClearIAS offers almost everything you need to crack the UPSC CSE like:
Instant access to 700+ Hours of Expert Classes (recorded) which cover the entire UPSC CSE GS syllabus of Prelims and Mains
Automatic Access to the latest Current Affairs Classes (Live or Recorded)
Doubt Clearing Sessions
Personal Mentorship
Easy-to-learn Study Materials (PDF)
ClearIAS UPSC Prelims Online Mock Test Series
ClearIAS UPSC Previous Year Re-Take Exams
Interview Guidance etc.
We also offer sub-sets of the PCM Programs to those aspirants who wish to subscribe to smaller packages. The popular sub-packages are the PMB Program and the PMB+ Program.
For those students, who cannot afford ClearIAS PCM, PMB, or PMB+ Programs, ClearIAS has conceptualised the TTT Approach to clear IAS – which includes 3 Ts (tools) – Textbooks, Test Series, and Techniques.
3 ClearIAS strategies for success in the UPSC Civil Services Exam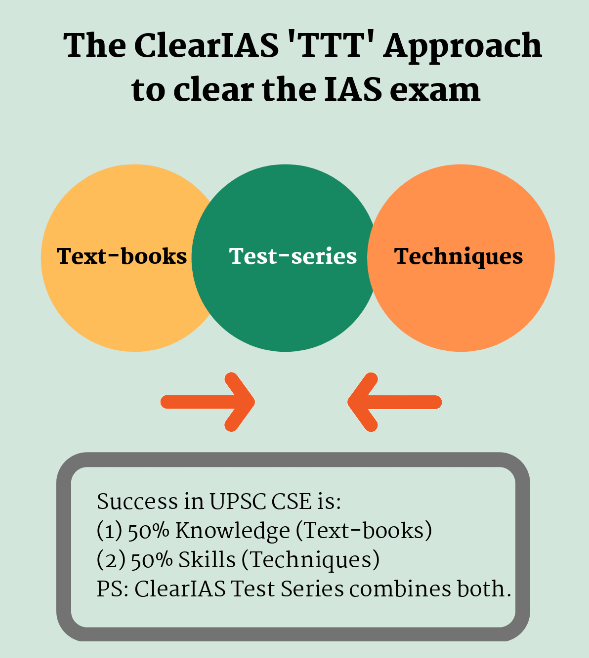 For best results, we strongly recommend aspirants follow the three methods developed by ClearIAS in their UPSC preparation.
ClearIAS Prelims-cum-Main Integrated Approach: By this method, we intend for aspirants to prepare for Mains and Prelims in an integrated manner. Overlapping topics should be combined. Non-overlapping topics (subject only for Mains) should be identified and learned separately. By following this method, aspirants will be ready to face the Main exam much earlier than other aspirants who start solely from the Prelims syllabus.
ClearIAS TTT approach: We advise you to make 'T-T-T' ie. 'Text-books', 'Test-series', and 'Techniques' as the core part of your UPSC preparation strategy.
ClearIAS Test-based approach: Mock Exams are the fundamental basis of the ClearIAS learning program. Our method of training is such a way that aspirants learn by taking mock exams. ClearIAS Test-series – which integrates learning with test-taking – combines textbooks and techniques to make aspirants exam-ready at the earliest.
Importance of  Text Books for UPSC CSE
You need standard textbooks to learn many subjects mentioned in the UPSC syllabus. Don't hesitate to invest in good books.
Now, you can buy online the recommended books for UPSC Prelims and Mains.
In the UPSC Civil Services study material list of any serious aspirant, the following categories of materials are recommended.
Standard IAS Books for Civil Services Exam – Eg: Laxmikanth for Indian Polity.
School and Graduation Text Books – Eg: NCERT, NIOS, IGNOU etc.
Newspapers and Magazines – Eg: The Hindu, Yojana, Kurukshetra etc.
Online UPSC Study Materials – Eg: ClearIAS.com, Government websites like PIB etc.
Importance of  Test Series for UPSC CSE
As you may know, only when tested in an exam atmosphere with negative marking, you can improve your ability to deliver in the actual exam hall.
Try for free the UPSC Prelims online mock exams by ClearIAS – in the new innovative platform which integrates learning with test-taking. You would be surprised to find out how fast you can learn!
Importance of  Techniques for UPSC CSE
Success in UPSC Civil Services Examination (CSE) = 50% Knowledge + 50% Skills (Strategies).
ClearIAS has developed various techniques to clear the IAS exam with ease. Some of them:
Notes + Books + Mocks + Skills = Success!
The prelims-cum-mains strategy should be a mix of online study materials and mock exams by ClearIAS with offline study materials such as IAS textbooks and NCERT.
IAS Preparation: Guidance and Strategies

You can just go through the below links for specific guidance for each stage of UPSC CSE.
You can read more about UPSC Exam Guidance here. Also, please find the most popular posts highlighting guidance and strategies for IAS preparation.
UPSC Books and Study Materials for Free Download
NCERT Books Download.
Yojana Magazine Download.
Kurukshetra Magazine.
UPSC Previous Year Question Papers and Mock Exams
Most Popular ClearIAS Resources
Subscribe to ClearIAS YouTube Channel for FREE Videos:
Subscribe to ClearIAS YouTube Channel to learn from ClearIAS Videos.
Subscribe to ClearIAS Telegram Channel for FREE Updates:
Join ClearIAS Telegram Channel to get the latest updates from ClearIAS, which includes study materials and tips to clear the UPSC Civil Services Exam.
Subscribe to ClearIAS Club and attend free mentorship sessions
Join ClearIAS Club to discuss current events, social issues, UPSC exam preparation, career guidance etc.
Note: You are free to share or print IAS study materials and notes provided by ClearIAS(for non-commercial use). All the best!
Book a FREE UPSC Mentorship Session with a ClearIAS Expert
Is your ambition to become an IAS, IPS, or IFS officer?
Do you want to surprise all by cracking UPSC CSE in the shortest possible time?
Register now for a free UPSC Mentorship session with an expert mentor of ClearIAS!