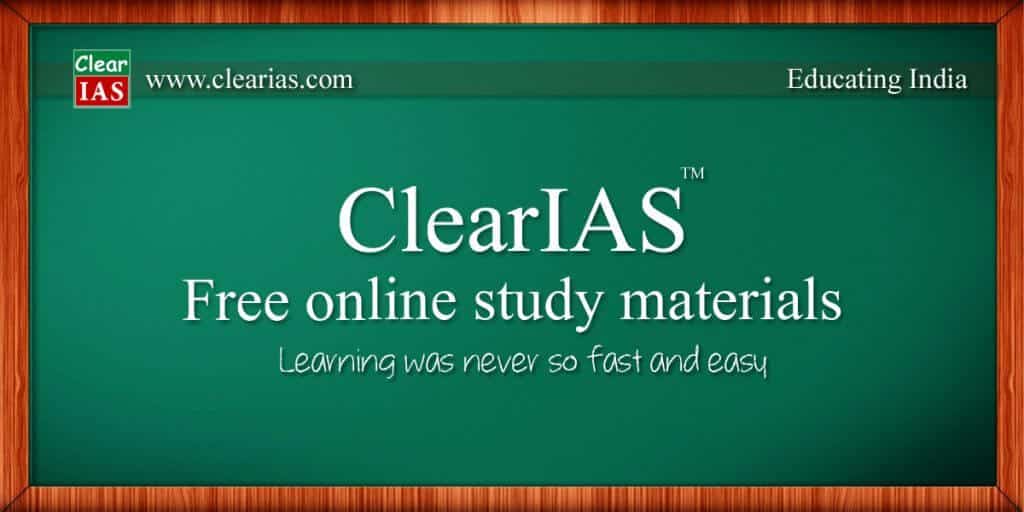 ClearIAS™ was started with a vision of quality, but affordable online education, giving stress to self-study. This post contains links to all Clear IAS online study materials, which are completely free.
The prelims-cum-mains strategy should be a mix of the online study materials, mock exams, tips, and guidance for UPSC provided in clearias.com with the offline study materials such as IAS textbooks and NCERT. You are free to share or print Clear IAS study materials and notes for UPSC Exam preparation or self-use. All the best!
Free IAS Study Materials: [Prelims + Mains: Combined Approach]
Free IAS Study Materials for Additional  areas in GS Mains
UPSC Mains Special – Paper-wise Study Materials
Update:
Now, compilations of ClearIAS study materials and mock questions are available for download from the 
ClearIAS online store
. Learning made easy and faster!
Books for Civil Services Exam Preparation
Check the comprehensive post: Detailed List of IAS Books – Arranged subject-wise for Prelims and Mains. Without enough books and study materials to supplement online preparation, you may not see a full picture. In the UPSC Civil Services study-material-list of any serious aspirant, the following categories of materials are recommended.
Standard IAS Books for Civil Services Exam – Eg: Laxmikanth for Indian Polity.
School and Graduation Text Books – Eg: NCERT, NIOS, IGNOU etc.
Newspapers and Magazines – Eg: The Hindu, Yojana, Kurukshetra etc.
Online UPSC Study Materials – Eg: ClearIAS.com, Government websites like PIB etc.
ClearIAS Mock Tests
As you may know, only when tested in an exam atmosphere with negative marking, you can improve the ability to deliver in the actual exam hall.
Try for free the UPSC Prelims online mock exams
by ClearIAS – in the new innovative platform which integrates learning with test-taking. You would be surprised to find how fast you can learn!
IAS Preparation: Guidance and Strategies

Adding below the most popular posts highlighting guidance and strategies for IAS preparation.
UPSC Books and Study Materials for Free Download
Apart from the subject wise detailed notes for IAS exam, previous year UPSC question papers, UPSC prelims mock tests, UPSC mains mock tests etc. are also provided on this website to equip aspirants to the standards of UPSC Civil Service Exam.