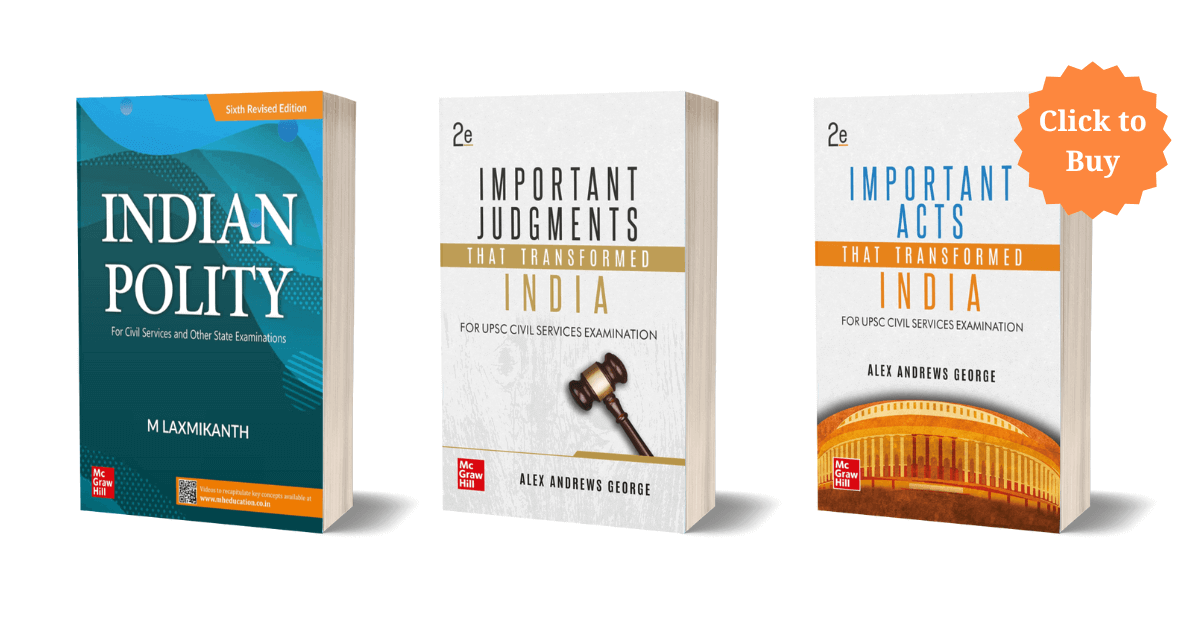 What are the best books for UPSC Exam preparation? Which IAS books should be studied for UPSC Civil Services Examination Prelims and Mains? Read to know more.
Unless IAS/IPS aspirants depend on expert coaching to build their basics, books are the most essential tools to start UPSC CSE preparation. Even for those aspirants who use coaching, books are important.
We recommend Civil Service aspirants start their preparation with NCERT Textbooks (Class 6-12).
Once aspirants get a basic idea from NCERT Textbooks, they should focus more on the Standard Textbooks.
Recommended NCERT Textbooks for UPSC Preparation (Class 6-12)
It is ideal for all IAS aspirants to start with NCERT books from Class 6 to Class 12.
You can buy 40 NCERT Textbooks as a bundle from Amazon.
Recommended Standard Textbooks for UPSC Preparation
UPSC aspirants are recommended to buy at least 1 Standard Book for each subject (topic) and later expand their reading to additional reference books.
Aspirants can click on each link to buy books online from Amazon.
1. UPSC Books for Indian Polity and Constitution
2. UPSC Books for Indian History and Culture
3. UPSC Books for Indian Geography and World Geography
4. UPSC Books for the Indian Economy
5. UPSC Books for Science and Technology
6. UPSC Books for Environment – Ecology, Biodiversity and Climate Change
7. UPSC Books for Current Affairs
8. UPSC Previous Year Question Papers
9. Prelims Manual for GS (All-in-One Guide)
10. Prelims Manual for CSAT (All-in-One Guide)
11. IAS Books for Essay (UPSC Mains Essay Paper)
12. IAS Books for India Since Independence (Part of UPSC Mains GS1 Paper)
13. IAS Books for World History (Part of UPSC Mains GS1 Paper)
14. IAS Books for Indian Society (Part of UPSC Mains GS1 Paper)
15. IAS Books for Governance (Part of UPSC Mains GS2 Paper)
16. IAS Books for Foreign Relations of India (Part of UPSC Mains GS2 Paper)
17. IAS Books for Internal Security (Part of UPSC Mains GS3 Paper)
18. IAS Books for Ethics, Integrity, and Aptitude (UPSC Mains GS4 Paper)
19. Paper-wise All-in-One manuals for UPSC CSE (Mains)
20. UPSC CSE Mains Previous Year Solved Question Paper Books
9 Years UPSC IAS/ IPS Mains General Studies Papers 1 – 4 Year-wise Solved (2013 – 2021) – by Disha Experts
21. Books for UPSC Interview
Highly Informative Additional Reference Books for UPSC Preparation
IAS Books for UPSC CSE Mains Optional Subjects
Latest UPSC Books (New Releases)
The Hindu E-Paper (Subscribe and Get Up Extra OFF)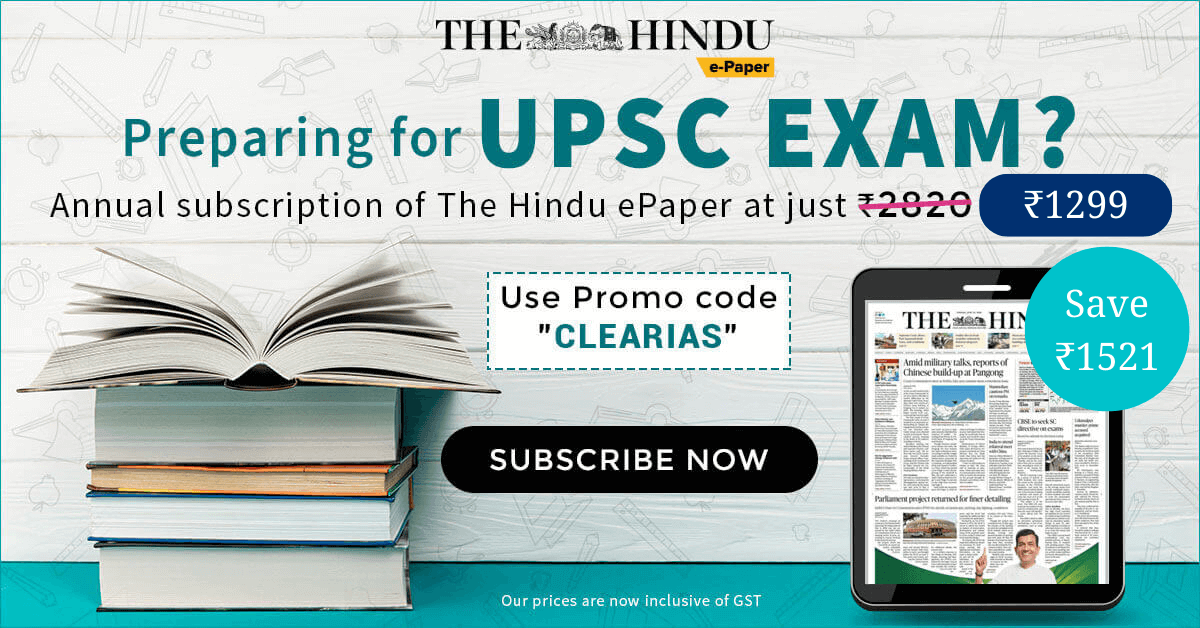 ClearIAS users can get up extra OFF on 'The Hindu ePaper' and 'The Hindu Website'. To get the benefit of this offer, all you need to do is to apply the promo code CLEARIAS on The Hindu Subscription link.
The CLEARIAS code is auto-applied in the link. This will ensure that you get an extra 10% OFF.
Get The Hindu E-paper Discount
Are NCERT books enough for UPSC Preparation?
No.
NCERT textbooks give only a basic idea to start with. They are not enough to cover the entire syllabus of UPSC CSE Prelims and Mains.
Along with NCERTs, aspirants should learn from Standard Textbooks.
Standard Textbooks are written by subject experts in an exam-oriented fashion – specifically targeting each subject/topic in the UPSC CSE syllabus.
Which IAS Books are available in the Hindi Language?
For many of the books listed above, corresponding books in the Hindi language are available in the market.
Hindi medium students may check the link UPSC Books in the Hindi Language to buy online at discounted prices.
Which are the best-selling UPSC books?
How can I get free UPSC study materials?
Aspirants can use ClearIAS Online Study Materials to supplement the recommended standard textbooks and NCERT books.
We provide notes for static topics as well as current affairs.
How can I get Online Coaching for UPSC?
ClearIAS provides online coaching for UPSC aspirants of our Online Classroom Program.
Online Classroom Program offers features like Live Classes, Recorded Classes, Personal Mentorship, Prelims Test Series, Mains Test Series, Mains Answer Writing Practice, and Interview Guidance.
How can I practice UPSC Prelims Mock Tests?
ClearIAS provides free and premium mock exams for UPSC Prelims.
As you may know, only when tested in an exam atmosphere with negative marking, you can improve your ability to deliver in the actual exam hall.
Try for free the UPSC Prelims online mock exams by ClearIAS – in the new innovative platform which integrates learning with test-taking.
You would be surprised to find out how fast you can learn!
Can I clear IAS without purchasing books?
UPSC Books are a crucial part of the ClearIAS TTT Approach which helps aspirants to clear the UPSC Civil Services Exam by self-study. If you are serious about IAS preparation, you should invest in quality books.
What should I prefer: Books written by scholars or Books written by exam experts?
We mainly recommend books written specifically from an exam perspective.
There are plenty of books written by scholars which can be used as a reference.
You can find the names of reference books too on this page.
Is there a single book that covers all topics of IAS Prelims and Mains?
No. There is no such book.
Considering the vast nature of the UPSC syllabus, it is not possible to include everything an aspirant needs to study in a single book.
ClearIAS recommends IAS aspirants to refer multiple books for each subject in the UPSC syllabus.
However, if you are short on resources and time, you may start with the Manuals (All-in-One Guides) for Prelims and Mains. Take mock exams, and refer to additional textbooks as and when time is available.
Should I buy books if I have coaching institutes' notes?
Considering the competition and vast syllabus, UPSC exam preparation cannot be done without collecting some essential books.
Photostats or PDFs supplied by coaching institutes may not give you the right information and broad perspective. If you are an IAS/IPS/IFS aspirant, you should invest in good textbooks.
How can I get UPSC study materials in PDF format?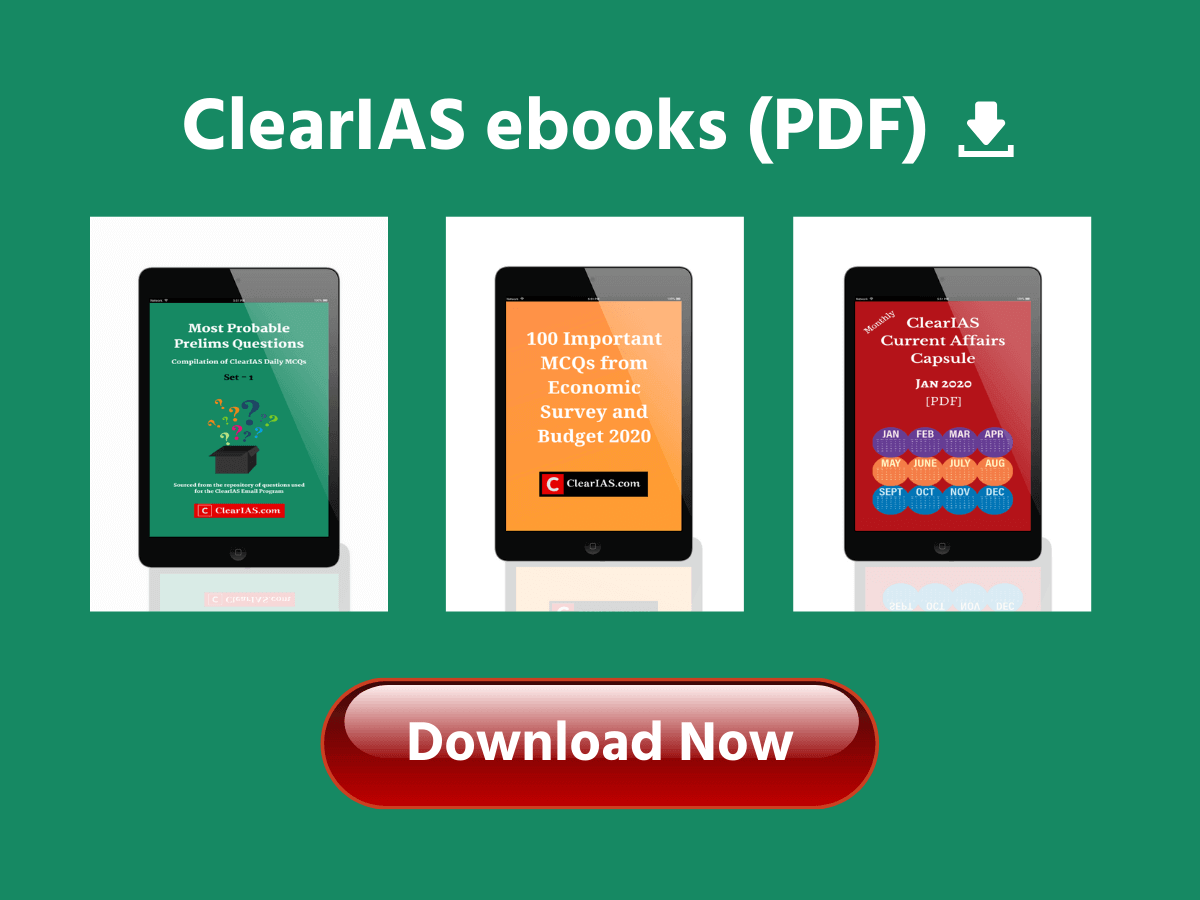 In addition to our online notes, ClearIAS also releases PDF notes (eBooks).
Some of our popular ebooks are:
ClearIAS Current Affairs Capsules (Red Books)
ClearIAS Most Probable Prelims Questions (Green Books)
Budget/Economic Survey Summary (Orange Books)
Toppers Notes (Blue Books)
Check ClearIAS online store to download ClearIAS ebooks.
Can you review the new UPSC books?
ClearIAS.com publishes reviews on new IAS books in the market under our Book Review section.
Publishers/authors can send us samples for review.
Readers too can post reviews about the UPSC books they bought in the comment section. That will be helpful for other aspirants for book selection.
What are the tips regarding IAS book selection?
If you are taking coaching for UPSC, most of the topics for UPSC CSE will be covered through the class lectures and coaching notes.
However, if you are doing your UPSC preparation entirely by self-study, you may not be having access to these resources. In this scenario, books are your major companions in the UPSC journey.
Be mentally prepared to invest in at least 15-20 standard textbooks for different subjects, apart from NCERT books. This is because UPSC CSE Prelims and Mains mention at least 15 subjects/topics. You will often need to read multiple books to cover each subject in detail.
Even though you should prioritise what you learn, you should never limit your reading. Your reading should be deep and wide.
Quality books act as add-ons to your online preparation and help a lot in self-study.
If you follow ClearIAS Test-based approach to clear UPSC Prelims, most of the books mentioned above will get automatically covered as per the mentioned timetable.
If you are running short of time to finish the syllabus before the exam, you may better focus on concise books instead of bulky ones.
There is no need to finish all books end-to-end. Focus on the important sections of each book.
We keep updating this page when new books worth the time and money of candidates appear in the market. So come back to check this page again!

©ClearIAS.com.
Disclaimer: ClearIAS is a participant in the Amazon Associates Program, an affiliate advertising program designed to provide a means for sites to earn advertising fees by advertising and linking to amazon.in. As an Amazon Associate, ClearIAS earns advertising revenue to meet our operational expenses, without any extra cost to the buyers.
Book a FREE UPSC Mentorship Session with a ClearIAS Expert
Is your ambition to become an IAS, IPS, or IFS officer?
Do you want to surprise all by cracking UPSC CSE in the shortest possible time?
Register now for a free UPSC Mentorship session with an expert mentor of ClearIAS!