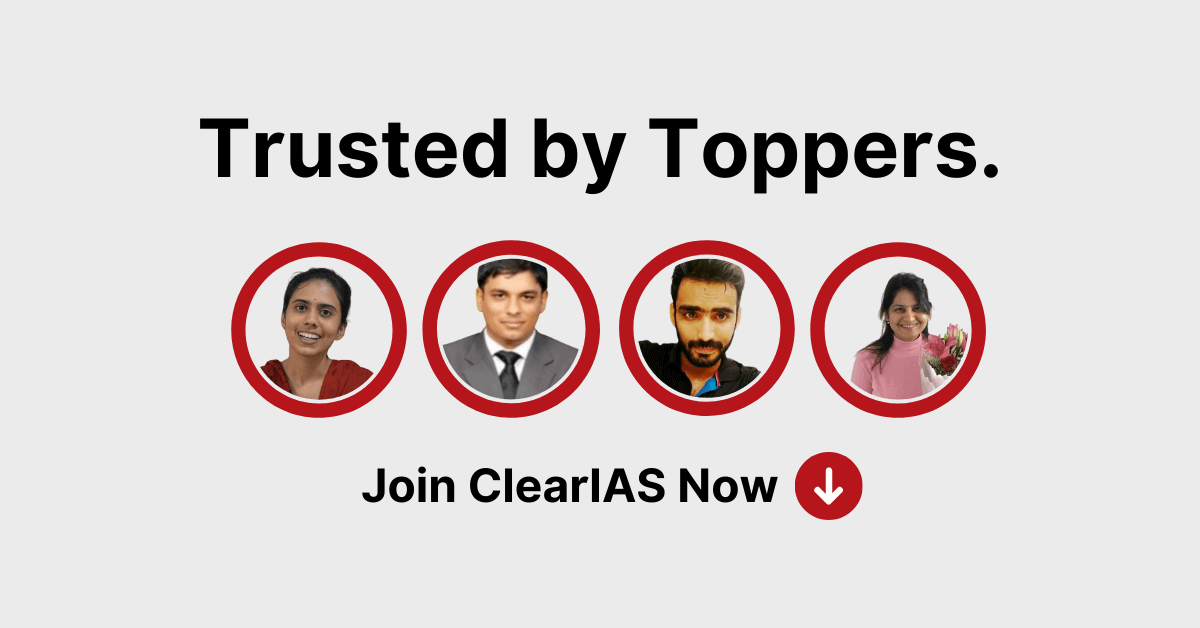 When your talent meets our training, the result is an extraordinary success!
Join ClearIAS Online Programs for UPSC Civil Services Examination (CSE).
1. ClearIAS Online Classroom Program 2022 (Admissions Open)
We provide online classes which cover the entire syllabus of UPSC CSE Prelims, Mains, and Interview.
There are different plans like Focus, Smart, Pro, Ultimate etc. The Ultimate Plan is the most popular package.
ClearIAS Prelims cum Mains (PCM) Ultimate Plan is a mega package that includes almost all products/services necessary for you to crack UPSC CSE like:
Live Classes
Access to Recorded Classes
Personal Mentorship
Textbooks and Study Materials
ClearIAS UPSC Prelims Online Mock Test Series
ClearIAS UPSC Mains Mock Test Series
Mains Answer Writing Practise (AWP) Sessions
Interview Guidance etc.
You can attend demo classes to experience our unique teaching style. The fees of different packages are mentioned in the link below.
2. ClearIAS Prelims Online Mock Test Series 2022 (Admissions Open)
ClearIAS follow a test-based approach for fast-learning of important topics of the UPSC Civil Services Exam (CSE). Our different plans include:
Important Links:
You can take our free online prelims mock exams and understand why toppers love ClearIAS.
3. ClearIAS Intelligent Elimination Techniques (Download as Video)
ClearIAS believes that success in UPSC CSE is 50% Knowledge and 50% Exam-Skills. In the exam skills part, we train you in different techniques like Intelligent Elimination Techniques (IETs), Memory Techniques, and Question Paper Solving Techniques.
Download 20 ClearIAS Intelligent Elimination Techniques (Video Class) to start with. More IETs are covered in ClearIAS Online Classroom Program.
4. ClearIAS Ebooks for UPSC CSE (Download as PDF)
Explore ClearIAS Online store to download Ebooks like ClearIAS Current Affairs Capsules and ClearIAS Most Probable Prelims Questions.
5. UPSC Books (Buy Online)
You need to invest in NCERT Books and Standard Reference Textbooks to score well in UPSC CSE. Check the recommended list of books by ClearIAS and buy online from Amazon.
6. ClearIAS Online Study Materials (FREE)
ClearIAS provides easy-to-learn online notes for all subjects mentioned in the UPSC CSE Syllabus. Explore the below links.
8. ClearIAS Mains Program
ClearIAS Mains Marks Booster Program
Daily Answer Writing Practice (AWP) and Personalised Feedback
Mains Test Series  (full-topic mock tests for UPSC CSE Essay, GS1, GS2, GS3 and GS4)
Note: The details of this year's ClearIAS Mains Program will be announced in due course.
9. ClearIAS Interview Program
Get 30 Most probable questions based on individual DAF analysis
"How to score high in the IAS interview: Tips to clear IAS interview in flying colours" (PDF)
ClearIAS Backgrounder – Current Affairs: 100 Most Important Topics for UPSC CSE
One to one sessions: Telephonic Mock Interviews
Note: The details of this year's ClearIAS Interview Program will be announced in due course.
UPSC Toppers' Testimonials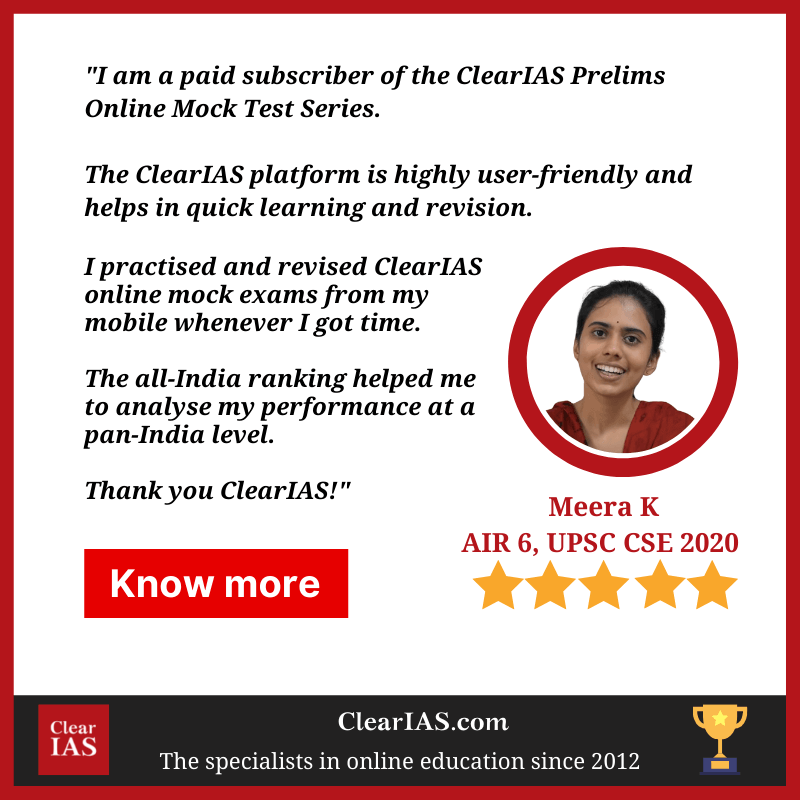 "I am a paid subscriber of ClearIAS Prelims Online Mock Test Series. The ClearIAS platform is highly user-friendly. It's is quite easy to revise mock exams on the ClearIAS mobile app. The explanations are short, crisp and clear. I practised and revised ClearIAS online mock exams from my mobile whenever I got time and it really helped me in my prelims preparation.  The all-India ranking helped me to analyse my performance at a pan-India level even before the actual UPSC exam. Thank you ClearIAS" – Meera K, All India Rank 6, UPSC CSE 2020
"ClearIAS has very good reading material and nicely crafted prelims test series. For Prelims, I practised mock tests of ClearIAS." – Rushikesh Reddy IPS, All India Rank 95, UPSC CSE 2019
"The online initiatives of ClearIAS were extremely useful for my Prelims Preparation. I constantly worked out ClearIAS Current-affairs Capsules which, matched the quality of questions asked in UPSC CSE Prelims. The free online Prelims mocks and the All India Ranking also aided in the preparation. Thanks to ClearIAS team." – Saranya Ramachandran IAS, All India Rank 36, UPSC CSE 2019
"I am immensely happy to say that ClearIAS played a big role in my preparation journey which started in 2014. I have been using ClearIAS Test Series since 2015 and it was instrumental in helping me clear the Preliminary examinations. I vouch for the expertise of the founder of CLEARIAS, Mr. Alex Andrews George, in the Civil Services Examination and would happily recommend ClearIAS to all UPSC aspirants." – Shiyaz KM IPS, All India Rank 422, UPSC CSE 2019
"I would like to thank ClearIAS for its role in my preparation for the civil services exam. Alex Sir of ClearIAS had provided me valuable guidance at a crucial time when I had to decide about my resignation from the job for preparation. I have extensively used the notes provided on the website as well as the ClearIAS Test Series. They are of good quality and highly reliable. I am also grateful for the interview guidance of the clearIAS team. I wish many more aspirants find ClearIAS an essential partner in their success in Civil Services Examination. Best Wishes!" – Renjina Mary Varghese IFS, All India Rank 49, UPSC CSE 2018
"I am extremely happy to put on record the role played by clearias.com in helping me secure a good rank in UPSC civil services exam. Alex bro has been a pillar of support. Initially, my association with clearias.com happened by using the prelims test series. Since then, I became part of the team as a content writer, prelims question maker, UPSC prelims key preparation and for mock interviews. You may find the articles I wrote for the site even now. More than that, I am happy with the way he, along with others, kept on motivating me, after every failed interview. This time around, as a full time working candidate, due to paucity of time, I relied heavily on the monthly MCQs of clearias.com for prelims, the quality of which I can personally vouch for." – Jishnu J Raju IAAS, All India Rank 132, UPSC CSE 2018
"Dear Sir, I have used your platform to refer to GS topics. I used to go through the daily MCQ that you sent via mail. I had also taken free mock exam papers by ClearIAS. I am thankful to you and the entire ClearIAS team." – Akshat Jain IAS, All India Rank 2, UPSC CSE 2018
"Sir, I'm Ganesh U R. I secured AIR 39 in UPSC Indian Forest Service Examination (IFS). I am deeply indebted to Clear IAS for helping me achieve this feat. It was your well planned, and thoroughly researched Test series which helped me cross IFS cut off in all the UPSC prelims I had attempted. I am especially thankful for the culture, environment and ecology, ancient and medieval history and the current affairs test series and study materials. These helped me score 142, 130, and 116 in my past 3 prelims attempts. Alex Sir at ClearIAS has been a brother, mentor and guide. The brainstorming sessions before mains and interview not only helped me gain perspective but also helped me maintain my motivation levels. Thank you Alex sir and team ClearIAS." – Ganesh U R IFS, All India Rank 39 UPSC IFoS 2018
Sir, I'm Angel Raj who secured Rank 623 in the Civil Services Exam 2018. My success is as much as ClearIAS as it is mine. I was enrolled in the ClearIAS prelims test series from 2015 to 2018. I had cleared prelims in all these years quite comfortably. Alex sir and the team behind ClearIAS are surely pioneers in reducing the clutter one encounters while preparing for prelims. Indian Polity was a tough subject for me and it was Alex sir and the notes of ClearIAS that helped get on track. The important questions posted before the mains exam helped me cover areas that I had left out. Even for the interview probable questions list from ClearIAS helped me prepare for the interview. – Angel Raj IPoS, All India Rank 623 UPSC CSE 2018
"Dear Sir, Being a working professional and a married man for 8 years with a toddler, it wasn't ever easy for me to even think of clearing this examination but for the support of so many people including ClearIAS. I am extremely grateful to ClearIAS for helping me with the Prelims Test Series and also last minutes notes for mains along with free study material. It has a tremendous role in my success which I feel I won't be able to justify in words." – Saurabh Bhuwania IAS, All India Rank 113, UPSC CSE 2018
"The ClearIAS UPSC Prelims Online test series is really helpful. Questions are of UPSC standard. Unlike many other test series in the market, which deliberately put tough questions to scare students, ClearIAS questions focus on very basic topics that require greater introspection from the UPSC point of view. Performance analysis, relative ranking, and comparison are very helpful. Time-based tests are available for the past UPSC prelims paper help during revision. Also, ClearIAS test series is relatively affordable and value for money." – Rehna R IRS, All India Rank 651, UPSC CSE 2017
"I had used ClearIAS Prelims Test Series and it was extremely useful. I have a 3.5-year-old child. I know how I used to feed him with one hand and read and give your test in another." – Dr T Shubhamangala IAS, All India Rank 147, UPSC CSE 2017
"ClearIAS was the first UPSC preparation app I downloaded on my phone and I needed no other online help after that. Thank you so much ClearIAS!" – Avneet Punia IAS, All India Rank 356, UPSC CSE 2016
"Working 24*7 in the police for the last 5 years and been out of touch with the preparation, I took the guidance from your website, especially the ClearIAS prelims test series. I bought it and found it to be the best available online." – Poonam Dalal IRS, All India Rank 308, UPSC CSE 2015
You can read more testimonials here.
The Smart Approach Recommended by ClearIAS