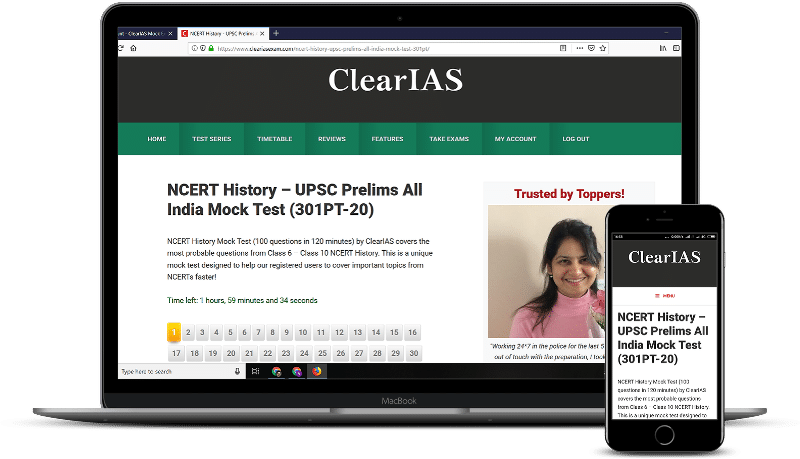 ClearIAS UPSC Prelims Online Mock Test Series integrates learning with test-taking and help you learn faster.
More than 2,00,000 aspirants have registered within a short span of time in ClearIAS Online Mock Test Platform acknowledging the quality of our tests.
Take a free ClearIAS Prelims Mock Test and explore the features.


♥ Loved by 2,00,000+ Registered Aspirants. Trusted By Toppers!
Unique Benefits of ClearIAS UPSC Prelims Test Series
Pan-India platform to learn and compete with thousands of aspirants real-time.
Answer key and performance analysis as soon as the exam is over.
Detailed solutions are also available in each user account for future revision.
Get instant access to take ClearIAS online mock tests even at midnight.
You may take our mock exams from a laptop, tablet or mobile.
40 Full-length prelims mock exams with timer and negative marking.
High-quality questions are similar to UPSC standards which help you learn faster.
More than 2,00,000 aspirants have already registered for tests on the platform.
Available as complete prelims mock exam package OR as separate mock tests!
Facility to buy as a complete package or as separate tests!
Tests can be paid through debit card, credit card or net-banking. Once the payment happens through the payment gateway (hardly takes 2-3 minutes), users will be re-directed back to the corresponding tests with instant access. Sounds great, huh?
A lot of questions in actual UPSC CSE Prelims could have been answered from ClearIAS Test Series!
Read Topper's Success Stories and Testimonials
[testimonialslider id='1′]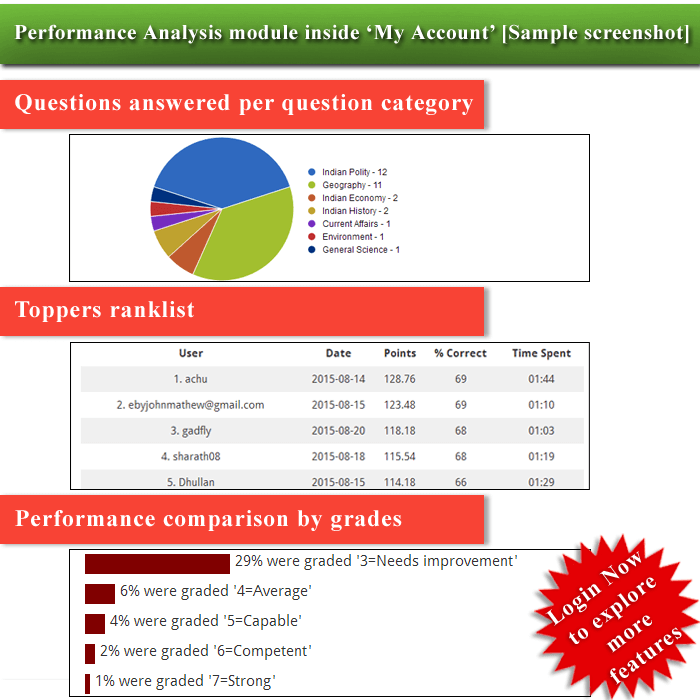 How do I attempt ClearIAS online mock tests?
Aspirants need to first register on the website before attempting tests (free or paid). The whole registration process is very simple and hardly takes 2 minutes. In the registration form, users need to give a username, email id, and password. After registration, users need to confirm their email by clicking on the link received in the email id given. That's all. You are ready to log in!
UPSC Prelims Test Series
Our test engine integrates learning with test-taking, making the whole IAS preparation affordable, interesting and fast. You would be surprised to find how fast you can learn! We will also provide a detailed analysis of aspirant's performance soon after the test. Your progress report (with lot many statistics) would help you understand your strengths and weakness. Compete, learn, analyze and clear IAS! Excited? Then take a free UPSC Prelims Mock Test!
Don't postpone taking mock tests till last month!
Learning is a continuous process. You should ideally take at least one mock test in a week and revise your answers multiple times. Our mock tests are prepared in such a way that even beginners would find it easy to learn concepts. So, it's time to take tests while you learn. Or, learn while you take tests!
Looking for a 130+ score in GS-Paper1? Take more mock tests!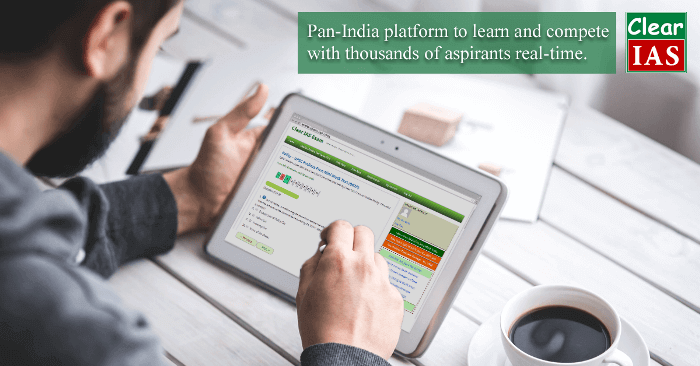 Talk to all UPSC toppers, they will agree on one thing – the importance of UPSC model tests. Our full-length mock tests can help you clear UPSC preliminary exam with ease. The tests will also boost your confidence for UPSC mains as you will be strong in your conceptual understanding.