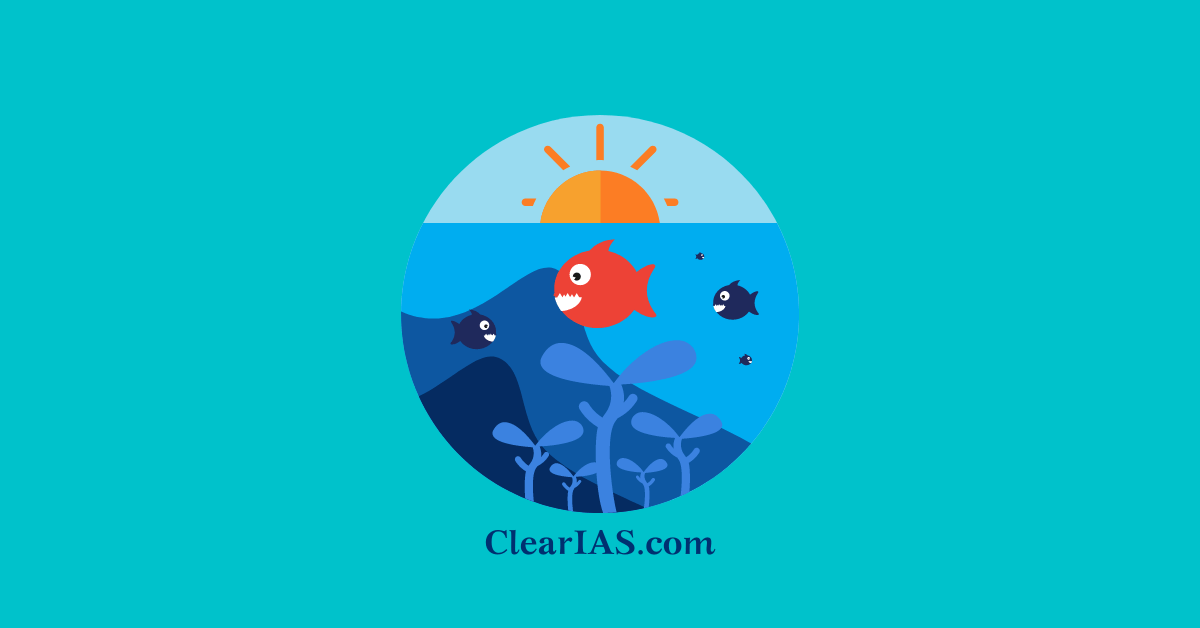 What is Blue Economy? How is Blue Economy different from the Green Economy? Read to know more.
As you might know, oceans cover three-quarters of the Earth's surface.
97% of the Earth's water is in Oceans.
Oceans also represent 99% of the living area on the planet.
However, the current economic trends have been rapidly degrading ocean resources.
Blue Economy deals with the sustainable use of ocean resources.
What is Blue Economy?
Blue Economy is the sustainable use of ocean resources and ocean development strategies for economic growth, improved livelihoods and jobs, and ocean ecosystem health.
It provides for an inclusive model that helps the coastal nations to extend the benefit of ocean resources to all.
It advocates the inclusion and participation of all vulnerable social groups and sectors.
It also ascertains the United Nations' Sustainable Development Goals (SDGs), especially SDG14 'Life Below Water.
This concept predominantly aims for the development of human wellbeing and social equity, whilst reducing environmental risks and ecological scarcities of the ocean.
History of Blue Economy
The economic philosophy of the Blue Economy was first introduced in 1994 by Professor Gunter Pauli at the United Nations University (UNU).
The concept became significant since the Third Earth Summit Conference – Rio+20 in 2012.
This philosophy underpins the objective behind the Commonwealth Blue Charter, highlighting the close linkage between the ocean, climate change, and the well-being of the people.
Different Definitions of Blue Economy
World Bank: The blue economy is the sustainable use of ocean resources for economic growth, improved livelihoods, and jobs while preserving the health of the ocean ecosystem.
European Commission: Blue Economy deals with all economic activities related to oceans, seas and coasts. It covers a wide range of interlinked established and emerging sectors.
The Commonwealth of Nations: Blue Economy is an emerging concept that encourages better stewardship of our ocean or 'blue' resources.
Conservation International: Blue economy includes economic benefits that may not be marketed, such as carbon storage, coastal protection, cultural values and biodiversity.
The Center for the Blue Economy: The blue economy is now a widely used term around the world with three related but distinct meanings- the overall contribution of the oceans to economies, the need to address the environmental and ecological sustainability of the oceans, and the ocean economy as a growth opportunity for both developed and developing countries.
United Nations: Blue Economy is an economy that comprises a range of economic sectors and related policies that together determine whether the use of ocean resources is sustainable. An important challenge of the blue economy is to understand and better manage the many aspects of oceanic sustainability, ranging from sustainable fisheries to ecosystem health to preventing pollution. Secondly, the blue economy challenges us to realize that the sustainable management of ocean resources will require collaboration across borders and sectors through a variety of partnerships, and on a scale that has not been previously achieved. This is a tall order, particularly for Small Island Developing States (SIDS) and Least Developed Countries (LDCs) who face significant limitations. The UN notes that the Blue Economy will aid in achieving the UN Sustainable Development Goals, of which one goal, 14, is "life below water".
World Wildlife Fund: For some, a blue economy means the use of the sea and its resources for sustainable economic development. For others, it simply refers to any economic activity in the maritime sector, whether sustainable or not."
Important Activities connected to a Blue Economy
The Blue Economy encompasses activities that include:
(1) Renewable Energy
Sustainable Marine Energy plays a vital role in social and economic development.
(2) Fisheries
Marine Fisheries contribute more than US$ 270 annually to global GDP. Sustainable Fisheries generate more revenue and help restore fish stocks.
(3) Water Transport
More than 80 % of traded goods are transported by Sea and the rate of seaborne trade is expected to double by 2030 and quadruple by 2050.
(4) Tourism
Ocean and Coastal Tourism can bring jobs and economic growth. More than 41 million visitors per year visit Least Developed Coastal countries and small island developing countries.
(5) Climate Change
The staggering impacts of climate change include rising sea levels, Coastal Erosion, changing Ocean Current patterns, and Acidification. Oceans are an important Carbon Sink and help mitigate climate change.
(6) Waste Management
80% of litter in oceans is due to land-based sources.
A Better Waste Management system can help revive deteriorating ocean health.
India's Draft Policy Framework: India's Vision of New India by 2030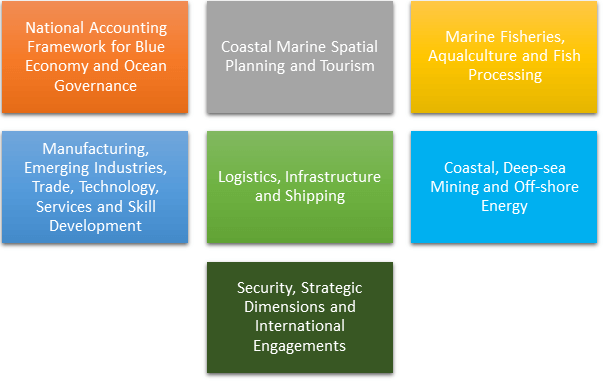 The Government of India's Vision of New India by 2030 highlighted the Blue Economy as one of the ten core dimensions of growth.
Blue Economy was mentioned as the sixth dimension of Vision of New India 2030 stressing the need to improve the lives of the coastal communities and accelerate their development.
The objective of India's Blue Economic policy framework should be to enhance the country's GDP by promoting sustainable and inclusive economic growth whilst aligning with national security goals and the international development agenda.
Potential of Blue Economy with respect to India
India has a coastline of 7517 km long, 12 major ports, and 187 non-major ports which handled about 633.87 million tons of cargo in the year 2019.
95% of India's trade volume transits by sea.
India's two million square kilometres Exclusive Economic is rich in living and non-living resources and contains a substantial amount of crude oil and natural gas.
It can potentially enhance value addition in coastal manufacturing and services, trade, deep-sea minerals, aquaculture, and marine-related technologies.
The coastal economy also sustains more than 40 lakh fishermen and other significant populations of coastal communities.
According to pre-pandemic OECD estimates the global Blue Economy was expected to grow double the rate of the rest of the world economy.
In the Post COVID-19 global scenario, India witnesses significant growth in the marine sector by efficient and sustainable utilization of ocean resources.
The blue economy along with the market opportunities paves way for the conservation and development of intangible 'blue' resources such as carbon sequestration and coastal resilience and decision-making to help vulnerable nations to mitigate the devastating effects of climate change.
Important facts connected with the potential of Oceans
The worldwide ocean economy is valued at around US$1.5 trillion per year.
Eighty per cent of global trade by volume is carried by sea.
350 million jobs worldwide are linked to fisheries.
By 2025 it is estimated that 34% of crude oil production will come from offshore fields.
Aquaculture is the fastest-growing food sector and provides about 50% of fish for human consumption.
Blue Economy vs Green Economy
The green economy is defined as an economy that aims at reducing environmental risks, and that aims for sustainable development without degrading the environment.  Therefore, the blue economy is a part of the green economy.
During Rio+20 Summit in June 2012, Pacific small island developing states stated that, for them, "a green economy was in fact a blue economy".