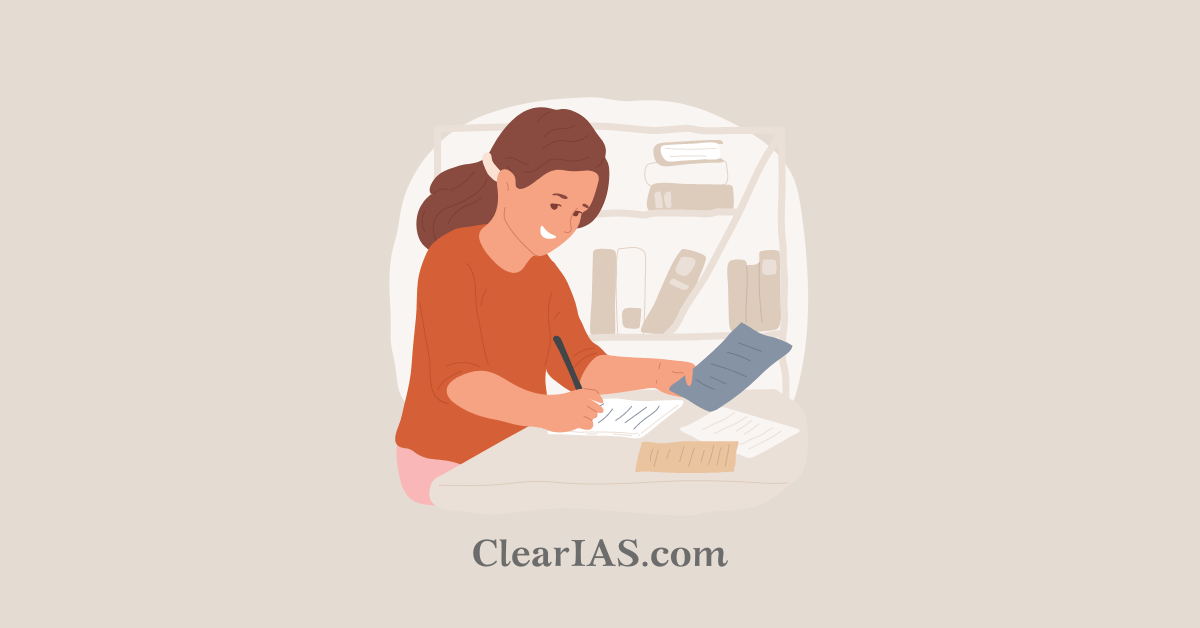 Boost Your UPSC CSE Essay Marks with ClearIAS! Our Exclusive Essay Course for UPSC CSE Equips You with Expert Strategies, Structuring Techniques, and Unique Voice Development. Enroll Now to Master Essay Writing for UPSC CSE!
Embark on a transformative journey to conquer the essay paper in the UPSC Civil Services Examination with the specialized video course from ClearIAS!
Crafted exclusively for UPSC CSE aspirants, this course is your ultimate companion in mastering the unique demands of essay writing in one of India's most prestigious exams.
A lot of questions in actual UPSC CSE Mains (Essay) could be easily answered by attending the ClearIAS Essay Program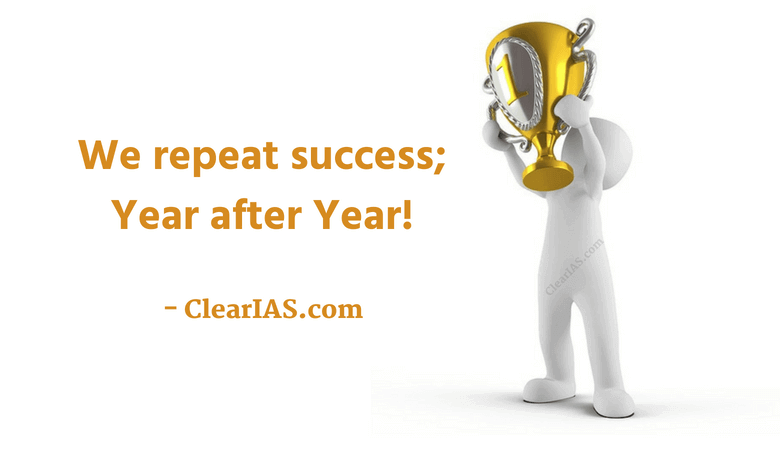 ClearIAS Essay program offers a very high Return on Investment (RoI). Many questions in the actual UPSC Civil Services Examination can be directly or indirectly answered from ClearIAS Classes, Study Materials, and Exams.
Limited Period Offer: Join now and get a 50% discount!
Enroll now in the ClearIAS PCM Program, and get instant access to already uploaded classes and automatic access to upcoming classes at just Rs.9999 Rs.4999 (inclusive of all taxes).
Enroll in ClearIAS Essay Course

–

Rs.4999

Join the ClearIAS Essay Course
🖋️ Course Overview:
ClearIAS presents a tailored video course meticulously designed to decode the intricacies of essay writing in the UPSC CSE.
Once you join, you will get access to:
ClearIAS video classes which cover the art of essay writing in detail.
ClearIAS notes on essay writing
ClearIAS sample essays
ClearIAS essay practice and feedback
Whether you're a first-time aspirant or a seasoned candidate, this course equips you with the skills to navigate the challenges of essay-based evaluation with confidence and finesse.
🎯 Key Learning Objectives:
Genre Mastery: Grasp the nuances of diverse essay genres, from policy analysis to philosophical contemplation. Develop the ability to choose the most appropriate genre for the given UPSC essay topic.
Strategic Introductions: Acquire the art of crafting captivating introductions that pique the examiner's interest. Learn to lay the groundwork for a compelling essay that stands out from the start.
Rigorous Argumentation: Hone the skill of building logically structured arguments fortified with data, examples, and insights. Gain the expertise to present your viewpoints persuasively, reflecting a deep understanding of the topic.
Structured Brilliance: Dive into the intricacies of essay structure customized for UPSC CSE. Learn to present your ideas in a coherent and organized manner, ensuring a seamless flow of thoughts.
Language Precision: Elevate your writing with impeccable language usage tailored to the expectations of the UPSC evaluators. Master the art of concise and impactful expression.
Cultivating Voice: Develop a unique writing voice that reflects your individuality while maintaining the formal tone expected by the UPSC. Stand out by infusing your essays with your personal perspective.
Time Management Strategies: Unlock the secrets of effective time management, critical for excelling in the time-bound essay paper of UPSC CSE.
📚 Why ClearIAS for UPSC CSE:
ClearIAS has a proven legacy of guiding aspirants towards success in UPSC CSE.
With an unwavering commitment to quality and effectiveness, this essay writing video course continues ClearIAS' tradition of excellence.
ClearIAS essay course is led by experts such as Alex Andrews George and Kavya Ajith, who have consistently secured high marks in essay paper (150+).
🎓 Who Should Enroll:
UPSC CSE Aspirants: Elevate your essay writing prowess to secure an edge in the examination. Gain the skills to articulate your thoughts concisely and convincingly.
🛍️ Buy ClearIAS Essay Writing Course for UPSC CSE:
You will get instant access to the course if you use the red-coloured payment button given below.
You can join the essay course for 12, 18 months, or 24 months.
Enroll in ClearIAS Essay Course

–

Rs.4999

Join the ClearIAS Essay Course
🔥 Take the Leap Towards Success! Enroll Now:
Seize the opportunity to excel in the UPSC CSE essay paper with the Excelling in Essay Writing for UPSC CSE video course by ClearIAS.
Equip yourself with the tools to excel in articulating your ideas, and make a lasting impact on the UPSC evaluators.
Join us now and let ClearIAS guide you towards essay writing excellence, ensuring that your UPSC CSE journey is marked by confident and proficient essay composition.
Your words have the power to shape policies, influence governance, and make a difference.
Enroll today and transform into a masterful essayist!
"How can I join the ClearIAS Essay Course for UPSC CSE?"
You can use a debit card, credit card, net banking, or UPI apps like GooglePay, PhonePe, PayTM etc to make the online payment.
Most students make the payment in full one time. If you are tight on the budget you can opt for the EMI option. You will get instant access once you complete the payment.
Enroll in ClearIAS Essay Writing Course for UPSC CSE
You will get instant access to the course if you use the red-coloured payment button given above.
Alternate Payment Methods:
You can also complete the payment by using any of the three alternate payment methods provided below.
(1) UPI payment by scanning the QR code given below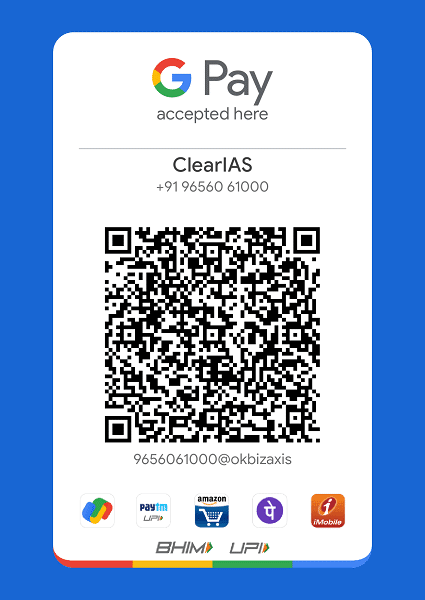 Scan the QR code given above using any UPI apps like Google Pay, PhonePe, PayTM etc.
Once you transfer the fees, inform ClearIAS by sending an email to [email protected] mentioning your name, phone number, and course details.
(2) Bank Transfer
You can also transfer the fees directly to the ClearIAS Bank Account number mentioned below:
Our Bank Account Number: 126602000001256
Bank Name: Indian Overseas Bank
Branch Name: Edathua
Bank IFSC Code:  IOBA0001266
Bank Full Address: EDATHUA; KUTTANAD; KERALA; 689573
Once you transfer the fees, inform ClearIAS by sending an email to [email protected] mentioning your name, phone number, and course details.
(3) Using Credit Card, Debit Card, Netbanking, or UPI using Instamojo
Use this link to make the payment to the ClearIAS course using the Instamojo payment gateway.
You can call or ping (Whatsapp) at any of the below phone numbers to talk to our mentors:
9605741000
9072851000
9656731000