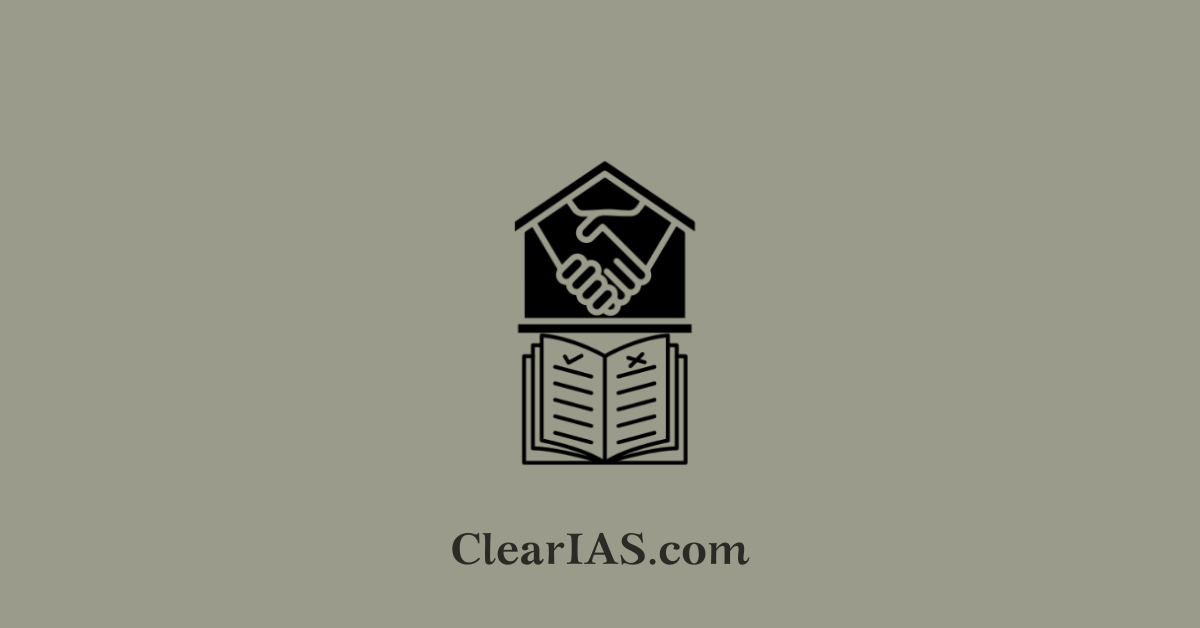 The RERA Act 2016 [Real Estate (Regulation and Development) Act], is an important legislation in India that was enacted to regulate and promote transparency, accountability, and efficiency in the real estate sector. Read here to learn more about the act.
Recently, the committee on stalled housing projects formed by the recommendation of the Central Advising Committee (CAC) submitted its report.
CAC is constituted under RERA 2016 and is chaired by the Minister of Housing & Urban Affairs.
According to the report, around 4.12 lakh housing units (44% in NCR) worth 4.08 lakh crores are stalled. Lack of financial viability (leading to cost overruns and delays) is the main reason for stalled projects.
Real Estate (Regulation and Development) Act, 2016 (RERA)
The RERA Act 2016 came into effect in May 2017.
Before this Act, the Indian real estate sector was highly unregulated with no standard practices in place for business and transactions.
The primary objective of the RERA Act is to protect the interests of homebuyers and promote fair practices in the real estate industry.
Key Features of the RERA Act, 2016:
Regulation of Real Estate Projects: The RERA Act mandates that real estate projects that involve the development of a minimum number of units or a specified area must be registered with the appropriate state-level Real Estate Regulatory Authority (RERA).
Disclosure of Project Details: Promoters are required to provide comprehensive information about the project, including details about the promoter, land status, approvals, timeline, and layout plan. This ensures transparency for prospective homebuyers.
Title and Escrow Account: Developers are required to maintain a separate escrow account for each project to ensure that the funds collected from buyers are used exclusively for that project's construction and development.
Advance Payment Limit: Developers are prohibited from demanding more than 10% of the total cost of the property as an advance before signing a sale agreement. This prevents undue financial strain on homebuyers.
Timely Completion and Possession: Developers are mandated to complete and hand over the project to buyers within the stipulated timeframe mentioned in the registration. Failure to do so could result in penalties.
Defects Liability: Developers are responsible for addressing any structural defects or poor workmanship in the project for a specified period after possession.
Real Estate Agents: Real estate agents must also register with RERA. This brings greater accountability and transparency to the role of agents in property transactions.
Complaints and Dispute Resolution: RERA authorities are established to address grievances and disputes between homebuyers and developers. The Act also provides for the establishment of an Appellate Tribunal for appeals against the decisions of the RERA authorities.
Promotion of Transparency: The RERA Act aims to curb fraudulent practices by promoting transparency in the real estate sector. Developers must update project information on the RERA website regularly.
Punitive Measures: The Act provides for penalties and imprisonment for non-compliance with its provisions, including fraudulent practices or misleading advertisements.
Significance of the RERA Act
The Real Estate (Regulation and Development) Act, 2016 (RERA), was enacted in India to address various long-standing issues and challenges that existed within the real estate sector.
The need for the RERA Act stemmed from the need to protect the interests of homebuyers, promote transparency, accountability, and fairness in the real estate industry, and create a conducive environment for its sustainable growth.
Consumer Protection: One of the primary reasons for enacting RERA was to safeguard the interests of homebuyers, who often faced challenges such as project delays, unfulfilled promises, and lack of transparency from developers. The Act aimed to provide homebuyers with greater protection against these issues.
Lack of Transparency: The real estate sector in India was plagued by a lack of transparency, with incomplete or misleading project information, unregulated advertisements, and unreliable completion timelines. RERA mandated greater disclosure of project details to ensure that homebuyers have accurate and complete information.
Project Delays: Project delays were a common concern in the real estate sector. Homebuyers often faced significant delays in project completion, leading to financial and emotional distress. RERA's provisions for timely completion and possession aimed to address this issue.
Misuse of Funds: In some cases, developers collected funds from homebuyers without using them for the intended project, which led to incomplete projects and legal battles. RERA's requirement for developers to maintain a separate escrow account for each project aimed to prevent such misuses.
Unregulated Real Estate Agents: The role of real estate agents was unregulated, leading to instances of misrepresentation, unfair practices, and inadequate knowledge transfer to homebuyers. RERA's inclusion of real estate agents in its regulatory framework aimed to bring professionalism and accountability to this aspect of the industry.
Lack of Standardization: The real estate sector lacked standardized practices and norms. RERA aimed to establish a uniform regulatory framework across states to bring consistency and accountability to the sector.
Reducing Litigation: Disputes between homebuyers and developers often lead to lengthy and costly legal battles. RERA established a mechanism for resolving disputes through regulatory authorities and Appellate Tribunals, aiming to reduce the burden on the judicial system.
Boosting Investor Confidence: The lack of trust and transparency in the real estate sector deterred potential investors. RERA's provisions for accountability, timely completion, and transparency aimed to enhance investor confidence in the sector.
Sustainable Growth: The real estate sector is a significant contributor to India's economy. The Act aimed to promote sustainable growth by ensuring that projects were completed on time, reducing financial risks for both developers and homebuyers.
Concerns with the RERA Act 2016
State-Level Variations: RERA is implemented at the state level, leading to variations in rules, regulations, and procedures across different states. This can create confusion and complexity, especially for developers operating in multiple states.
Project Delays and Cost Escalations: While RERA aims to ensure the timely completion of projects, strict provisions can sometimes lead to legal disputes and delays. Delays can increase the cost of projects, which may eventually be passed on to homebuyers.
Burden on Small Developers: Compliance with RERA requirements can be resource-intensive, especially for small developers. The administrative burden, including maintaining separate escrow accounts and meeting disclosure requirements, can be challenging for smaller developers.
Approval Delays: Developers often need several approvals before starting a project, which can lead to significant delays. RERA's strict timelines for project completion might not be realistic considering these delays in approvals.
Escrow Account: While the requirement for maintaining a separate escrow account ensures that funds are used for the intended project, it can also create liquidity issues for developers if funds are locked up in escrow accounts.
Rise in Pre-Launch Offers: To avoid the obligations and regulations under RERA, some developers have resorted to pre-launch offers, which are not covered by the Act. This can lead to a lack of transparency for buyers and circumvent the intended goals of the legislation.
Complex Complaint Resolution: While RERA aims to provide a mechanism for dispute resolution, the process can sometimes be time-consuming and cumbersome, deterring homebuyers from pursuing their complaints.
Inclusion of Ongoing Projects: The retrospective application of RERA to ongoing projects led to certain complexities, as developers had to ensure compliance with new regulations for projects that were already in progress.
Interpretation Issues: Some provisions of RERA have led to legal disputes and varying interpretations, adding ambiguity to the Act's implementation.
Focus on Urban Areas: RERA primarily focuses on urban areas and excludes certain categories of projects, such as those related to agricultural land. This leaves a gap in the regulatory framework for certain types of developments.
Conclusion
The RERA Act, 2016, is a landmark legislation that aims to protect the interests of homebuyers, enhance transparency, and promote accountability in the real estate sector.
It has had a significant impact on the way real estate transactions are conducted in India by bringing greater transparency, fairness, and discipline to the industry. The Act has empowered homebuyers with more information and rights, thereby helping to build greater trust between buyers and developers.
-Article by Swathi Satish