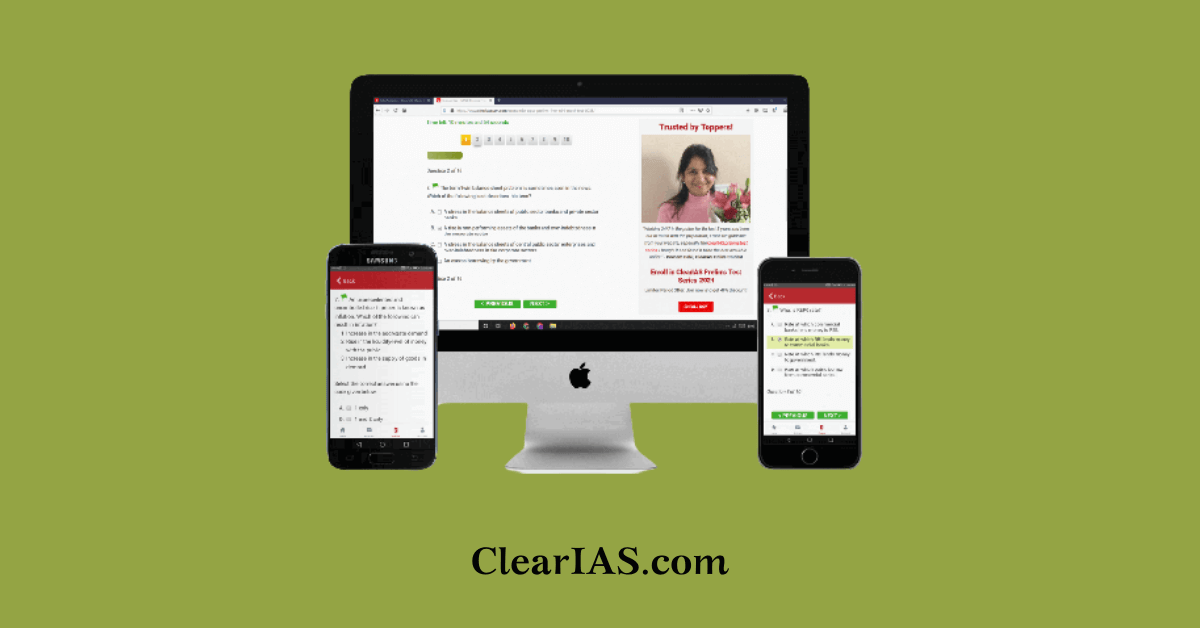 Preparing for UPSC 2021? Start your IAS preparation with one of the most trusted brands in India with respect to UPSC Test Prep – ClearIAS.
Registration for ClearIAS Prelims Test Series 2021 (online mocks) is now open. There will be 40 online mock exams in the new series. The duration of the program will be for 1-year until the date of UPSC Prelims 2021.
The fees for the Early Bird Advantage batch would be Rs.9000 Rs.4999 for 40 online exams. Enroll now in ClearIAS Prelims Online Mock Test Series 2021 and get the early-bird advantage!
Clear IAS by Self-Study!
ClearIAS online programs are intended to help aspirants clear the IAS exam by self-study.
We are proud to be a crucial factor in the success of many UPSC CSE toppers. You can read the testimonials of toppers here.
Do you know how is the ClearIAS method different?
We follow a highly successful test-based approach that integrates learning with test-taking.
ClearIAS Test-Based Approach
Our unique test-based approach will ensure that your self-study and online preparation is fast, focussed, and efficient.
Candidates who enroll in ClearIAS Prelims Test Series 2021 will be guided with a timetable, syllabus, and study materials – to prepare themselves for the upcoming UPSC model exams.
ClearIAS has conceptualised a 'TTT' approach which includes '3' Ts – Text-books, Test-Series, and Techniques. The Test-Series is designed in such a way that knowledge from Text-books is properly integrated with Techniques to clear the IAS exam.
1-year long guidance
UPSC Prelims Model Exams (mock tests) will be conducted for a duration of 1-year until UPSC Preliminary Exam 2021, usually on every Sunday.
Candidates will get 1-2 weeks time to learn the topics that will be asked in each model exam.
Soon after each exam, you will be provided with a detailed answer key and all-India rank list.
By the time you finish taking all 40 online mock exams, you would not only have gained valuable exam practice and experience but also covered the whole UPSC Prelims syllabus along with recommended textbooks and online study materials!
Pan-India Learning Platform
ClearIAS Mock Exam Platform is one of the largest mock exam websites in India with more than 2.5 lakh registered users.
Aspirants can compete against each other, know their all-India rankings, and improve performance over a span of 1 year.
We will also provide detailed answer keys and performance analysis reports online.
Mock Exams to start from May 17, 2020 (Sunday)
The first exam in the series will be launched on May 17, 2020. This will be followed by regular exams every Sunday.
This does not mean those who join after May 17, 2020 will miss the previous exams. All new joiners – irrespective of the joining date – will get instant access to all already uploaded mock exams and automatic access to upcoming mock exams.
However, to get the early advantage, we recommend all IAS/IPS aspirants preparing for UPSC 2021 to join ClearIAS Prelims Test Series 2021 at the earliest.
Detailed Study Plan for aspirants who prepare by self-study
To succeed in the IAS/IPS Exam 2021, a proper study plan is essential. ClearIAS offers a 50-page PDF study-plan – which not only includes the mock exam timetable but also a detailed list of books and exam strategies.
Flexibility To Take Mocks as Per Your Convenience!
We upload our full-length online mock tests sticking to a schedule, but once each exam is uploaded, aspirants can take it as per their convenience – at any time they wish before Prelims 2021.
This would help working professionals or students who may need flexibility in the exam schedule.
Once an exam is over, aspirants get detailed solutions and all-India ranks. They can revise the exams online anytime from the "Performance Analysis" link as well.
Rather than learning from textbooks, learn by taking mock exams!
Though ideally candidates are supposed to finish the text-books in the mentioned timeframe as per ClearIAS timetable, don't worry if by some reason you couldn't do it. More than 18 full-topic exams follow-up subject-specific exams which will help you cover up missing topics.
Also understand that, for UPSC, there is nothing like finishing a subject or text-book before you can take mock exams.
Mock exams are all about practice. The approach of ClearIAS is Test-based learning. Rather than you learn from text-books, you learn by taking mock exams!
Newly enrolled users will get access to already uploaded mock exams and upcoming mock exams!
Once you enroll in ClearIAS Prelims Online Mock Test Series 2021, you would get
Instant access to all the uploaded paid-mock tests in Prelims Test Series 2021 – even at midnight!
Automatic access to all upcoming paid-mock tests in Prelims Test Series 2021, without any additional individual payments!
Flexibility to attempt exams in ClearIAS Prelims Test Series 2021 at any time convenient for you, until the date of Prelims 2021, when the validity expires.
FREE pass to ClearIAS webinars/seminars on Intelligent Elimination Techniques (IET)™ for Prelims 2021, once we start those.
As an additional offer, FLAT 50% discount on all ebooks (PDFs) on ClearIAS store.
Get Personal Guidance, Priority Support, and other privileges
ClearIAS will provide personal guidance and priority support to ClearIAS Prelims Test Series Subscribers (paid users).
As our prime users, you will get personal guidance (email or phone call) to improve your marks.
Your performance will be evaluated by our experts and will be given mentorship to boost your marks.
Also, priority will be given for you in seminars or webinars like those on ClearIAS Intelligent Elimination Techniques.
Previous-Year Users Can Use the Same Username!
Are you already registered on ClearIAS Mock Exam platform?
If yes, the same Username/Password can be used ClearIAS Prelims Test Series 2021 as well.
If you forgot username/password, you can use the Lost Username/Password Link, to retrieve the same.
Prelims cum Mains Integrated Approach to Clear IAS!
If you join ClearIAS Prelims Online Mock Test Series 2021 today, it would give you a massive early advantage for the complete coverage of our most probable questions.
As ClearIAS use a Prelims-cum-Mains Integrated approach, following the above timetable helps to cover a majority of topics for Mains 2021 as well.
Registrations for ClearIAS Prelims Online Mock Test Series 2021 is now open. Enroll now!