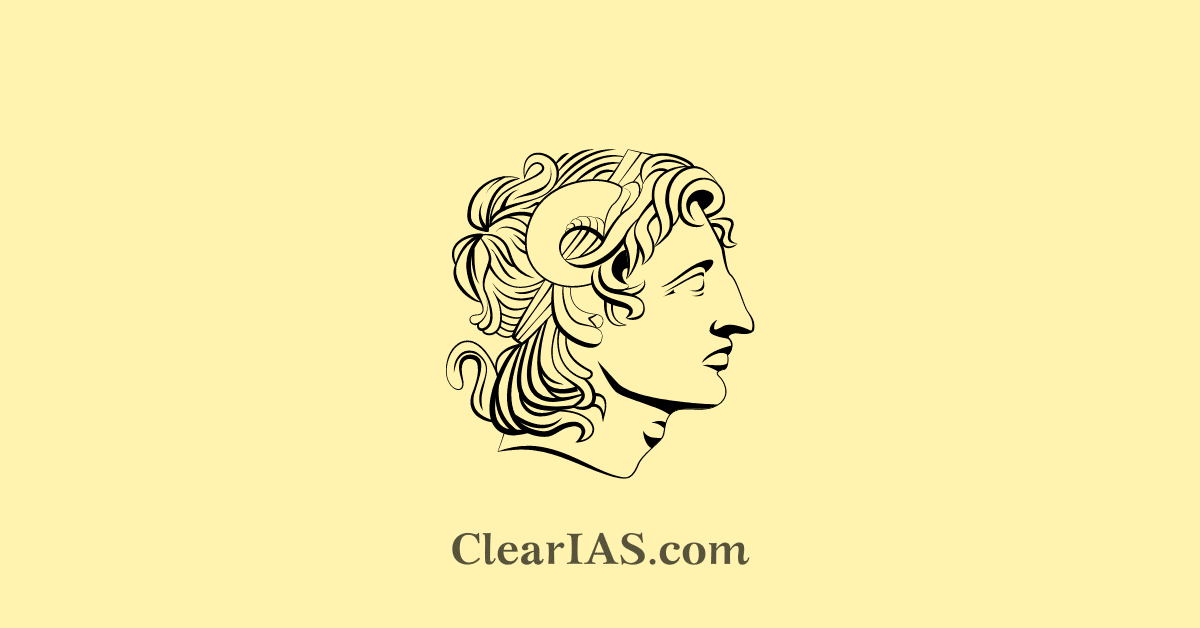 Who was Alexander the Great? Alexander, the son of a monarch, was a bright military commander who subdued the majority of the known world, but he was not a particularly skilled diplomat. Read here to know about his life as a conqueror.
Alexander the Great, also known as Alexander III or Alexander of Macedonia, was the king of Macedonia from 336 to 323 BCE.
He overthrew the Persian empire, transported Macedonian weapons to India, and established the Hellenistic world of territorial kingdoms.
Alexander the Great was born in Pella, Macedonia, in 356 BCE. He died in Babylon on June 13, 323 BCE.
He had been the topic of fantastic tales during his existence and subsequently rose to the status of being the protagonist of a grand legend that bore only a passing resemblance to his actual professional life.
The early life of Alexander
The son of Philip II and Olympias, he was born in 356 BCE at Pella in Macedonia.
He was instructed by Aristotle from the age of 13 to 16, who sparked his interest in philosophy, medicine, and scientific inquiry. However, he would eventually go beyond his teacher's constricting belief that non-Greeks should be regarded as slaves.
Aristotle taught Alexander and other children of Macedonian nobles such as Ptolemy, Hephaistion, and Cassander.
Many of these students would become Alexander's friends and future generals, and are often known as the "Companions".
When Philip attacked Byzantium in 340 BCE and Alexander was left in command of Macedonia, he routed the Thracian Maedi.
Two years later, at the Battle of Chaeronea, where Philip vanquished the allied Greek states, he oversaw the left flank and exhibited bravery by overpowering the Sacred Band of Thebes, an elite military force.
Alexander and his mother fled to Epirus after a fight at a feast to honor his father's new marriage, and Alexander eventually went to Illyria, a year after Philip separated from Olympias.
Alexander returned soon after the father and son had made amends, but his status as the successor was in jeopardy.
Alexander, the king of Macedon
In 336 BCE, however, after Philip's assassination, Alexander, acclaimed by the army, succeeded without opposition. He executed the elites alleged to be responsible for Philip's murder.
News of Philip's death roused many states into revolt, including Thebes, Athens, Thessaly, and the Thracian tribes north of Macedon.
When news of the revolts reached Alexander, he responded quickly and took over the states with military prowess.
In 335 BCE, he safeguarded his northern borders by controlling the Balkan region.
Alexander was appointed the general of the invasion of Asia which Philip had planned and initiated.
Alexander's Persian campaign
Alexander had been focused on the Persian mission since his ascension. In addition, he required Persia's riches to continue maintaining Philip's troops.
334 BCE: In spring, he crossed the Dardanelles, leaving Antipater, who had already faithfully served his father, as his deputy in Europe.
Alexander appears to have planned an endless operation from the start, as the army was followed by surveyors, engineers, architects, scientists, judicial officials, and historians.
The first battle took place near the Sea of Marmara- Battle of Granicus.
He proceeded along the Ionian coast (an ancient region on the western coast of Anatolia). He took control of all the coastal cities to deny the Persian naval bases.
As legend has it, at the ancient Phrygian capital of Gordium, Alexander "undid" the hitherto unsolvable Gordian Knot, a feat said to await the future "king of Asia".
According to the story, Alexander proclaimed that it did not matter how the knot was undone and hacked it apart with his sword.
333 BCE: Alexander marched towards Syria, and defeated the Achaemenid army of Darius III in the Battle of Issus.
Darius fled the battle, and Alexander took control of Syria and most of the coast of the Levant.
332 BCE: He proceeded towards Egypt, and was met with resistance at Gaza.
Alexander made sacrifices to the gods at Memphis and traveled to the Siwa Oasis to visit the renowned oracle of Amun-Ra to establish himself as the heir apparent to the long line of pharaohs.
In the Oracle of Siwa Oasis in the Libyan desert, he was declared to be the son of the god Amun.
From that point on, Alexander frequently referred to Zeus-Ammon as his real father, and after his passing, coins showed him with the Horns of Ammon as a sign of his divinity.
During his stay in Egypt, he founded Alexandria, which would become the prosperous capital of the Ptolemaic Kingdom after his death.
Control of Egypt passed to Ptolemy I, the founder of the Ptolemaic Dynasty (305-30 BC) after the death of Alexander.
331 BCE: Alexander marched eastward into Achaemenid Assyria in Upper Mesopotamia (now northern Iraq) and defeated Darius again at the Battle of Gaugamela.
He also captured Babylon while chasing Darius to the mountains.
From Babylon, Alexander went to Susa, one of the Achaemenid capitals, and captured its treasury.
Central Asian Campaign
Alexander chased Darius to Parthia where he was taken by Bessus, his Bactrian satrap and kinsman, and later murdered.
Bessus declared himself Darius's successor as Artaxerxes V, before retreating into Central Asia to launch a guerrilla campaign against Alexander.
Alexander buried Darius's remains next to his Achaemenid predecessors in a regal funeral.
He claimed that, while dying, Darius had named him as his successor to the Achaemenid throne.
The Achaemenid Empire is considered to have fallen with Darius but Alexander upheld the general structure of governance and community life under his rule.
Alexander set out on a campaign to defeat Bessus. It turned out to be a grand campaign of central Asia.
He founded a series of new cities, all called Alexandria, including modern Kandahar in Afghanistan, and Alexandria Eschate in modern Tajikistan.
The campaign took Alexander through Media, Parthia, Aria (West Afghanistan), Drangiana, Arachosia (South and Central Afghanistan), Bactria (North and Central Afghanistan), and Scythia.
During this time, Alexander adopted some elements of Persian dress and customs at his court, notably the custom of proskynesis, symbolic kissing of the hand, or prostration on the ground, that Persians showed to their social superiors.
Alexander's Invasion of India
In the early summer of 327 BCE, Alexander left Bactria with a reinforced army under a reorganized command.
He crossed the Hindu Kush mountains via Bamiyan and Ghorband valleys, and further through Khyber Pass. He advanced through Swat and Gandhara and stormed the forts.
326 BCE: Crossing the Indus near Attock, Alexander entered Taxila, whose ruler, Ambhi, furnished elephants and troops in return for aid against his rival Porus, who ruled the lands between the Hydaspes (modern Jhelum) and the Acesines (modern Chenab).
The Battle of Hydaspes was his last great battle on the banks of the Jhelum river.
He founded two cities there, Alexandria Nicaea (to celebrate his victory) and Bucephala (named after his horse Bucephalus, which died there); and Porus became his ally.
The Nanda Empire of Magadha, located close to the Ganges River to the east of Porus's realm, and the Gangaridai Kingdom of Bengal to the east were both parts of the Indian subcontinent.
Alexander's army mutinied at the Hyphasis River (Beas), refusing to advance farther east, due to fatigue from years of fighting and fear of coming up against other powerful forces of Nandas.
Hence, the Beas River designates Alexander's conquests' easternmost boundary as he decided to return.
He dispatched a large portion of his army with general Craterus to Carmania (modern-day southern Iran) and ordered a fleet to explore the Persian Gulf shore under his admiral Nearchus.
Alexander led the remainder of his army back to Persia via the more challenging southern route through the Gedrosian Desert and Makran.
By the time Alexander arrived at Susa in 324 BCE, the harsh desert had already claimed many of his troops.
Later life and death
To further his strategy of uniting Macedonians and Persians into one master race, Alexander held a feast in Susa to commemorate the conquest of the Persian empire.
At this feast, he and his officers took Persian wives; he and Hephaestion wed Darius's daughters Barsine (also known as Stateira) and Drypetis, respectively; and many of his soldiers who had native wives received generous dowries.
This policy of racial fusion brought increasing friction to Alexander's relations with his Macedonians. But eventually, the situation was surmounted.
In 324 BCE, Hephaestion died in Ecbatana, and Alexander indulged in extravagant mourning for his closest friend; he was given a royal funeral in Babylon.
In 323 BCE, Alexander was taken ill after a prolonged banquet and drinking bout; 10 days later, on June 13, 323, he died in his 33rd year; he had reigned for 12 years and eight months.
His body, received in Egypt by Ptolemy, the later king, was eventually placed in a golden coffin in Alexandria.
As no heir had been named, his generals divided the satrapies among themselves and crowned Alexander IV, Roxana's son by Alexander, and Philip Arrhidaeus, Philip II's dimwitted illegitimate son, as kings.
The empire could hardly survive Alexander's death as a unit. Both kings were murdered by 309 BCE.
The provinces became independent kingdoms, and the generals, following Antigonus's lead in 306 BCE, took the title of king.
Macedonian unity collapsed, and 40 years of war between "The Successors" (Diadochi) ensued, known as the Wars of Diadochi.
The Hellenistic world settled into four stable power blocs: Ptolemaic Egypt, Seleucid Mesopotamia and Central Asia, Attalid Anatolia, and Antigonid Macedon.
Legacy of Alexander the Great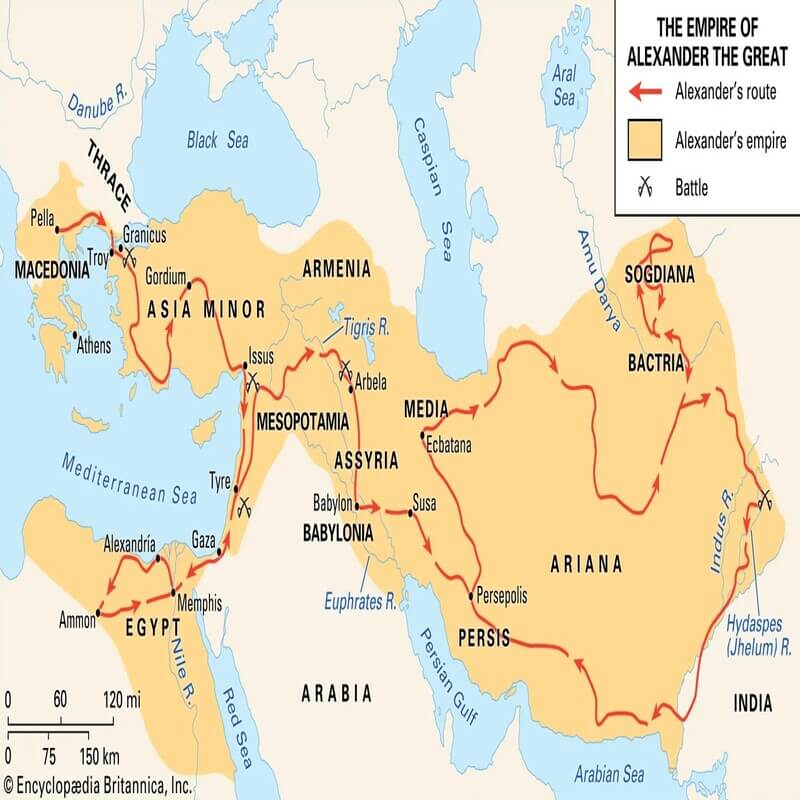 Alexander earned the epithet "the Great" due to his unparalleled success as a military commander; he never lost a battle, despite typically being outnumbered.
His empire stretched from Greece in the west to Punjab in India it was one of the largest empires the ancient world had seen, even outshining the Roman Empire which would emerge later.
It contributed to the popularisation of Greek culture, creating a new line of thinking among the empire's many civilizations.
Alexandria of Egypt is one of the cities that Alexander created during his conquest and where his impact is still felt today.
Alexander's short reign marks a decisive moment in the history of Europe and Asia. His expedition and his interest in a scientific investigation brought many advances in the knowledge of geography and natural history.
-Article written by Swathi Satish