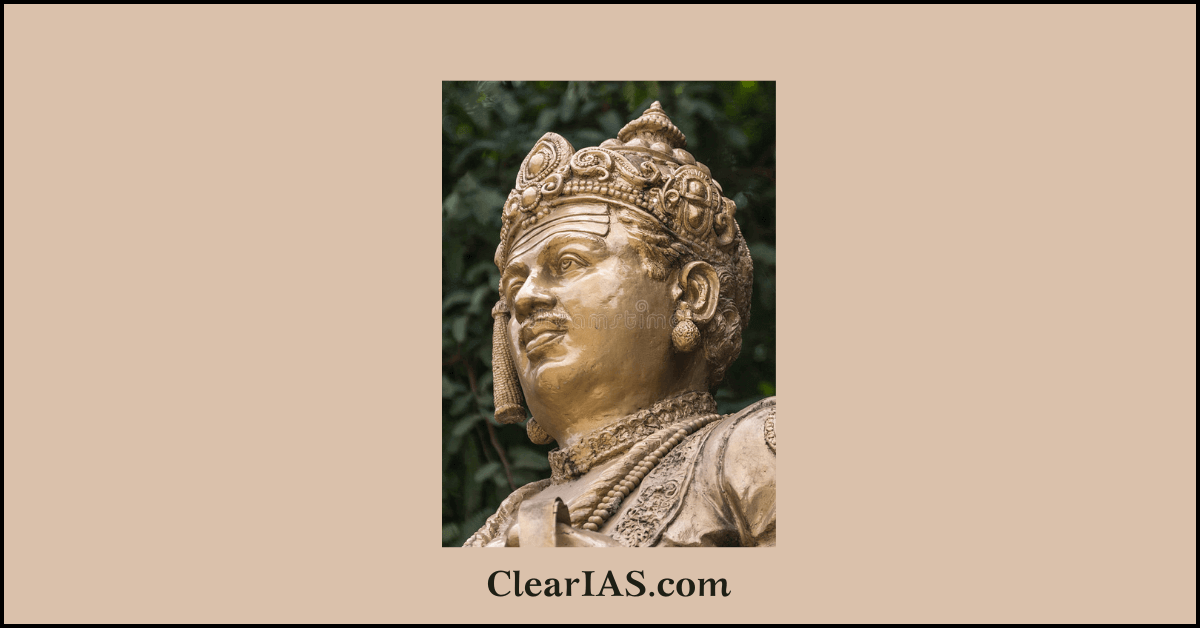 Who is Basavanna? What are his contributions? Read further to know more
On May 3, 2022, the nation celebrated the birth anniversary of Basavanna or Basaveshwara. He is also known as Bhakti Bhandari (literally, the treasurer of devotion).
About Basavanna
Basavanna, also known as Basaveshwara, was a saint-poet, social reformer, and philosopher who lived in the 12th century. He spoke out against caste, class, and gender inequality.
During the rule of the Kalyani Chalukya/Kalachuri dynasty, Basavanna was a Hindu Shaivite social reformer who was a Lingayat saint in the Shiva-centered Bhakti movement.
Click here to know more about the architectural style of the Chalukyan dynasty
Basavanna was the founder of the Lingayat sect.
Lingayat sect
The Lingayats are strict monotheists. They enjoin the worship of only one God, namely Linga (Shiva).
At the court of King Bijjala of the Kalachuri, Basavanna started his career as an accountant in Mangalaveda.

With his honesty, hard work, and visionary mission, Basava rose to the position of Prime Minister in the court of king Bijjala

The Basava Purana by Palkuriki Somanatha, a sacred Telugu text from the 13th century, gives a comprehensive account of Basava's life and ideals.
Basavanna used his poetry, known as Vachanaas, to raise societal consciousness. Gender or social discrimination, superstitions, and rituals were all rejected by the Basavanna.
Basavanna is credited with several major Lingayat works, including Vachana, such as the Shat-Sthala-Vachana, Kala-jnana-Vachana, Mantra-Gopya, Ghatna Chakra-Vachana, and Raja-yoga-Vachana.
Vachanas
The vachanas were composed and used by the Sharanas to build an egalitarian society. They were composed in simple Kannada language by targeting the common man.
On May 3rd, 2022, Basava Jayanti, the birth anniversary of renowned philosopher Basaveshwara was celebrated.
 Click here to learn more about Vachana Sahitya
Also read: Socio-Religious Movements in India
Contributions of Basavanna
Contributions of Basavanna consist of Socio-political, Literary, Spiritual, and philosophical contributions. Some of them are as follows
Socio-Political Contributions
Equality:

Regardless of caste, Basava thought that all people were formed as equals. To combat caste, class, and gender inequality, Basavanna joined forces with several other followers.

Women's empowerment:

One of his numerous contributions to the renewal of today's tradition-bound society was his recognition of women's identity and rights. There is no denying that a society's view of women's status is a key indicator of its level of culture.

Veerashaiva movement:

Basavanna was a strong proponent of social change. He advanced to become the movement's leader for Veerashaiva. He established a cult that is still well-known today.

The previous class of priests was eliminated. The mass dissemination of the ultimate truth was decided upon using the vernacular. It gave women a significant place in social and religious life. It gave everyone, regardless of wealth or poverty, a single ideal realization.

Anubhava Mantapa:

Basavanna firmly believed in the idea of a caste-free society where everyone had an equal opportunity to succeed. He founded the AnubhavaMantapa, a Lingayata academy of mystics, saints, and philosophers, to accomplish the noble goal.

It acted as a clearinghouse for ideas regarding universal human values and ethics. Anubhava Mantapa has been referred to as "The First Religious Parliament of the World" by the late Dr S. Radhakrishnan, a prominent philosopher and former president of India.

Promoted inter-caste marriages:

The social revolution of the twelfth century reached its pinnacle with the union of a Brahmin woman and an outcast cobbler's son from Harijan.

Pioneer of Democracy:

A democratic social structure was to be established as Basavanna's strong and ultimate goal.

Gender equality:

According to Basavanna, in the early Vedic era, men and women had equal rights. The wife and husband were regarded as being on an equal footing and shared in all social and religious obligations.

Promotion of local language:

The people's local language should be used as the medium for delivering secular and spiritual education.

Respect towards women:

Basavanna describes how women should be viewed in seven vachanas. In all of these vachanas, Basavanna emphasizes to his followers that it is wrong to want the wife of another man and that it is even worse to view a woman as anything other than a sister or mother. As a result, he creates a set of guidelines for his adherents.

Rejected caste system:

He strongly opposed the caste system and the idea that some communities are superior to others, and he rid his associates of any sense of superiority or inferiority complexes.

Dignity of labor:

By claiming that work is worship. He argued that all manual labour should be viewed with love and regard, even the grunt work people detested.
Literary Contributions
Covered every shade of expression:

From the utterance of seekers who have suffered from social injustices and differences to the joyful exclamation of the experience of Divine Bliss, his artistry has spanned every shade of expression.

Denied superiority of Sanskrit in literature:

Basava produced numerous vachanas. Writing religious and ethical literature in Sanskrit was customary before the advent of Basava. However, Basava started composing them in the common people's language, Kannada.

Reached the heart of the reader:

Basavanna has done a commendable job of having each topic he addressed resonate with the reader's emotions. His vivid imagination and the emergence of figures and pictures were the results of his rich life experience, perceptive insight, and flexible brilliance.

Vachanas:

Basavanna promoted social awareness through his poetry, known as Vachanas. The Shat-sthala-vachana (discourses on the six phases of salvation), Kala-jnana-vachana (forecasts of the future), Mantra-gopya, Ghatna Chakra-vachana, and Raja-yoga-vachana are only a few examples of the different Vachana that fall under this category.
Spiritual And Philosophical Contributions
Humanism:

Basavanna was a well-known humanist who promoted a new way of living in which caste, gender, and social distinctions were meaningless and the divine experience was at the centre of existence.

Kayaka-Work Doctrine:

According to Basaveshwara's philosophy of Kayaka (Work doctrine), everyone should earn their living by labour performed not just with the sweat of their brow but also to dedicate that labour to God. Work is viewed spiritually in Kayaka.

Monotheism:

The profound monotheistic belief in God as the absolute and highest Self known as Lord Shiva served as the movement's cornerstone.

Promoted devotional worship:

Devotional worship, which rejected Brahmin-led temple practices, was espoused by Basavanna. He was in favour of personalized, direct worship of Shiva through rituals like wearing icons and symbols like little lingas on one's person.

Denied orthodox funeral practice:

The Lingayats hold that there would be no return to this world after death since they will immediately join Lingaikya, who is considered to be God. Therefore, the Lingayats do not require traditional funeral grounds and bury their deceased as is customary for holy men.

Moral teacher:

People looked to Basaveshwara as a moral example of how to conduct themselves in society, live a pure life, and find salvation.

Compassion:

For Basava, compassion was not built on faith but it was supported by reason and science

Against renunciation:

Renunciation and dwelling in the forest are ruled out as cowardly tendencies to escape from life

Reason and experience:

Reason and experience are the only guiding lights for free thinking and spiritual advancement.

Non–Violence:

He strongly opposed human and animal sacrifices as a major proponent of ahimsa (non-violence).
Basavanna and Sharana movement:
The Sharana movement he presided over attracted people from all castes. Like

 most strands of the Bhakti movement, produced a corpus of literature, the vachanas, that unveiled the spiritual universe of the Veerashaiva saints.

The egalitarianism of Basavanna's Sharana movement was too radical for its times.

He set up the Anubhava Mandapa, where the Sharanas, drawn from different castes and communities, gathered and engaged in learning and discussions.

Sharanas challenged the final bastion of the caste order, they organized a wedding where the bridegroom was from a lower caste, and the bride a Brahmin.
The legacy of Basava and his contemporaries Sharanas (commoners who attained self-realization via Lord Basava's divine guidance and grace) is undoubtedly a live tradition that can still motivate a community even nine centuries later.
The vitality of that tradition and its attractiveness, even in modern times, are primarily due to the fusion of real spirituality and social awareness.
Article Written by: Remya