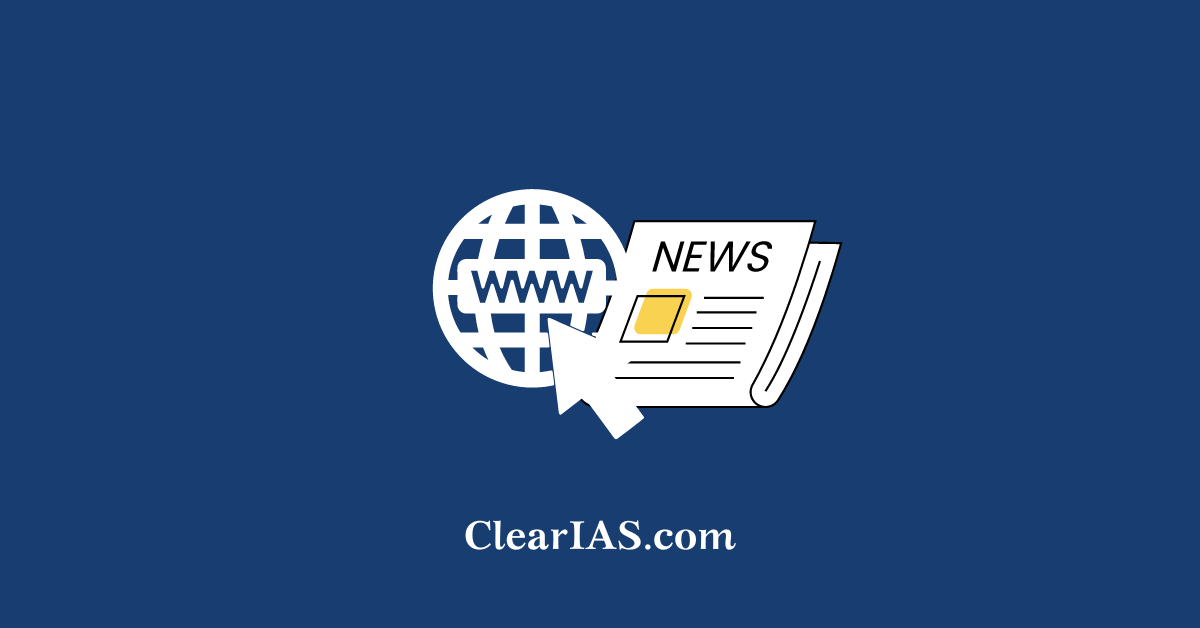 A list of the best current affairs websites for UPSC CSE preparation is provided in this article below. Check several government websites that can be used by aspirants during their UPSC CSE preparation.
Current affairs play an important role in the UPSC (Union Public Service Commission) Civil Services Examination and are considered a very important component of the preparation process.
It is often considered difficult to get all the relevant news in one place. But In this article, we have provided a list of trustworthy platforms for the current affair-related details.
Due to the constantly changing paper pattern, it is difficult to rely on any source for all the details but ClearIAS is a trustworthy platform designed specifically for UPSC CSE candidates.
It provides a variety of free articles on current affairs and a monthly capsule that covers most of the important events.
Benefits of ClearIAS Platform for Current Affair Preparation
ClearIAS provides a range of benefits to UPSC CSE aspirants. A few important of them related to current affairs preparation are mentioned below.
Free Current Affairs Articles
ClearIAS provides an extensive collection of free current affairs articles that cover various domains such as politics, economy, international relations, science and technology, environment, and social issues. These articles are written by a team of experts and are designed to meet the requirements of UPSC exams.
The articles on ClearIAS are written in a clear and concise manner, making them easily attainable for aspirants of all backgrounds. They provide detailed information about the most significant events and developments while keeping current events in mind.
Monthly Current Affairs Capsule
One of the standout features of ClearIAS is its monthly current affairs capsule. This capsule is designed to provide a consolidated summary of the major events that occurred in a particular month.
It includes a background context and analysis of each event, ensuring that aspirants understand the significance of these events in a broader manner.
The monthly current affairs capsule offered by ClearIAS incorporates 50 Multiple Choice Questions (MCQs) related to the events that happened in that month. This helps aspirants improve their understanding of current events in an in-depth manner.
Other Best Current Affairs Websites for UPSC CSE Preparation
In addition to ClearIAS, there are several important government websites that are immensely helpful in UPSC CSE preparation. These websites provide authentic and reliable information on various subjects and sectors. Here are some of the key government websites:
Press Information Bureau (PIB) – www.pib.gov.in
PIB is the nodal agency of the Government of India for disseminating information to the media and the public. It provides press releases, official statements, and updates on government policies, schemes, and initiatives.
Ministry of Home Affairs – www.mha.gov.in
The Ministry of Home Affairs website offers valuable information on internal security, law enforcement, disaster management, and other important topics related to governance and administration.
Ministry of External Affairs – www.mea.gov.in
The Ministry of External Affairs website provides updates on India's foreign policy, international relations, bilateral and multilateral agreements, and India's position on global issues.
Ministry of Finance – www.finmin.nic.in
The Ministry of Finance website is a valuable resource for information on the Indian economy, budget, taxation, fiscal policies, and various government schemes related to finance and banking.
Ministry of Environment, Forest and Climate Change – www.moef.gov.in
This website offers insights into environmental policies, conservation efforts, biodiversity, climate change, and sustainable development initiatives undertaken by the government.
Ministry of Science and Technology – www.dst.gov.in
The Ministry of Science and Technology website provides updates on scientific research, technological advancements, government-funded research programs, and scholarships.
Ministry of Health and Family Welfare – www.mohfw.gov.in
This website is essential for information on public health policies, healthcare initiatives, disease control programs, and updates on medical research and advancements.
Ministry of Education – www.education.gov.in
The Ministry of Education website offers resources related to education policies, reforms, scholarships, and initiatives in the field of education, including higher education.
National Portal of India – www.india.gov.in
The National Portal of India is a comprehensive website providing access to various government departments, services, schemes, and policies. It serves as a gateway to all government-related information.
National Disaster Management Authority – www.ndma.gov.in
The National Disaster Management Authority website provides information on disaster management policies, guidelines, and initiatives undertaken by the government to mitigate the impact of natural and man-made disasters.
Other Important Websites for Current Affairs
Apart from the government websites mentioned earlier, there are several other websites that can be immensely helpful for UPSC current affairs preparation. These websites provide a wide range of news, analysis, and insights on various subjects. Here is a list of such websites:
Press Trust of India (PTI) – www.ptinews.com
PTI is India's largest news agency, which covers a wide range of news across various domains. Its website provides real-time updates on important events and developments.
PRS Legislative Research – www.prsindia.org
PRS Legislative Research provides valuable information on bills, parliamentary proceedings, and legislative activities. It offers analysis, summaries, and updates on various bills and acts.
PIB India Blog – pibindia.wordpress.com
The official blog of the Press Information Bureau (PIB) provides detailed articles, press releases, and updates on government policies, initiatives, and events.
IDSA – Institute for Defence Studies and Analyses – www.idsa.in
IDSA is a think tank that focuses on strategic and security issues. Its website offers research papers, analyses, and publications related to defense and international relations.
Yojana and Kurukshetra Magazines – www.pib.nic.in/yojana and www.pib.gov.in/kurukshetra
Yojana and Kurukshetra are monthly magazines published by the Government of India. They provide insights into government schemes, policies, and social issues.
Down To Earth – www.downtoearth.org.in
Down To Earth is an environmental magazine that focuses on sustainable development, climate change, and ecological issues. It provides in-depth analysis and reports on environmental topics.
Article Written By: Priti Raj