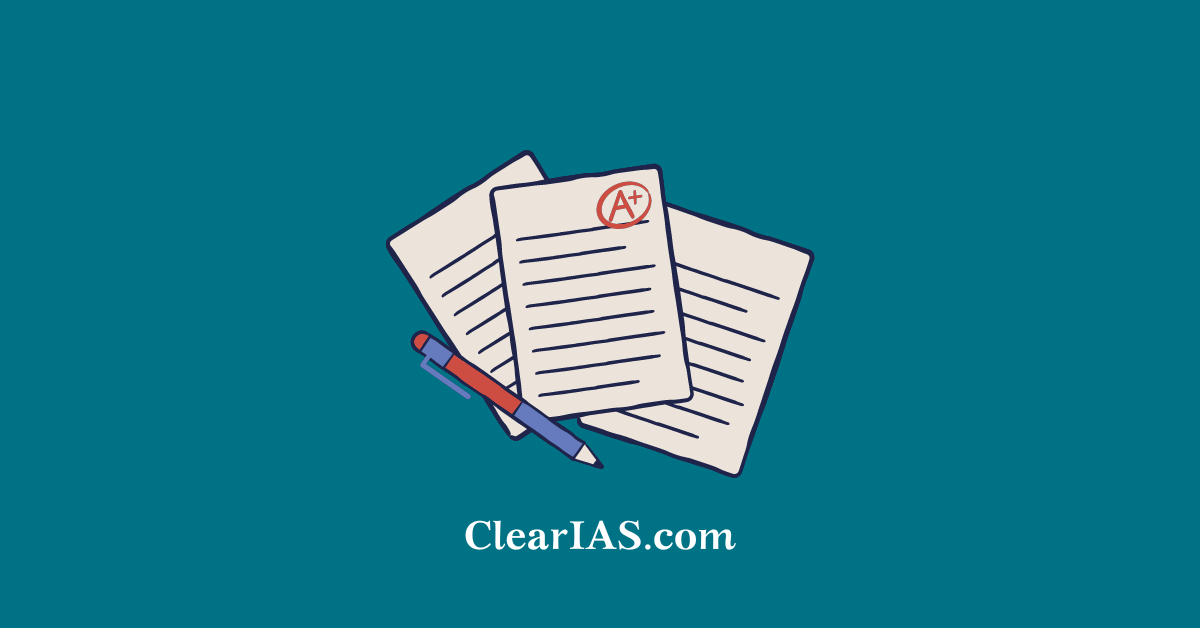 Do you also often get confused with the thought of which is the best test series for the UPSC CSE prelims exam? If yes, in this article we have an answer to your questions.
When it comes to preparing for the UPSC CSE prelims exam, one of the most important aspects is practice and revision.
Practice helps you analyze your progress and support your understanding of topics. For this, two sources are very important, one is the previous year's question paper and the other is a reliable mock test series.
Test series not only help you assess your preparation level but also help you understand the exam pattern, time management, and question-solving techniques.
The market is nowadays flooded with test series but it is important to find a reliable one that is up to date as per the recent trend of UPSC and has a wide range of questions as per the UPSC standards.
Things to Keep in Mind Before Attempting a Mock Test Series
It is important to consider a few factors before choosing any mock test series:
Relevance to the UPSC Syllabus: Make sure that the test series covers all the subjects and topics prescribed by the UPSC syllabus. This ensures your understanding of the syllabus and UPSC CSE exam.
Aligned with the recent pattern: As we know the level of questions asked by UPSC in the exam is generally difficult. So it is important to choose a test series that is designed by keeping the latest trend of UPSC in mind.
Quality of Questions: Look for a test series that provides well-researched and thought-provoking questions that force you to brainstorm. The questions should not only test your knowledge but also challenge your analytical and conceptual understanding.
Timely Availability of Tests: Make sure the test series releases tests regularly and stick to a schedule. Timely availability enables you to plan your preparation effectively and ensures that you complete the entire series before the exam.
Performance Analysis: Check if the test series provides a detailed performance analysis after each test. This feature helps you understand your progress and identify areas that require further attention.
Which is the Best Prelims Test Series for UPSC CSE?
Though, there are plenty of resources in the market but having a test series in line with the UPSC CSE pattern is very Important.
ClearIAS, a popular online learning platform, offers a comprehensive and effective prelims test series that can give you the competitive edge you need. Here's why ClearIAS is considered one of the best choices for UPSC prelims preparation:
Extensive Coverage of the Syllabus
ClearIAS prelims test series covers the entire UPSC syllabus in a comprehensive manner. It includes questions from various sources that will help you fill the gap in your knowledge.
By attempting these tests, you can gain confidence and improve your understanding of diverse topics.
Progressive Difficulty Levels
The test series is designed with a progressive difficulty level. The initial tests are relatively easier, gradually increasing in complexity as you move forward.
This approach helps you build a strong foundation and then gradually challenges you to tackle more difficult questions. It ensures a steady learning curve throughout your preparation.
Detailed Performance Analysis
After attempting each test, you can easily analyze your performance by the answer sheet provided by them.
Such details enable you to identify your strengths and weaknesses and focus your efforts accordingly.
Value-added Features
ClearIAS goes beyond just mock tests and offers value-added features to enhance your learning experience. They provide explanations for all questions, ensuring you understand the underlying concepts completely.
Mock Test on the ClearIAS Platform
Sectional or Full-Length Test Series: Which is better?
ClearIAS provides both sectional and full-length mock tests as part of their test series, and the inclusion of both types of tests is important for effective UPSC prelims preparation.
Here's why sectional and full-length mock tests are important:
Sectional Mock Tests
Sectional mock tests focus on specific subjects or topics within the UPSC CSE syllabus. These tests allow aspirants to assess their understanding and knowledge of individual subjects in a targeted manner. Here's why sectional mock tests are essential:
Subject-specific Evaluation: Sectional mock tests help identify strengths and weaknesses in specific subjects. By attempting these tests, aspirants can increase their knowledge in each subject and identify areas that require further study.
Targeted Practice: Sectional mock tests provide an opportunity to practice questions related to a particular subject or topic. This focused practice helps improve conceptual clarity and problem-solving skills in specific areas.
Subject-wise Analysis: Sectional mock tests provide a detailed analysis of performance in each subject. This analysis helps aspirants understand their strengths and weaknesses in individual subjects, allowing them to prioritize their preparation accordingly.
Full-Length Mock Tests
Full-length mock tests simulate the entire UPSC CSE prelims exam, covering all subjects and topics within the syllabus. These tests are designed to replicate the actual exam experience and are invaluable for UPSC aspirants. Here's why full-length mock tests are important:
Time Management: Full-length mock tests help you practice managing your time effectively because you need to finish the entire exam within a specific time limit. This allows you to plan your approach to the actual exam in a way that maximizes your efficiency and accuracy.
Exam-like Environment: Full-length mock tests recreate the conditions of the actual exam, including the number of questions, time limit, and negative marking. By practicing in a similar environment, you become familiar with the pressure and conditions you will face during the real UPSC prelims exam.
Integrated Assessment: Full-length mock tests provide a complete evaluation of your overall preparation. By attempting these tests, you can assess your performance in different subjects and topics, giving you a complete picture of your strengths and weaknesses.
Exam Readiness: Full-length mock tests are an excellent way to assess your readiness for the exam. Regularly attempting these tests helps you build confidence.
Additional Mock Test on ClearIAS Platform
Article Written By: Priti Raj