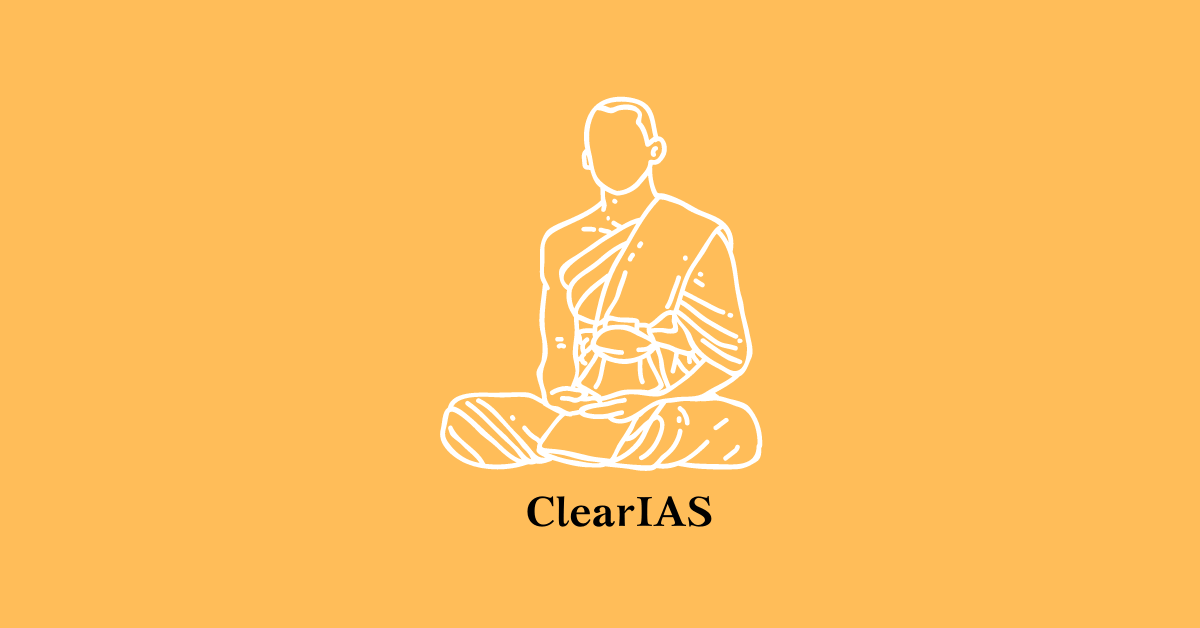 UPSC has been constantly asking questions from Buddhism and Jainism. With regard to Buddhism, the focus has shifted to concepts like Bodhisattvas. Following is a brief idea about Bodhisattvas to help students attempt UPSC CSE questions related to it.
Bodhisattva is an important concept in Buddhism.
It is broadly understood as the attainment of a mindset (chitta) like Buddha.
Who is a Bodhisattva?
A bodhisattva is someone who has compassion within himself or herself and who is able to make another person smile or help someone suffer less. Every one of us is capable of this. ~ Thich Nhat Hanh
The ideal of Bodhisattva beholds the highest moral principle of intellect and discipline in Buddhism for the sake of happiness of all the other beings.
However, the concept is seen with slight variation in different schools of Buddhism.
Bodhisattva in Buddhist Philosophy
The schools of Theravada Buddhism (early school) and Mahayana Buddhism understand Bodhisattva in different ways.
Bodhisattva in Theravada Buddhism: It refers to a person who has taken a spontaneous vow to become a Buddha, and in addition to this, such a person is also assured by a living Buddha regarding the fulfilment of the vow. The school focuses on previous lives of Buddha before he attained enlightenment.
Bodhisattva in Mahayana Buddhism: It is an object of devotion as Mahayana Buddhism inspires others to walk on the path of Bodhisattva because the school believes that every individual possesses an inherent nature like Budhha and hence, anyone can become Budhha.
To make it simple, while Bodhisattva path is an optional path for a heroic few like Sidharth Gautama Budha in Theravāda (or Hinayana sect) it is a normative path in Mahāyāna.
Four Virtues of a Bodhisattva (The Brahmaviharas)
When a living being (sattva) develops the state of enlightenment (bodhi), that person exhibits four Buddhist virtues, also known as Brahmaviharas. These four Brahmaviharas are as following:
Maitri (Loving-kindness): It refers to goodwill towards all.
Karuna (Compassion): It denotes identification of the suffering of others as one's own.
Muditaa (Empathetic joy): It is the feeling of bliss as others are happy, even if a person has not contributed to it, it is a form of empathetic joy.
Upekshaa (Equanimity): It refers to even-mindedness and serenity, treating everyone impartially.
Eight Prominent Bodhisattvas
There are 8 important Bodhisattvas who represent different aspects of Buddha. They are as following:
Avalokitesvara (Buddha's Compassion): Avalokiteshwara means one who can see all. He represents infinite compassion and mercy. He is the most popular Bodhisattva of all. He represents the ideal of welfare in which he postpones his own transformation into Buddha to help others.
Manjusri (Buddha's Wisdom): The literal meaning of his name is 'Gentle Glory'. He represents Pragya or transcendental wisdom at a very early age.
Samantabhadra (Buddha's Aspirations): The meaning of Samantabhadra is 'Universal Worthy' and he is associated with practice and meditation. He made ten vows to fulfil his journey of becoming a Buddha.
Ksitigarbha (Buddha's Merit): He is popular as a Buddhist monk in the mostly East Asia. While the name literally means Earth Womb, he is revered as the guardian of children and patron deity of deceased children. He carries a staff.
Maitreya (Buddha's Activity): He is also known as Ajita Boddhisattva. It is believed that he will arrive when people will forget the path of righteousness. He is considered as the successor of Gautam Buddha. In Buddhist traditions, he is revered as someone who will achieve complete enlightenment and will teach dharma to people.
Vajrapani (Buddha's Power): He is described as one of the 3 protective deities around Buddha, others are Manjusri and Avlokiteshwara. Vajrapani represents Buddha's power while Buddha's wisdom is symbolised by Manjushri, and Avalokiteshwara manifests as Buddha's compassion.
Sarvanivarana-Vishkambhin (Buddha's Qualities): He is invoked to remove or eliminate all the obstacles to insure a successful meditation.
Akasagarbha (Buddha's Blessings): He is boundless as space. He was the twin brother of Ksitigarbha. He manifests as a blessing.
Note: Image worship and deification is a central feature of Bodhisattva cult. The picture above shows the iconography of Bodhisattva Avalokiteshwara (Source: Vajra Publications: https://pages.vassar.edu/embodyingcompassion/iconography/)
Paramitas or Path to Perfection for becoming a Bodhisattva
A Bodhisattva practices paramita to become a Buddha by developing goodness to others without any trace of selfish behaviour.
Paramita, or perfection in Buddhism is associated with noble qualities that are found in Buddha-like enlightened beings.
These qualities are:
Daan parami: generosity, giving of oneself
Sheel parami: virtue, morality, proper conduct
Nishkaam parami: renunciation
Panna parami: wisdom, discernment
Virya parami: energy, diligence, vigour, effort
Shanti parami: patience, tolerance, forbearance, acceptance, endurance
Sacha parami: truthfulness, honesty
Adhiṭṭhana parami: determination, resolution
Metta parami: goodwill, friendliness, loving-kindness
Upekkhā pāramī: equanimity, serenity
Concept of Bhumi
According to many traditions within Mahāyāna Buddhism, on the way to becoming a Buddha, a bodhisattva proceeds through ten, or sometimes fourteen, grounds or bhumis. Below is the list of the ten prominent bhumis and their descriptions:
Great Joy: It is a state to being which is close to enlightenment and seeing the welfare for all living beings, one achieves great joy, hence the name. In this bhūmi a bodhisattva practices and exercises all perfections (paramitas), but significantly emphasize upon generosity (daan).
Stainless: While accomplishing the second stage of bhumi, a bodhisattva is free from the stains of immorality, therefore, this form of bhūmi is called "stainless". The emphasized perfection is virtue (sheela).
Luminous: The light of Dharma is said to radiate for the good of others from the bodhisattva who achieves and accomplishes the third bhumi. The emphasized perfection is the virtue of patience (shaanti).
Radiant: This bhūmi it is said to be like a exhibiting light that consumes everything which opposes enlightenment. The emphasized perfection is penance and vigor. (veerya).
Very difficult to train: A Bodhisattva who attains this ground lives and strives to help sentient beings attain maturity, and does not become emotionally engaged when such beings respond negatively, both of which are difficult to do. The emphasized perfection focusses upon meditative concentration (dhyaana).
Obviously Transcendent: By depending on the perfection of wisdom, the bodhisattva does not abide in either saṃsaara or nirvaaṇa, so this state is "obviously transcendent". The emphasized perfection is wisdom (pragya).
Gone afar: In this bhumi, special emphasis is on the perfection of skillful means (upaaya), to help others.
Immovable: The emphasized quality is aspiration. This "immovable" bhumi refers to a state where one becomes able to choose his place of rebirth.
Good Discriminating Wisdom: The main quality at this stage is the understanding of self and non-self.
Cloud of Dharma: At this level of bhumi, emphasized virtue is the practise of primordial wisdom.
After the ten bhūmis, according to Mahāyāna Buddhism, one attains complete enlightenment and becomes a Buddha.
Paramitas in Buddhism and Pancha Parameshthi in Jainism
Just like Paramitas in Buddhism, a similar concept of Pancha Parameshthi is popular in Jainism. Pancha Parameshthi is the hierarchy of religious authorities in Jainism. They are as following:
Arihants: The word comes from ari (enemy) and hant (to destroy). An Arihanta destroys the vices that arises within the mind and body like anger and gree. This is the highest authority in Jainism that attract a lot of veneration for the highest form of penance that it practices.
Sidhhas: These are the souls that have gained emancipation and are free from the cycles of birth and death. Arihants eventually become sidhhas but they are revered more as they encourage others to follow the noble path.
Acharyas: These are the heads of different orders in Jainism. They lead the groups of monks, nuns, ordinary women and men. They direct the functions of the order and maintain discipline in the Sangh.
Upadhyayas: These are the authorities on scriptures of Jainism. They disseminate knowledge among people.
Saints or Monks-These are the people who have renounced the world for spiritual pursuits. They observe five major vows (Mahavrata): three controls (guptis), five types of vigilance (Samitis), ten commandments (dharma), twelve penances (tap) etc. The monks are required to observe these rules strictly.
Previous Years Questions on Bodhisattva in UPSC CSE:
2016
With reference to the religious history of India, consider the following statements :
The concept of Bodhisattva is central to the Hinayana sect of Buddhism.
Bodhisattva is a compassionate one on his way to enlightenment.
Bodhisattva delays achieving his own salvation to help all sentient beings on their path to it.
Which of the statements given above is/are correct?
(a) 1 only
(b) 2 and 3 only
(c) 2 only
(d) 1, 2 and 3
Correct Answer: b
2018
With reference to Indian history, who among the following is a future Buddha, yet to come to save the world?
(a) Avalokiteshvara
(b) Lokesvara
(c) Maitreya
(d) Padmapani
Correct Answer: c
2019
Consider the following :
The deification of the Buddha
Treading the path of Bodhisattvas
Image worship and rituals
Which of the above is/ are the feature/ features of Mahayana Buddhism?
(a) 1 only
(b) 1 and 2 only
(c) 2 and 3 only
(d) 1, 2 and 3
Correct Answer: d
2020
With reference to the cultural history of India, which one of the following is the correct description of the term 'paramitas'?
(a) The earliest dharmashastra texts are written in aphoristic (Sutra) style
(b) Philosophical schools that did not accept the authority of Vedas.
(c) Perfections whose attainment led to the Bodhisattva path
(d) Powerful merchant guilds of early medieval South India.
Correct Answer: c
Bibliographical Sources:
In Drops of Nectar: Khenpo Kunpal's Commentary on Shantideva's Entering the Conduct of the Bodhisattvas, www.kunpal.org, vol. 1 p.282
Tran Thi Binh, Different Ideas of Bodhisattva Characteristics, The Journal of the International Buddhist Studies College
Har Dayal, The Bodhisattva Doctrine in Buddhist Literature, Motilal Banarsidass Publications, New Delhi, 1970
Dhammapala, Acariya, A treatise on the Paramis, tr. Bodhi, Bhikkhu, Buddhist Publication Society, Kandy, Sri Lanka, 1996
Gyatso, Geshe Kelsang Gyatso, The Bodhisattva Vow: A Practical Guide to Helping Others, Tharpa Publications (2nd. ed., 1995)
Article by: Kaustubh