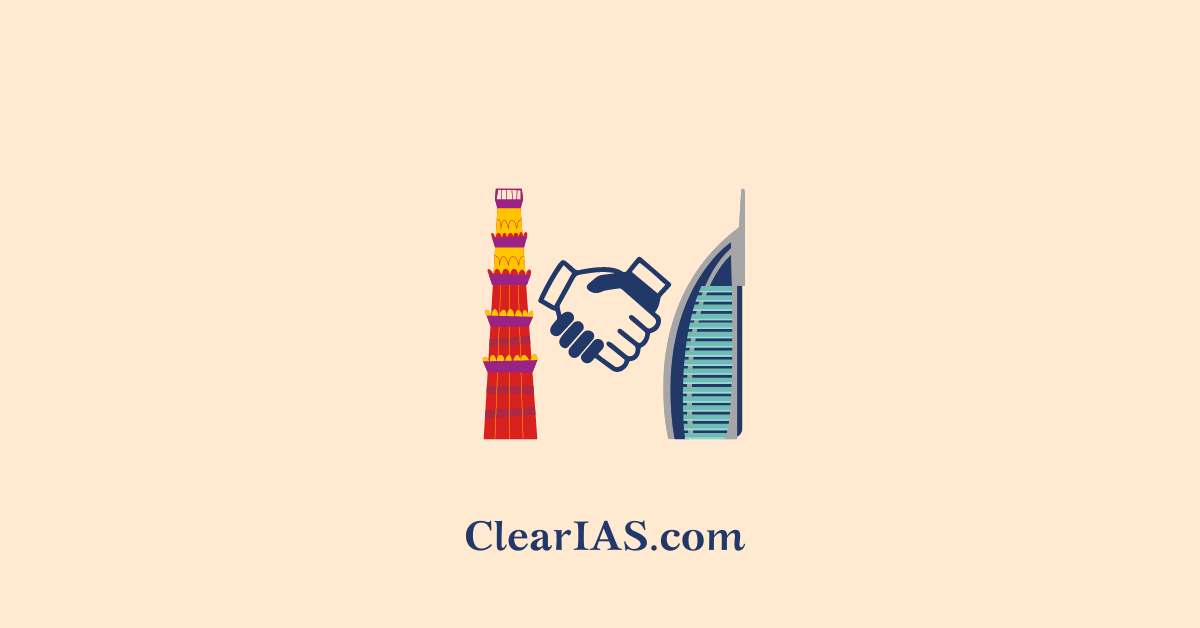 CEPA is a free trade agreement between two countries which covers negotiation on the trade in services and investment, and other areas of economic partnership.
On February 18, 2022, India and the UAE signed the historic Comprehensive Economic Partnership Agreement (CEPA), which became effective in March 2022.
What is CEPA?
The Agreement is a comprehensive plan, which will cover Trade in Goods, Rules of Origin, Trade in Services, Dispute Settlement, Movement of Natural Persons, Telecom, Customs Procedures, Pharmaceutical products, Government Procurement, Technical Barriers to Trade (TBT), Sanitary and Phytosanitary (SPS) measures, IPR, Investment, Digital Trade and Cooperation in other Areas.
This Agreement shall apply to the territory of the Parties, in accordance with their Constitutional laws, including their land territory, territorial waters, and airspace. It also includes other maritime zones including the Exclusive Economic Zone and continental shelf over which the Parties have sovereignty, sovereign rights, or exclusive jurisdiction, in accordance with their laws and regulations in force, and applicable rules of international law.
Objective of CEPA
in order to improve and strengthen trade and economic relations in the fields agreed between the Parties.
to increase trade between the parties, including collaborative exploitation of commercial and economic opportunities in non-Parties, and to increase the efficiency and competitiveness of the parties' industrial and service sectors
promoting trade liberalization and facilitation between the Parties in line with the terms of this Agreement
to build on the Parties' WTO commitments.
to improve the Parties' ability to facilitate investment and their collaboration according to the provisions of this Agreement
to encourage and improve regional economic integration and collaboration
Benefits of CEPA
Access to Markets: The CEPA is India's first bilateral trade agreement in the Middle East and North Africa (MENA) region. This agreement will make it easier to reach similar arrangements with the other Gulf Cooperation Council (GCC) nations, including Saudi Arabia, Qatar, Kuwait, Oman, and Bahrain.
Increase in Indian exports: In accordance with the CEPA, about 90% of the goods shipped from India and to the UAE and 80% of their trade lines will be duty-free, providing a major advantage to Indian exports in the face of increasing competition.
Job creation for the Indian workforce: The deal will increase employment opportunities and enhance working conditions for the substantial Indian workforce that is employed in the UAE.
Investment inflows: The CEPA is anticipated to speed up FDI into India from the UAE.
Ease of doing business: The CEPA allows Indian generic pharmaceuticals to be automatically registered and given marketing authorization within 90 days of receiving approval in developed nations. India has given duty concession on gold imports from the United Arab Emirates, and Indian jewelry export will have duty-free access to the UAE market. This is significant because India accounts for 16% of the world's diamond, gold, and jewelry trade.
Features of CEPA
Lower tariffs for trade in goods: Due to the reduction or elimination of customs duties on origin goods, contractual parties may profit from increased market access through advantageous tariff rates.
Product Specific Rules: The products will be undergone sufficient production work that has been completed in accordance with the Product Specific Rules (PSR). The PSR might be expressed as a modification to the tariff classification or as specific value addition.
Simpler customs procedures and trade facilitation: In line with the WTO's Agreement on Trade Facilitation (TFA), the CEPA implements measures to facilitate cross-border trade of goods and ensure an effective customs clearance, reducing needless regulatory or administrative customs procedures and adopting global best practices of customs management techniques.
Trade in services: Both sides agreed to establish an open and inclusive environment for cross-border trade for services offered by entities in the other party's territory.
Bilateral cooperation on pharmaceutical products: Both parties have also agreed to make it easier for people to get hold of Indian pharmaceutical products, particularly by automating registration and granting marketing authorization within 90 days for goods that meet certain requirements.
Background of India-UAE Trade Relations
India and the UAE share excellent political and diplomatic ties that are supported and maintained by shared cultural and civilizational affinities, regular high-level political interactions, and thriving people-to-people connections.
Growing trade and economic ties between India and the United Arab Emirates contribute to the stability and strength of their constantly developing and diversifying bilateral relationship.
India and the UAE have been each other's top trading partners, and their relationship has grown stronger over time.
The bilateral trade between India and the UAE has consistently expanded from US$ 180 million annually in the 1970s to US$ 60 billion (4.55 lakh crore) in FY 2019–20, making the UAE India's third largest trading partner.
The UAE is also India's second-largest export market with US$ 29 billion in exports for the 2019–20 period, while India imported US$ 30 billion worth of goods from the UAE, including 21.83 MMT (US$ 10.9 billion) of crude oil.
India's energy needs are largely met by the UAE, which is also a significant partner in the country's efforts to develop its upstream and downstream oil industries as well as its strategic petroleum reserves.
With an estimated 18 billion dollars in investments, the UAE is also the eighth largest investor in India.
In addition, the UAE and India recently signed a Memorandum of Understanding (MoU) in which the UAE agreed to support the development of India's infrastructure.
Conclusion
Overall, India will profit from the UAE's preferential market access policies, which cover over 97% of its tariff lines and represent 99% of India's value-added exports to the UAE, especially from labor-intensive industries like gems and jewelry, textiles, plastics, furniture, agricultural and wood products, engineering products, leather, footwear, sports goods, pharmaceuticals, medical devices, and automobiles. Regarding trade in services, approximately 111 sub-sectors from the 11 major service sectors will be more accessible to Indian service providers.
Within five years, it is anticipated that CEPA will boost bilateral trade in goods to over $100 billion and in services to over $15 billion. The India-UAE CEPA will strengthen the two nations' already solid, strategic relationships and lead to more job opportunities, higher living standards, and an overall improvement in the welfare of their respective populations.
Article Written By: Priti Raj