First of all, congratulations to all those participated and took the best out of ClearIAS All-India Free Mock Exam for Prelims 2016 (Test Code 109P). The full-length prelims mock exam (100 questions, 120 minutes) covered all important topics for Civil Services Preliminary Examination 2016. Though we had initially planned only for 3 days – March 12 (Saturday), March 13 (Sunday) and March 14 (Monday) – due to high participation and enthusiasm from the aspirants across India, we extended the free test until March 15 (Tuesday) 3 PM.
Toppers of ClearIAS Free All-India Prelims Mock Exam
It was a heavy rush on March 12 Saturday morning when the test link was opened to the public. Due to high traffic, even our cloud server hosted in the US strained. In spite of this, hundreds of users successfully completed the tests. ClearIAS had earlier announced cash prizes for three aspirants who top the exam by 11.59 AM on the first day. The below usernames who topped the leaderboard in the first 2 hours will be eligible for cash awards of Rs.1000 from ClearIAS.
sssvinaysss (Marks – 106.86, Correct answers – 63).
Dr Sata Ram Choudhary (Marks – 106.20, Correct answers – 63).
Sandeep.k2037 (Marks – 92.88, Correct answers – 57).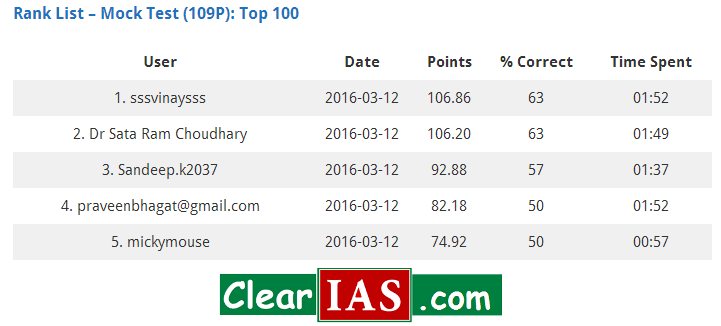 We had ensured IP locking and other security features to ensure that tests will be submitted only once from a username. Even new user registrations were disabled during the first 2 hours to get accurate rankings. But, as we had promised, users were allowed to take the same test during 3-day window and the leader-board has been constantly updated (even now, if a new user takes the test, the rank-list will get automatically updated to reflect the latest rankings). In addition to three early birds, we will give discount coupon worth Rs.1000 to all those toppers who scored above 100 marks in this test by March 15, 3 PM. The discount code can be applied when you enroll for ClearIAS test series 2016.
Rs.500 discount to all users who took ClearIAS Prelims Mock Test!
Many users sacrificed many of their other engagements and participated in our mock test. We deeply value the trust our users have on us, and we have a good news for you – Rs. 500 discount for ClearIAS Prelims Test Series 2016! Participants will receive a discount code of Rs.500 in their registered email. The discount code can be applied when you enroll for ClearIAS test series 2016. The validity of the discount code is till March 31st, 2016.
I missed the above test; how can I attempt it?
If you missed the above said all-India free mock exam (Test code 109P), don't worry. It is part of our ClearIAS test series 2016, and you will get automatic access to the same once you buy ClearIAS mock test series for Prelims 2016.
ClearIAS Prelims Mock Test: Unique Features
Our mock test series integrates learning with test-taking. You would be surprised to find how fast you can learn!
More than 25,000 registered users on our test platform.
High-quality questions similar to UPSC standards which help you learn faster.
Pan-India platform to learn and compete with thousands of aspirants real-time.
Get instant access to take our mock exams from a laptop, tablet or mobile.
20+ full-length UPSC prelims mock exams with timer and negative marking.
Detailed answer key and performance analysis as soon as the exam is over.
Available as complete prelims mock exam package OR as separate mock tests!
Click to buy ClearIAS Prelims Test Series 2016