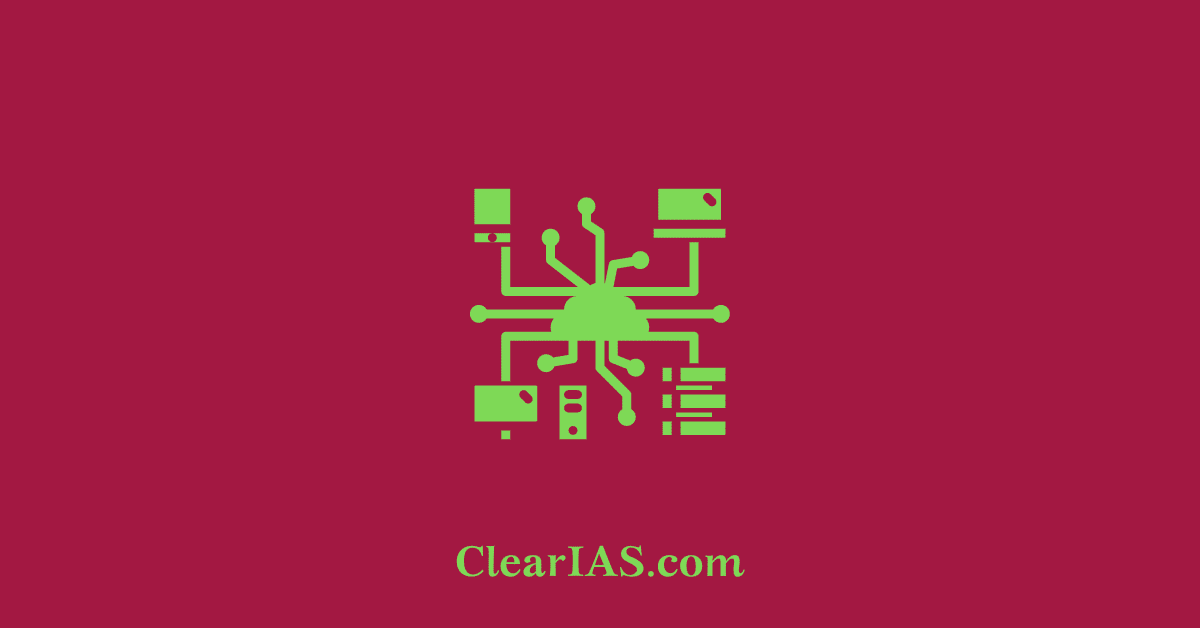 What is Cloud computing? What are the salient features of Cloud Computing? What are the advantages of cloud computing? What is the Cloud Computing trend in India? How does Cloud computing help in Indian Governance? Read here to know more.
The Government of India is embracing cloud computing technology for expanding its e-governance initiatives throughout the country. In India, the focus of e-governance is to reduce corruption and ensure the government schemes are reaching people living in rural areas of the country.
Further, e-governance services ensure quicker service delivery and eliminate the involvement of middlemen who tend to capitalize on loopholes for quick money by means of exploiting people.
What is Cloud computing?
Cloud computing is a type of internet-based computing that provides various services and applications like infrastructure, on-demand self-service, rapid elasticity, etc. it is one of the many ways to increase capacity without making any investment in new infrastructure like licensing for new software, or training and individual.
The internet is commonly visualized as clouds, hence the term "cloud computing" for computation done through the internet. With cloud computing, users can access database resources via the internet from anywhere, for as long as they need, without worrying about any maintenance or management of actual resources.
It is the distribution of computer services such as servers, storage, databases, networking, software, analytics, and intelligence through the Internet ("the cloud") to enable quicker innovation, more flexible resource allocation, and cost savings. Clouds may be private to a single business (private or internal clouds) or public to several companies (public clouds)
What are the salient features of Cloud Computing?
The following are the salient features of cloud computing.
Attributes
On-demand – It is sold on demand generally by the minute or the hour.
Elastic – a user can have as much or as little of a service as they want at any given time.
Fully managed by the provider – The consumer requires nothing but a personal computer and internet connection.
Data-intensive – The focus is on data rather than computation.
Scalability – Cloud computing has the ability to continue to function well when it is changed in size or volume in order to meet a user's need.
Deployment Models
A cloud service works in 4 deployment models Public cloud, Private cloud, Community cloud, and Hybrid cloud.
Service Models
Cloud Computing services are divided into 3 categories
Infrastructure as a Service (IaaS)
Platform as a Service (PaaS)
Software as a Service (SaaS)
What are the advantages of cloud computing?
Seamless Connectivity
 Cloud-based software offers companies from all sectors a number of benefits, including the ability to use software from any device either via a native app or a browser. As a result, users can carry their files and settings over to other devices in a completely seamless manner.
Less capital expenditure
Cloud computing services minimize IT requirements and physical storage, which helps small businesses, cut significant business costs.
Most cloud services are paid on a subscription basis, so capital expenditure is reduced.
Cloud computing is also much faster and easier to deploy, so there are fewer start-up costs.
Companies can swap costly server centers and IT departments for fast Internet connections, where employees interact with the cloud online to complete their tasks
Improved disaster recovery
Cloud computing services also make it possible for users to back up their music, files, and photos, ensuring those files are immediately available in the event of a hard drive crash.
Moving the business data to the cloud can make disaster recovery possible i.e., retrieving data in case of a hardware compromise.
Increased Collaboration and flexibility
For many businesses, moving to the cloud enhances opportunities for collaboration between employees.
Colleagues can sync and work on documents with ease, often simultaneously, receiving updates in real time.
It allows team members to work from anywhere.
Furthermore, the cloud centralizes the data = owner, employees and clients can access the company data from any location with internet access.
Environmentally friendly
Cloud computing reduces a company's carbon footprint by minimizing energy consumption and carbon emissions by more than 30%.
For small businesses, the decreased energy usage can reach up to 90% = A huge money saver.
Global Scale
One of the advantages of cloud computing is its capacity to scale elastically. It enables the cloud to supply the appropriate IT resources, such as computing power, storage, and bandwidth in the proper time and from the appropriate geographic location
Productivity
on-premise data centers usually need extensive hardware configuration, software patching, and other time-consuming IT maintenance tasks. IT teams can put their efforts into achieving more important business objectives
Performance
The largest cloud computing services are delivered via a global network of secure data centers routinely updated to the current generation of fast and efficient computer gear. It has various advantages over a single corporate data center, including lower application network latency and increased economies of scale
Security
Numerous cloud providers provide a comprehensive set of rules, technologies, and controls. It improves your entire security posture by assisting in the protection of your data, applications, and infrastructure from possible attacks
What is Cloud Computing trend in India?
Cloud computing has found its applications in India in recent years as they are used in everyday activities of people such as social networking, mail, online purchases, and large-scale operations of MNCs including big data, Internet of Things (IoT), etc.
Cloud Computing offers huge potential for Indian firms to grow and is opening up new windows of opportunities. Sectors like retail, railways, manufacturing, banking, education, and healthcare have started switching to cloud services.
What is the regulatory and legal framework for cloud computing in India?
Cloud computing needs careful scrutiny by regulators due to its multi-dimensional nature.
Legal frameworks should be mandated due to concerns regarding cloud services like data privacy, data protection, data ownership, multi-jurisdiction issues, and disclosure and cross-border movement of data.
While the Indian Telegraph Act, of 1885, the Civil Procedure Code of 1908, and the Telecom Regulatory Authority of India Act, 1997 deal with this sector in an indirect manner, the Information Technology (IT) Act of 2000 is of more relevance for regulating this sector.
IT Act, 2000 – provides for provisions regarding penalties for the breach of data and privacy. The Act targets e-commerce and cybercrime in general and data protection and data privacy are covered under it.
While the above-mentioned laws do cover some legal issues regarding cloud computing, however, they don't cover the scope of cloud computing services and the issues arising from it.
Cloud computing in Indian Governance:
Cloud computing has been used in the following ways in India.
E-Gram Panchayat
The majority of the Indian population lives in villages, and the Panchayats represent the face of governance for these villagers. To improve the quality of governance, the Indian government initiated an e-governance scheme known as ePanchayat to simplify and enhance internal government operations. The module was constructed in 4 phases of e-governance.
Indian Railways on Cloud
Governed by the Central Railway Ministry of India, the Indian railway network is the largest rail network in Asia and the second-largest rail network in the world. Research carried by the railway ministry says out of 17 million passengers every day, only 1 million passengers carry confirmed rail tickets. This results in substantial monetary loss. To avoid loss, the Indian government decided to implement cloud technology for Indian railways. Today, the central government maintains railway data on the cloud.
RailCloud – The Indian railways have launched RailCloud, a cloud-based service that will enable faster connectivity at a minimal cost.
Nivaran-Grievance portal – It is the first IT application on RailCloud. It is a platform for the resolution of service-related grievances of both serving and former railway employees.
Kisan Suvidha
The Indian government came up with the portal Kisan Suvidha to help farmers with the relevant information instantly. It delivers farmers with detailed knowledge on weather, market prices, seeds, fertilizers, pesticides, agriculture machinery, dealers, agro advisories, plant protection and IPM practices. It notifies them with extreme weather conditions and the changing market price.
DigiLocker
DigiLocker is the public cloud-based storage introduced by the Indian government for the citizens of India. It is much more than an online drive where you upload your documents to be accessed depending on your convenience. The documents are digitally verified and signed by the government of India in a few seconds with an authentic DigiLocker verification seal. With more than 57.13 million users and 4.27 billion issued documents, DigiLocker has proved to be one of the biggest success stories of cloud in the government.
eHospital
eHospital is a cloud-based healthcare project implemented by the government of India to ease the process of healthcare management. The system was designed to speed up services like online registration, payment of fees and appointments, online diagnostic reports, checking on the availability of blood online, etc. This hospital model assigns a unique identification number to every patient at the time of registration. The medical history of a particular patient can be accessed using the number.
Government e-Marketplace (GeM)
One of India's most landmark initiatives, the Government e-Marketplace (GeM) uses a multi-cloud architecture to ensure scalability. Today, the GeM serves over 50,000 buyer organizations and has a listing of over 19 lakh products and more than 80,000 services.
National Highway Authority of India (NHAI)
The National Highway Authority of India (NHAI), announced last year that it had gone fully digital with the launch of a unique cloud-based and AI-powered big analytics platform. All project documents and correspondences related to NHAI will be stored in a cloud-based data lake, which is linked with GIS tagging and a unique project ID, so that project data can be retrieved easily from any location.
Hospital Management Information System
The Indian Railways has been given the responsibility of deploying open source Hospital Management Information System (HMIS), an integrated clinical information system, for its 125 health facilities and 650 polyclinics across the country for improved hospital administration and patient healthcare, using a cloud platform.
The E-health vision of the government aims at incorporating the Health Information Exchange (HIE) mechanism through a cloud platform. An electronic HIE enables stakeholders to correctly assess and securely share a patient's medical information electronically.
MeghRaj
The Government of India is embracing cloud computing technology for expanding its e-governance initiatives throughout the country. In India, the focus of e-governance is to reduce corruption and ensure the government schemes are reaching people living in rural areas of the country. Further, e-governance services ensure quicker service delivery and eliminate the involvement of middlemen who tend to capitalize on loopholes for quick money by means of exploiting people.
In order to utilize and harness the benefits of Cloud Computing, the Government of India has embarked upon an ambitious initiative – "GI Cloud" which has been named as 'MeghRaj'. This initiative is to implement various components including governance mechanisms to ensure the proliferation of Cloud in the government. The focus of this initiative is to accelerate the delivery of e-services in the country while optimizing the ICT spending of the Government.
MeghRaj will ensure optimum utilization of the infrastructure and speed up the development and deployment of eGov applications. The architectural vision of GI Cloud encompasses a set of discrete cloud computing environments spread across multiple locations, built on existing or new (augmented) infrastructure, following a set of common protocols, guidelines, and standards issued by the Government of India.
Infrastructure sector:
Smart city's mission facilitates local development by utilizing technology such as cloud computing.
Moreover, the government has also recognized the importance of cloud-based service delivery for Digital India since it integrates smart devices and infrastructure and processes a large amount of data from different sources in real-time.
Banking sector:
Reserve Bank of India (RBI) has been working towards achieving 100% financial inclusion with the help of technology. The RBI has been utilizing cloud-based solutions, especially for cooperative banks to extend banking services across India via core banking solutions.
The use of cloud computing in the Banking sector will result in reduced timelines, moving the cost from capital expenditure to operational expenditure = banks could concentrate on core banking business.
Indian Banking Community Cloud (IBCC) is the first community cloud initiative for the banking sector in India.
Manufacturing sector:
With the Make in India initiative in full motion, the adoption of cloud computing became even more relevant for the Indian manufacturing sector.
Some common applications of Cloud Computing in the manufacturing sector are CRM (Customer Relationships Management), supply chain applications, data warehousing, information security, green IT, Human Machine Interface (HMI), and so on.
Telecom sector:
Deploying operations and business support systems over cloud platforms is a highly effective method for resolving different business and technical challenges faced by the telecom sector.
Cloud platforms provide an effective way to facilitate resource sharing, automation, monitoring, managing software upgrades and improving operations of telecom companies.
Start-ups and SMEs:
The low capital investment and quick marketing time through cloud services encourage entrepreneurship in the country facilitating start-ups and small-medium businesses to start small and expand their business according to the demand.
Digital MSME Scheme – It provides cloud-based services for MSMEs to reduce their cost by avoiding the building of in-house IT infrastructure.
In India, cloud computing has ensured the success of national initiatives and schemes such as Swachh Bharat Mission, e-Hospital, National Scholarship, My-Gov and e-Transport.
NIC's SaaS-based service, S3WaaS, has empowered district administrators to create, configure and deploy scalable and accessible websites without much effort and technical knowledge.
What are the challenges in the adoption of cloud computing in India?
Infrastructure: Lack of effective infrastructure for data centers in India.
Energy resource management: The cost of powering and cooling amounts to 53% of the total operational expenditure of data centers. The challenge is not only to reduce energy costs in data centers, but also to meet government regulations and environmental standards.
Consolidation of servers: Achieving effective server consolidation (i.e., utilizing the remote servers to the maximum level to reduce energy usage) without affecting application performance is a primary challenge.
Platform management: Challenges in providing middleware capabilities for building, deploying, integrating and managing applications in a multi-tenant, elastic and scalable environment.
Maintaining security architecture: The right cloud security architecture is needed for responding to security threats effectively and instantly and reducing risks associated with the business or government services.
Conclusion
Cloud computing can further the motive of e-governance (service delivery, transparency, citizen awareness and grievance redressal) by providing a faster, easier, and cost-effective platform that can be used by multiple government agencies. Way ahead lies in taking due care of security, interoperability, and licensing.
To sum up it can be said that the cloud is the storage of applications, services, and data on the internet. These service providers rely on giant server farms and massive storage devices that are connected via internet protocols and cloud computing is the use of these services by individuals and organizations.
Cloud computing is both a combination of software and hardware-based computing resources delivered as a networked service. This model of IT-enabled services enables anytime access to a shared pool of applications and resources. Cloud computing provides the facility to access shared resources and common infrastructure offering services on-demand over networks to perform operations that meet changing business needs.
Article written by: Aseem Muahmmed