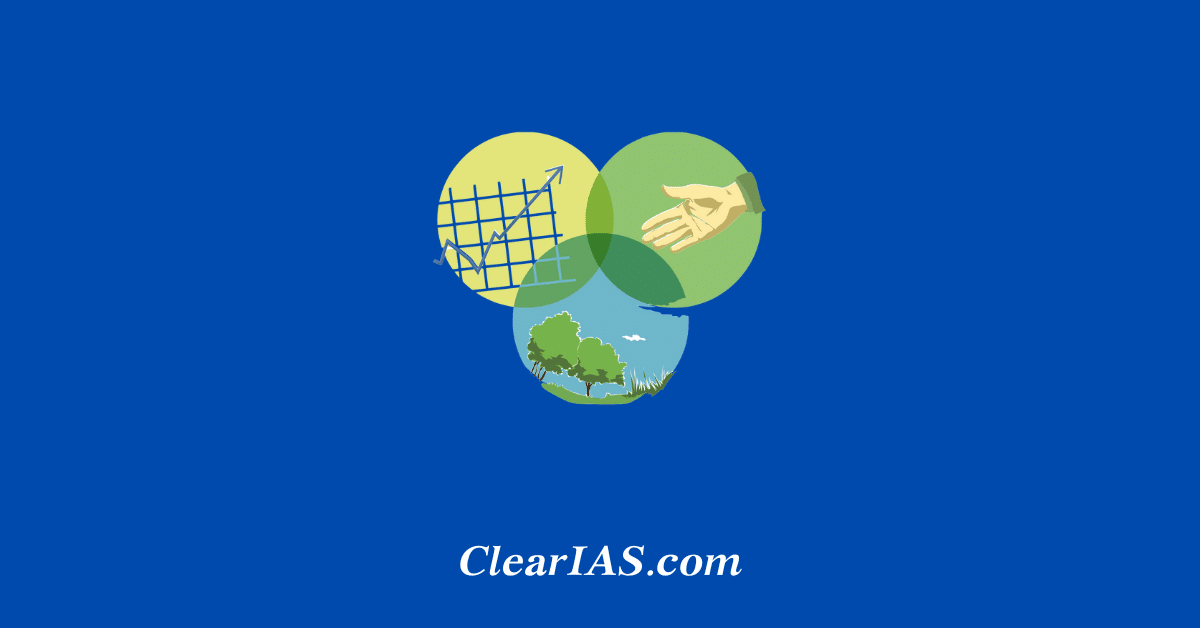 The Centre has now mandated corporate India to furnish a comprehensive report on their Corporate Social Responsibility (CSR) activities, specifying an 11-page form for this purpose. It is expected to give the government a comprehensive picture of the CSR funds spent and activities carried out.
A properly implemented CSR concept can bring along a variety of competitive advantages, such as enhanced access to capital and markets, increased sales and profits, operational cost savings, and improved productivity and quality.
It also enhances an efficient human resource base, improves brand image and reputation, enhanced customer loyalty, and better decision-making and risk management processes.
What is Corporate Social Responsibility (CSR)?
Corporate Social Responsibility is a management concept whereby companies integrate social and environmental concerns into their business operations and interactions with their stakeholders.
CSR also called corporate citizenship, is generally understood as being the way through which a company achieves a balance of economic, environmental and social imperatives (Triple Bottom Line Approach), while at the same time addressing the expectations of shareholders and stakeholders. 
Corporate social responsibility, or CSR, is a type of self-regulation that demonstrates a company's accountability and commitment to advancing the social and environmental well-being of communities and society.
In India, the concept of CSR is governed by clause 135 of the Companies Act,2013.
India is the first country in the world to mandate CSR spending along with a framework to identify potential CSR activities.
The CSR provisions within the Act are applicable to companies with
Business net worth was INR 500 crore or more.
Annual company turnover is INR 1000 Crore or more.
Companies Net profit is INR 5 Crore or more.
According to the Act, businesses should devote 2% of their average net earnings over the previous three years to CSR initiatives.
According to the Act, businesses must form a CSR committee that will advise the board of directors on a corporate social responsibility policy and periodically review it.
What are some CSR Activities?
The indicative activities, which can be undertaken by a company under CSR, have been specified under Schedule VII of the Act. The activities include:
Eradicating extreme hunger and poverty,

Promotion of education, gender equality and empowering women,

Combating Human Immunodeficiency Virus, Acquired Immune Deficiency Syndrome and other diseases,

Ensuring environmental sustainability;

Contribution to the Prime Minister's National Relief Fund or any other fund set up by the Central Government for socio-economic development and relief and funds for the welfare of the Scheduled Castes, the Scheduled Tribes, other backward classes, minorities and women etc
Types of Corporate Social Responsibility
In general, there are four main types of corporate social responsibility. A company may choose to engage in any of these separately, and a lack of involvement in one area does not necessarily exclude a company from being socially responsible.
1. Environmental Responsibility:
The cornerstone of corporate social responsibility, which is anchored in protecting mother nature, is environmental responsibility. A business can guarantee that it leaves the environment better off than it found it by conducting its activities as efficiently as possible and supporting relevant causes. Businesses frequently strive to practise environmental stewardship.
2. Ethical Responsibility:
The pillar of corporate social responsibility, ethical responsibility is based on doing things in a just and moral way. Although external factors or client demands may influence ethical goals, businesses frequently set their own standards.
3. Philanthropic Responsibility:
The underpinning of corporate social responsibility, and philanthropic responsibility questions how a business behaves and how it contributes to society. Philanthropic duty, in its most basic definition, refers to how an organisation allocates its resources to improve the world.
4. Financial Responsibility:
The component of corporate social responsibility that unites the three aforementioned areas is financial responsibility. A firm may have goals to become more environmentally conscious, morally upright, and charitable, but it must support these plans with financial investments in programmes, grants, or product research.
Benefits of Corporate Social Responsibility
As important as CSR is for the community, it is equally valuable for a company. CSR activities can help forge a stronger bond between employees and corporations, boost morale, and aid both employees and employers in feeling more connected to the world around them. Aside from the positive impacts on the planet, here are some additional reasons businesses pursue corporate social responsibility.
1. Brand Recognition:
Customers are growing more conscious of the effects businesses may have on their communities, and many often base their purchasing decisions on a company's CSR efforts. A corporation is more likely to have a positive brand reputation as it increases its CSR efforts.
2. Investor Relations:
Implementing CSR strategies tends to have a favourable impact on how investors feel about an organisation and how they evaluate the value of the company, which can give businesses a competitive edge and help them outperform the market.
3. Employee Engagement:
Employee retention is strengthened by non-financial work advantages tied to SR that align businesses and employees. For people who work for a firm, believe in staying with it. As a result, there will be less churn, unsatisfied personnel, and overall hiring costs.
4. Risk Mitigation:
Take into account unfavourable actions like prejudice towards certain employee groups, exploitation of the environment, or improper spending of corporate assets. This kind of action is more likely to result in lawsuits, litigation, or other legal proceedings, which could have a negative financial impact on the company and make headline news.
Companies can reduce risk by following CSR guidelines by avoiding problematic circumstances and participating in beneficial initiatives.
5. Improved Decision-Making:
Respect for ethics will compel managers to evaluate a variety of economic, social, and ethical factors when making decisions. Decision-making is improved because decisions are made with the public, employees, and company's long-term interests in mind.
6. Tax advantages:
The amount spent on CSR is tax-deductible, which contributes to the company's profit growth.
What are the Issues Pertaining to CSR Compliance?
1. Choosing the Best Partners:
The difficulties in finding the correct partners and projects, as well as in choosing ones that are long-term impactful, scalable, and self-sustaining, persist despite rising awareness of the need for CSR compliance.
2. Community Participation in CSR Activities Is Lacking:
The local community does not show much enthusiasm for taking part in and supporting corporate social responsibility (CSR) initiatives. This is a result of the stakeholders not communicating with one another.
3. Concerns with Transparency:
Companies claim that there is a lack of transparency on the part of the local implementing agencies since they don't put enough effort into disclosing information about their programmes, audit issues, impact assessments, and budget utilisation.
4. The absence of well-organized NGOs:
In remote and rural locations, it is difficult to find well-organized NGOs that can evaluate and identify the community's true needs and collaborate with businesses to ensure the successful execution of CSR initiatives.
Article article by Aseem Muhammed