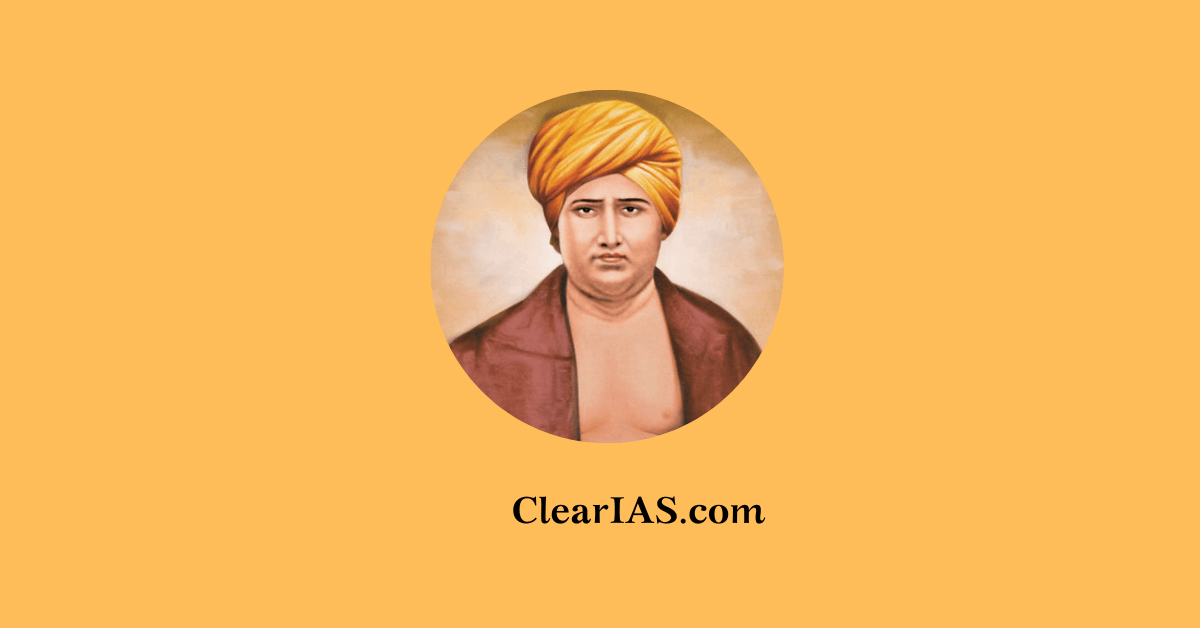 Dayanand Saraswati spent 15 years traveling as a hermit in quest of the truth. Later, he started following Mathura's blind sage Virajanand Dandeesha. Have you read about the life of Dayanand Saraswati in detail? What were his religious ideologies? Read further to know more.
More than just a religious figure in India, Swami Dayanand Saraswati had a significant influence on the country's culture. He established the Arya Samaj, which altered how Indians perceived religion.
He spoke against idolatry, useless ritualism, pointless ritual focus, and man-made rules prohibiting women from reading the Vedas.
By establishing Anglo-Vedic schools to provide Indian students with an updated curriculum teaching both the knowledge of the Vedas and contemporary English education, he brought about a total revamp of the educational system.
Early Life of Dayanand Saraswati
Karshanji Lalji Tiwari and Yashodabai welcomed Dayanand Saraswati into the world on February 12, 1824, as Mool Shankar in Tankara, Gujarat. His powerful and wealthy Brahmin family was a devout devotee of Lord Shiva.
Being up in a profoundly religious household, Mool Shankar was instilled with a strong sense of devotion and cleanliness as well as the value of fasting at a young age.
When Mool Shankar was eight years old, the Yajnopavita Sanskara, also known as the ceremony of the "twice-born," was performed, introducing him to the Brahmanic religion.
On the occasion of Shivaratri, Mool Shankar would sit awake the whole night in obedience to Lord Shiva. On one such night, he saw a mouse eating the offerings to God and running over the idol's body.
After seeing this, he questioned himself, if God could not defend himself against a little mouse then how could he be the savior of the massive world?
Getting Spiritual
After his sister passed away when Mool Shankar was 14 years old, he became drawn to the spiritual world. His parents were unable to respond to his inquiries concerning life, death, and the afterlife.
When Mool Shankar was asked to get married in accordance with social customs, he fled his house. For the next 20 years, he traveled the land, stopping at temples, shrines, and other revered locations.
He spoke with yogis who lived in the mountains or forests and questioned them about his problems, but no one was able to provide him with the ideal solution.
Finally, he reached Mathura, where he encountered Swami Virajananda. Swami Virajananda took Mool Shankar on as a pupil and gave him the instruction to study the Vedas directly.
Throughout his study, he discovered the answers to all of his questions about life, death, and the hereafter. Mool Shankar was given the responsibility of disseminating Vedic knowledge across society by Swami Virajananda, who also gave him the new name Rishi Dayanand.
What were his spiritual beliefs?
Maharishi Dayanand was a proponent of Hinduism as it is described in the Vedas, free from distortion and trimmings. He placed the highest priority on maintaining the integrity of the faith.
He was a fervent supporter of the ideas of Dharma, which he held to be impartial and representative of truth. Anything that did not conform to reality was unjust or unfair, or went against the Vedic principles was considered Adharma in his eyes.
He supported the practice of Ahimsa, or non-violence, and held reverence for human life regardless of circumstances.
Back to Vedas: A call by Dayanand Saraswati
Hinduism, in Swami Dayanand's opinion, has deviated from its core, and many of the traditions that are still practiced are in conflict with the Vedas.
He saw the Vedas as "India's Rock of Ages," the infallible founding text of Hinduism. So he coined the phrase "Back to the Vedas."
As he accepted modernity, the phrase "Back to the Vedas" did not call for a return to the Vedic era. Instead, it was a plea for the resurgence of Vedic knowledge and religious purity.
He criticized the ignorant priests and subsequent Hindu literature (such as the Puranas) for corrupting Hinduism.
Arya Samaj of Dayanand Saraswati
Dayanand Saraswati founded the Arya Samaj in Bombay on April 7, 1875. It was a "society of the nobles" or a Hindu reform movement. The Samaj was founded with the intention of removing bogus notions from Hinduism.
The Samaj's motto was "Krinvan to Vishvam Aryam," which translates to "Make this world honorable.
The Samaj commands its adherents to denounce ritualistic behaviors such as idol worship, pilgrimage, bathing in sacred rivers, animal sacrifice, offering in temples, supporting the priesthood, etc.
Additionally, rather than blindly adhering to traditional rites and ideas, the Samaj urged its adherents to think for themselves.
The Arya Samaj tried to eliminate a number of social problems in addition to seeking a spiritual restructuring of the Indian mentality. The education of women and widow remarriage were foremost among these.
In the 1880s, the Samaj started initiatives to encourage widow remarriage. Maharishi Dayanand opposed child marriage and emphasized the need of educating girls. He declared that for the sake of society as a whole, an educated man needs an educated wife.
Swami Dayanand wrote the book "Satyarth Prakash" in 1875. It contains the clarifications of Vedic principles & his socioreligious views.
Shuddhi Movement by Dayanand Saraswati
Maharishi Dayanand created the Shuddhi Movement to convert Hindus who had either freely or involuntarily converted to other religions like Islam or Christianity back to Hinduism.
Those who wished to return to Hinduism were given Shuddhi, or purification, and the Samaj did a good job of gaining access to the various social classes and bringing the downtrodden masses back into the folds of Hinduism.
Click here to read more about socio-religious movements
What were his contributions to the education field?
Maharishi Dayanand was very certain that ignorance was the primary cause of Hinduism's adulteration. To teach his disciples the Vedic knowledge and to help them spread it further, he established a number of Gurukuls.
After his passing in 1883, his followers founded the Dayanand Anglo Vedic College Trust and Management Society ( DAV School) as a result of his beliefs, teachings, and concepts.
On June 1st, 1886, Lala Hans Raj was appointed headmaster of the first DAV High School, which was founded in Lahore.
Conclusion
Though the Arya Samaj and Maharishi Dayanand were never directly involved in the fight for Indian independence, their lives and teachings had a significant impact on a number of significant figures, including Lala Lajpat Rai, Vinayak Damodar Savarkar, Madam Cama, Ram Prasad Bismil, Mahadev Govind Ranade, Madan Lal Dhingra, and Subhash Chandra Bose.
Article written by : Jis John Sebastian