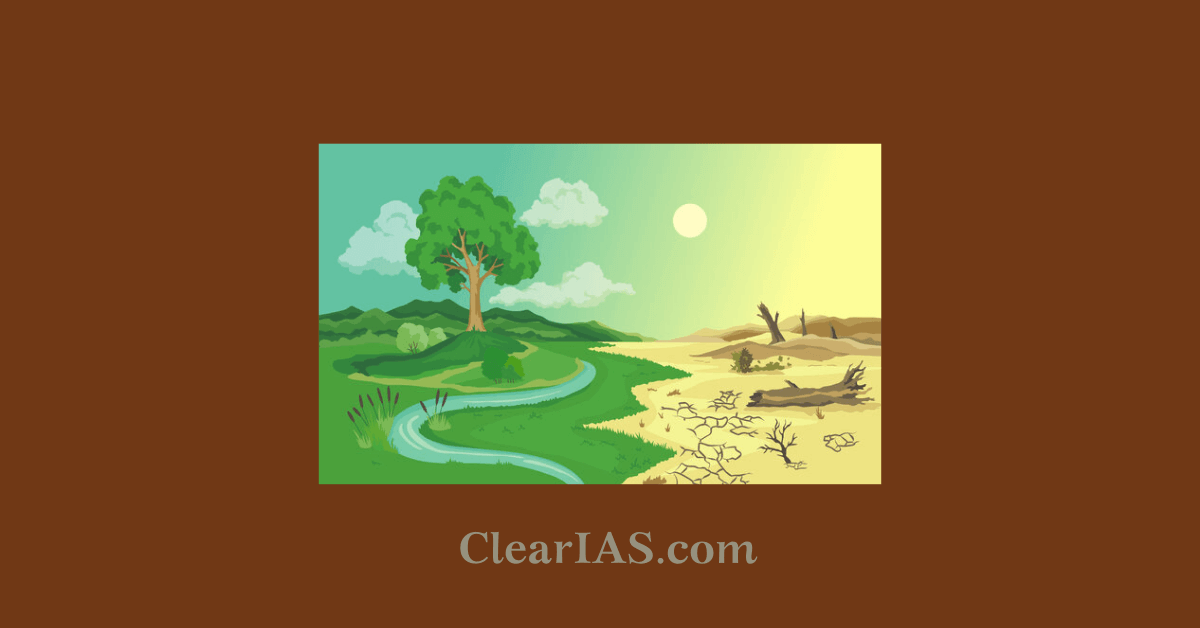 What is Desertification? What is land degradation? What are the reasons behind it? How is it affecting the world? Know more here.
What is land degradation?
It is a process in which the biophysical environment is affected negatively by the combination of natural and human-induced processes acting upon the land.
Land degradation is caused by multiple forces, including extreme weather conditions, particularly drought. It is also caused by human activities that pollute or degrade the quality of soils and land utility.
It negatively affects food production, livelihoods, and the production and provision of other ecosystem goods and services.
What is Desertification?
Desertification is a type of land degradation in which a relatively dry region becomes increasingly arid, typically losing its water bodies as well as vegetation and wildlife.
What are the causes of desertification?
Land degradation has accelerated during the 20th and 21st centuries due to increasing and combined pressures of agricultural and livestock production (over-cultivation, overgrazing, and forest conversion), urbanization, deforestation, and extreme weather events such as droughts and coastal surges, which salinate land.
Water shortage: The deficit of water resources for crops and other vegetation affects their normal growth and eventually destabilizes other ecological processes.
Draught: The lack of precipitation under high air temperature causes droughts and water scarcity increases.
Climate dryness: Arid climate strengthening due to an increase in air temperature, along with a decrease in vaporability and precipitation.
Deforestation: Felling trees leads to an imbalance in the ecology and leads to soil erosion.
Overgrazing: Excessive grazing by domestic animals increases the loss of vegetation and reduces the soil's ability to hold moisture.
Vegetation loss: The death of vegetation occurs due to the unavailability of water demand and toxic matters concentration in soil and atmosphere increase.
Lack of drainage: Lack of natural groundwater drainage leads to water table rise, waterlogging, and salinization.
Salinization: Salt accumulation in the root layer or aeration zone of soil leads to salinization and the land further loses water holding capacity.
Salt accumulation on irrigated fields: This type of salt accumulation is formed on irrigated fields when the inflow of water is more than the outflow (total evaporation, overflow from unsaturated zone in groundwater) under deficient natural and artificial drainage.
Salt accumulation due to mining: Salt accumulation is formed due to mines, plants, and enterprises wastes where water without treatment is released to lands.
Water erosion: It results in badland topography, the initial stage of desertification.
Wind erosion: This type is created due to the wind transfer of different kinds of dust and salt. Sources of this can be salt deserts, semi-deserts, dried sea beds, and salts within irrigated lands.
Decreasing Groundwater table: Groundwater table lowering due to overexploitation of water resources and sea bed and water bodies desiccation.
Irrigation: Excessive irrigation leads to waterlogging and if irrigation can be stopped due to lack of water resources leads to low land fertility.
Land Fertility: Loss of land fertility occurs due to land salinization and waterlogging under lack of drainage and poor agricultural production practices. This type of desertification is typical for irrigated lands located in river deltas.
Impact of desertification:
Desertification and land degradations are major threats to agricultural productivity in the world and water and quality air. It can affect human health through complex pathways. As land is degraded and deserts expand in some places, food production is reduced, water sources dry up and populations are pressured to move to more hospitable areas.
Economic impact: The decreasing agricultural productivity affects the livelihood of a major population. The increasing global population will add more strain to land and cause food shortages.
Climate change: Degraded land loses its capacity to absorb carbon dioxide (CO2), a greenhouse gas (GHG) that is the biggest factor in worsening global warming.
Water scarcity: Land degradation has resulted in deterioration in the quantity and quality of both surface and groundwater resources.
Ecological threat: The increasing desertification is threatening the flora and fauna of the regions.
Impact on human health:
Malnutrition from reduced food and water supplies;
Water and food-borne diseases due to poor hygiene and a lack of clean water
Respiratory diseases caused by atmospheric dust from wind erosion and other air pollutants
The spread of infectious diseases as populations migrate.
Global scenario:
Sahel region, North Africa
The Sahel region is a strip of land that stretches from one side of northern Africa to the other. It is bordered by the Sahara Desert to the north, and by the rich savannahs and rainforests of Central and Western Africa to the south.
It experiences a rather dry, semi-arid climate, with a brief two-month wet season; however, the occurrence of long droughts coupled with systematic over-exploitation of the land makes this one of the world's most alarming desertification examples.
However, overgrazing and agricultural practices within the region, which had been promoted by many national governments, also played a large part.
In 2007, 11 African governments launched the Great Green Wall of Africa as an attempt to mitigate the problem. This initiative aimed to plant a 15-kilometer wide and 8,000-kilometre-long plant barrier along the northern edge of the Sahel, to prevent the Sahara from expanding southwards.
Ningxia Hui, China
The Ningxia Hui Autonomous Region is located in northern China. Sandwiched between the Tenggeli, Wulanbu, and Maowusu Deserts, it is no surprise that Ningxia Hui has already seen desertification on an alarming scale, with just over half of its area having already been devoured by deserts.
Like in the Sahel, a combination of human and climatic factors is to blame for this, and the threat has not gone away.
A 2012 World Bank project has been largely successful in restoring vegetation cover, which has increased by around 40% and has kept the dunes in place.
Murray-Darling Basin, Australia
The Murray-Darling basin covers a vast area of eastern and south-eastern Australia. Located to the east of a vast area of aridity that covers much of Australia, and largely within a semi-arid area susceptible to long droughts, desertification is a large issue within the region.
Climatic factors have contributed massively to the desertification of the region, via long droughts such as the so-called 'Big Dry' that lasted from 1996 to 2012.
However, as with the other desertification examples, human factors like overgrazing and soil degradation, as well as the salinization of the soil, are large additional contributors, all of which stem mainly from inappropriate farming practices.
Desertification in India:
Six states in northeastern India were among the top 10 places in the country with the highest rates of desertification between 2003 and 2018, according to a recent report. These are Mizoram, Arunachal Pradesh, Assam, Tripura, Nagaland, and Meghalaya.
Punjab, Delhi, Jammu and Kashmir, and Uttarakhand in northern India also witnessed some of the highest rates of desertification, the most recent estimates by the Space Applications Centre under the Indian Space Research Organisation (ISRO).
Desertification and Land Degradation Atlas: It is a document published by ISRO which shows that Land Degradation and Desertification have increased significantly in recent years. The Atlas provides a state-wise area of degraded lands for the time frame 2018-19. It also provides the change analysis for the duration of 15 years, from 2003-05 to 2018-19.
Recently, the Indian Prime Minister delivered a keynote address at the UN "High-Level Dialogue on Desertification, Land Degradation, and Drought" via video conference.
United Nations Convention to Combat Desertification (UN-CCD)
Established in 1994, the United Nations Convention to Combat Desertification (UNCCD) is the sole legally binding international agreement linking environment and development to sustainable land management. The Convention addresses specifically the arid, semi-arid, and dry sub-humid areas, known as the drylands, where some of the most vulnerable ecosystems and peoples can be found.
India is a signatory to the United Nations Convention on Combating Desertification (UNCCD). The country is committed to combating desertification and land degradation and intends to achieve land degradation neutral status by 2030. MoEF&CC is the nodal Ministry for the implementation of the UNCCD. The status of India's desertification and land degradation is an important contribution to India's report to the UNCCD.
Schemes by the Indian Government against Desertification:
Integrated watershed management system:
It aims to restore ecological balance by harnessing, conserving, and developing degraded natural resources with the creation of Rural Employment. Now it is subsumed under Pradhan Mantri Krishi Sinchai Yojana which is being implemented by NITI Ayog.
Desert Development Programme:
It was launched in 1995 to minimize the adverse effect of drought and to rejuvenate the natural resource base of the identified desert areas. It was launched for hot desert areas of Rajasthan, Gujarat, Haryana, and cold desert areas of Jammu & Kashmir and Himachal Pradesh.
National Afforestation Programme:
It has been implemented since 2000 for the afforestation of degraded forest lands. It is being implemented by the Ministry of Environment, Forest, and Climate Change
National Action Programme to Combat Desertification:
It was prepared in 2001 to address issues of increasing desertification and to take appropriate actions.
National Mission on Green India:
It was approved in 2014 to protect, restore, and enhance India's diminishing forest cover with a deadline of 10 years.
India is working hard to achieve its national commitment to Land Degradation Neutrality (LDN) (SDG Goal target 15.3). LDN is a state whereby the amount and quality of land resources, necessary to support ecosystem functions and services and enhance food security, remains stable or increases within specified temporal and spatial scales and ecosystem.
What can be done to combat desertification?
Some of the techniques that may help improve the consequences of desertification in croplands and woodlands include:
Salt traps involve the creation of empty layers of gravel and sand at certain depths in the soil. Salt traps prevent salts from reaching the surface of the soil and also help to inhibit water loss.
Irrigation improvements can inhibit water loss from evaporation and prevent salt accumulation. This technique involves changes in the design of irrigation systems to prevent water from pooling or evaporating easily from the soil.
Cover crops prevent soil erosion from wind and water. They can also reduce the local effects of drought. On larger scales, plant cover can help maintain normal rainfall patterns. Cover crops may be perennials or fast-growing annuals.
Crop rotation involves the alternation of different crops on the same plot of land over different growing seasons. This technique can help maintain the productivity of the soil by replenishing critical nutrients removed during harvesting.
Rotational grazing is the process of limiting the grazing pressure of livestock in a given area. Livestock is frequently moved to new grazing areas before they cause permanent damage to the plants and soil of any one area.
Terracing is the creation of multiple levels of flat ground that appear as long steps cut into hillsides. The technique slows the pace of runoff, which reduces soil erosion and retards overall water loss.
Contour bunding involves the placement of lines of stones along with the natural rises of a landscape, and contour farming. These techniques help to capture and hold rainfall before it can become runoff. They also inhibit wind erosion by keeping the soil heavy and moist.
Windbreaks are the placing of lines of fast-growing trees planted at right angles to the prevailing surface winds. They are primarily used to slow wind-driven soil erosion but may be used to inhibit the encroachment of dunes.
Dune stabilization involves the conservation of the plant community living along the sides of dunes. The upper parts of plants help protect the soil from surface winds, whereas the root network below keeps the soil together.
The inclusion of a specific target under SDG 15 ('Life on Land), to achieve land degradation neutrality by 2030, reflects the commitment of the international community to make progress on land restoration and reversing land degradation. Over 120 countries have already committed to setting voluntary targets to achieve land degradation neutrality.
Potential Mains question:
The process of desertification does not have climate boundaries. Justify with examples. (150 words)