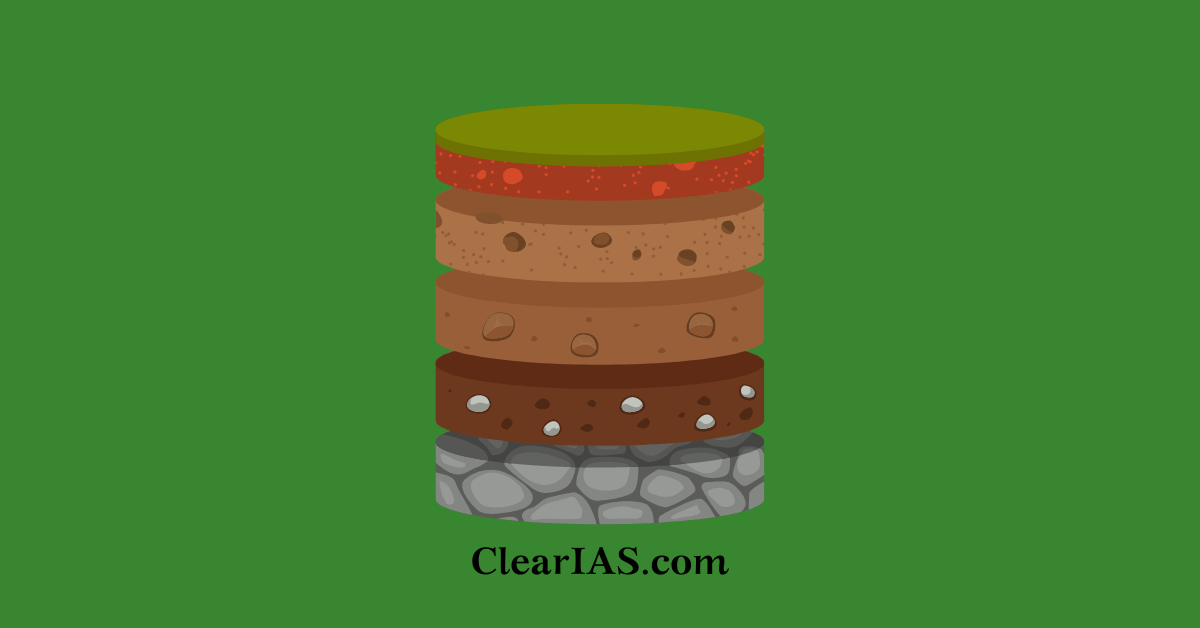 This post is a continuation of our previous article on Soils of India: Classification and Characteristics. The Indian council of Agricultural Research (ICAR) set up an All India Soil Survey Committee in 1953 which divided the Indian soils into eight major groups.
For ease of understanding and comparative study, this post about the 8 soil types is prepared in tabular form, highlighting the key differences.
Different soil types in India: Understand the differences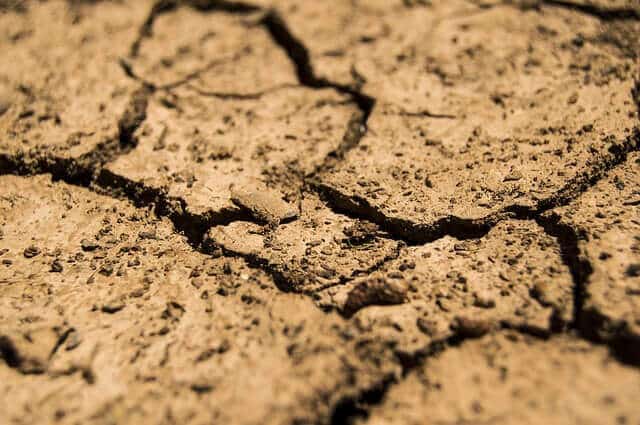 Alluvial soils
Black (or Regur soil)
Red and Yellow soils
Laterite soils
Arid and desert soils
Saline and alkaline soils
Peaty and marshy soils
Forest and mountain soils
| | | | | |
| --- | --- | --- | --- | --- |
| Types of Soils | States where found | Rich in: | Lacks in: | Crops grown |
| Alluvial | Mainly found in the plains of Gujarat,  Punjab, Haryana, UP, Bihar, Jharkhand etc. | Potash and Lime | Nitrogen and Phosphorous | Large variety of rabi and kharif crops such as wheat, rice, sugarcane, cotton, jute etc. |
| Black (Regur soil) | Deccan plateau- Maharashtra, Madhya Pradesh, Gujarat, Andhra Pradesh,Tamil Nadu, Valleys of Krishna and Godavari. | Lime, Iron, Magnesia and Alumina, Potash | Phosphorous, Nitrogen and organic matter | Cotton, sugarcane, jowar, tobacco, wheat, rice etc. |
| Red | Eastern and southern part of the deccan plateau, Orissa, Chattisgarh and southern parts of the middle Ganga plain. | Iron and Potash | Nitrogen, Phosphorous and humus. | Wheat, rice, cotton, sugarcane and pulses |
| Laterite | Karnataka, Kerala, Tamilnadu, Madhya Pradesh, Assam and Orissa hills. | Iron oxide and potash | Organic matter, Nitrogen, Phosphate and Calcium | Cashew nuts, tea, coffee, rubber |
| Arid and Desert | Western Rajastan, north Gujarat and southern Punjab | Soluble salts, phosphate | Humus, Nitrogen | Only drought resistant and salt tolerant crops such as barley, rape, cotton, millets maize and pulses |
| Saline and Alkaline | Western Gujarat, deltas of eastern coast, Sunderban areas of West Bengal, Punjab and Haryana | Sodium, Potassium, Magnesium | Nitrogen and Calcium | |
Model questions based on soil types for UPSC Prelims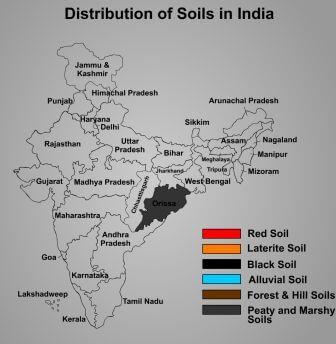 Qn 1: Among the statements given below, identify the correct statement(s):
Laterite soil is also known as 'self-ploughing' soil.
Alluvial soils are rich in humus and nitrogen.
Forest soils are deficient in potash and lime.
Choices:
a) 1 only
b) 1 and 2 only
c) 3 only
d) 1, 2 and 3
Right Answer c) 3 only
Explanation: The Black soil is known as self-ploughing soil. Alluvial soil lacks nitrogen.
Article Contributed by: Anushka H