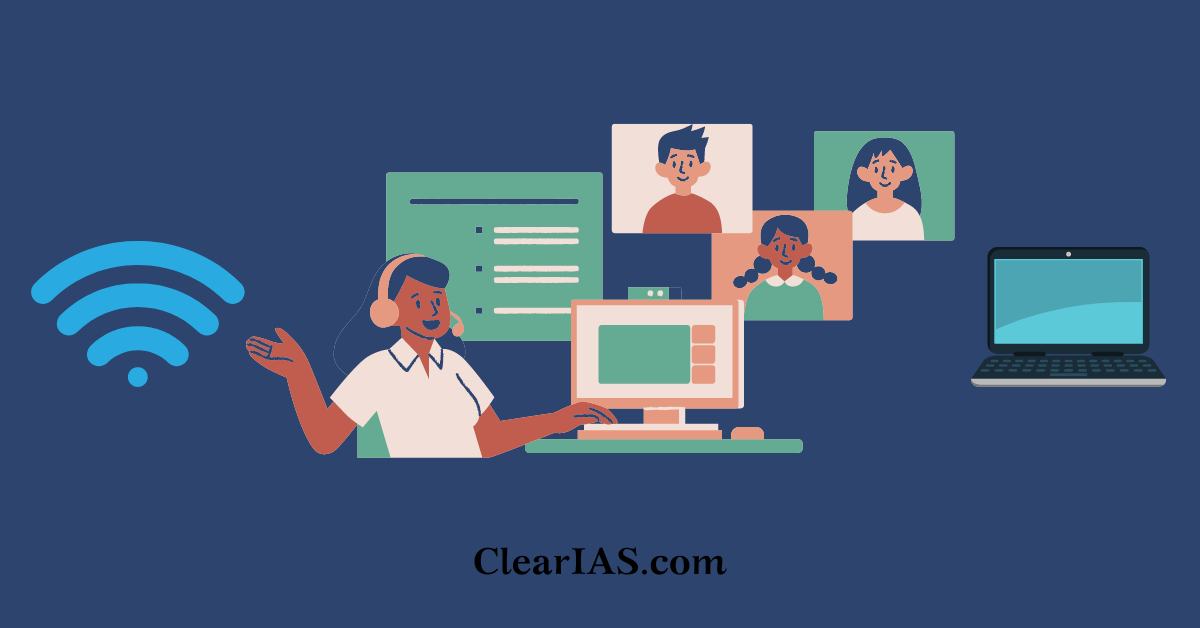 You are reading this article on ClearIAS.com, one of India's reputable EdTech platforms devoted to the UPSC Civil Services Exam preparation. What is an EdTech firm? Have you ever given the status of India's Edtech industry any thought? What distinguishes it from traditional educational systems? How effective is its results-focused strategy? What are the government's initiatives to improve India's Edtech landscape? Continue reading to learn more.
In order to minimize disruption in education, the COVID-19 pandemic prompted educational institutions to switch to an online learning model, which grew the Ed-Tech industry.
The digitalization of education was sparked by it.
The governmental sector serves as a facilitator while the private sector assumes a pivotal role.
The one-size-fits-all approach of traditional education has long been criticized by educators, parents, and students. Edtech offers students access to content at their own speed and classes that are specifically catered to their needs.
Consider ClearIAS.com as an illustration. It includes a variety of content that has been specifically created for students wishing to establish their careers through India's most prestigious competitive test, the Civil Service Exam (CSE). You can explore ClearIAS programs here.
Students can get past the paywall separating them from premium educators thanks to the affordability of Edtech platforms like ClearIAS.com.
Further, this learning is entirely online, so there are no longer any geographical restrictions.
What is the status of Edtech in India?
In 2020, the Indian EdTech market was estimated to be worth US$ 750 million, and by 2025, it is anticipated to be worth US$ 4 billion.
The increase in internet usage in India is credited for this growth. According to the Annual Status of Education Report (ASER) 2020, smartphone ownership among households with students attending public schools went from 30% in 2018 to 56% in 2020, while it increased from 50% to 74% among those with students attending private schools.
The Covid-19 pandemic has pushed technological adoption in India's educational system.
What are the advantages of Edtech for India?
Students who struggled with the strict timelines of the traditional school system can now receive a top-notch education from home.
Candidates for competitive exams, in particular, frequently balance work and education at once.
With the aid of EdTech, educators can reach a sizable number of pupils. There is no longer a requirement for a physical location where instructors and students can assemble for class sessions.
People of all ages can learn at their own pace, without restraints, and without sacrificing their other obligations thanks to online programs and courses that weren't available when they were younger thereby reducing the age barriers.
Government Initiatives for boosting Digital Education
Many initiatives have been undertaken in the last decade to strengthen India's digital ecosystem, thereby acting as a catalyst for the Edtech sector. Prominent of them are listed below.
DIKSHA
The government launched DIKSHA (Digital Infrastructure for Knowledge Sharing), a nationwide platform for school education, in 2017 to provide students, instructors, and parents with curriculum-based engaging learning materials. The portal has been adopted by states and UTs and supports more than 18 Indian languages.
PM eVIDYA
In order to promote and develop digital education in India, the PM eVIDYA program was launched in 2020 to make e-learning more accessible for Indian students and teachers. The scheme will reportedly help 25 crore pupils by bringing together all online and digital education-related activities.
The program will also include creating original digital content for students who are blind or deaf as well as providing radio/podcasts and QR-coded digital textbooks to students in classes one through twelve via the DIKSHA portal.
This relaxed the regulatory environment for distance/open/online education, allowing the top 100 universities to start offering online courses, giving 3.7 crores higher education students improved learning opportunities, and enhancing e-learning.
SWAYAM
In order to provide all citizens, especially those from poor backgrounds, with an integrated platform for online courses at reasonable prices, the government developed Study Webs of Active Learning for Young Aspiring Minds (SWAYAM) in 2017.
The portal offers Massive Open Online Courses (MOOCs) to provide students (from Class 9–12 through Undergraduates and Postgraduates) with high-quality instruction in a variety of areas.
SWAYAM PRABHA
SWAYAM PRABHA, a collection of 34 DTH (Direct-to-Home) channels that broadcast educational content around-the-clock, was inaugurated in 2017.
Every day, the channels broadcast novel material for at least four hours, and this is done five times in one day so that students can choose a convenient time.
E-Pathsala
The e-Pathshala portal was introduced by the government in 2015 as a way to create a resource hub for instructional flipbooks, audiobooks, films, etc.
Mobile devices including smartphones, laptops, desktop computers, and tablets can access the portal's resources, which are available in Indian languages like Hindi, English, and Urdu.
NISHTHA
In order to create modules for online education, the National Initiative for School Heads and Teachers' Holistic Advancement (NISHTHA) – Phase II was introduced at the secondary level in FY21.
According to the Union Budget 2021–22, in FY22, 5.6 million teachers would receive training through the NISHTHA program.
National Education Policy 2020
In addition to the use of technology in education, National Education Policy 2020 emphasizes digitization. Additionally, it emphasizes the use of EdTech to advance education, particularly in rural regions.
This was done primarily to bring high-quality education to all regions of the nation, particularly the Tier-2 and Tier-3 cities, and villages.
The National Digital Educational Architecture
The National Digital Educational Architecture (NDEAR) was established by the Indian government in the Union Budget 2021–22 to develop the digital infrastructure and support initiatives pertaining to educational planning.
The NDEAR seeks to provide a unique educational ecosystem architecture for the progress of the nation's digital infrastructure and to ensure the autonomy of all stakeholders, particularly states and UTs.
National Knowledge Network
In order to connect all knowledge-creating organizations, including IITs, IIMs, universities, research labs, and other e-governance institutions up to the district level, the NKN was built as a high-capacity, low latency network.
It was intended to promote cooperative learning and the creation of a comprehensive knowledge base.
This network is real and working properly.
However, due to a lack of knowledge, available resources, finance, and technical know-how, only a few schools fully utilize it.
Conclusion
Online education offers numerous opportunities for both students and teachers, but it may also exacerbate social disparities in India. We must make sure that all of our policies and interventions are inclusive when it comes to online education. India, with its clear vision and honest efforts, will pave the path forward.
Simply having the necessary tools, technology, and broadband connectivity available won't produce the desired outcomes. The most crucial element is to give professors and students adequate training on how to use online education and to acquaint them with the nuances of the available materials.
If you've read this far, you have all the necessary qualifications to pass the UPSC Civil Services. To give yourself an advantage on this exam, look into the premium and exclusive courses and test series offered by ClearIAS.com.
Article written by: Jis John Sebastian