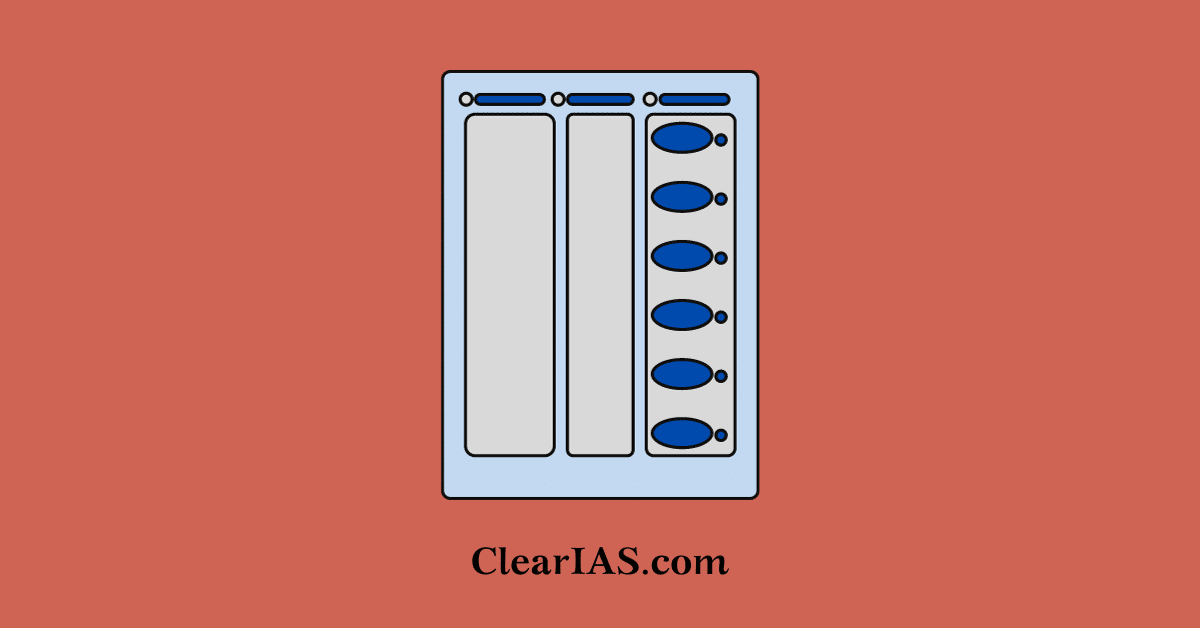 In 2017, after the election results in 5 states of Punjab, Manipur, UP, Goa, and Uttarakhand are announced there have been allegations of tampering of Electronic Voting Machines (EVMs). This has put a question mark on the fairness of elections in our democracy. Let us discuss EVMs in detail and see whether they can be tampered with or not.
What are Electronic Voting Machines (EVMs) and how does it work?
EVMs are electronic voting machines which provide the voter with a button for each choice and it is
connected by a cable to an electronic ballot box.
It consists of two units – control unit and balloting unit– which are connected by a 5-metre cable.
The control unit is with the Election Commission appointed polling officer and the Balloting Unit is in the voting compartment into which the voter enters to cast his/her vote in secret by pressing the button against the name and symbol of the candidate of his/her choice.
The EVM runs on a 6-volt single alkaline battery fitted in the control unit, and can even be used in areas that have no electricity.
Why did India replace paper ballots with Electronic Voting Machine?
Inherent problems of paper ballots – their printing, storage, and transportation involve huge
expenditure, lakhs of ballot boxes need for each election and logistics issues with their safe
storage between elections.
Using EVMs mean doing away with paper ballots, thus save paper and hence trees.
It makes the voting process very simple and easy.
EVMs, in the long run, are cost effective.
EVMs don't require electricity and run on batteries.
EVMs are lighter and portable as compared to huge ballot boxes.
EVMs have made the vote counting process much faster, delivering results in hours as against
manual counting of votes.
When were Electronic Voting Machines first used in elections?
EVMs were used on experimental basis for the first time in 16 Assembly Constituencies in the States of
Madhya Pradesh, Rajasthan and NCT of Delhi in 1998. In the Lok Sabha elections of 2004, the entire
country voted using EVMs.
What is the latest controversy about Electronic Voting Machines?
The opposition parties have alleged that the EVMs have been tampered with in favour of the ruling party.
This allegation is not new and both political parties and experts have repeatedly questioned the
functioning of EVMs since its adoption.
Following are the ways the doubters allege EVMs can be tampered with:
Before Polling
Chips/components replaced with look-alikes that favour particular party.
To beat mock drills, manipulation programmed such that it kicks in only once when voting has
been going on for a while. So mock poll shows correct results but final tally dodgy.
A chip with a Bluetooth link placed in an EVM controlled from a mobile phone.
During polling
EVMs can be rigged to switch votes between the candidates.
The voter can't know whether the vote reported is same as vote the cast.
It is alleged that recorded vote may never be cast.
There is no reliable way to detect errors in the recording of votes.
After voting
Portable hardware devices can change vote records stored in the machines (can be carried out
by local officials).
Physical seals on EVMs consists of stickers, string, and red wax is not difficult to tinker with.
Note: Further Two PSUs Bharat Electronics Limited (BEL) and Electronics Corporation of India Limited (ECIL) which manufacture EVMs engage others, including foreign firms, to make EVM chips which can be a potential hazard.
Note: It is to be noted that hacking of EVMs is apparently not possible as these have no internet connection.
How has the world treated Electronic Voting Machines?
Germany ended electronic voting in 2009 on grounds that system lacked transparency. The court ruled electronic voting as unconstitutional.
Netherlands banned EVMs in 2007 after an anti-EVM group showed how the machines could be
manipulated within 5 minutes without anybody spotting the fraud.
In the US, states that use electronic voting make a paper trail mandatory.
England and France have never used EVMs.
Italy felt e-voting results could be fudged.
Ireland junked EVMs after spending 51 million pounds researching them for 3 years.
Election Commission's response to criticisms
In 2009, ECI invited skeptics to demonstrate the alleged fallibility of EVMs, using 100 randomly
sourced machines from 10 states. The outcome was that none of the persons who were given
opportunity could demonstrate that ECI-EVM could be tampered in any of the 100 machines put on
display.
ECI said that EVMs can neither be reprogrammed nor controlled by the external device. The source
code is so designed that it allows the voter to cast the vote only once. The next vote can be
recorded only after the Presiding Officer enables the ballot on the Control Unit. In between, the
machine becomes dead to any signal from outside.
The Commission said that the comparison between EVMs in India and abroad, where they have
failed, are both misplaced and misguided. This is because most of the systems used in other
countries are PC based and running on the operating system. Hence they are vulnerable to hacking.
But EVMs in India are the standalone machine without being part of any input. The software in the
chip is one time programmable and is burnt into the chip at the time of manufacture. Nothing
can be written on the chip after manufacture. Thus there is a fundamental difference between
EVMs in India and abroad.
Voter Verified Paper Audit Trail (VVPAT)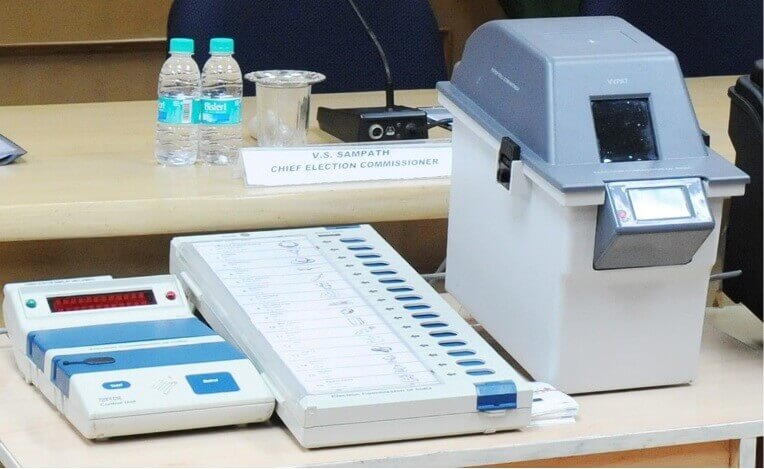 Following a PIL by Subramanian Swamy, Supreme Court asked EC to introduce VVPAT.
VVPAT is a slip generated in a printer-like a machine attached to EVM and flashes voter's choice of candidate and party. Generated slip is shown for a few seconds to the voter to cross check before it falls into a sealed drop box which can be opened during counting. Under VVPATs, initially, election results are announced based on the recording of votes given by EVMs. If the election results are disputed, then the votes recorded under Paper Trail System shall be counted and announced. If there is any discrepancy between the two results, then the result given by VVPAT will prevail over the EVMs.
The Supreme Court has supported the EC endeavor to use VVPATs in a phased manner to usher in more transparency in voting.
The Election Commission would need over 16 lakh paper trail machines, which dispel doubts about votes cast using EVMs, to cover all polling stations in the 2019 Lok Sabha elections.
Since June 2014, the Commission has given at least 11 reminders to the government seeking funds for VVPAT machines.
ECIL and BEL, two PSUs which manufacture VVPATs and EVMs, need 30 months to manufacture the required number of VVPAT units from the day funds are released.
There are challenges and concerns with VVPAT too.
Article by: Rahul Sharma, UPSC Topper 2016, With All India Rank 76