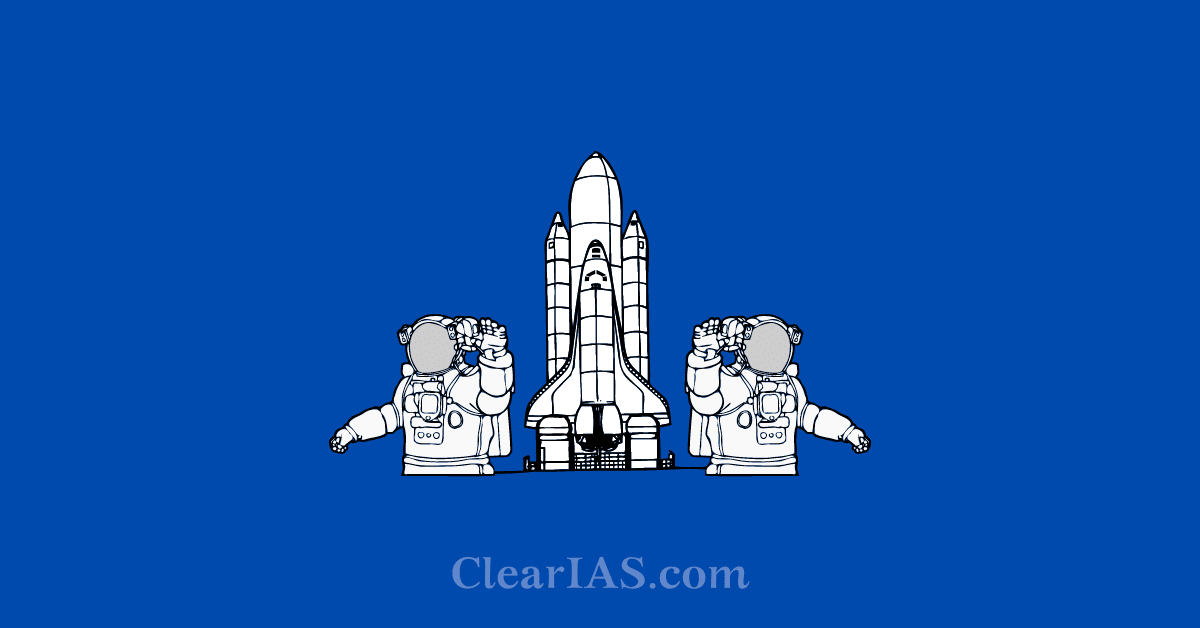 Gaganyaan is the Indian crewed orbital spacecraft by ISRo. Read here to all about the ambitious mission.
Recently, a written reply was submitted in the Lok Sabha regarding the current status of the mission Gaganyaan.
The Gaganyaan Programme is going to be a major national effort by ISRO (Indian Space Research Organisation) and they will carry out the overall program coordination, systems engineering, and implementation.
The human-rated launch vehicle, crew escape system, Orbital module, and essential infrastructure will be realized by ISRO utilizing the in-house expertise and with the participation of Industry, Academia, and National agencies. The private players in the country have developed significant expertise in niche areas, and this will be effectively utilized in the program.
The preliminary studies and technological development for the mission started in 2006 itself. The mission is set to launch three Indian astronauts as soon as 2023, which was earlier scheduled in 2021 but got delayed due to the pandemic.
Gaganyaan Programme: Goals and Objectives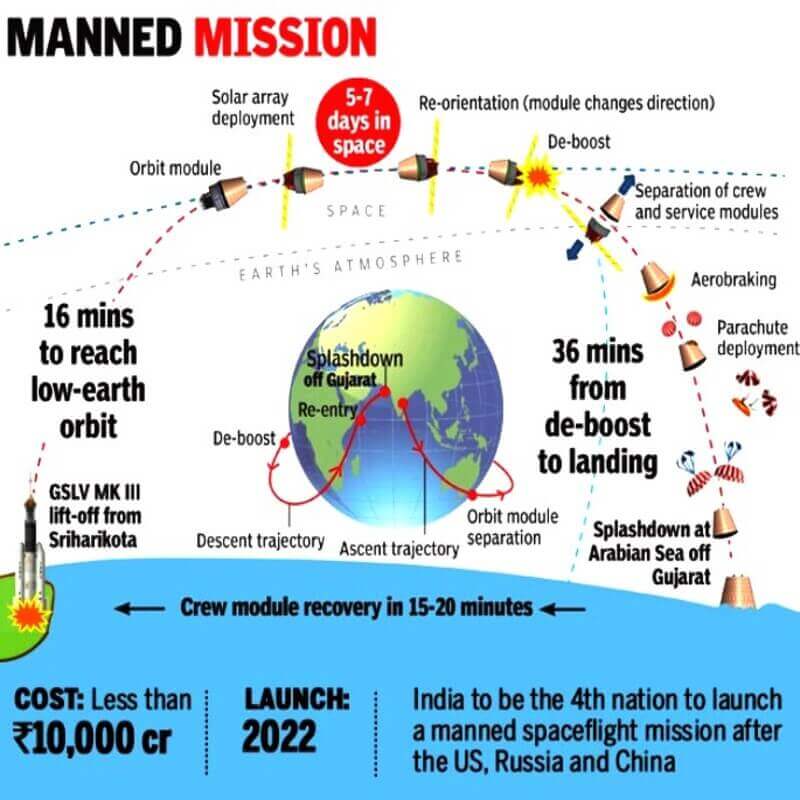 The Gaganyaan Programme envisages undertaking the demonstration of human spaceflight to Low Earth Orbit (LEO) in the short term and will lay the foundation for a sustained Indian human space exploration program in the long run.
The objective of the Gaganyaan program is to demonstrate the indigenous capability to undertake a human space flight mission to LEO.
As part of this program, two unmanned missions and one manned mission are approved by the Government of India.
The total cost of the Gaganyaan Programme is approximately INR 9023.00 crores
Gaganyaan orbital module
The payload will consist of
Crew module which is the spacecraft carrying human beings.
The service module is powered by two liquid-propellant engines.
It weighs around 8000kg and will be equipped with emergency escape and emergency mission abort.
GSLV Mk III, also called the LVM-3 (Launch Vehicle Mark-3) the three-stage heavy-lift launch vehicle, will be used to launch Gaganyaan as it has the necessary payload capability.
Benefits of the Gaganyaan programme
The Human spaceflight program has both tangible and intangible benefits for the nation, which includes:
Progress towards a sustained and affordable human and robotic program to explore the solar system and beyond.
Advanced technology capability for undertaking human space exploration, sample return missions, and scientific exploration.
Future capability to actively collaborate in global space station development & to carry out scientific experiments of interest to the nation.
Create a broad framework for wider Academia-Industry partnership in taking up development activities for national development.
Ample scope for employment generation and human resource development in advanced science and R&D activities.
Unique opportunity to inspire and excite Indian youth and steer many students toward careers in science and technology towards challenging jobs that encourage knowledge, innovation, and creativity.
The program will strengthen international partnerships and global security through the sharing of challenging and peaceful goals. Having a vibrant human spaceflight program can be leveraged as a potent foreign policy tool.
The uncrewed missions are for technology demonstration, safety, and reliability verification and will be heavily instrumented to study the performance of systems before the crewed flight.
Also read: Artemis Accords
New technologies required:
The major new technologies required for the Gaganyaan program are as follows:
The human-rated launch vehicle
Crew escape systems
Habitable orbital module
Life support system
Crew selection and training and associated crew management activities
Astronauts for Gaganyaan Programme
For the first crewed mission of the Gaganyaan program, astronaut trainees are selected from the pool of test pilots, based on selection criteria jointly defined by ISRO and the Indian air force which comprises flying experience, fitness, psychological and aeromedical evaluation (including anthropometric parameters).
Four Indian air force officers have been selected and they have completed their foreign leg of training in Russia. They underwent generic space flight training and the Indian leg will see them getting familiar with all conceivable situations that can happen while in flight.
The crew will also undergo training in weightlessness conditions by flying in special aircraft along a parabolic path that will give 25 to 30 seconds duration of weightlessness.
To familiarise the crew with rescue under abort conditions, they will also undergo special survival training in sea, snow, mountain, and desert conditions.
Vyommitra:
Vyommitra is a female-looking spacefaring humanoid robot being developed by the ISRO to function onboard the Gaganyaan.
Vyommitra was first unveiled on 22 January 2020 at the Human Spaceflight and Exploration symposium in Bengaluru.
It will accompany Indian astronauts in space missions and will also be a part of uncrewed experimental Gaganyaan missions before the crewed spaceflight missions.
Indian agencies are collaborating with ISRO in Gaganyaan Mission
Major collaborating partners for Gaganyaan include
Indian Armed Forces
Defence Research Development organization
Indian maritime agencies – Indian Navy, Indian Coast Guard, Shipping Corporation of India, National Institute of Oceanography, National Institute of Ocean Technology.
Indian Meteorological Department
CSIR Labs
Academic institutes
Industry partners
The current status of the Gaganyaan program
An Astronaut training facility has been commissioned in Bengaluru. Training activities are progressing well at the newly commissioned Astronaut training facility.
The design of all systems and sub-systems for Gaganyaan has been completed. Realization of the same is in different stages of progress.
Long duration qualification test of human-rated cryogenic engine and First phase testing of human-rated VIKAS Engine completed. The first phase of demonstration tests for the Gaganyaan service module propulsion system was completed.
Proof of concept demonstration for a ground network with service providers completed. Construction of integration facility for Orbital module preparation is nearing completion.
The MoU, Contracts, and Implementation Arrangements (IA) related activities with both national and international agencies are progressing well. The design of various human-centric products has been completed and various prototypes are under realization.
Receipt of Gaganyaan deliverables against contracts with M/s. Glavkosmos (Russia) and CNES (France) commenced.
Roles and responsibility for crew recovery operations and rehearsals finalized. Detailed operational requirements for nominal missions scenarios worked out.
The activities related to the development of microgravity experiments have commenced. The conceptual design for experiments is under review.
Way forward
After the successful completion of the Gaganyaan program, the next step will focus on achieving the capability for a sustained human presence in space.
Activities associated with the Space station will be an extension of the Gaganyaan Programme. The detailed proposals and modalities for the space station will be worked out in the future.
The Indian space station will be a platform for conducting scientific and industrial research in myriad areas of fundamental, applied, and engineering sciences
The government is encouraging the private sector and start-ups for various Gaganyaan activities such as hardware realization, components supply, health monitoring devices, Virtual reality simulators, etc.