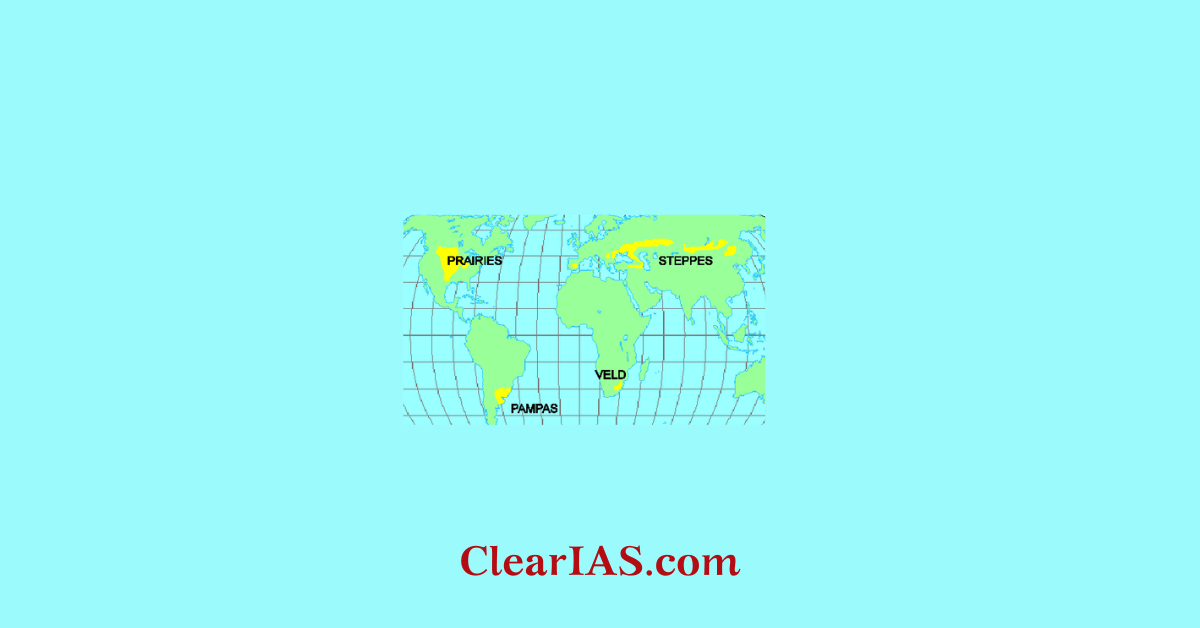 Grasslands are areas where vegetation is dominated by grasses. Read to know more about the types, features, and significance of grasslands.
On earth, there are five major types of biomes: aquatic, grassland, forest, desert, and tundra.
Grasslands account for up to 40% of the Earth's land surface.
Grasslands usually lie between deserts and mountain climates.
There are two types of grasslands; tropical and temperate.
However, only about 10% of world's grass lands are protected.
Grasslands in news
Recently, Prime Minister of India, Narendra Modi, reintroduced Cheetah to Kuno Palpur National Park which is translocated from the African country Namibia.
Do you know why cheetah and Grasslands are related?
The reason for choosing cheetah was based on the conservation benefits.
Cheetah is a grassland-based species.
Grasslands have reduced drastically in India.
Grassland-based fauna has declined.
In saving the cheetah other species which are grassland based and endangered are also saved.
Grasslands, will also, get conserved.
What are grasslands?
UNESCO defines grassland as "land covered with herbaceous plants with less than 10 per cent tree and shrub cover" and wooded grassland as 10-40 per cent shrub cover.
Grasslands are also called transitional landscapes. In this ecosystem, the vegetation is dominated by herbs and grass.
These ecosystems are mainly found in regions, where there is a scarcity of water and not enough regular rainfall to support the growth of plants and forests.
The grassland ecosystem lies between the deserts and the forest ecosystems.
Savanna grasslands and temperate grasslands are some examples of grassland ecosystems. 
Grasslands are one of the intermediate stages in ecological succession and cover a part of the land at all altitudes and latitudes at which climatic and soil conditions do not allow the growth of trees.
This ecosystem makes up almost a quarter of the total land surface and covers areas where rainfall is usually low and/or the soil depth and quality are poor.
The low rainfall prevents the growth of numerous trees and shrubs but is sufficient to support the growth of grass cover during the monsoon.
Where grasslands are found?
Grassland occurs where there is sufficient moisture for grass growth, but where environmental conditions, both climatic and anthropogenic prevent tree growth.
Its occurrence, therefore, correlates with a rainfall intensity between that of desert and forest and is extended by grazing or fire to form a plagioclimax in many areas that were previously forested.
These ecosystems are particularly fragile because water is scarce.
Types of Grasslands: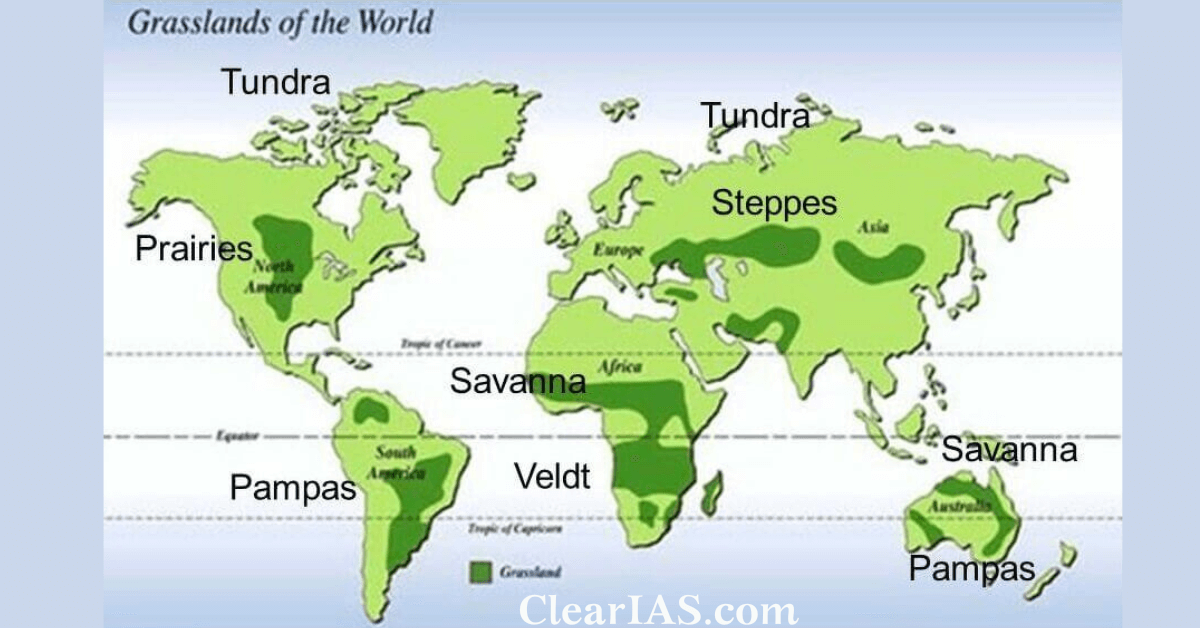 As climate plays an important role in the formation of grasslands, it is generally used as a basis to divide the world's grasslands into two broad categories: those that occur in the temperate region and those that occur in the tropical regions.
TROPICAL GRASSLAND
TEMPERATE GRASSLAND

These

occur on either side of the equator and extend to the tropics

Found in the mid-latitudinal zones and in the interior part of the continent

Dry and wet seasons that remain warm all the time 

Receive 50-130cm rainfall 

Cold winters and warm summers

Suffers extreme climate

Receives 25-75 cm rainfall 

Precipitation – dew and snow

The grass can grow very tall about 3-4 metres in height

Contains short plants which make it an excellent hunting ground

Home for elephants, giraffes, lions, cheetahs, zebras 

And other spectacular species

Some vegetation are cacti, sagebrush, perennial grasses, buffalo clovers and wild indigos Wild buffaloes, bison, antelopes are common

Eg: East Africa – Savanna

Brazil- Campos

Venezuela- Llions

India

Eg: Argentina – Pampas

America – Prairie

South Africa – Veld

Asia – Steppe

Australia – Down
Economic Activities in different regions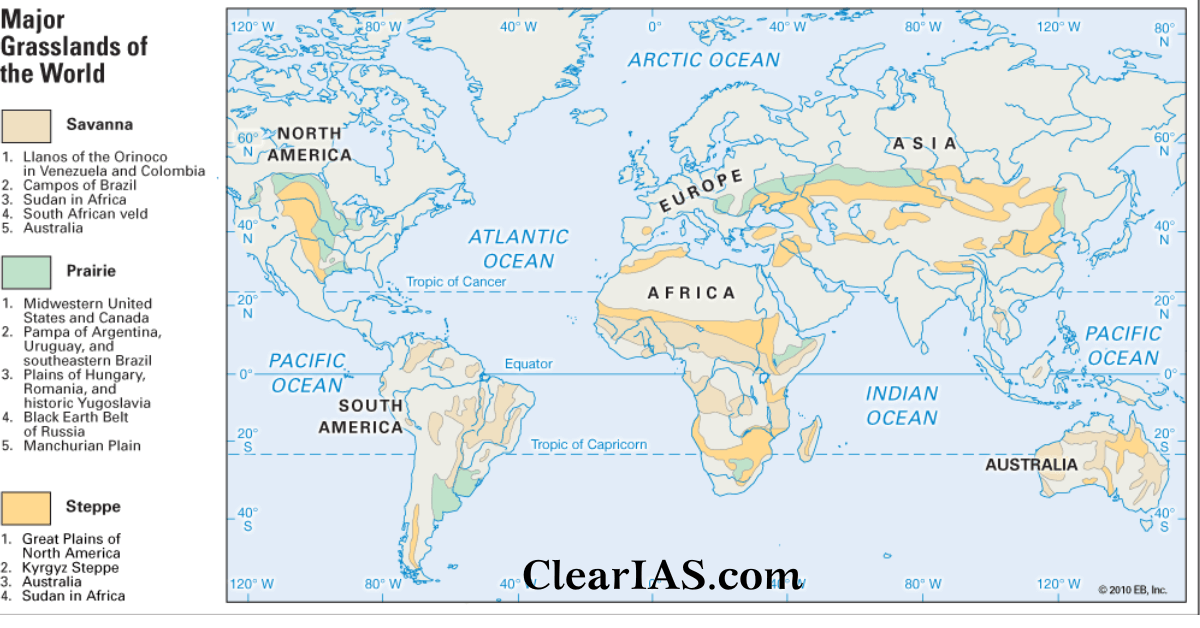 REGION
GRASSLAND
ECONOMIC ACTIVITIES
North Asia & Europe

Steppes, Taiga

Major Economic Activities

North America

Prairies

Wheat Granaries

Extensive Ranching

South America

Pampas, Llanos, Cerrados

Africa

Savannah, Veld

Australia, New Zealand

Downs, Rangeland, Canterbury

Sheep and cattle rearing, Merino sheep: wool production

Hungary

Pustaz

Rich black soil

Abundant wheat production Sugar from sugar beet (Beta vulgaris, is a plant whose root contains a high concentration of sucrose)

USA

Prairies

Argentina

Pampas

Alfalfa: nutrient-rich grass.

Ranching, cattle rearing, Dairy products

Extensive wheat-producing region

The economy depends on wheat and beef export

South Africa

Veld

Maize farm

Sheep and cattle rearing
Types of Grasslands In India: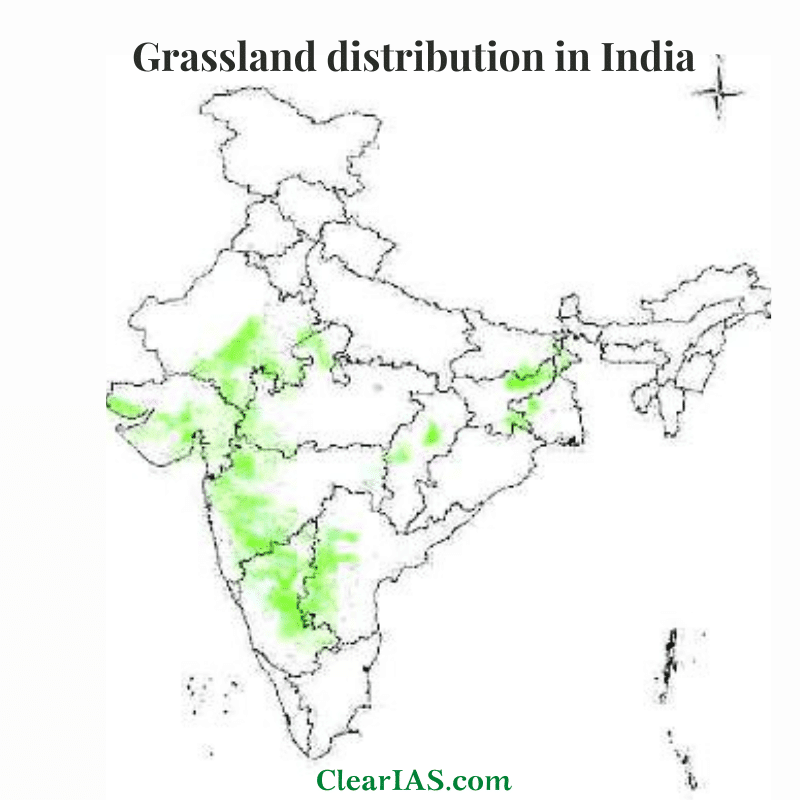 NAME

SPECIALITY

REGION

Semi-arid Zone

Open, interconnecting grasslands bordered by groves of trees and shrubs make up semi-arid grassland communities.

Perennial natural grasses are the most common species.

Northern portions of Gujarat, Rajasthan (excluding the Aravallis), Western Uttar Pradesh, Delhi, and Punjab.

Dry Sub-Humid Zone

The biodiversity of dry sub-humid regions is well adapted to the difficult conditions characterized by unpredictable rainfall patterns that result in droughts and floods, as well as high temperatures in many cases.

Many of the world's crops, such as wheat, barley, and olives, are grown in dry and sub-humid environments.

In India, this zone encompasses all of peninsular India (except Nilgiri).

Moist Sub Humid Zone

The moist sub-humid zone describes areas where the climate is intermediate between semi-arid and humid, and the precipitation supports the dense development of tall or short grasses but not forests.

It includes the Ganga alluvial plain in Northern India, and the landscape is flat, low-lying, and poorly drained.

Humid Montane Regions

Humid montane grasslands are grasslands and shrublands found at high elevations around the world.

The term "montane" in the biome's name denotes "high altitude".

The savanna is derived from humid forests due to shifting cultivation and sheep grazing

 

Assam, Manipur, West Bengal, Uttar Pradesh, Punjab, Himachal Pradesh, and Jammu & Kashmir's humid montane regions and moist sub-humid zones.
In India, grasslands are found as village grazing grounds (Gauchar) and extensive low pastures in dry regions of the western part of the country and also in the Alpine Himalayas. Perennial grasses are the dominant plant community seen here.
In the Himalayan mountains, there are high, cold Himalayan pastures. There are tracts of tall elephant grass in the low-lying Terai belt south of the Himalayan foothills.
There are semi-arid grasslands in Western India, parts of Central India, and the Deccan Plateau. Patches of shola grasslands occur on hill slopes alongside the extremely moist evergreen forests in South India.
Economic Importance of grasslands:
Wheat, corn, and rice are the three main plants that are grown on grasslands all over the world.

Farmers who keep cattle or goats, as well as shepherds who keep sheep, are highly dependent on grasslands.

It provides a significant food source for cows and sheep.

Domestic animals are grazed in the 'common' land of the village.

They are the grazing areas of many rural communities.

Water from semi-natural grasslands is currently in short supply.

These natural grasslands create an efficient system for water absorption, high infiltration, and reduced erosion.

Grassland/pasture can sustain plants that honey bees have a long relationship with (clovers and other non-native weeds).

Grasslands have diverse species of insects that pollinate crops.

There are also predators of these insects such as small mammals like shrews, reptiles like lizards, birds of prey, and amphibia such as frogs and toads.

All these carnivorous animals help to control insect pests in adjoining agricultural lands.

The grass is also used to thatch houses and farm sheds.

Grasslands, both natural and semi-natural, play a significant role in the cultural landscape.

Some grasslands are designated as nature reserves or national parks, and they are frequently promoted as tourist destinations both locally and nationally.

The thorny bushes and branches of the few trees that are seen in grasslands are used as a major source of fuelwood.

Locally, however, stakeholders, including regional specialists and local farmers, recognize their importance.
Flora and Fauna of the ecosystem:
Grasses are the dominating plants, with scattered drought-resistant thorny trees in the tropical grasslands.

Badgers, foxes, asses, zebra, and antelope are found grazing on grasslands that support the dairy and leather industries.

Grasslands also support the large population of rodents, reptiles and insects.

In some regions, grasslands also support a variety of other herbaceous plants like sedges, legumes and members of the sunflower family. Grasslands support numerous herbivores, from minute insects to very large mammals. 

Rats, mice, rodents, deer, elephants, dogs, buffalo, tigers, lions, and ferrets are some common mammals in grasslands. 

In northeast India, the one-horned rhinoceros is among the threatened animal of grassland in this region. 

A large number of avian fauna seen
Characteristics features of this ecosystem:
Short plants: Grasslands normally have a very short growing season as the climate is dry and the soil is poor. This condition inhibits the growth of woody and large trees and favours the growth of small plants like grass and shrubs.

Fast-growing grass: Grasses have a tendency to grow back in spite of grazing or overgrazing. Moreover, most grass species can grow quickly after a fire has swept through the grassland and some have seeds that can grow after being burned in a fire.

Mostly hot and Dry Areas: Nearly all large grasslands are hot, at least in summer and dry. In general tropical grasslands receive 500 to 1500 mm of about 15 to 35 degrees.

Change in appearance: These ecosystems change their appearance throughout the year. While in winter grasslands look drab and lifeless. A similar change can be seen in tropical grasslands where the onset of the rainy season changes the landscape from dull brown to bright green.

Grassland also performs Energy flow through the food chain, Nutrient cycling (biogeochemical cycles).

Ecological succession or ecosystem development.

Homeostasis (or cybernetic) or feedback control mechanisms.

To increase the fertility of the soil and regulate the productivity of the ecosystem.

To reduce the leaching of minerals due to low rainfall.
Conclusion:
The grasslands are one of the most important landforms. They assist agriculture by providing essential ecosystem services such as water and climate regulation, as well as biogeochemical cycling, carbon storage, cultural, and recreational benefits. They are also the major reservoirs of agricultural gene pools, and many of the crops that enable human life, such as wheat, corn, rice, and millet, originated in these ecosystems. Grasslands are also important habitats for a variety of flora and animals.
Article written by Aseem Muhammed