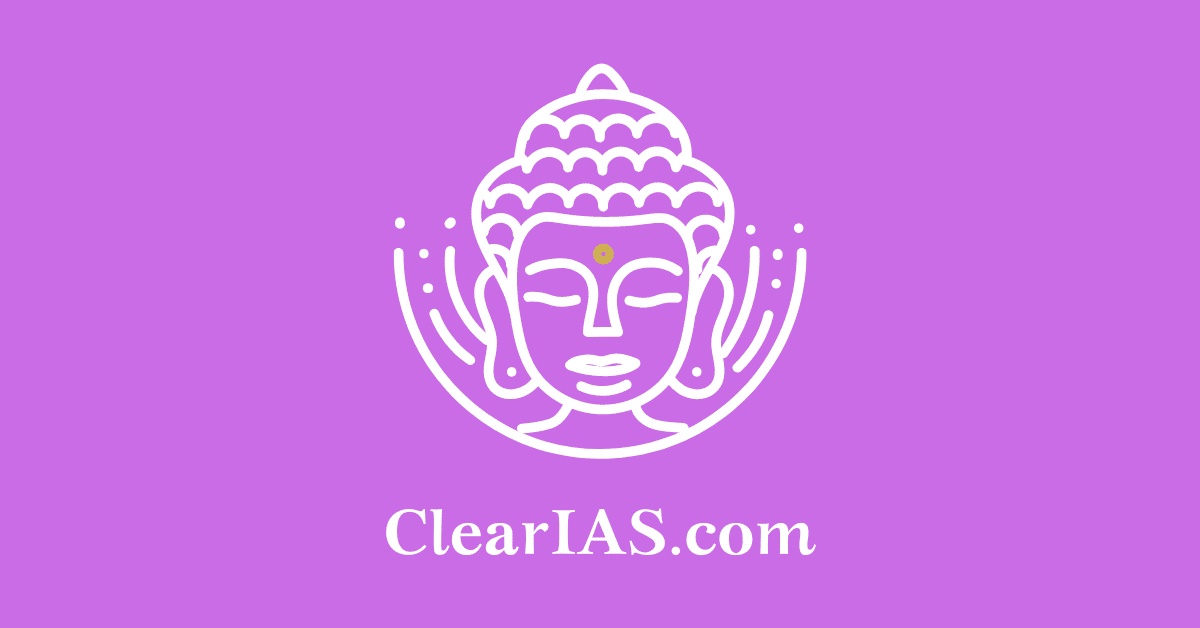 What are the important terms and terminologies from Buddhism? read further to know more about it.
Buddhism is an important topic when it comes to UPSC Civil Services Examination. It has considerable weightage in both prelims and mains.
Almost every year, questions are being framed from multiple themes related to Buddhism. Out of these, unfamiliar terms and their meanings have been one of the most recurring themes.
This article attempts to familiarise the readers with certain terms and terminologies that could possibly be probable questions for the UPSC CSE prelims examination.
To read more about Buddhism, Click here
Some of the important Buddhism terminologies
The important terms from Buddhism are as follows:
Adhitthana
It denotes commitment, desire, and prayer. Adhitthana is one of the ten "perfections" (dasa pramiyo) in the late canonical writings of Theravada Buddhism and is symbolized by the bodhisattva's determination to achieve complete awakening.
Agama
An agama is a grouping of early Buddhist writings. The Suttapiaka of the early Buddhist schools, which had various recensions of each agama, is made up of the five agamas collectively.
Amitabha
It is a Sanskrit word. Amitabha means an immeasurable light and immeasurable life.
Tathagatha
It is a title bestowed upon Buddha Gautama himself, or a follower of Buddhism who has achieved perfection.
Anapanasati
"Mindfulness of breathing" or "paying attention to the breath" is referred to as anapanasati. The anapanasati Sutta, one of several suttas that explain this fundamental aspect of Buddhist meditation, is credited to Gautama Buddha.
Anicca
The idea of anicca holds that nothing remains the same and that everything is constantly shifting. Impermanence is yet another name for this idea. Buddhists must acknowledge that nothing can remain the same; everything must advance or transform.
Arhat
An arhat, also known as an arahant, is a person who has attained Nirvana in Buddhism and has been freed from the circle of rebirth that never ends.
Bhavacakra
The bhavacakra is a depiction of Samsara. It aids non-Buddhists in understanding Buddhist teachings, and it can be found on the exterior walls of Tibetan Buddhist temples and monasteries in the Indo-Tibetan area.
Bhante
In the Theravada tradition, the term "bhante," which is also known as "Bhadanta," is used to address Buddhist monks and superiors.
Bodhisattva
An individual who is progressing towards bodhi or Buddhahood is referred to as a bodhisattva in Buddhism.
Dhammapada
The Dhammapada is a compilation of 423 verses that Gautama Buddha explained directly to his followers.
Dipankara
One of the ancient Buddhas is known as Dipankara or Dipankara Buddha. According to legend, he lived four asankheyyas and 100,000 kappas ago.
Gassho
Buddhists frequently use their palms to make this motion. Gassho is the Japanese word for "palms together." Gassho is a greeting custom that has its roots in India. It can be used to say "hello," "goodbye," and "thank you," and it also conveys a sense of profound respect and honor.
Kakusandha Buddha
Chapter 22 of the Buddhavasa, one of the Pali Canon's volumes, contains a biography of one of the ancient Buddhas named Kakusandha, or Krakucchamda in Sanskrit.
Kshanti
Patience, tolerance, and pardon are all aspects of kshanti or khanti. It is a pramit in both Mahyna and Theravadin Buddhism.
Kumbhanda
A kumbha or Kumbh is one of a collection of misshaped, dwarfish entities that make up the minor deities in Buddhist mythology.
Madhyamaka
Nagarjuna, an Indian Buddhist monk, and philosopher established the Mdhyamaka tradition of Buddhist thought and practice, also known as Nyavda and Nisvabhvavda.
Mahamudra
Mahamudra, which means "great seal" or "great imprint," alludes to the idea that wisdom and emptiness are inseparable and that this truth is stamped on all occurrences.
Nekkhamma
Generally translated as "renunciation" or "the pleasure of renunciation," the Pali term nekkhamma also means "freedom from lust, craving, and desires" or, more specifically, "giving up the world and leading a holy life."
Nirvana
In Indian religions, the idea of nirvana stands for the highest level of soteriological release, or the release from dukha, or pain, and sasra, or the cycle of birth and rebirth. In Indian faiths, moksha and mukti are equivalent terms for nirvana.
Pabbajja
Pabbajj, which essentially means "to go forth," describes the act of a layperson leaving their home to live a life of renunciation as a member of a bhikkhu community.
Paramartha
The Six Dynasties period saw the prolific Chinese translations of Buddhist literature by an Indian monk from Ujjain named Paramrtha.
Paramita
A Buddhist word known as pramit or parami is frequently translated as "perfection."
Parinirvana
When someone who has achieved nirvana during their existence dies, they enter nirvana after death, which is referred to as parinirvana in Buddhism.
Prajna
A Buddhist word known as prajna or panna is frequently translated as "wisdom," "intelligence," or "understanding." Buddhist writings refer to it as realizing the true essence of phenomena.
Pratityasamutpada
The central Buddhist concept of pratittyasamutpda, also known as dependent arising or dependent origination, is held by all schools of Buddhism.
Pratyekabuddha
Pratyekabuddhayna, which directly translates to "solitary buddha" or "a buddha on their own," is the Buddhist term for the method or means of enlightenment of a pratyekabuddha or paccekabuddha.
Ratnasambhava
One of the Five Dhyani Buddhas of Mahayana and Vajrayana, or Tantric Buddhism, is Ratnasambhava. Ratnasambhava's mandalas and mantras concentrate on fostering equality and calmness, and in Vajrayana Buddhist philosophy, they are linked to an effort to eradicate greed and arrogance.
Samanera
In the setting of Buddhism, a male novice monastic is known as a samaera (Sanskrit: ). A female beginner is referred to as a "samaneri" or "sramanerika."
Samatha
Samatha, which translates to "calm," "serenity," "tranquillity of awareness," and vipassana, which means "special, super, seeing," are two mental qualities that are developed in tandem by Buddhist practice.
Samsara
In Buddhism and Hinduism, samsara refers to the endless cycle of recurrent births, menial life, and rebirth. Samsara is thought of as dukkha, misery, and generally unpleasant and painful, sustained by desire and avidya, and the ensuing karma.
Sangha
In many Indian languages, including Pali, the Sanskrit term sangha is used to indicate "association," "assembly," "company," or "community." Sangha is also frequently used as a surname in these languages.
Tanha
Buddhism places a high value on the idea of tanha, which can refer to either physical or mental "thirst, desire, longing, or greed."
Three Jewels
Buddha, dharma, and sangha are the three manifestations of the awakened mind that Buddhists seek refuge. They are referred to as the "three jewels" because each of these is a priceless and essential component of the Buddhist journey.
Tiantai
A Mahayana Buddhist school of East Asia that originated in China in the sixth century is known as Tiantai or T'ien-t'ai.
Trialokya
Trailokya means "three worlds." Additionally, "three spheres," "three planes of existence," "three realms," and "three regions" can all be used as synonyms. Early Buddhist writings, as well as Hindu and Jain texts, all mention the idea of three worlds.
Tulku
In Tibetan Buddhism, a tulku is a reincarnate guardian of a particular lineage of teachings who are given abhieka and trained from an early age by disciples of his or her forebear.
Upadana
"Fuel, material cause, a substrate that is the source and means for maintaining an active process energized" is what the Sanskrit and Pali term upadana means. It is a key Buddhist idea that refers to "attachment, clinging, and grasping."
Upasaka
The Sanskrit and Pali terms for "attendant" are upsaka or upasika.
Upaya
An element of guidance along the Buddhist paths to liberation where a conscious, voluntary action "is driven by an incomplete reasoning" about its direction" is referred to as upaya in Buddhism.
Upeksha
Upeksha, also known as upeksha in Pali, is a Sanskrit word that implies calmness, detachment, even-mindedness, or letting go.
Urna
An auspicious mark known as the Urna is applied to the forehead of Buddhist figures as a spiral or circular dot in Buddhist art and culture. The Lakkhana Sutta, also known as the "Discourse on Marks," lists the urna as the thirty-first bodily quality of Buddha.
Viriya
A frequent translation of the Buddhist word viriya is "energy," "diligence," "enthusiasm," or "effort." It can be characterized as a disposition that happily engages in good deeds and motivates one to carry out good or virtuous deeds.
Yana
In Buddhism, the term "yana" designates a style or approach to spiritual practice. According to legend, the Gautama Buddha taught each of them individually in reaction to each student's unique abilities.
Satori
Japanese Buddhists refer to awakening as satori, which means "comprehension; understanding."
Sutra
Aphorisms or collections of aphorisms in the form of a manual, or more generally, a condensed manual or text, are referred to as sutras in Indian literary traditions. Hinduism, Buddhism, and Jainism all use sutras, a category of ancient and medieval Indian writings.
Skandha
The words "heaps, aggregates, collections, and groupings" are skandhas or khandhas. In Buddhism, it alludes to the five tangible and psychological components that contribute to the development of craving and clinging.
Vihara
Vihara, is an early form of a Buddhist monastery with an open court and open cells surrounding it and approachable through a porch at the front.
Dharma
Dharma The ceremonies of passage and rituals yoga, ethical conduct qualities like ahimsa Justice and the law Sannyasa, and life phases duties include studying with instructors. One of the most important concepts in Indian faiths like Hinduism, Buddhism, Jainism, Sikhism, and others is called dharma.
Dharmakaya
In Mahayana Buddhism, the dharmakaya is one of the three forms of a Buddha. The unmanifested, "inconceivable" aspect of a Buddha that buddhas emerge from and return to after their dissolution is known as the dharmakaya.
Mahakasyapa
One of Gautama Buddha's most important followers was Mahkyapa. Having excelled in ascetic practice, he is viewed in Buddhism as an enlightened disciple. After the Buddha's passing, Mahkyapa became the monastic community's head.
Mandala
A mandala is a grouping of images in a geometric pattern. Mandalas are used in a variety of spiritual traditions to focus practitioners' and adepts' concentration, provide spiritual guidance, create a sacred space, and facilitate meditation and trance induction.
Mudita
Mudit refers to happiness, particularly sympathetic or vicarious happiness, or the joy experienced when taking enjoyment in the happiness of others.
Prajnaparamita
In Mahayana and Theravada Buddhism, the term "Prajnaparamita" refers to "the Perfection of Wisdom" or "Transcendental Knowledge."
Samjna
A common translation of the Buddhist word saj is "perception" or "cognition." It can be characterized as reaching for distinctive qualities or traits. Samj can signify a variety of things depending on the religion.
Appamada
Apramda, which means "conscientious" or "concern," is a Buddhist word that can be found in Sanskrit, Pali, and Tibetan Wylie.
Jhana
In the earliest Buddhist writings, dhyana or jhna is a part of the mind-training practice known as meditation, which removes the mind from its automatic reactions to sense impressions.
Mara
In Buddhism, Mara is a wicked celestial king who tried to seduce Prince Siddhartha to prevent him from reaching enlightenment. According to different legends, Mara's daughters are often described as beautiful women in these tales.
Mudita
Mudit (Pali and Sanskrit:) denotes joy, more specifically sympathetic or vicarious joy, or the joy that results from taking pleasure in the happiness of others.
Papanca
Buddhists use the terms "conceptual proliferation," "mental proliferation," or "conceptual elaboration" to describe the process of conceptualizing the world through words and ideas, which can lead to the emergence of suffering.
Paramita
A Buddhist word known as paramita or parami is frequently translated as "perfection." Buddhist texts define it as high moral character traits typically found in enlightened beings.
Piti
In Pali, piti is a mental element linked to the emergence of jhana during Buddhist concentration. Piti, as opposed to sukha's calmness, is stimulating, thrilling, and energizing, according to Buddhadasa Bhikkhu.
Saddha
The term "faith" in Buddhism alludes to a calm dedication to the application of the Buddha's teaching and confidence in enlightened or highly evolved beings, such as Buddhas or bodhisattvas.
Samadhi
The highest level of mental focus one can accomplish while still being physically bound, connecting them to the highest reality.
Avalokiteshvara
In the time between the passing of the historical Buddha, Gautama, and the emergence of the future buddha, Maitreya, Avalokiteshvara is the earthly manifestation of the self-born eternal Buddha Amitabha, whose figure is depicted in his headgear.