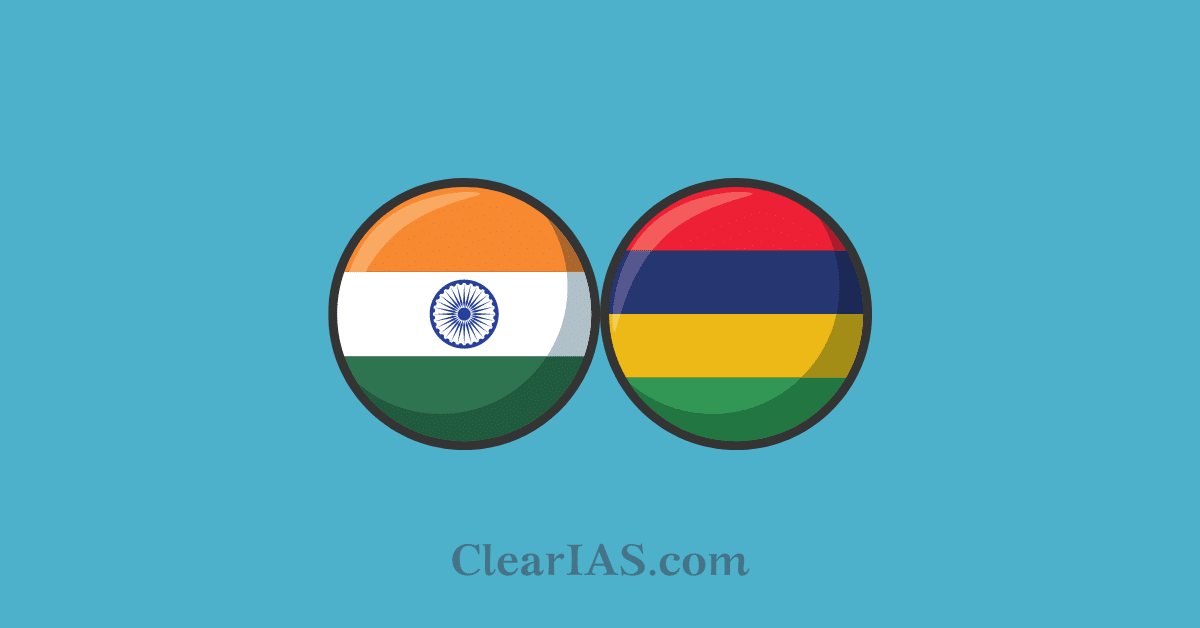 India-Mauritius relationship is very significant for India's geostrategic policies in the Indian Ocean Region. Read to know more about the past, present, and future of this significant relationship.
Recently, India and Mauritius jointly inaugurated an India-assisted social housing units project in Mauritius virtually as part of India's development support.
In recent years, India has stepped up its engagement with Africa. Mauritius is an important partner among the Indian Ocean littoral countries in the region and its relationship with the island country s very significant for India.
India and Mauritius are connected by shared history and connections between India and Mauritius date back to 1730. The diplomatic relations were established in 1948 before Mauritius became an independent state (1968). Also, almost 68 percent of the population of the country is of Indian origin.
External Affairs Minister (EAM), S. Jaishankar's visit to the island country in February 2021 has further strengthened the partnership across the economic, health, and security spheres.
Mauritius is a  significant partner of India in celebrating Pravasi Bharatiya Diwas which is a forum for issues concerning the Indian diaspora and adds to the importance of India-Mauritius relations.
India-Mauritius Trade pact
A watershed free trade pact, the 'Comprehensive Economic Cooperation and Partnership Agreement' (CECPA) was signed during the EAM's visit.
This is the first of its kind agreement that India has signed with any country in Africa. The treaty was under negotiation since 2005.
The CECPA will have a tremendous economic impact, as it will cut or eliminate duties on the majority of goods as well as liberalize norms to promote services trade.
India-Mauritius health cooperation
The growth of cooperation between the two countries in the field of health, particularly in the wake of the COVID-19 pandemic has been significant.
The EAM handed over a consignment of 100,000 doses of Made-in-India COVID-19 vaccines to Mauritius. This was in addition to 100,000 doses of COVID-19 vaccines that India had gifted to Mauritius earlier.
Apart from the vaccines, India supplied 23 tonnes of essential medicines, half a million tablets of hydroxychloroquine, as well as a consignment of Ayurvedic medicines.
A 14-member Medical Assistance Team, under the Indian Navy's 'Mission SAGAR' initiative, also visited the country.
India has assisted in the development of the Jawaharlal Nehru Hospital and the Subramania Bharati Eye Centre in the country.
Defence and Security cooperation
India and Mauritius signed two agreements in the security realm:
The first agreement relates to the transfer of a Dornier aircraft and an Advanced Light Helicopter, Dhruv, on lease to Mauritius. These platforms will go a long way in helping the country monitor its extensive maritime zone.
The second agreement relates to a $100 million Line of Credit (LoC), to enable the procurement of defence equipment by Mauritius.
India has extended support to Mauritius in enhancing its coastal surveillance capabilities by setting up the Coastal Surveillance Radar System (CSRS), in 2011.
India's defence cooperation with Mauritius benefits both countries. The CSRS network enhances the country's Maritime Domain Awareness (MDA) in the Indian Ocean region.
Mauritius can adds to its capabilities by engaging with professionals from the Indian Navy and the Coast Guard and by procuring Indian defence equipment at attractive financial terms.
Infrastructure development
In May 2016, India had extended a grant of USD 353 mn to Mauritius as Special Economic Package (SEP) to execute five priority projects identified by Mauritius, among others:
Metro Express Project
Supreme court building
New ENT Hospital
Supply of Digital Tablets to Primary School Children
Social Housing Project.
With the inauguration of the Social Housing Project, all the high-profile projects under the SEP have been implemented.
Another project is the construction of a State-of-the-Art Civil Service College that will provide a fully equipped and functional facility for the civil servants of Mauritius to undertake various training and skill development programs.
An 8 MW Solar PV Farm will be constructed that involves the installation of 25,000 PV cells to generate approximately 14 GWh of green energy annually, to electrify approximately 10,000 Mauritian households.
It will help mitigate the climate challenges that Mauritius faces through the avoidance of 13,000 tons of CO2 emissions.
This is in line with the One sun One World One Grid (OSOWOG) initiative by India.
Importance of India- Mauritius relations
Geo-strategic:
The renewed contestation of the Indian Ocean region has increased the strategic importance of Indian Ocean Region islands for India.
India's Indian ocean strategic vision is called SAGAR (Security and growth for all in the region). This vision called for deepening economic and security cooperation with India's maritime neighbours.
In 2015, India and Mauritius signed an agreement that allows India to develop infrastructure in terms of establishing military bases on the Mauritian islands.
Economic:
India is Mauritius's largest trading partner and has been the largest exporter of goods and services to the Indian Ocean island nation since 2007.
India could also contribute to the evolution of Mauritius as a regional centre for technological innovation.
Mauritius could also become a valuable place for regional and international maritime scientific research.
For countering Chinese expansive policy:
In recent years, several external powers, including China, have made increasing inroads in Africa and its Indian Ocean littorals. Mauritius has not been immune from this trend. In January 2021, China's Free Trade Agreement (FTA) with Mauritius came into effect.
In its string of pearls policy, China has built significant relations across the Indian Ocean, from Gwadar (Pakistan) to Hambantota (Sri Lanka) to Kyaukpyu (Myanmar).
Therefore, India should help Indian Ocean littoral states like Mauritius, Maldives, Sri Lanka, and Seychelles as part of capacity and capability enhancement in strengthening their maritime domain awareness capabilities.
Way forward:
While India and Mauritius share cultural contiguity dating back to colonial times and a special partnership in recent years, India cannot take its influence in Mauritius for granted and should continue to enhance its engagement with this important island country.
Hence it is important to enhance the India-Mauritius ties further based on India's neighborhood first policy.