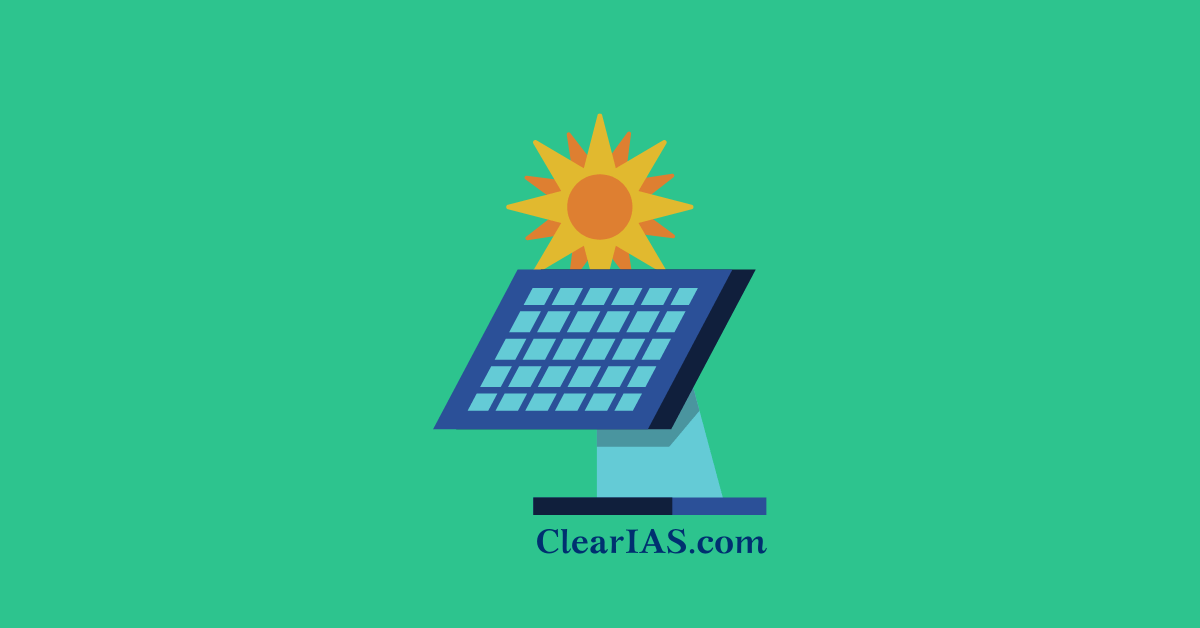 What is the 'Green Grids Initiative – One Sun One World One Grid'? What is the One Sun Declaration? Read to know more.
The world needs the energy to drive the economy.
However, the energy from fossil fuels results in pollution. Also, it is not sustainable.
There are a lot of discussions across the world about clean energy sources. Solar energy is considered a potential alternative to traditional energy sources.
Importance of Solar Energy
The energy from the Sun is not only clean but also sustainable.
However, there is a challenge. Solar energy is available only during the daytime and is heavily dependent on the weather.
To tackle this problem, many experts recommended a worldwide grid.
A worldwide grid would be able to transmit clean energy anywhere and anytime.
One Sun One World One Grid (OSOWOG)
The idea for the One Sun One World One Grid (OSOWOG) initiative was put forth by the Hon'ble Prime Minister of India Shri Narendra Modi, at the First Assembly of the International Solar Alliance (ISA) in October 2018. He had called for connecting solar energy supply across borders.
Note: The International Solar Alliance (ISA) is an alliance of more than 100 countries initiated by India, most of them being the sunshine countries, which lie either completely or partly between the Tropic of Cancer and the Tropic of Capricorn.
The PM said, "We have a dream called One World, One Sun One Grid. We can generate round-the-clock electricity from the sun as it sets in one part of the world but rises in another part. The sun never sets for the entire earth."
OSOWOG will be developed with the World Bank's technical assistance.
OSOWOG is planned to be completed in three phases. The first phase will entail interconnectivity within the Asian continent; the second phase will add Africa and the third phase will globalise the whole project.
The initiative divides the solar spectrum into two broad zones with India in the middle – the Far East and Far West. The Far East grid passes through countries such as Vietnam, Myanmar, Laos, Thailand, and Cambodia. The Far West grid passes through the African regions and the Middle Eastern countries.
Evolution of OSOWOG into GGI-OSOWOG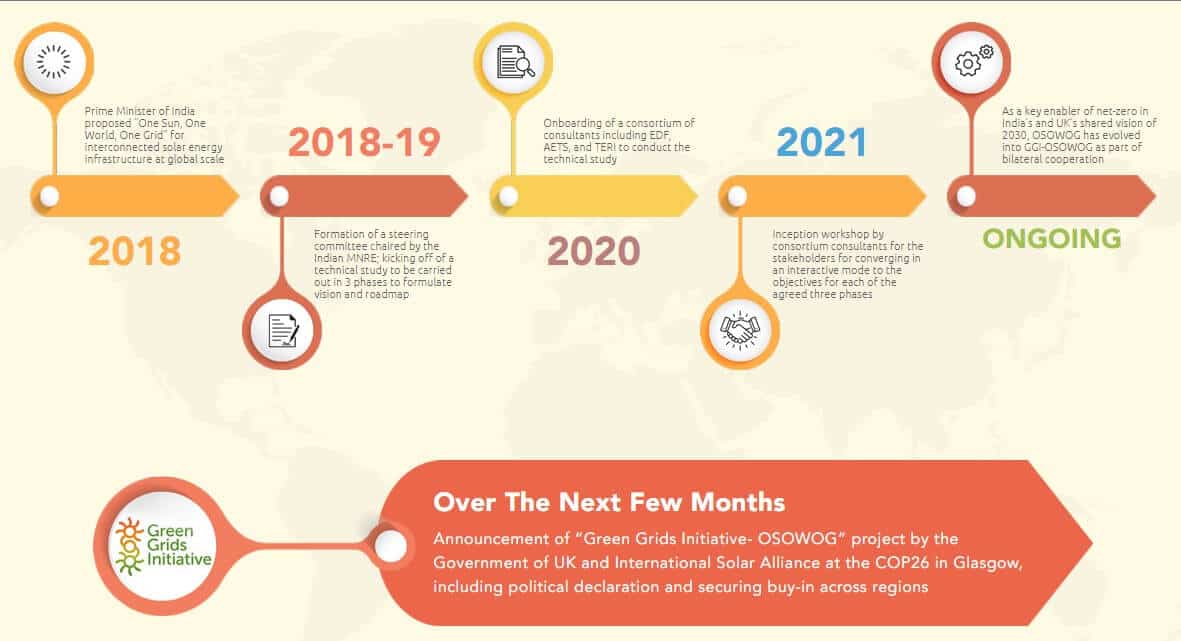 Green Grids Initiative was a program of the United Kindom (UK). The United Kingdom and India agreed to combine forces of the Green Grids Initiative and the One Sun One World One Grid initiative and jointly launch GGI-OSOWOG at the COP26 summit being hosted by the UK at Glasgow in November 2021.
In other words, India's OSOWOG has evolved into GGI-OSWOG in partnership with the United Kingdom (UK).
GGI-OSOWOG stands for Green Grids Initiative – One Sun One World One Grid.
Green Grids Initiative – One Sun One World One Grid
GGI-OSOWOG will provide technical, commercial, and scientific collaboration to assist enable cross-border renewable power transfer projects, which will give OSOWOG its worldwide infrastructure.
It targets to interconnect solar energy infrastructure under the initiative of trans-national electricity grids that will be developed to deliver solar power.
It aims to bring together the financial organizations, an international coalition of national governments, and power system operators.
It will accelerate the construction of new infrastructures such as the electricity interconnectors, charging points, and flexible grids that are needed to deliver affordable, reliable, and secure power across the globe.
The vision of the grid is "The Sun Never Sets"– the sun is constantly at the same point at a given point of time in certain geographical locations.
The green grid will run through such points on the earth and connect their solar power potential.
3 Key Pillars of Green Grids Initiative – One Sun One World One Grid
GGI-OSOWOG aims to achieve global grid interconnectivity through three key pillars:
Political engagement and trust-building between countries likely spearheaded by an intergovernmental steering group including representatives from each region – Asia, Africa, Europe, North America, Latin America, and India
Institutional engagement among international financial and technical institutions likely spearheaded by a joint coordination committee that includes the ISA and other partners such as the World Bank
Research and knowledge sharing through the Green Powered Future mission, a newly launched international innovation program with peer-to-peer learning networks of regulators and grid operators potentially being launched at a future stage.
Ministerial Steering Group of GGI-OSWOG
A Ministerial Steering Group will be set up to supervise the making of large solar power stations and wind farms in the best locations, linked together by continental-scale grids crossing national borders.
This Ministerial Steering Group includes Australia, France, India, the United Kingdom, and the United States, and will also have representatives from Africa, the Gulf, Latin America, and Southeast Asia.
Significance and the Potential of GGI-OSOWOG
Realising the vision of One Sun One World One Grid through interconnected green grids can be transformational.
GGI-OSOWOG will not only reduce storage needs but also enhance the viability of solar projects. This creative initiative will not only reduce carbon footprints and energy cost but also open a new avenue for cooperation between different countries and regions.
This may enable countries to meet the targets of the Paris Agreement to prevent dangerous climate change.
These efforts can stimulate green investments and may create millions of good jobs.
The declaration has been endorsed by 80 ISA member countries
One worldwide grid will provide access to clean energy at all places with reducing the need to store energy, as well as increasing the viability of solar projects.
India is targeting to generate 40% of power from non-fossil fuels by 2030 which will be boosted by the one sun one grid initiative.
The proposed integration would lead to a reduction in project costs, higher efficiencies, and increased asset utilization for all the participating entities.
The integration with existing grids will make the plan financially viable as the only incremental investment will be required.
It will attract investments in renewable energy sources as well as utilizing skills, technology, and finances.
The extended benefits of the initiative will be a positive impact on poverty alleviation and also in mitigating water, sanitation, food, and other socio-economic challenges.
The Indian renewable management centres can grow as regional and global centers in the energy sector.
According to estimates, almost 2600 GW of global interconnection capacity can be achieved by 2050, with estimated power savings of 226 billion euros per year.
One Sun declaration
The formation of GGI-OSOWOG was accompanied by One Sun at the COP26 climate conference in Glasgow (2021).
The "One Sun Declaration", stated that, "realizing the vision of 'One Sun One World One Grid' through interconnected green grids can be transformational, enabling all of us to meet the targets of the Paris Agreement to prevent dangerous climate change, to accelerate the clean energy transition, and to achieve the sustainable development goals.
The declaration has been endorsed by 80 ISA member countries.
Through working groups of interested governments, regulators, financiers, institutions, companies, legislators, and researchers, the initiative will seek to provide a common global framework for efforts on:
Investing in solar, wind, storage, and other renewable energy generation in locations blessed with renewable resources for supporting a global grid.
Building long-distance cross-border transmission lines to connect renewable energy generators and demand centres across continents, combined by effective and mutually beneficial cross-border power trading arrangements.
Developing and deploying cutting-edge techniques and technologies to modernize power systems and support green grids which can integrate billions of rooftop solar panels, wind turbines, and storage systems.
Supporting the global transition to zero-emission vehicles by incorporating the role of electric vehicles to help improve grid flexibility.
Attracting investment into solar mini-grids and off-grid systems to help vulnerable communities gain access to clean, affordable, and reliable energy without grid-access their areas, enhancing socio-economic development and a resilient power supply for all.
Developing innovative financial instruments, market structures, and facilitating financial and technical assistance to attract low-cost capital, including climate finance, for global solar grid infrastructure.