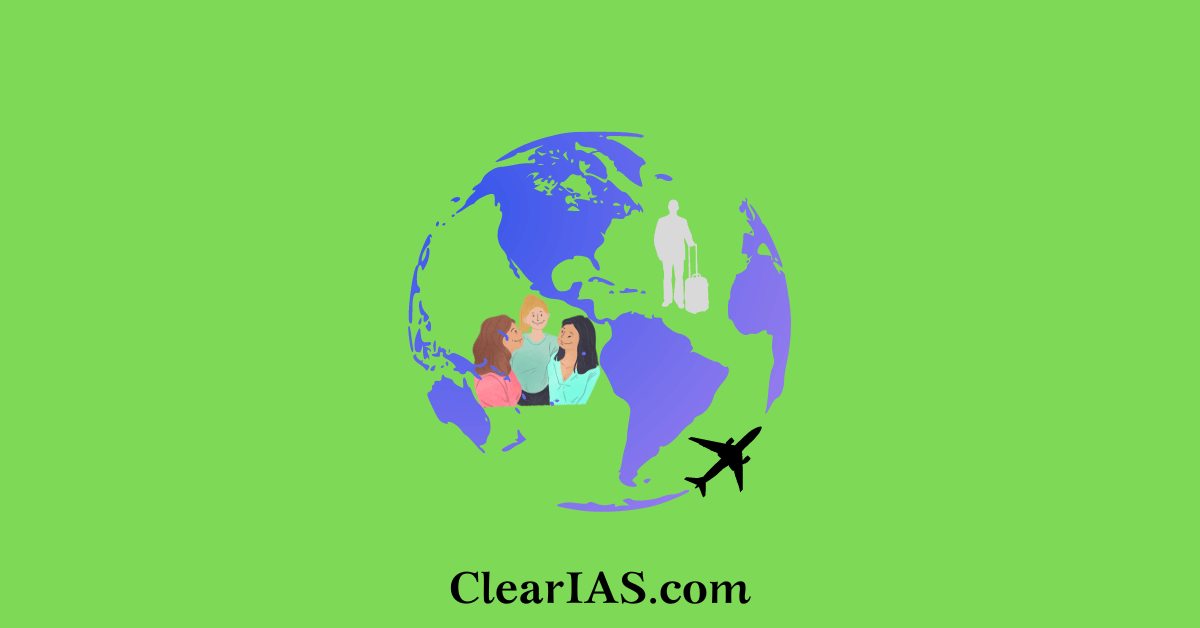 What is the significance of Indian diaspora? What is India's policy towards its diaspora? What are the major issues pertaining to the Indian diaspora? Read here to know more.
The term "diaspora" originates from the Greek term diaspeirein, which translates as "dispersion."
In India, diaspora is commonly understood to include Non-Resident Indians (NRIs), Persons of Indian Origin (PIOs) and Overseas Citizens of India (OCI), of which PIO and OCI card holders were merged under one category — OCI — in 2015.
Who all are included in the term 'Indian diaspora'?
The Indian Diaspora is a broad term for people who have migrated from territories that are now part of the Republic of India. Additionally, it alludes to their progeny. The Diaspora is estimated to number over twenty million people, made up of "NRIs" (Indian citizens who do not reside in India) and "PIOs" (Persons of Indian Origin who have acquired citizenship of some other country).
India has the world's second-largest Diaspora. Over 25 million Indians live abroad, and they are dispersed across all of the world's major continents.
Diasporas are symbols of a nation's pride and represent their country internationally. The diaspora's ability to spread Indian soft power, lobby for India's national interests, and contribute economically to India's rise is now well-recognized.
Significance of Indian diaspora:
Diaspora diplomacy:  Examples include their remittance inflow and lobbying for the US-India Civilian Nuclear Agreement Bill in 2008. In Houston recently, Prime Minister Modi continued his extraordinary political investment in reaching out to the Indian diaspora.
Remittances:  USA was the largest source, contributing more than 20% of the 87 billion dollars in remittances that India received in 2021. In fact, 13% of global remittances are made by Indians. About 3.2% of India's GDP is made up of remittances from Indians living abroad.
Freedom struggle:  Mahatma Gandhi's struggle to end the systemic prejudice against Indians in South Africa inspired legends about the diaspora that have endured in contemporary India. As the fight for independence gained traction at home, it started to have an impact on many Indian communities abroad.
Technological development and entrepreneurship:  As thriving IT hubs, Bengaluru, Gurugram, and Hyderabad are home to numerous Indian start-ups in addition to MNCs.
Cultural extension: Sikhs are one of the largest migrants from India to the UK, Canada and many other countries.
Enhancing India's global say:  In addition to political pressures and lobbying at the ministerial and diplomatic levels, India can use its diaspora to influence different states.
Agents of change: enhancing and facilitating investment, hastening industrial growth, and enhancing both international trade and tourism.
Indian diaspora's contribution to the world: Indian diaspora in the world can be divided into two major categories (apart from others who are in myriad occupations and almost in every country in the world):
Technological graduates: They are current engineering and management graduates who work in high-value positions primarily in western nations like the US and Europe but also elsewhere.
Manual Labour:  These people make up the population that is comparatively less skilled and who has been hired for manual labour, primarily in Arab or West Asian nations.
India's policy towards the diaspora
India was initially concerned that supporting Indians living abroad might offend host nations, who ought to be solely responsible for their welfare and security. The diaspora could not expect India to defend their rights, according to Jawaharlal Nehru, so India's foreign policy in the 1950s was designed as a model of non-intervention.
Rajiv Gandhi, on the other hand, was the first prime minister to change the diaspora policy in the 1980s by urging Indians living abroad, regardless of their nationality, to participate in nation-building initiatives, similar to the overseas Chinese communities.
A number of beneficial policies were implemented after 2000 under the Atal Bihari Vajpayee administration, including the Person of Indian Origin (PIO) Card, Pravasi Bharatiya Divas, Pravasi Bharatiya Samman Award, Overseas Citizen of India Card, NRI funds, and voting rights for Indian nationals living abroad.
The present regime has carried forward the work in a positive direction. Additionally, the Ministry of Foreign Affairs introduced the e-migrate system in 2015, which necessitates the database registration of all foreign employers.
Major Issues pertaining to Indian Diaspora
Culture:  The Indian Diaspora is very aware of its extensive cultural heritage. They are aware that they are the descendants of the oldest continuously existing civilization in the world. They are naturally eager to preserve their cultural identity because they are a part of such a rich legacy.
Consular and other issues:  Our customs and immigration officials' mistreatment, intimidation, and demands for illegal gratification at the points of entry are the Diaspora's most frequent complaints.
Dual Citizenship: The vast majority of Indians living abroad prefer to keep both their Indian and home country citizenship.
Threat to their security:  The security of foreign workers in the Middle East is now under new threat as a result of recent violent incidents in the region. For instance, the IS group recently abducted Indian workers.
Threat to their employment (Nitaqat Law):  It aims to replace a significant portion of foreign workers in Saudi Arabia with locals. This has an impact on international workers from Kerala, Tennessee, etc.
Measures taken by the Government
Since 2003, the government has celebrated Pravasi Bhartiya Diwas to recognise the contribution of the Indian diaspora to the advancement of India.
The government established a specific Ministry of oversees Indian affairs in 2004 in order to give particular attention to the issues relating to the Indian diaspora. The diaspora receives comprehensive services from it.
The government has introduced a number of programmes for the welfare of Indians living abroad, including the Pravasi Bhartiya Bima Yojana from 2006 and others.
The Overseas Citizenship of India Scheme (OCI) was introduced by amending the Citizenship Act, 1955 in August 2005 in response to persistent calls for "dual citizenship," particularly from the Diaspora in North America and other developed nations, and keeping in mind the Government's strong commitment to meeting the aspirations and expectations of Overseas Indians. In some areas, such as the economy and education, the Scheme offers benefits comparable to those of citizens. Although it grants lifetime, multiple, and multi-entry visas with some rights, it is not truly dual citizenship.
The Know India Program was established as a three-week orientation programme for youth from the diaspora in order to raise awareness of the various facets of Indian culture and the advancements the nation has made in various fields. KIP offers a special platform for students and young professionals of Indian descent to travel to India, share their opinions, hopes, and experiences, and forge closer ties with modern India.
The Swarnapravas Yojana- New Plan Scheme: Given the large supply of labour in India, this programme has been established to increase Indian workers' employability abroad by giving them the necessary training.
The Ministry of Overseas Indian Affairs is running a scheme known as "Tracing the Roots" to facilitate PIOs in tracing their roots in India.
In addition to all of these, the government has made social security agreements with numerous foreign nations to safeguard the Indian community in those nations.
Way Forward
Though, the government has launched many reforms and policies towards the Indian diaspora. But still, there is a need for certain improvements. In this regard following may be recommended:
 A friendlier reception at their point of entry is necessary to ensure that Diaspora members feel welcome upon arrival in India and also fondly recall their visits. Additionally, simpler procedures for immigration and customs clearances that are marked by courteous service are crucial.
The following should be put into action as soon as possible to address the issues facing our blue-collar workers abroad. These include:
a) Establishing a welfare fund for repatriated overseas workers in distress;
b) Negotiating Standard Labour Export Agreements with the host countries;
c) Monitoring and supervision of both the employment contracts and the conditions of our
d) overseas workers by our Missions;
e) Launching compulsory insurance schemes covering the risks faced by our overseas workers;
 The Diaspora can significantly aid India's tourism industry is expanding. PIOs frequently travel back to their home country or to see family. Promoting tourism should receive more attention among PIOs of the second generation.
The Indian community living abroad requires further economic liberalisation.
The establishment of a parliamentary standing committee on the Indian diaspora is a possibility. Members who are interested in issues affecting the Diaspora should be included. This Committee might also serve as a hub for communication with lawmakers from other nations who are of Indian descent. Such discussions are crucial to fostering greater mutual understanding and amity between them.
Conclusion
A myopic perspective would be to only see the Diaspora through the lens of remittances and other financial flows. Not all expatriates need to be investors, and measuring an expat's development impact solely in terms of monetary contributions to the country of origin misses the bigger picture.
An international community can and often does act as a crucial "bridge" for gaining access to information, skills, resources, and markets for the advancement of the country of origin. The ability of the Diaspora to develop and project a coherent, internally motivated, and progressive identity, as well as the capacity of the home country to create the conditions and institutions for long-term, mutually beneficial engagement, are frequently prerequisites for the success of this bridge.
Home nations are now starting to acknowledge the necessity of pursuing and promoting the Diaspora and development dynamic. India cannot be a special case.
Article written by: Remya