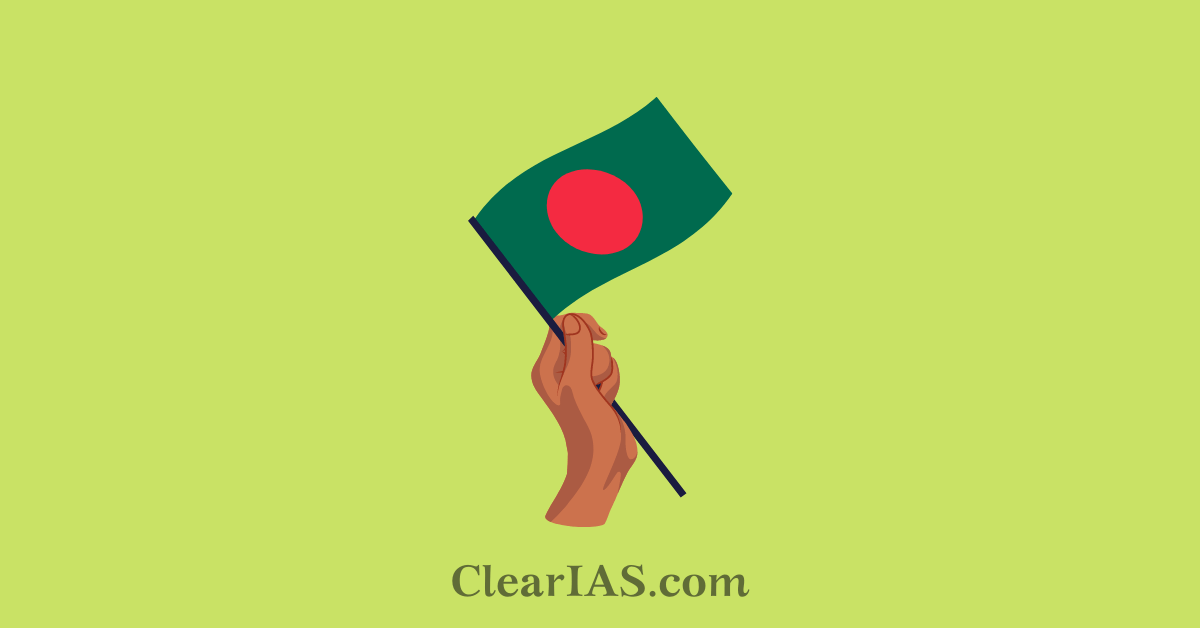 What caused the Bangladesh liberation war of 1971? What was India's role and significance in it? Read to know all about the Indo-Pak war of 1971 here.
The war of 1971 or the Indo-Pak war of 1971 or the Bangladesh Liberation war of 1971 was a revolution and armed conflict sparked by the rise of the Bengali nationalist and self-determination movement in what was then East Pakistan.
This war resulted in the independence of Bangladesh from West Pakistan.
The background events of the Indo-Pak War of 1971 are summarised below.
Also read: Village defence communities
What led to the Indo-Pak War, 1971?
Historically, the seeds of trouble were sown in 1905 when Viceroy Curzon partitioned Bengal based on religion. East Bengal was Muslim dominant region while the west was Hindu-dominated.
After the 1947 partition of India, East Bengal became a province of Pakistan and was called East Pakistan then onwards. The east and west Pakistan were not only separated geographically, but they differed in language, culture, etc also. This led to problems in governance as well. The only common ground between the two provinces was religion,
Language controversy
In 1948, Jinnah declared that Urdu will the official language and the people of East Pakistan who were bangle speaking, will have to comply.
This led to widespread protests in East Pakistan and the "Language Movement" began for the right of Bengalis to use Bangla as their official language.
This movement was led by Sheikh Mujibur Rehman, who joined the Awami League party.
The struggle against the Muslim league's Urdu imposition continued till the 1960s.
Note: The UN celebrates the International Mother Language Day on 21st February in commemoration of the 1952 police firing on language rallies in East Bengal.
Political imbalance
The Pakistan administration was dominated by West Pakistan and the Bengalis had no political say in the process.
East Pakistan had more population than the west but received lower budget allotments.
Bengalis were underrepresented in every aspect of administration and military.
Cultural differences
West Pakistan was dominated by the Punjabi and Pashtun ethnicity, while the east Pakistanis gave more importance to the Bengali ethnicity over religious identity.
The population of Hindus was also more in the east than the west, hence they were considered less loyal by the west Pakistan administration.
West Pakistanis were more supportive of an Islamic state than East Pakistanis.
The Bengalis took great pride in their culture and language which, with its Bengali script and vocabulary, was unacceptable to the West Pakistani elite, who believed that it had assimilated considerable Hindu cultural influences.
The 1954 provincial elections saw landslide victory of Mujibur Rehman's Awami League over the Muslim league. However, west Pakistan was not willing to let a leader from its eastern provincial wing rule the country.
Riots exploded in the province and using this instability as an excuse, the central government established the governor's rule in the province overturning the election results.
In 1956, Pakistan finally got its constitution, and Pakistan was declared the Islamic Republic. The national parliament was to comprise of one house with equal representation from east and West Pakistan.
6 point movement, 1966
This was a movement in east Pakistan spearheaded by Mujibir Rahman demanding greater autonomy for the region.
Their 6 demands were: Federal state, all subjects except defence and foreign affairs, separate currency and fiscal policy, taxation powers, trade, and forex reserves, separate military and navy.
Agartala conspiracy case, 1968: Mujibur Rahman went to Agartala to seek Indian support for East Pakistan's independence. Pakistan charged him with sedition and conspiring with India charges.
1970 Cyclone Bhola caused floods and 3-5 lakhs deaths in East Pakistan, but the Yahya Khan's government did not provide adequate relief. This added to the animosity between the two regions.
The 1970 election again saw sweeping victory by the Awami League, but Zulfikar Bhutto-led PPP who won in West Pakistan refused to acknowledge Mujibur Rahman's win.
This led to civil disobedience and a call for independence in Dhaka and on 23 March 1971 flag of Bangladesh was raised for the first time.
Operation Searchlight
On 25th March 1971, the Pakistan army struck at the Bengali independence movement at night.
Mujibur Rahman was arrested and flown to West Pakistan, many Bengali students and intellectuals were fired upon and arrested in Dhaka University.
This resulted in millions of Bangladeshis fleeing to India, mainly West Bengal, Assam, Meghalaya, and Tripura.
West Bengal was massively burdened by the rush of the refugees and the state appealed to the then Prime Minister Indira Gandhi for assistance for food and shelter.
Bengali resistance- the Mukhti Bahini
The Bengali armed resistance Mukhti Bahini arose against the Pakistan army and the Indian forces helped them with arms and training.
India had a very crucial geopolitical motive to help Bangladesh due to the turbulent relationship with Pakistan. A win for the Bengali movement meant a peaceful eastern frontier for India. And as an immediate reason, the refugee crisis was becoming a huge economic burden for India.
On the global scale, the U.S –Soviet tensions were high. India had signed a Friendship treaty with Russia hence the U.S was supporting Pakistan throughout all this.
The war was on the doorstep now.
Timeline of Indo Pak war 1971
December 3: Operation Chengiz Khan by Pakistan Air Force launched airstrikes against Indian airfields in the Western Sector, including Amritsar, Pathankot, Srinagar, Avantipura, Ambala, Sirsa, Halwara, Agra
December 3 to 6: Indian Air Force retaliates by attacking Pakistan air bases in Western and Eastern sectors. Pakistan attacks Indian ground positions in Punjab and Jammu and Kashmir
December 4: Battle of Longewala takes place in Rajasthan where Pakistani advance towards Jaisalmer is thwarted
December 5: Battle of Ghazipur in East Pakistan. Battle of Basantar in the Western sector in Pakistan's Punjab in the Shakargarh salient near Sialkot. Battle of Dera Baba Nanak in Gurdaspur district of Punjab
December 6: India formally recognizes Bangladesh as an independent nation. The city of Jessore is liberated
December 7: Battle of Sylhet and Moulovi Bazaar begins in Bangladesh
December 8: Operation Trident- Indian Navy launches attack on the Pakistani port city of Karachi
December 9: Indian Army fights Battle of Kushtia in Bangladesh. Chandpur and Daudkandi liberated. A helicopter bridge airlifts Indian troops across the Meghna river and makes the fall of Dhaka a matter of time
December 10: Chittagong airbase in Bangladesh attacked by Indian Air Force aircraft
December 11: Tangail airdrop of a Parachute Battalion to cut off retreating Pakistani troops in Bangladesh
December 12 to 16: Indian forces push through to Dhaka and enter the city.
On 16th December, Pakistan Eastern Command Commander Lt Gen AAK Niazi signs the instrument of surrender and capitulates to Indian Eastern Commander Lt Gen Jagjit Singh Aurora. As many as 93,000 Pakistani troops lay down their arms in Bangladesh.
Mujirbur Rahman was released from prison in January and went on to become the first Prime Minister of Bangladesh.
Shimla Agreement was signed between India and Pakistan on 2nd July 1972- The LoC was recognized, India gave back occupied land back to Pakistan, PoWs were repatriated and the Kashmir issue was agreed to be discussed peacefully.
How did the Indo Pak War 1971 shape today's India-Bangladesh relations?
The Indo-Pak war of 1971 liberated Bangladesh and established a friendly neighbourhood on the eastern front for India. Bangladesh is India's largest trading partner in South Asia and one of the fastest-growing economies. Indian firms have huge investment opportunities in the country due to their growth potential. Bangladesh is crucial for India's connectivity and peace in the north-eastern states.
India had recently inaugurated the new trade corridor, Maitri Setu Bridge from Sabroom in India to Ramgargh in Bangladesh on the Feni river in Tripura-Bangladesh border.
Bangabandhu Mujibur Rahman was awarded the Gandhi Peace Prize 2021.
Bangladesh was a special invitee to India's 75th independence day celebrations and President Kovind is part of Victory day celebrations in Bangladesh.
Bangladesh marked 50 years of liberation war victory over Pakistan on 16th December 2021.
The nation celebrated victory in the 1971 war for independence by hosting a military parade with India's president as a guest of honour.
Bangladesh has a special place in India's neighbourhood first policy and the relation is ever more crucial in the current geopolitical scenario as well.