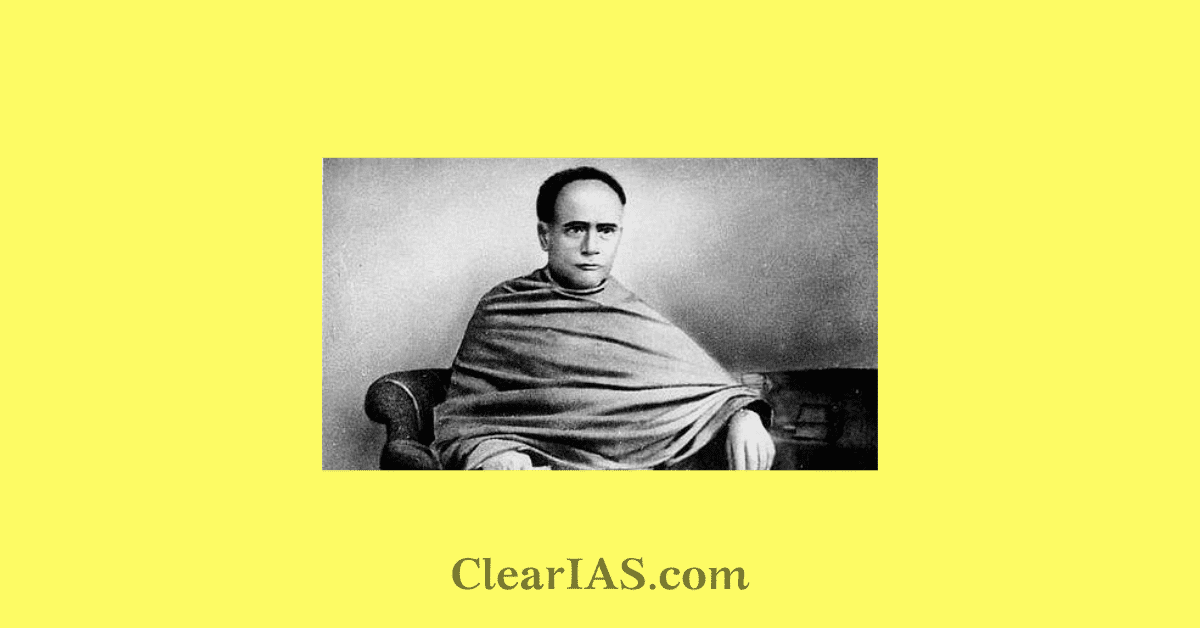 Ishwar Chandra Vidyasagar was a well-known writer, intellectual, and staunch follower of humanity who brought a revolution in the education system of Bengal. Read here to know about his life.
Ishwar Chandra Vidyasagar is considered one of the pillars of the Bengal renaissance. He had managed to continue the reforms movement that was started by Raja Rammohan Roy.
His contributions to simplify and modernize Bengali prose earned him the title of " Father of Bengali prose". He also rationalized and simplified the Bengali alphabet and type, which had remained unchanged since 1880.
Ishwar Chandra Vidyasagar initiated the concept of widow remarriage and raised concern for the abolition of child marriage and polygamy.
The early life of Ishwar Chandra Vidyasagar
Birth: 26th September 1820
Ishwar Chandra Bandyopadhyay was born to a Kulin Brahmin family at Birsingha in the Midnapore District in Undivided Bengal Vidyasagar. His parents were Hakurdas Bandyopadhyay and Bhagavati Devi.
He was married to Dinamani Devi and had a son Narayan Chandra Bandyopadhyay.
Education and career:
He was bestowed with the title of 'Vidyasagar' in 1839 for his mastery over Sanskrit and Philosophy. And in 1839, he successfully cleared his law examination also.
He passed out of Sanskrit College in Kolkata in 1841 qualifying in Sanskrit grammar, literature, dialectics, Vedanta, Smruti, and Astronomy.
He joined Fort William College as head of the Sanskrit department at the age of 21.
In 1846, Vidyasagar joined the Sanskrit College as 'Assistant Secretary' and brought many changes to the existing education system.
The first change that Vidyasagar made when he came back to the Sanskrit College as a Professor was to include English and Bengali as the medium of learning, besides Sanskrit.
He introduced courses of European History, Philosophy, and Science alongside Vedic scriptures.
He initiated various administrative and educative changes during his tenure as the Principal of Sanskrit College from 1851 to 1858.
Ishwar Chandra Vidyasagar: The Educationist 
He strongly believed that everyone irrespective of caste or gender had the right to education and opened up the premises of the Sanskrit college for people from lower castes.
He also encouraged scholars to study ancient sacred texts and interpret them for contemporary usage.
He established 20 model schools in Hooghly, Midnapore, Burdwan, and Nadia. He supervised the schools, recruited teachers, and formulated their syllabus. He changed the exam pattern by introducing monthly exams instead of annual ones. He also introduced the study of English, Western Sciences, and Mathematics.
Vidyasagar initiated the acceptance of admission fees and tuition fees. He also introduced 'Sunday' as the weekly holiday and summer vacation in May and June.
He brought about a revolution in the Bengali education system by changing the way the Bengali language was written and taught.
Vidyasagar the linguist
He reconstructed the Bengali Alphabet and simplified Bengali typography into an alphabet of 12 vowels and 40 consonants eliminating the Sanskrit phonemes.
His book 'Borno Porichoy' meaning 'introduction to the letter' is still used as the introductory text to learn the Bengali alphabet. He wrote two other books 'Upakramonika' and 'Byakaran Koumudi', interpreting complex notions of Sanskrit grammar in easy legible Bengali language.
He was also a key figure in Bengal Renaissance- a cultural, social, intellectual, and artistic movement in Bengal from the 19th century to the early 20th century. The renaissance period saw a magnificent outburst of Bengali literature with Ishwar Chandra Vidyasagar being the pioneer.
Vidyasagar wrote nearly ten books on Bengal's history and literature, all of them being considered classics in today's times.
Social reforms by Ishwar Chandra Vidyasagar
The focus of his social reform was women to ensure an end to the practice of child marriage and initiate widow remarriage.
He followed the footsteps reformist tradition of Raja Ram Mohun Roy (1772-1833), and argued, based on scriptures and old commentaries, in favor of the remarriage of widows in the same way as Roy did for the abolition of Sati.
Vidyasagar wrote two volumes on the mistreatment of widows, which set the tone for major social reform in the state.
He launched a powerful attack on the practice of marrying off girls aged 10 or even younger, pointing to social, ethical, and hygiene issues, and rejecting the validity of the Dharma Shastras that advocated it. He showed that there was no prohibition on widows remarrying in the entire body of 'Smriti' literature (the Sutras and the Shastras).
It was the result of his untiring struggle that the then Government of India passed the Widow Remarriage Act in 1856. He was partnered by Rani Roshmoni's efforts for the passage of the act.
To gather people's support for the implementation of the provision of remarriage of widows, he encouraged his son Narayan Chandra Bandyopadhyaya to marry a widow.
He also fought to end polygamy among Brahmins, widowing teenage girls who were wed by old men.
His work for the upliftment of women, their self-sufficiency, prosperity, and empowerment along with his untiring efforts for 'Nari Shiksha remains unique.
Vidyasagar's efforts for Women's education
He was a keen advocate of education for women. He rightly viewed education as the primary way for women to emancipate themselves from all the social oppression they had to face at the time.
He founded 35 schools for girls throughout Bengal. The Metropolitan School of Calcutta was one of the institutions. The sole purpose of these schools was to make women self-sufficient and empowered.
He supported Drinkwater Bethune to establish the first permanent girls' school in India, the Bethune School.
Vidyasagar spent the last 18 years of his life living among Santhal tribals in present-day Jharkhand, where he started what is possibly India's first school for Santhal girls.
Literary works by Ishwar Chandra Vidyasagar
He expressed his ideas in articles he wrote for periodicals and newspapers like 'Tattwabodhini Patrika', 'Somprakash', 'Sarbashubhankari Patrika', and 'Hindu Patriot'.
His other works were:
Betaal Panchavinsati (1847)
Banglar Itihaas (1848)
Jivancharita (1849)
Shakuntala (1854)
Mahabharata (1860)
Seetar Vanavas (1860)
Bhrantivilaas (1869)
Oti Alpa Hoilo (1873)
Aabaar Oti Alpa Hoilo (1873)
Brajavilaas (1884)
Ratnopariksha (1886).
Bidhobabivah on widow's right to remarry (1855)
Bahubivah on banning of polygamy (1871)
Balyabivah on the flaws of child marriage.
Death of Vidyasagar
Ishwar Chandra Vidyasagar, the great scholar, academician, and reformer passed away on 29 July 1891 at the age of 70 years.
After his death, Rabindranath Tagore had said, "One wonders how God, in the process of producing forty million Bengalis, produced a man!"