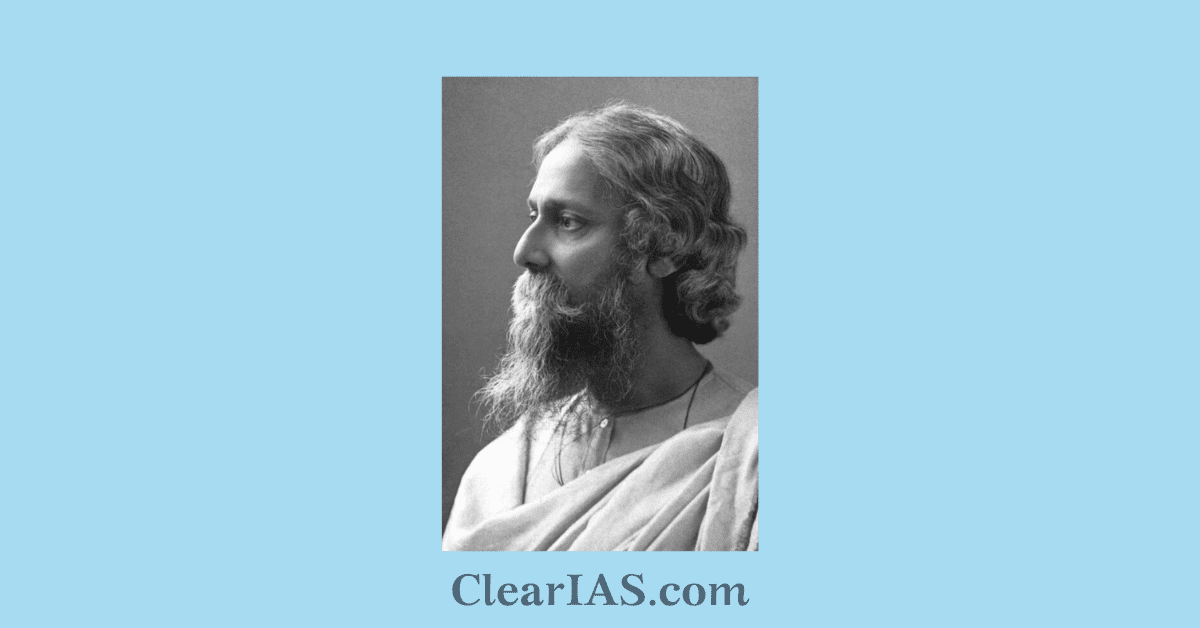 Rabindranath Tagore was a man of prodigious literary and artistic accomplishments and played a leading role in the Indian cultural and national movements. Read to know more about his vibrant life.
Rabindranath Tagore was an iconic figure in the Indian cultural renaissance. He was a polymath poet, philosopher, musician, writer, and educationist.
Rabindranath Tagore became the first Asian to win the Nobel Prize in 1913 for his collection of poems, Gitanjali.
He was called Gurudev, Kabiguru, and Biswakabi affectionately and his songs are popularly known as Rabindrasangeet.
The national anthems of India and Bangladesh – the Jana Gana Mana and the Amar Shonar Bangla respectively are from the Rabindrasangeet.
The early life of Rabindranath Tagore
Rabindranath Tagore was born on 7th May 1861 in Calcutta as the youngest son of Debendranath Tagore and Sarada Devi.
His grandfather Dwarkanath Tagore was a rich landlord and social reformer. His father, Debendranath Tagore was a leader of the Brahmo Samaj, a new religious sect in nineteenth-century Bengal which attempted a revival of the ultimate monistic basis of Hinduism as laid down in the Upanishads.
The Tagore family was a treasure trove of talent in every field. They hosted the publication of literary magazines; theatre and recitals of Bengali and Western classical music featured there regularly. Tagore's father invited several professional musicians to stay in the house and teach Indian Classical music to the children.
Tagore's oldest brother Dwijendranath was a philosopher and poet. Another brother, Satyendranath, was the first Indian appointed to the formerly all-European Indian Civil Service. Another brother, Jyotitindranath, was a musician, composer, and playwright. His sister Swarnakumari became a novelist.
Education
Rabindra Nath Tagore had his initial education in Oriental Seminary School. But he did not like the conventional education and started studying at home under several teachers. He was mostly trained by his siblings both in literary as well as physical activities like gymnastics and martial arts.
Tagore was a child prodigy when it comes to writing as he has started writing and publishing poetry by the age of eight.
In 1873, at the age of eleven, Tagore and his father left Calcutta to tour India for several months. He visited his father's Santiniketan estate and Amritsar before reaching the Himalayan hill station of Dalhousie where he read biographies, studied history, astronomy, modern science, and Sanskrit, and examined the classical poetry of Kalidasa.
At the age of seventeen, he was sent to England for formal law schooling but he did not finish his studies there. He rather took up independent studies of Shakespeare.
He returned from England in 1880 and regularly published poems, stories, and novels in Bengali, slowly starting to transform Bengali literature.
In 1883, he married Mrinalini Devi, a child bride as was the tradition in those times.
Rabindranath Tagore in Santiniketan
Tagore moved to Santiniketan ashram in 1901, where he started an experimental school based on traditional guru-shishya teaching methods from the Upanishads. He hoped that the revival of the ancient methods of teaching will be more beneficial than the British imparted modern education system.
His wife and two of their children died during this time which left him distraught.
After his return from England and during his stay in Santiniketan, Tagore wrote several literary works of poetry, stories, and novels. His works had started gaining immense popularity in India as well as abroad.
In 1909, Rabindranath Tagore started writing Gitanjali. In 1912, Tagore went to Europe for the second time. On the journey to London, he translated some of his poems/songs from Gitanjali to English. He met William Rothenstein, a noted British painter, in London who was impressed by the poems, made copies, and gave to Yeats and other English poets. Yeats was enthralled and later wrote the introduction to Gitanjali when it was published in September 1912 in a limited edition by the India Society in London. And in 1913, this collection of poems won the Nobel Prize in Literature. He was the first non-European to receive the prestigious award.
In 1915, he was awarded a knighthood by King George V.
Rabindranath Tagore in Independence movement
Tagore participated in the Indian nationalist movement from time to time, though in his own non-sentimental and visionary way; and Gandhi, the political father of modern India, was his devoted friend. Tagore came to be recognized as one of the architects of modern India.
India's first Prime Minister, Jawaharlal Nehru, wrote in Discovery of India, "Tagore and Gandhi have undoubtedly been the two outstanding and dominating figures in the first half of the twentieth century. Tagore's influence over the mind of India, and especially of successive rising generations has been tremendous. Not Bengali only, the language in which he wrote, but all the modern languages of India have been molded partly by his writings. More than any other Indian, he has helped to bring into harmony the ideals of the East and the West, and broadened the bases of Indian nationalism."
In 1905, Viceroy Curzon decided to divide Bengal into two parts. Rabindranath Tagore strongly protested against this decision. Tagore wrote many national songs and attended protest meetings. He initiated the Rakhibandhan ceremony, symbolizing the underlying unity of undivided Bengal.
In 1919, following the Jallianwala Bagh massacre, Tagore renounced his knighthood condemning the act. He was a supporter of Gandhiji but he stayed out of politics. He was opposed to nationalism and militarism as a matter of principle, and instead promoted spiritual values and the creation of a new world culture founded in multi-culturalism, diversity, and tolerance.
Tagore the educationalist
1n 1921, Rabindranath Tagore established Viswabharati University and gave all his money from Nobel Prize and royalty money from his books to this University.
Tagore was quite knowledgeable of Western culture, especially Western poetry and sciences. Tagore had a good grasp of modern – post-Newtonian – physics and was well able to hold his own in a debate with Einstein in 1930 on the newly emerging principles of quantum mechanics and chaos. His meetings and tape-recorded conversations with his contemporaries such as Albert Einstein and H.G. Wells, epitomize his brilliance.
In 1940 Oxford University arranged a special ceremony in Santiniketan and awarded Rabindranath Tagore with a Doctorate of Literature.
Literary works of Rabindranath Tagore
Although Tagore wrote successfully in all literary genres, he was, first of all, a poet. Among his fifty and odd volumes of poetry are:
Manasi (1890) (The Ideal One), Sonar Tari (1894) (The Golden Boat), Gitanjali (1910) (Song Offerings), Gitimalya (1914) (Wreath of Songs), and Balaka (1916) (The Flight of Cranes).
The English renderings of his poetry, which include The Gardener (1913), Fruit-Gathering (1916), and The Fugitive (1921), do not generally correspond to particular volumes in the original Bengali.
Tagore's major plays are Raja (1910) [The King of the Dark Chamber], Dakghar (1912) [The Post Office],  Achalayatan (1912) [The Immovable], Muktadhara (1922) [The Waterfall], and Raktakaravi (1926) [Red Oleanders].
He is the author of several volumes of short stories and many novels, among them Gora (1910), Ghare-Baire (1916) [The Home and the World], and Yogayog (1929) [Crosscurrents].
Besides these, he wrote musical dramas, dance dramas, essays of all types, travel diaries, and two autobiographies, one in his middle years and the other shortly before his death in 1941. Tagore also left numerous drawings and paintings, and songs for which he wrote the music himself.
He also played the title role in his first original dramatic piece- Valmiki Pratibha.
Death
After an extended period of suffering, Tagore died on August 7, 1941, in the same mansion in which he was brought up.
Legacy of Rabindranath Tagore:
Rabindranath Tagore changed the way Bengali literature was perceived as he left an everlasting impression on the readers.
Many countries have his statues erected and host many yearly events to pay tribute to the legendary writer.
Many of his works have been made global, thanks to a host of translations by many famous international writers.
There are five museums dedicated to Tagore. While three of them are situated in India, the remaining two are in Bangladesh. The museums' house his famous works, and are visited by millions every year.