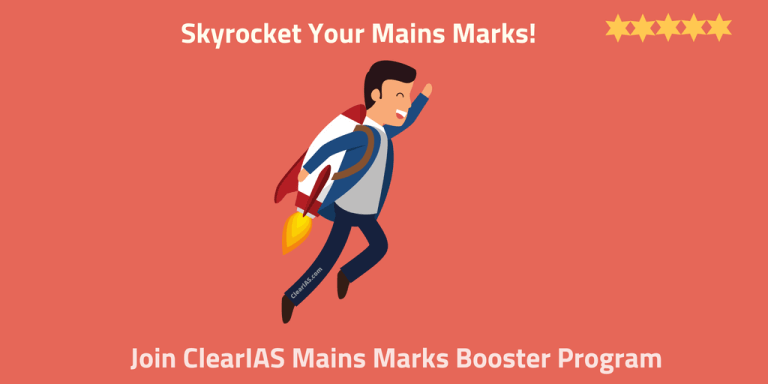 We announce the launch of ClearIAS Mains Marks Booster Program. The program is aimed to significantly improve UPSC Civil Services Main (Written) Exam marks of IAS aspirants in a short time.
ClearIAS Mains Marks Booster Program is a 2-day Workshop, which we plan to conduct across all major cities in India.
ClearIAS Mains Marks Booster Program – Highlights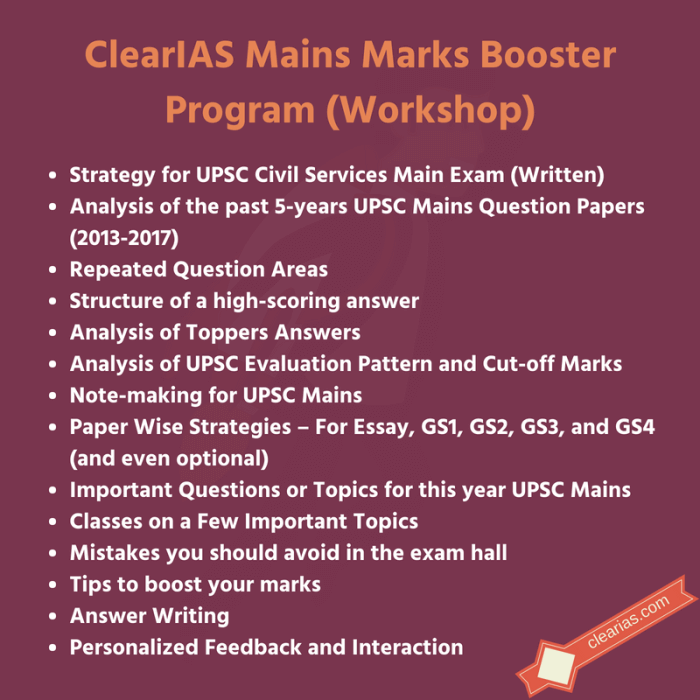 The program covers:
1. Strategy for UPSC Civil Services Main Exam (Written)
Many aspirants are unsure how to prepare for Mains, as the written exam is an entirely different arena. We discuss the right strategies to ensure fast and efficient preparation for Mains.
2. Analysis of the past 5-years UPSC Mains Question Papers (2013-2017)
A careful analysis of previous year UPSC Mains Question Papers would give you valuable insights.
3. Repeated Question Areas
Yes, there are some repeated question areas for UPSC Mains. We will help you identify the trends.
4. Structure of a high-scoring answer
This makes all the difference! What makes an ideal answer? We will make it clear!
5. Analysis of Toppers Answers
Know what makes the toppers top!
6. Analysis of UPSC Evaluation Pattern and Cut-off Marks
How many marks will UPSC give for a perfect answer? How close are you really to the cut-off marks? We help you clear your doubts.
7. Note-making for UPSC Mains
Yes, we are masters in making good notes. And we shall help you with that as well.
8. Paper Wise Strategies – For Essay, GS1, GS2, GS3, and GS4 (and even optional)
Confused about how to score well in Ethics paper? Or do you need help to make your essay stand out? We provide paper-wise strategies as well.
9. Important Questions or Topics for this year UPSC mains
Do you need help to identify the priority topics? We can lend a hand.
10. Classes on a Few Important Topics
Well, the 2-day session (12 hours) is not enough for this. But we plan to devote 1-2 hours to add a few points regarding certain important topics.
11. Mistakes you should avoid in the exam hall
This can make all the difference. We will discuss the mistakes you should avoid in the exam hall. Don't miss!
12. Tips to boost your marks
If some mistakes can cost you marks, some additional effort can boost your marks as well. Yes, there are some secret shortcuts used by toppers. There are toppings which boost the flavour of your answers, with minimal effort. Aren't you interested?
13. Answer Writing
Well, a workshop is not a workshop unless you are not involved. Answer writing is a core part of this program. We will give you questions to answer instantly. The answers will also be evaluated.
14. Personalized Feedback and Interaction
We know this is what you want most at this stage. We shall go through each of your answers, and let you know the areas where you need to make improvements.
ClearIAS Mains Marks Booster Program – Interact with the Founder of ClearIAS.com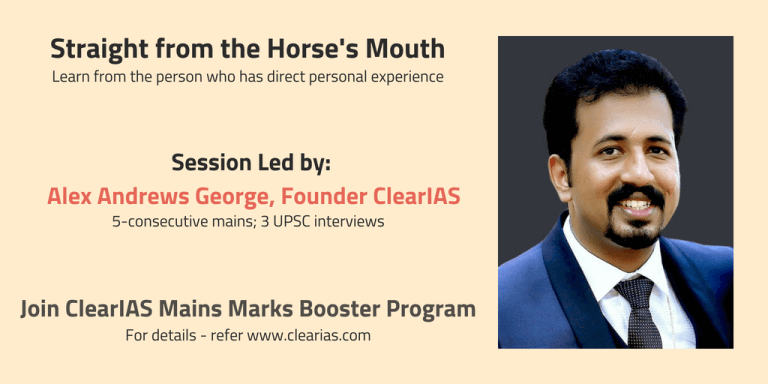 The program is targeted at aspirants who write Mains this year or next year.
The workshop will be conducted offline at various venues across India, once Prelims results are announced by UPSC. Exact dates of each workshop will be announced and emailed later.
The workshop will be for 2 days. The timings would be 10-1 AM and 2- 5 PM.
Any organisation – NGOs, Colleges, Coaching Institutes, Government academies – eager to provide value addition to students can partner with ClearIAS in conducting the program.
Interested organisations may email us with the subject line "Partnership Proposal for ClearIAS Mains Marks Booster Program".
Prior registration is mandatory for aspirants to attend the ClearIAS Mains workshop.
The link to register and pay fees for the workshop (for each venue) will be updated later as separate posts. The details of same will be announced on clearias.com. You will also get an email from us.