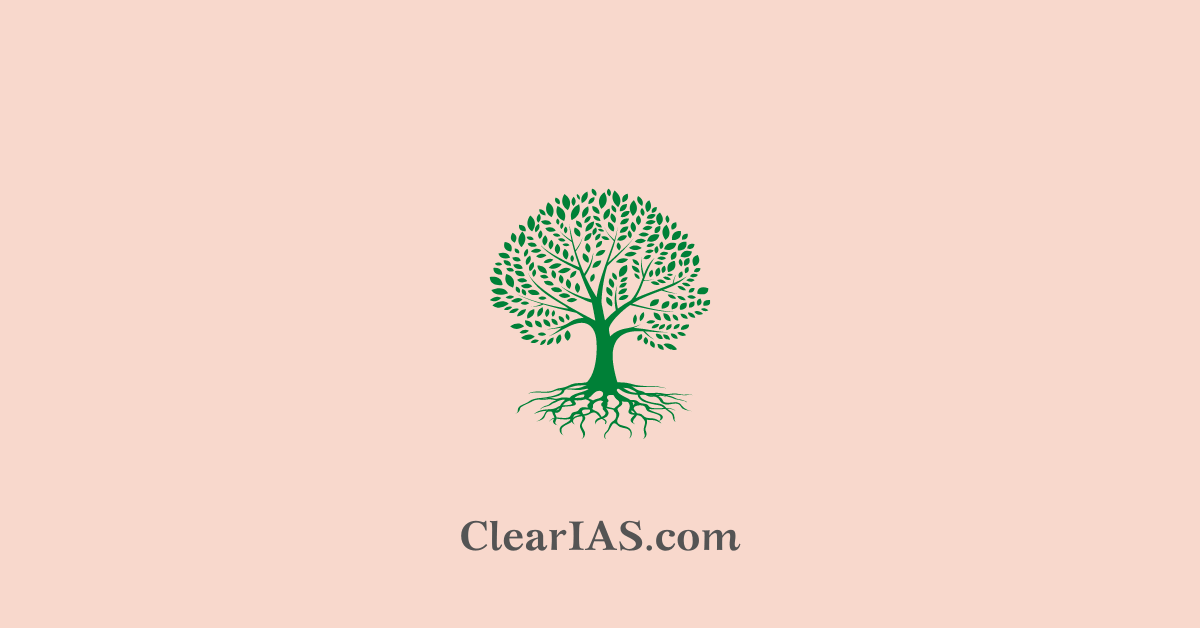 In tropical and subtropical regions of the world, the mangrove forest dominates the coastlines and is an essential component of the forest ecosystem.
Mangrove is the crossroad, where oceans, freshwater, and land meet.
There are 54–75 species of true mangroves, which are taxonomically distinct from their terrestrial counterparts and exclusively occur in the intertidal zones of coastlines.
Mangrove forests are among the planet's most complex ecosystems, flourishing in environmental conditions that would swiftly kill most other types of vegetation.
Mangroves can survive in extremely salty waters and soils because they are highly adaptable to their surroundings and capable of excluding or expelling salt.
Adaptation of Mangrove Forests
Mangrove trees are adapted to the harsh circumstances of estuaries by developing specific growth patterns.
A few key adaptations that they have are-
Their capacity to tolerate brackish waters and flood
ability to survive waterlogging
Ability to survive in anoxic (lack of oxygen) soil
Excluding salt
Features of Mangrove Forest
Some mangrove plants exclude salt by having very impermeable roots that function as an ultra-filtration system to keep sodium salts out of the rest of the plant, effectively lowering the salt content by 90%–97%.
The plant then sheds its old leaves, which are concentrated with salt that does collect in the shoot.
Some mangroves have cell vacuoles that can store salt.
Other species' leaves contain unique glands that actively release salt, leaving visible salt crystals on the leaf's upper surface.
Many kinds of mangrove trees have airborne roots, known as pneumatophores, that draw up oxygen from the air for the roots because the soil in shallow regions of mangrove forests is often flooded during high tides.
A lot of mangrove plants also have a distinctive way of reproduction. Mangrove seeds begin growing while still attached to the parent plant, known as propagules, these seedlings develop roots as well.
Global Distribution
Mangroves are found worldwide, but the greatest species diversity is in Southeast Asia.
Mangrove forests are found in tropical and subtropical regions in tidal areas, that are frequently inundated with salt water.
Worldwide, mangrove forests occupy about 15.2 million hectares (1,52,000 sq km) of tropical coasts, found across Africa, Australia, Asia, and America.
While the mangrove forests are spread across more than 100 countries and territories, three-quarters of the mangroves are found only in 15 countries and less than seven percent of them are protected.
Asia has a share of 42 percent of the world's mangroves, which is followed by Africa (21 percent), North/Central America (15 percent), Oceania (12 percent), and South America (11 percent).
It is important to note that the mangrove area decreases with increasing latitude excluding the Sundarbans which account for the world's largest tract of mangroves situated along the Ganges delta.
Largest Area Under Mangrove Forest
The countries with the largest area of mangroves are:
Indonesia
Brazil
Australia
Mexico
Nigeria
Source: Landsat data & World Atlas of Mangroves
Mangroves in India
"About 40% of the world's mangrove is found in South East Asia which is 6.8% of the world's mangrove cover and India has about 3% of the share of the total Mangrove cover that is found in South Asia"
India's Mangrove cover has increased by 54 sq km (1.10%) as compared to the last assessment."
As per the current data, mangrove cover in the country stands at 4,975 sq km [(1.2 million acres)], which is 0.15% of the country's total geographical area.
Sundarbans in west Bengal alone accounts for almost half of the total area that is found under mangrove in India.
West Bengal has a total of 42.45% of India's mangrove cover, followed by Gujarat at 23.66%, and A&N Islands at 12.39%. All around the country, Gujarat showed a maximum increase in mangrove forest cover of 37 sq.
West Bengal (2114 sq km),
Gujrat (1140 sq km),
A&N Islands (617 sq km),
Andhra Pradesh (404 sq km)
Maharashtra (304 sq km)
Among the states, Kerala (9 sq km) and among the UTs, Puducherry (2 sq km) have the least Mangroves cover.
For Research and Development, National Mangrove Genetic Resource Centre was established in Bhitarkanika (Odisha) by the Environment Ministry.
India State of Forest Report 2021
As per the India State of Forest report 2021, the area under Mangrove forest has increased by 17 sq km making India's total mangrove cover as 4,992 sq km.
Top 3 states showing mangrove cover increase: Odisha (8 sq km), Maharashtra (4 sq km), and Karnataka (3 sq km).
Important Mangroves Region in India
Gujrat: Gulf of Kutchh, Gulf of Khambhat, Dumas-Ubhrat
Andhra Pradesh: Coringa East Godavari Delta, Krishna Delta
Odisha: Bhaitarkanika, Mahanadi, Subarnarekha, Devi-Kauda, Dhamra, Chilka
West Bengal: Sunderbans
Andaman & Nicobar: North Andaman, Nicobar
Maharashtra: Achra-Ratnagiri, Devgarh-Vijay Durg, Veldur, Kundalika-Revdnada, Mumbra-Diva, Vikroli.
Goa: Goa
Karnataka: Coondapur, Dakshin Kannada/ Hannavar, Karwar, Mangalore Forest Division.
Kerala: Vembanad, Kannur (North Kerala)
Tamil Nadu: Pichavaram, Muthupet, Ramnad, Pulicat, Kaznuveli
Also read: Forest – Know the Different Types
Importance of Mangroves
Species: Plankton, algae, fish, and shellfish are all fed by the nutrients found in mangrove leaves and roots. Many different species of birds and mammals live in mangroves, including mangrove monkeys in South Asia and Bengal tigers in Sunderbans.
Fishery: Mangroves are essential for fish and shellfish, migratory birds, and sea turtles to nest and breed, which highlights their significance for coastal fishing communities. An article published in the Journal of Sea in 2008 estimates that mangrove forests are directly or indirectly responsible for 80% of the world's fish catch.
Nutrient Filters: Because of the destruction of mangrove habitats, which typically filter the amount of silt and nutrients that reach the ocean, the amount of sediment and nutrients that reach oceanic waters has increased. That can result in an Algal boom because of excess nutrients discharge.
Climate change: Mangroves are effective carbon sinks. They store three to five times more carbon per unit area than tropical forests and isolate carbon at a pace that is two to four times faster than tropical forests like the Amazon. More greenhouse gases are released when they are cut down compared to other areas of forests.
Stabilization of shorelines: Mangroves create a natural barrier that shields coastal communities from increased storm surges, flooding, and storms also stabilizing shorelines by reducing erosion.
Tsunami Shield: Mangroves can absorb wave energy, and because of that they are very important for protecting coastal areas from coastal calamities namely, tsunamis, storm surges, etc. Mangroves can effectively absorb about 70-90 percent of normal wave energy. It is evident that even under extreme circumstances, mangroves' dense root and branch networks could help diffuse tsunamis, and reduce their devastating effects.
In December 2004 a massive tsunami hit Asia and causes mass-scale destruction and loss of life. Degradation of the coastal mangrove system makes the coastal areas more prone to tsunamis, and flood-related destructions.
It is evident that damage to the property and loss of lives was minimal in coastal regions where there were healthy mangroves.
Also read: Forest Management: National Working Plan Code
Threats to Mangrove Forest
There are approximately 70 species of mangroves around the world but the reduction in it and extinctions is evident.
These areas are rich in nutrients and are part of larger wetland systems that make them desirable for agriculture and lead to deforestation.
A threat to the mangrove ecosystem is associated with global warming and climate change.
As these areas are near the sea, it is also exploited for salt production.
Rapid and mostly unregulated coastal development is one of the main obstacles to mangrove growth. According to the coastal regulation zone notification 2011, these important habitats have been included in CRZ-1 (Coastal Regulation Zone 1) for the protection of these vital ecosystems.
Strategies to Mitigate Climate Change Effects
Management of Man-Made Pressure, mangroves are needed to be protected from anthropogenic pressure by sustainable practices.
Establishment of green belt along the open coast, river banks, lagoons, etc for coastal protection from erosion.
Restoration of the degraded areas through hydrological manipulation, community participation, and integrated farming practices.
Establishment of baseline data on forestry structures, diversity, an abundance of flora and fauna, species richness, nutrient, and hydrological aspects, etc.
Endemic Mangroves Species in India
Rhizophora annamalaya- Pichavaram, Tamil Nadu
Heritiera kanikensis- Bhitarkanika, Odisha
Mangroves diversity in India
Genera of Plants found in Indian Mangroves: Avicennia, Acgiceras, Aegialitis, Acanthus, Kandelia, Bruguirea, Sonneratia, Carapa, etc.
Sundari tree: Heritiera littoralis
Article Written By: Priti Raj