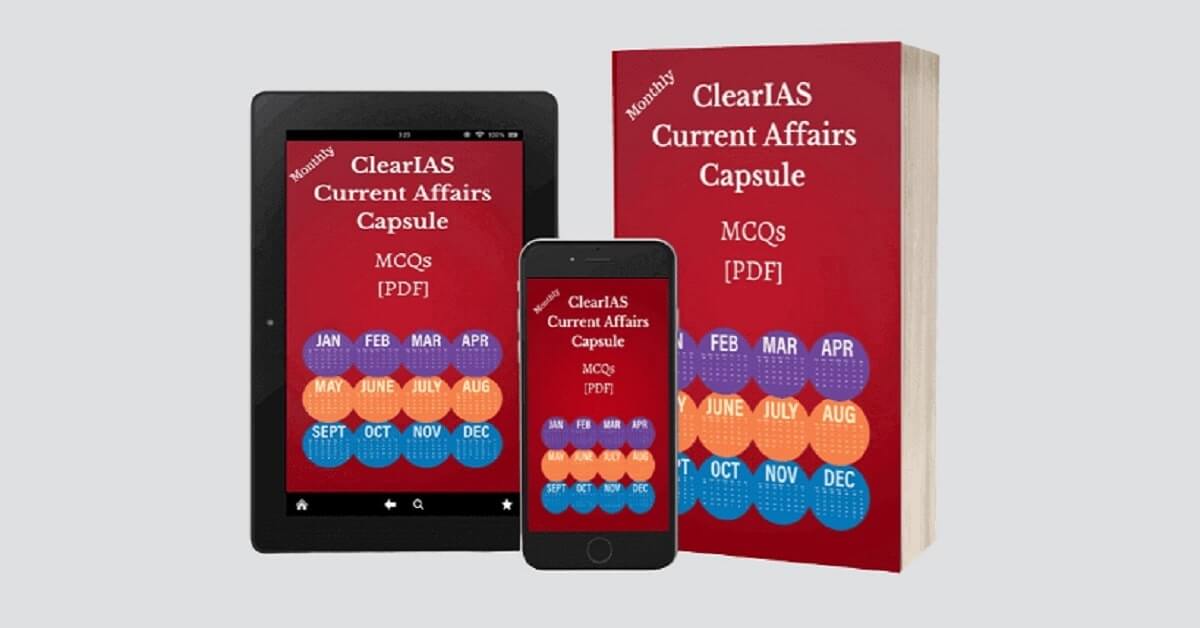 It is often disturbing to find a reliable monthly current affairs PDF source for UPSC CSE in one place. Here, we have provided all the Monthly Current Affairs PDF for UPSC CSE, designed by ClearIAS. Also, check how and why ClearIAS Current Affairs Capsule is better.
ClearIAS Current Affairs Capsule (CCC) is a fantastic compilation of questions related to all the important events that happened in a month.
The Current Affairs Capsule (CCC) contains the most relevant questions, important from the UPSC perspective.
The main goal of this capsule is to provide the best and most important information about "monthly current events."
It covers different topics like Social Issues, Economy, Polity and governance, International Affairs, Security, Environment, Science and tech, and more that are relevant to the exam point of view.
Why ClearIAS Current Affairs Capsule is Better?
There are ample materials in the market but ClearIAS has designed the magazine in a certain way that will help aspirants in many possible ways.
Exam Relevance: In this part, the magazine contains topics that have a high chance of coming into the exams, one way or another. This will aspirants can focus on the most important areas along with providing a strong background related to that topic.
Designed to Engage: ClearIAS Capsule is provided in MCQ format with a detailed explanation. That will help the candidates to understand what kind of questions can be framed around a piece of news.
Burning Topics: The section talks about the most important and trending issues of the month, so students stay updated with the latest news.
Multidimensional Information: The explanation of the question is designed to provide all other relevant details around the particular topic that will save plenty of time for candidates as they do not need to search for other sources.
Holistic Knowledge Development: ClearIAS capsule covers a wide range of important topics that are important from the exam perspective. This way, students get a complete understanding of various subjects.
How ClearIAS CCC is Special?
ClearIAS Current Affairs Capsules (CCC) stand out for various reasons, making them special and highly beneficial for aspirants preparing for competitive exams.
The Current Affairs are presented in an MCQ format with reference links, making the learning process interesting and faster. Aspirants can easily get the essential information and understand the context behind each question.
In each monthly CCC, only around 50 hand-picked questions are included. This makes it incredibly easy for aspirants to learn and revise. Over a span of 1 year (12 months), aspirants get access to approximately 600 MCQs.
It provides a high chance of encountering similar questions in the actual UPSC CSE Prelims from CCCs, CMPPQs (ClearIAS Model Prelims Practice Questions), and ClearIAS Prelims Test Series. This gives them a strategic advantage in their exam preparation.
Though CCCs are primarily designed for Prelims, the Learning Zone in the PDFs is equally useful for UPSC Mains and Interview preparation. The detailed coverage of current affairs makes sure that aspirants stay well-informed about various topics relevant to all stages of the examination.
ClearIAS Current Affairs Capsule
Here you can download the Monthly Current Affairs PDF for UPSC:
ClearIAS Current Affairs Capsule PDF for August 2023
ClearIAS Current Affairs Capsule PDF for July 2023
ClearIAS Current Affairs Capsule PDF for June 2023
ClearIAS Current Affairs Capsule PDF for May 2023
ClearIAS Current Affairs Capsule PDF for April 2023
ClearIAS Current Affairs Capsule PDF for March 2023
ClearIAS Current Affairs Capsule PDF for February 2023
ClearIAS Current Affairs Capsule PDF for January 2023
ClearIAS Current Affairs Capsule PDF for December 2022
ClearIAS Current Affairs Capsule PDF for November 2022
ClearIAS Current Affairs Capsule PDF for October 2022
ClearIAS Current Affairs Capsule PDF for September 2022
ClearIAS Current Affairs Capsule PDF for August 2022
ClearIAS Current Affairs Capsule PDF for July 2022
Article Written By: Priti Raj