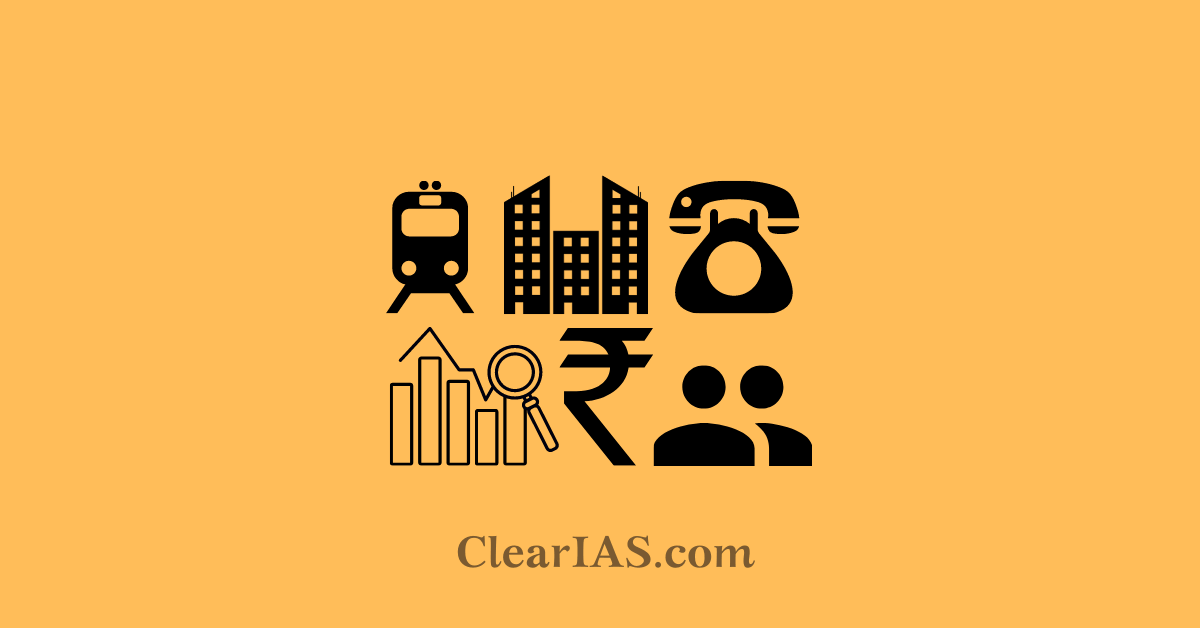 PM Gati Shakti – National Master Plan for Multi-Modal Connectivity is an initiative to ensure seamless connectivity on various levels. Read to know more about it here. 
Why PM Gati Shakti is in news?
The government of India has launched the ambitious Gati Shakti scheme or National Master Plan for multi-modal connectivity plan, with the aim of coordinated planning and execution of infrastructure projects to bring down logistics costs.
It is a national master plan for infrastructure development to give impetus to 21st century India.
PM Gati Shakti
Gati shakti is a digital platform that will bring 16 ministries including railways and roadways together for integrated planning and coordinated implementation of infrastructure connectivity projects.
This will help in removing long-standing issues such as disjointed planning, lack of standardization, problems with clearances, and timely creation and utilization of infrastructure capacities.
The Gati Shakti scheme will subsume the Rs 110 lakh crore National Infrastructure Pipeline that was launched in 2019.
The portal will offer 200+ layers of geospatial data, including that on existing infrastructure.
It will also allow various government departments to track, in real-time and at one centralized place, the progress of various projects.
It will help different departments to prioritize their projects through cross-sectoral interactions.
The Gati shakti platform aims to prevent overlapping of works by addressing the issue of government departments working in tandem.
By incorporating infrastructure schemes under various ministries and states, the platform aims at boosting last-mile connectivity bringing down logistics costs with integrated planning and reducing implementation overlaps.
A project monitoring group under the Department of Promotion of industry and Internal trade (DPIIT) will monitor the progress of key projects in real-time.
They will also report any inter-ministerial issues to a group of ministries, who will then aim to resolve these.
PM Gati Shakti will incorporate the infrastructure schemes of various Ministries and State Governments like Bharatmala, Sagarmala, inland waterways, dry/land ports, UDAN, etc. Economic Zones like textile clusters, pharmaceutical clusters, defence corridors, electronic parks, industrial corridors, fishing clusters, Agri zones will be covered to improve connectivity & make Indian businesses more competitive.
Targets under the PM Gati shakti Scheme:
Gati shakti has set targets for all infrastructure ministries and the targets to be achieved by 2024-25:
11 industrial corridors and 2 new defence corridors (Tamil Nadu and Uttar Pradesh), achieving a 1.7 lakh crore turnover in defence production.
Around 38 electronics manufacturing clusters
109 pharma clusters
Increase in the total cargo handled at Indian ports to 1759 MTPA
Adding over 200 airports, helipads, and water aerodromes.
Extending 4G connectivity to all villages
Adding 17,000 km to the gas pipeline network is being planned.
Six pillars of PM Gati Shakti:
Comprehensiveness: It will include all the existing and planned initiatives of various Ministries and Departments with one centralized portal. Every Department will now have visibility of each other's activities providing critical data while planning & comprehensively executing projects.
Prioritization: Through this, different Departments will be able to prioritize their projects through cross-sectoral interactions.
Optimization: The National Master Plan will assist different ministries in planning for projects after the identification of critical gaps. For the transportation of the goods from one place to another, the plan will help in selecting the most optimum route in terms of time and cost.
Synchronization: Individual Ministries and Departments often work in silos. There is a lack of coordination in the planning and implementation of the project resulting in delays. It will help in synchronizing the activities of each department, as well as of different layers of governance, holistically by ensuring coordination of work between them.
Analytical: The plan will provide the entire data at one place with GIS-based spatial planning and analytical tools having 200+ layers, enabling better visibility to the executing agency.
Dynamic: All Ministries and Departments will now be able to visualize, review and monitor the progress of cross-sectoral projects, through the GIS platform, as the satellite imagery will give on-ground progress periodically and the progress of the projects will be updated regularly on the portal. It will help in identifying the vital interventions for enhancing and updating the master plan.
What is the need for the scheme?
To address the wide gap between macro planning and micro implementation due to the lack of coordination and advanced information sharing as departments think and work in silos.
As per reports, studies estimate the logistics costs in India at about 13-14% of GDP as against about 7-8% in developed economies. With this high logistical cost, the competitiveness of India's exports is greatly reduced.
It will increase economic activities and create employment on a large scale due to the creation of quality infrastructure for sustainable development.
The scheme is in synergy with the National Monetisation Pipeline (NMP) which was announced to provide a clear framework for monetization and give potential investors a ready list of assets to generate investor interest.
A holistic and integrated transport connectivity strategy will greatly support 'Make in India' and integrate different modes of transport.
Another push for such a scheme was the lack of demand in the post-Covid-19 scenario, which in turn led to a lack of private demand and investment demand.
Due to land acquisition delays and litigation issues, the rate of implementation of projects is very slow on global standards- issues that the scheme will address.
Way forward
PM Gati Shakti scheme is a move in the right direction, but it needs to address structural and macroeconomic stability concerns arising from high public expenditure.
Thus, this initiative must be supported by a stable and predictable regulatory and institutional framework.