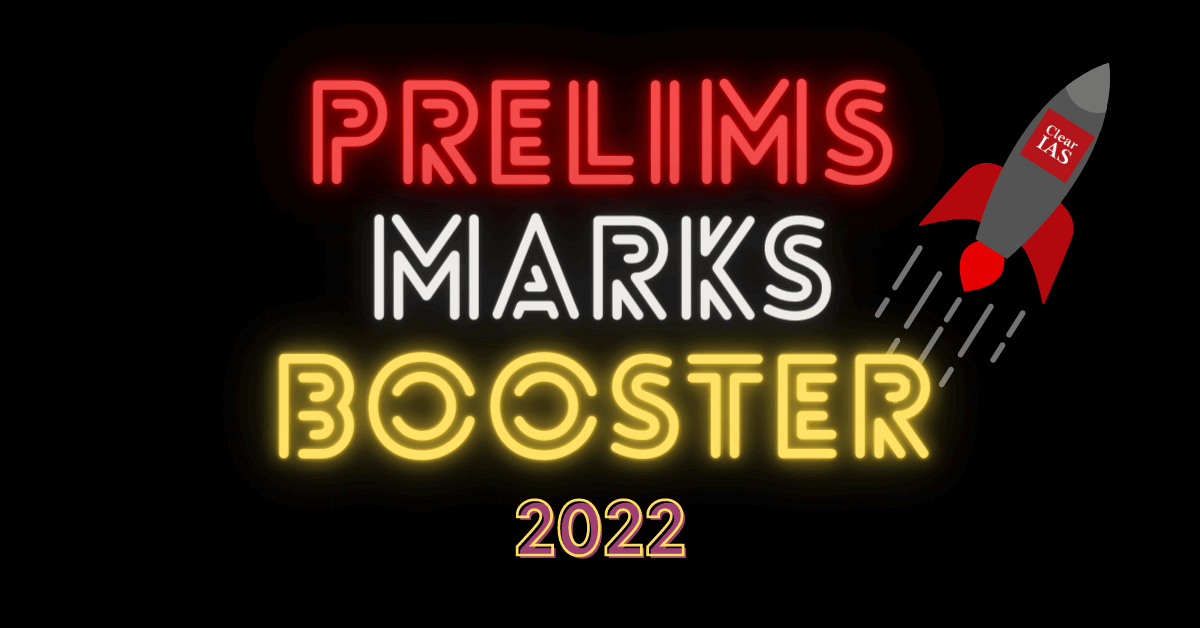 "Is UPSC CSE Prelims your nightmare? Do you find it difficult to cross the UPSC cut-off score? If yes, ClearIAS Prelims Marks Booster 2022 Program is the best online course you have been looking for."
ClearIAS has launched Prelims Marks Booster (PMB) Program for aspirants appearing in UPSC Civil Services Preliminary Examination 2022.
PMB 2022 program is an online course that covers the high-priority question areas in UPSC CSE Prelims in 100 hours (ie. 2 hours per day x 50 days).
The fee of the online program is just Rs.9999. Click here to join.
Why you must attend ClearIAS Prelims Marks Booster (PMB) Program?
All you need to clear the UPSC CSE Prelims is 100-110 marks out of 200. That's what the previous year trends suggest.
However, many candidates despite their hard work score only less than 85 marks. This is because of a lack of proper training and guidance.
If you fall in this category or if you find it difficult to score consistently above 110, this course is for you.
A score of 85 becomes 110 if you just get 10 additional correct answers. 10 additional correct answers mean 26.66 marks!
Actually, 40-50 Extra-Marks is quite possible if you get the right guidance.
Nothing will boost your UPSC Prelims score like PMB!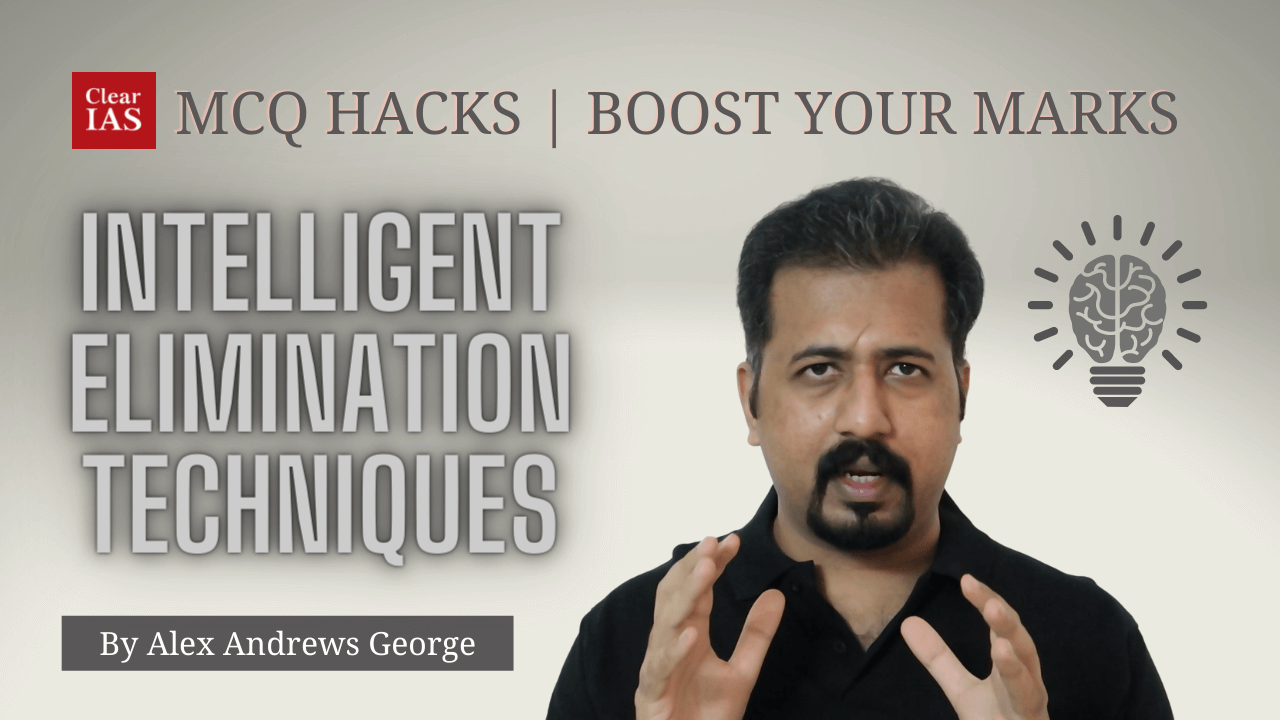 Watch one of the PMB classes conducted last year OR talk to our previous year students. They will testify this: Nothing will create a jump in your prelims marks like the PMB program. The magic PMB creates is based on the experience and expertise of our faculties in the UPSC Test Prep.
PMB is a unique online program that combines the benefits of revision, concept cementing, and techniques to score high in UPSC CSE Prelims.
Our strategy to help you mark more answers correctly is based on the analysis of the previous year UPSC questions.
Our methods include a focus on (1) Repeated Question Areas (2) Probable New Question Areas (3) Intelligent Elimination Techniques. Don't you think that this will help you score extra 10 questions correct?
If you are smart enough, we don't need to explain more. You may have already joined 🙂
What is ClearIAS Prelims Marks Booster (PMB) Program for UPSC CSE 2022?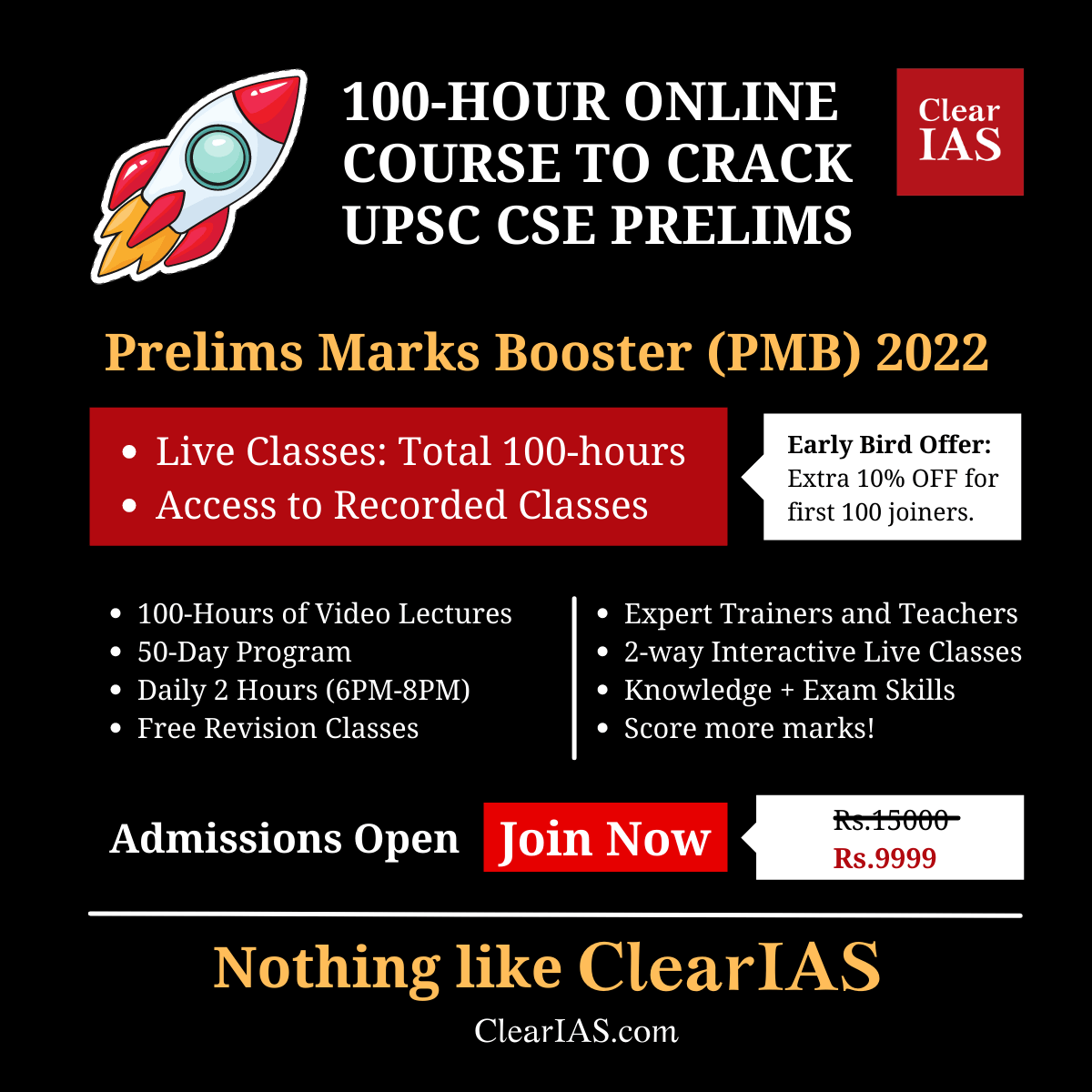 Expert Trainers and Teachers: The program will be under the direct guidance of the expert Civil Service Trainer and popular author, Mr Alex Andrews George, who cleared UPSC CSE Prelims 5-times in a row.
Non-Traditional Classes: 2-way interactive online classes with individual attention. ClearIAS is reputed for its smart-work approach which heavily focuses on Return on Investment (RoI).
Question-Answer Approach (QAA): This is a unique course designed by ClearIAS – which uses a Question-Answer Approach (QAA) to help aspirants learn faster.
Knowledge + Exam Skills: Equal importance is given to Knowledge and Exam-Skills (Techniques, Strategies, and Processes).
Multiple Areas of focus: Revision, Concept Clarity, High Yielding Areas, Previous Year Questions Analysis, Probable Questions, ClearIAS Intelligent Elimination Techniques (IETs).
Bridge gaps in your preparation: A Gap-bridging course to help you boost UPSC CSE Prelims marks in a short time (100 hours or 50 days – just 2 hours per day!).
Score more marks: We guarantee you that if you follow our methods and processes correctly, it will surely help you answer more questions correctly.
Value for money: Just ₹9999 (100-Hours of classes you won't get from anywhere else + Extra Benefits. Validity until Prelims 2022)
Prelims Marks Booster (PMB) Program is a must-do value-addition course that will supplement your self-preparation and boost your self-confidence.
Unique features of the ClearIAS Prelims Marks Booster Program (UPSC CSE 2022)
Total 100 Hours (daily 2 hours each)
50-days online class
Live Classes (Mon – Fri) – 6 PM – 8 PM
Access to Recorded Classes
Access to missed classes
Each video lecture can be watched unlimited times from a laptop or mobile
Validity until Prelims 2022 (June 05, 2022)
Medium of Instruction: English
Prelims Marks Booster Program 2022: Subject-wise Classes Allocation
| | | | |
| --- | --- | --- | --- |
| Sl No | Subject | Classes | Hours |
| 1 | Mentorship and Techniques | 6 | 12 |
| 2 | History | 5 | 10 |
| 3 | Geography | 5 | 10 |
| 4 | Polity | 5 | 10 |
| 5 | Indian Economy | 7 | 14 |
| 6 | Environment | 3 | 6 |
| 7 | Science and Technology | 3 | 6 |
| 8 | Current Affairs | 8 | 16 |
| 9 | CSAT | 8 | 16 |
| NA | Total | 50 | 100 |
Class Start and End Dates:
Start Date: February 21, 2022
End Date: April 29, 2022
Free Revision Classes: May 2022 (last month before Prelims 2022)
Course Fees:
Prelims Marks Booster (PMP) – Rs.9999 (Validity of the course will be until Prelims 2022)
This program includes all subjects in the UPSC CSE Prelims syllabus like History, Geography, Indian Polity, Indian Economy, Environment, Science and Technology, Current Affairs, and CSAT.
Prelims Marks Booster vs Prelims Test Series
Prelims Marks Booster consists of classes while Prelims Test Series consists of mock exams. Both are different packages. You can join both programs online.
If you need access to ClearIAS Prelims Online Mock Test Series and UPSC CSE Previous Year Re-Take Exams, you can buy these packages separately. Check – ClearIAS Programs.
How to get admission to this 100-hour online program?
You can take admissions by paying the fees online using the 'Buy Now' button given at the top of the page.
You will get instant access to already uploaded classes. You will also get automatic access to upcoming classes.
Early Bird Discount to the first 100 aspirants!
The first 100 aspirants will get an extra 10 per cent discount (Rs.1000 OFF). Use discount code UNLOCK10 on the payment page to avail of this offer!
A 20 per cent discount is offered for ClearIAS Prelims Test Series Subscribers 2022. We have emailed you the code. If you haven't got it yet, email us at [email protected] to collect your discount code.
For any queries regarding admissions, ping us on Whatsapp – 9656061000. Our mentors will guide you!