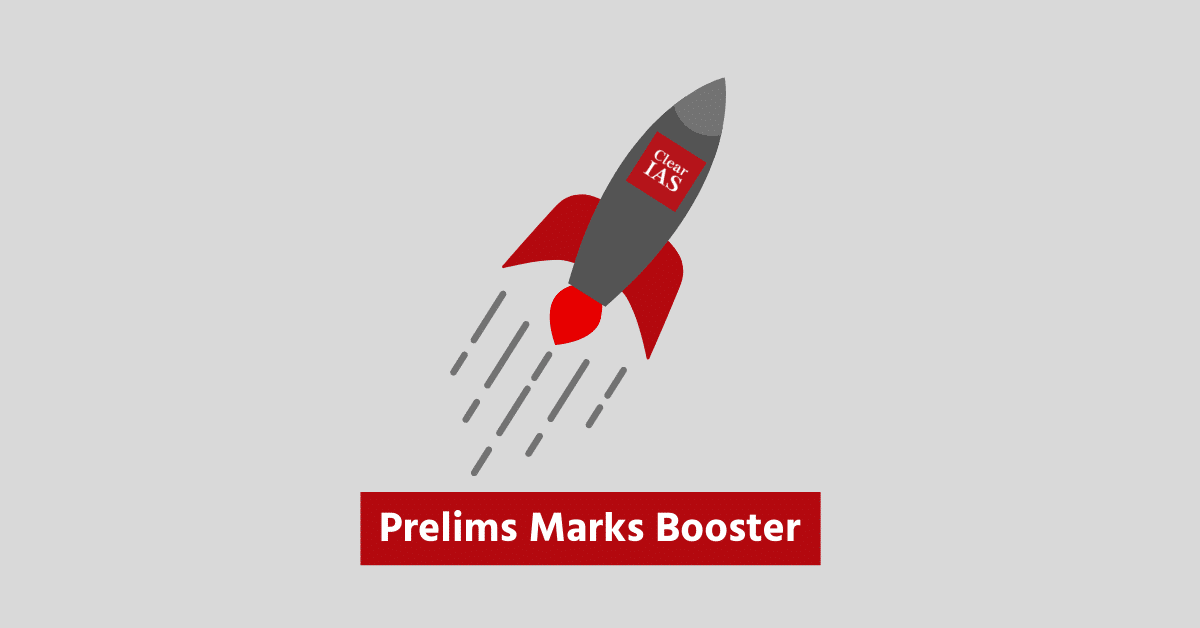 "Is UPSC CSE Prelims your nightmare? Did you find it difficult to cross the UPSC cut-off score? If yes, ClearIAS Prelims Marks Booster Program is the best online course you have been looking for."
ClearIAS has launched Prelims Marks Booster (PMB) Program for aspirants appearing in UPSC Civil Services Preliminary Examination 2021.
PMB program is an online course that covers the high-priority question areas in UPSC CSE Prelims in just 30 days – 2 hours per day. Click here to join.
This is a unique program that combines the benefits of revision, concept cementing, and techniques to score high in UPSC CSE Prelims.
Why you must attend ClearIAS Prelims Marks Booster (PMB) Program?
All you need to clear the UPSC CSE Prelims is 100-110 marks out of 200. That's what the previous year trends suggest.
However, many candidates despite the hard work score only around 80-85.
If you fall in this category or if you find it difficult to score consistently above 110, this course is for you.
A score of 85 becomes 110 if you just get 10 additional correct answers. 10 additional correct answers mean 26.66 marks.
Based on our experience in UPSC Test Prep and analysis of the previous year UPSC questions, we have devised a strategy to help you mark more answers correctly.
Our methods include focus on (1) Repeated Question Areas (2) Probable New Question Areas (3) Intelligent Elimination Techniques. Don't you think that this will help you score extra 10 questions correct?
If you are smart enough, we don't need to explain more. You may have already joined 🙂
What is ClearIAS Prelims Marks Booster (PMB) Program for UPSC CSE 2021?
An online program under the direct guidance of the expert Civil Service Trainer, Mr Alex Andrews George, who cleared UPSC CSE Prelims 5-times in a row.
A Gap-bridging course to help you boost UPSC CSE Prelims marks in a short time (30 days – just 2 hours per day!).
This is a unique course designed by ClearIAS – which uses a Question-Answer Approach (QAA) to help aspirants learn faster.
Areas of focus: Revision, Concept Clarity, High Yielding Areas, Previous Year Questions Analysis, Probable Questions, ClearIAS Intelligent Elimination Techniques (IETs).
Equal importance is given to Knowledge and Exam-Skills (Techniques, Strategies, and Processes).
We guarantee you that if you follow our methods and processes correctly, it will surely help you answer more questions correctly.
Prelims Marks Booster (PMB) Program is a must-do value-addition course that will supplement your self-preparation and boost your self-confidence.
Unique features of the ClearIAS Prelims Marks Booster Program (UPSC CSE 2021)
30-days online class
Total 60 Hours (daily 2 hours each)
Live Classes (Mon – Fri) – 6 PM – 8 PM
Access to Recorded Classes
Each video lecture can be watched unlimited times from a laptop or mobile
Access to missed classes
Validity until Prelims 2021 (October 10, 2021)
Medium of Instruction: English
Class Start and End Dates:
Start Date: August 16, 2021
End Date: September 24, 2021
Course Fees:
Prelims Marks Booster (PMP) – Rs.9999 Rs.4999 (Limited Period offer)
Note: If you also need access to ClearIAS Prelims Online Mock Test Series and UPSC CSE Previous Year Re-Take Exams, join – Prelims Marks Booster Plus Program.
How to get admission to this online program?
You can take admissions by paying the fees online using the 'Buy Now' button given at the top of the page.
You will get instant access to already uploaded classes. You will also get automatic access to upcoming classes.
Aspirants joining before August 10 will get an extra 10 per cent discount. Use discount code PMB10GX on the payment page.
Aspirants joining between August 10 and August 15 will get only a 5 per cent extra discount. No extra discount is offered for aspirants joining after August 15th.
A 20 per cent discount is offered for ClearIAS Prelims Test Series Subscribers. Email us at [email protected] to collect your discount code.
For any queries regarding admissions, ping us on Whatsapp – 9656061000. Our mentors will guide you!