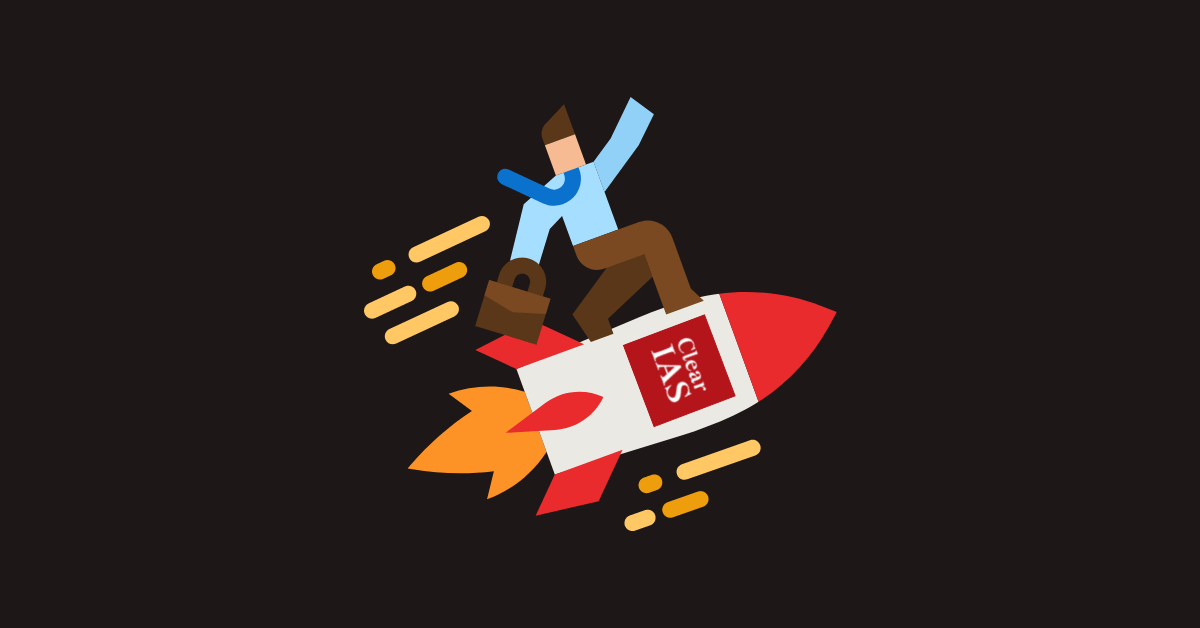 ClearIAS Prelims Marks Booster (PMB) is a 50-Days Online Course (100-hours) that helps to make a big jump in your UPSC CSE Prelims Marks. Video lectures can be attended as LIVE Classes, Recorded Classes or both. Learn more.
"Is UPSC CSE Prelims your nightmare? Do you find it difficult to cross the UPSC cut-off score? If yes, can you spare 2-hours daily for the next 50-days with ClearIAS (total 100 hours)?
Experience the magic of the ClearIAS Prelims Marks Booster (PMB) Program along with hundreds of other aspirants across India. Make a big jump in your UPSC CSE Prelims Marks in just 50-days (100 hours)!
This program will be under the direct guidance of the expert Civil Service Trainer and popular author, Mr Alex Andrews George, who cleared UPSC CSE Prelims 5-times in a row and attended multiple UPSC Mains and Interviews.
Along with Mr Alex Andrews George, 9 other expert faculties are part of the ClearIAS Team behind the PMB Program. Our entire focus is to boost your Prelims Marks by bridging the gaps in your preparation!
ClearIAS Prelims Marks Booster (PMB): A special program with an intention of maximum results in minimum time
Before you enroll in this course, we want to make one thing clear: PMB is a special 50-days online course. It is not a detailed 1-year course that will cover every minute detail of the UPSC CSE Prelims syllabus.
We have a clear idea regarding what we can deliver in 50-days or 100-hours. The goal of this special program is to focus on the high-priority areas which will bring maximum results in a short time like ClearIAS IETs.
The focus of ClearIAS PMB is to bridge the gaps in your preparation. The focus of ClearIAS PMB is to boost your marks by concentrating on both knowledge and exam skills. This program uses an MCQ approach and will also serve as a revision.
The ClearIAS PMB Program will be useful to both beginners and veterans who wish to make a jump in their Prelims Marks. It will be particularly useful for repeaters who are unable to clear UPSC cut-off score in previous attempts.
If you are looking for a detailed course that cover the UPSC syllabus in-depth right from the beginning, join the 1-year ClearIAS Prelims cum Mains (PCM) program that has more than 600-hours of video lectures.
Prelims Marks Booster Program: Subject-wise Allocation (The Plan of the Fast-Track Course)
1) Success Techniques – 6 Classes (12 Hours)
2) History – 5 Classes (10 Hours)
3) Geography – 5 Classes (10 Hours)
4) Indian Polity – 5 Classes (10 Hours)
5) Indian Economy – 7 Classes (14 Hours)
6) Environment – 3 Classes (6 Hours)
7) Science & Tech – 3 Classes (6 Hours)
8) Current Affairs – 8 Classes (16 Hours)
9) CSAT – 8 Classes (16 Hours)
Total: 50 Classes (100 Hours)
Fees: Rs.15000Rs.9999
Download the ClearIAS PMB Brochure to know more.
Clear IAS by the smart study: Learn online from the comfort of your home!
Premium Training @ Affordable Fee: Get expert UPSC coaching and better features at less than half of the fees charged by many traditional coaching institutes.
Learn anytime. Learn anywhere: Classes can be accessed online from the ClearIAS website and mobile app.
Instant Access: Once you join, you will get instant access to past classes as recorded videos and automatic access to upcoming classes as live videos.
Why you must attend ClearIAS Prelims Marks Booster (PMB) Program?
All you need to clear the UPSC CSE Prelims is 100-110 marks out of 200. That's what the previous year's trends suggest.
However, many candidates despite their hard work score fail to score above the UPSC cut-off marks. This is because of a lack of proper training and guidance.
If you fall in this category or if you find it difficult to score consistently above 110, this course is for you.
A score of 85 becomes 110 if you just get 10 additional correct answers. 10 additional correct answers mean 26.66 marks!
A score of 70 becomes 110 if you just get 15 additional correct answers. 15 additional correct answers mean 40 marks!
Actually, 40-50 Extra-Marks is quite possible if you get the right guidance.
Nothing will boost your UPSC Prelims score like PMB!
Watch one of the PMB classes conducted last year OR talk to our previous year students.
They will testify this: Nothing will create a jump in your prelims marks like the PMB program.
The magic PMB creates is based on the experience and expertise of our faculties in the UPSC Test Prep.
What will you get once you join ClearIAS Prelims Marks Booster Program (50-Day Online Course)?
Daily Live Classes for 50 days: Learn fast and focused by attending live classes conducted from Monday – Friday on the ClearIAS website or app (usually 6 PM-8 PM).
Recorded Classes in your account: If you miss any live class there is nothing to worry about. You can watch the recorded class unlimited times from the ClearIAS website or app. Validity is mentioned on the course website.
Can you mention the details of the ClearIAS PMB?
50-Day Program: Monday – Friday Live Classes for 2 hours in the evening. If you miss any classes, you will get recorded classes.
100-Hours of Prelims Exclusive Class: With a special focus to boost your marks.
2-way Interactive Live Classes: With individual attention.
Master 40 Intelligent Techniques (IETs): Learn and practise around 40 Intelligent Elimination Techniques.
Free Revision Classes: In May (last month before Prelims).
All subjects in Prelims included: History, Geography, Polity, Economy, Environment, Science and Tech, Current Affairs, and CSAT.
What is special about the ClearIAS PMB?
Expert Trainers and Teachers: Apart from our chief mentor Alex Andrews George, you will get online training from more than 10 expert faculties with a passion for teaching.
A new method of learning: 2-way interactive online classes with individual attention. ClearIAS is reputed for its smart-work approach which heavily focuses on Return on Investment (RoI).
Question-Answer Approach (QAA): This is a unique course designed by ClearIAS – which uses a Question-Answer Approach (QAA) to help aspirants learn faster.
Knowledge + Exam Skills: Equal importance is given to Knowledge and Exam-Skills (Techniques, Strategies, and Processes).
Multiple Areas of focus: Revision, Concept Clarity, High Yielding Areas, Previous Year Questions Analysis, Probable Questions, ClearIAS Intelligent Elimination Techniques (IETs).
Bridge gaps in your preparation: A Gap-bridging course to help you boost UPSC CSE Prelims marks in a short time (100 hours or 50 days – just 2 hours per day!).
Score more marks: We guarantee you that if you follow our methods and processes correctly, it will surely help you answer more questions correctly.
Value for money: Just ₹9999 (100-Hours of classes you won't get from anywhere else + Extra Benefits.
Admissions Open. Enroll Now.
You can take admission by paying the fees online using the 'Buy Now' button given on the course page. Call 9656061000 for any queries.
Are you aware of all ClearIAS Prelims Programs?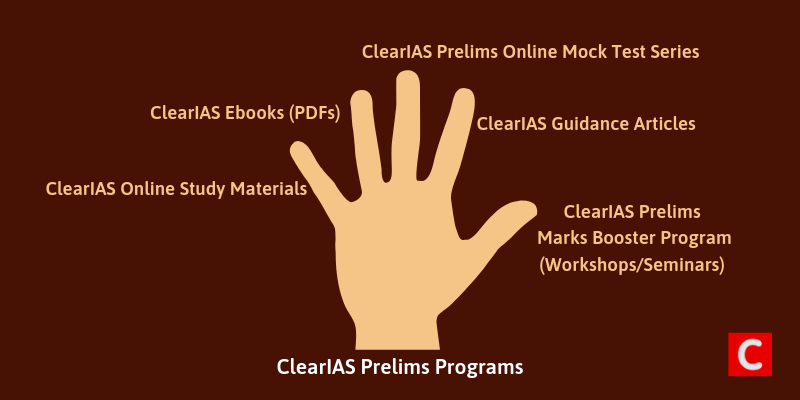 ClearIAS provides every resource for an aspirant to clear UPSC Civil Services Preliminary Exam by self-study and online preparation. We focus on a test-based approach, which helps candidates to learn the most important topics – faster!
Get the most out of the ClearIAS programs for prelims (listed below).