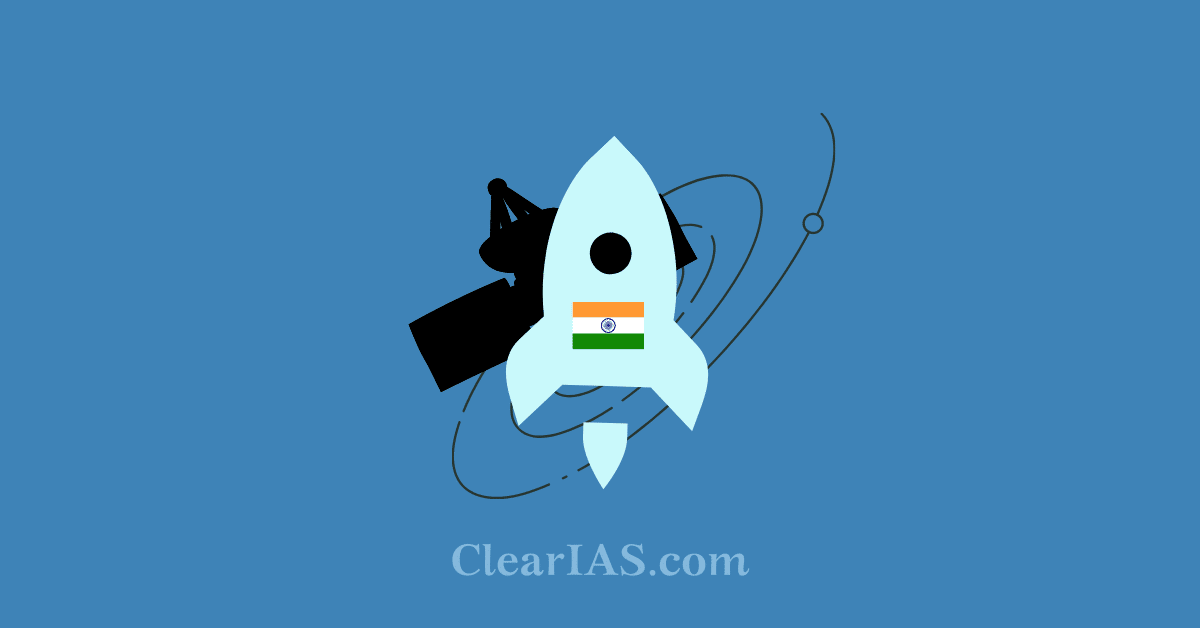 The privatisation of the Indian space sector has opened up newer opportunities. Read here to know more about the opening up of the Indian space program.
The Indian Space program is characterized by a vision to use space technology for national development.
The primary objective of the space program is to establish operational space services in a self-reliant manner in the thrust areas of satellite communication, satellite-based resource survey/management, satellite navigation, satellite meteorological applications, and other emerging areas and to carry out sustained research and development in these areas.
Indian Space Research Organisation (ISRO)
Department of Space (DOS) is responsible for the administration of the Indian Space Programme. Indian Space Research Organisation (ISRO) is a premier research and development organization under the Department of Space.
ISRO is responsible for-
Research and development as well as execution of projects related to space science, technology, and applications.
Research and development in cutting-edge technologies.
To address the vast areas of the mandate, depending on specialized technical areas of activity, different Centres and Units have been created by ISRO, with high technology infrastructure.
To enable enhanced participation of Indian Industries in taking up high-tech space-related activities, the Government of India has incorporated NewSpace India Limited (NSIL), a wholly-owned Central Public Sector Enterprise (CPSE), under the administrative control of the Department of Space.
Privatisation of Indian Space Sector
In June 2020 the government announced a new organization, IN-SPACe, part of reforms to increase private participation in the space sector. A look at its objectives, and what it means to the future of space exploration.
To enhance the diffusion of space technology and boost the space economy within the country, the Department of Space (DOS) is encouraging the participation of private companies in space activities.
ISRO shall complement DOS in its objective of opening up the space sector to private industries. In this regard, the following reforms are proposed in the mode of execution of space activities in the country:
To enhance utilization and maximize benefits from the space assets, it is proposed to change the approach from the "Supply Based Model" to the "Demand-Based Model". NewSpace India Limited (NSIL) will act as the aggregator of user requirements and obtain commitments.
NSIL to take ownership from DOS for operational launch vehicles, commercialize launches, satellites, and services.
Permit non-government private entities (NGPE)'s to carry out space activities through an Indian National Space Promotion and Authorisation center (IN-SPACe).
ISRO to carry out capacity building in the Space domain through the development of new technologies and capabilities and enable sharing of facilities by NSIL and NGPEs.
Announcement of Opportunities for NGPEs offering challenges in new domains of technology.
Why private participation in the space sector?
Indian space has had the participation of private sectors on small scale for a long time. A large part of the manufacturing and fabrication of rockets and satellites happens in the private sector. There is increasing participation of research institutions as well.
But the Indian industry had a bare 3% share in a rapidly growing global space economy which is already worth at least $360 billion. Only 2% of this market is for rocket and satellite launch services, which require fairly large infrastructure and heavy investment. The remaining 95% related to satellite-based services, and ground-based systems.
Indian industry is unable to compete because till now its role has been mainly that of suppliers of components and sub-systems.
Indian industries do not have the resources or the technology to undertake independent space projects of the kind that US companies such as SpaceX have been doing or provide space-based services.
The demand for space-based applications and services is growing even within India, and ISRO is unable to cater to this.
The need for satellite data, imageries, and space technology now cut across sectors, from weather to agriculture to transport to urban development and more.
There is a need for greater dispersion of space technologies, better utilization of space resources, and increased requirement of space-based services.
Several Indian companies are waiting to make use of these opportunities and a few companies are in the process of developing their launch vehicles, the rockets like ISRO's PSLV that carry the satellites and other payloads into space.
Hence, the need for the expanding space sector and readiness of private sector players have given the idea encouragement. ISRO is also ready to provide all its facilities to private players whose projects had been approved by IN-SPACe. Private companies could even build their launchpad within the Sriharikota launch station, and ISRO would provide the necessary land for that.
IN-SPACe: Interface between ISRO and Private Parties
IN-SPACe is supposed to be a facilitator, and also a regulator. It will act as an interface between ISRO and private parties and assess how best to utilize India's space resources and increase space-based activities.
IN-SPACe is the second space organization created by the government in the last two years.
In the 2019 Budget, the government had announced the setting up of a New Space India Limited (NSIL), a public sector company that would serve as a marketing arm of ISRO.
Its main purpose is to market the technologies developed by ISRO and bring more clients that need space-based services.
Antrix Corporation, another PSU working under the Department of Space, will be handling ISRO's commercial deals for satellites and launch vehicles with foreign customers.
IN-SPACE is a significant step in the space sector development in India-
IN-SPACe will provide a level playing field for private companies to use Indian space infrastructure.
These reforms will allow ISRO to focus more on new technologies, exploration missions, and human spaceflight programs.
Allowing industries and others like students, researchers, or academic bodies greater access to space assets would lead to much better utilization of Indian space resources.
IN-SPACe will attempt to enhance the activities, including access to space assets data and activities
It will propel the Indian Industry as an important player in the global space economy.
There is also an opportunity for large-scale employment in the technology sector and India becoming a powerhouse.
Digantara: India's first in-orbit space debris monitoring
Digantara Research and Technology, a space tech startup was selected for the SID (Society for Innovation and Development) incubation program at IISc, Bengaluru.
Digantara is India's first air and space surveillance company.
It developed India's first in-orbit space debris monitoring and tracking system based on LIDAR (light detection and ranging) technology.
It will provide global real-time earth coverage by deploying a constellation of cost-efficient nanosatellites in LEO (Low Earth orbit) and a space-based air surveillance payload for accurate tracking of both aircraft and space objects.
Digantara will help international space agencies track and map space debris and minimize the threat to future space exploration.
Advantages of privatisation of Indian space sector
The private participation will help give the Indian space sector the boost and pace it needs to match up to other mature space agencies like NASA.
Commercial and strategic advantages are two of the major reasons.
The private industry will spare time for ISRO to concentrate on science, research and development, interplanetary exploration, and strategic launches.
Private players can take up routine and commercial activities, launching weather and communication satellites, etc, hence helping ISRO give more time to space research.
The economic benefits are immense in the future which can be shared by the private sector and ISRO, and ISRO can only gain by making its facilities and data available to private players.
There are several ambitious space missions lined up in the coming years, including a mission to observe the Sun, a mission to the Moon, a human spaceflight, and then, possibly, a human landing on the Moon. And to achieve all this ISRO needs the help and back up by opening up to the private sector.
Challenges for privatisation of  Indian space sector
The extensive brain drain from India is significant in the space and aerospace sector, mainly because India is still a marginal force on the global space platform.
The policy bottlenecks make it difficult for private space companies and entrepreneurs to acquire investors, making it almost impossible to operate in India.
The absence of a framework to give openness and clarity in rules is one of the reasons for the lack of independent private participation in space.
Another critical aspect is the absence of space law, insurance, and indemnity clarity, and that which organization assumes obligation in the event of a mistake.
Many private businesses are already active in equipment and frame fabrication, using either outsourced specs or leased licenses.
Way forward
The space sector can play a catalytic role in the technological advancement and expansion of the Indian industrial base. India is among a few countries with advanced capabilities in the space sector hence with the reforms, the sector will receive new energy and dynamism, to help the country leapfrog to the next stages of space activities. And there need more steps to make the Indian space sector an inclusive and successful venture:
Clearer laws and investor confidence need to be ensured and defined.
Align the sectors and subsectors, value chains, etc with the Outer Space Treaty.
Dividing activities further into upstream and downstream space blocks, hence streamlining the process for new private players.
Providing a good foundation to products and services developed by the non-governmental and private sectors within the value chain.
For creating value, Indian space private companies need to generate their intellectual property for an independent product or service.
The Make in India initiative is relevant and of utmost value in the space sector as well. The space sector needs more participation to boost the country's space programs to newer heights at a faster pace.