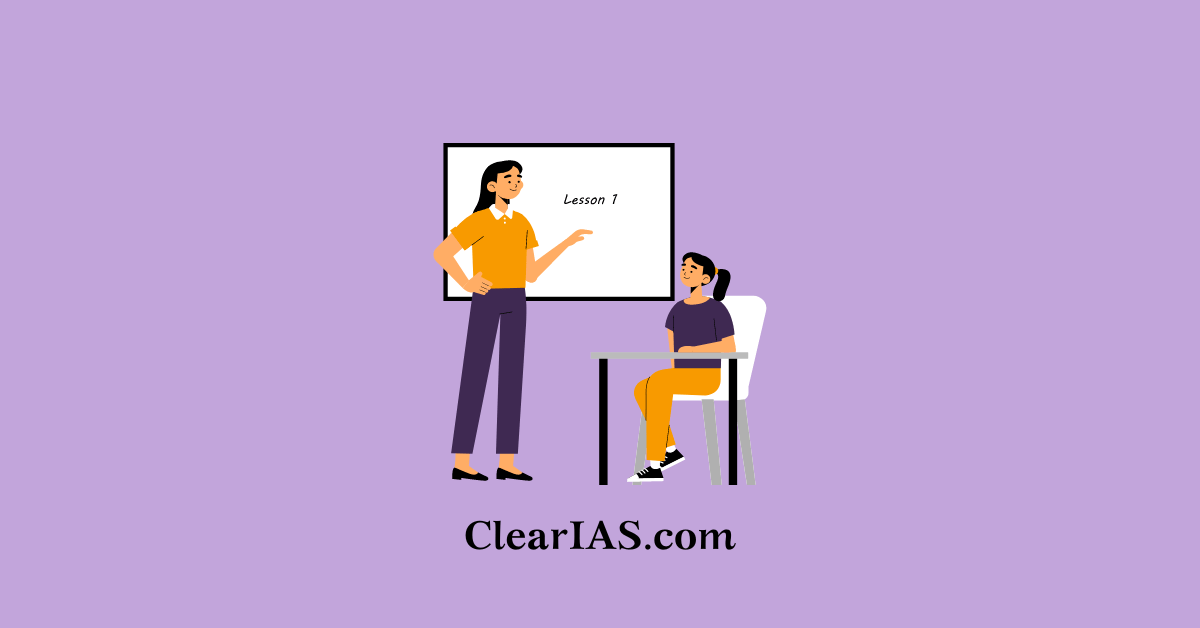 It is important to understand the importance of self-study and the role of coaching institutes in UPSC CSE (Civil Services Exam) preparation. 
Every year, lakhs of aspirants attempt UPSC Civil Services Exam.
It opens the gateway to various prestigious government positions, such as the Indian Administrative Service (IAS), Indian Police Service (IPS), Indian Foreign Service (IFS), and many more.
Though self-study is important during the preparation for this exam, many candidates seek guidance from coaching institutes to enhance their chances of selection.
Still, one question arises in the mind how to begin or shape the preparation for UPSC CSE, is self-study sufficient, or it's important to enroll in any coaching institute to shape the preparation?
Role of Coaching Institutes in UPSC CSE Preparation
There are several advantages of joining the coaching institutes during the UPSC CSE preparation. The important ones are:
Structured Study Material and Guidance
One of the prominent advantages of enrolling in a coaching institute is access to well-structured study material and expert guidance.
These institutes provide dedicated study materials, which can be beneficial, especially for beginners. The study material covers all subjects and topics along with a simplified UPSC syllabus.
The experienced faculty in any coaching institute act as mentors, guiding candidates throughout their preparation journey.
They address doubts, provide feedback, and suggest study strategies based on individual strengths and weaknesses. This mentorship is invaluable as it keeps candidates on track and motivated to perform their best.
Understanding the Exam Pattern and Question Pattern
UPSC coaching institutes keep updated themselves with the changing UPSC paper pattern. They can guide aspirants on the latest trends, question patterns, and topics that carry more weight in the examination.
Understanding the exam pattern is always helpful in revising preparation strategies accordingly.
Expert Faculty and Mentors
It is important to have a reliable and experienced person to guide aspirants during the preparation to save them from making mistakes that others make commonly.
In that case, coaching institutes have experienced faculty and mentors who have a thorough understanding of the UPSC examination.
These mentors are often former civil servants or subject matter experts. Their insights and tips are invaluable in tackling the exam effectively.
Mentorship and Doubt Clearing Sessions
Another benefit of joining a coaching institute is that the mentor and the learner know each other face-to-face.
This helps them provide dedicated attention to each aspirant. They also conduct doubt-clearing sessions, where candidates can get their doubts addressed by subject experts.
Regular Mock Tests and Practice
It is important to give mock tests from time to time as it is an integral part of UPSC preparation, as it provides a real exam environment.
Coaching institutes are also known for conducting regular mock tests, allowing aspirants to assess their performance, identify strengths and weaknesses, and improve time management skills.
Time Management and Study Plan
UPSC  CSE preparation is sometimes a long and tiring journey. It takes months and sometimes years to clear this exam.
To avoid this, aspirants are advised to focus on time management as it plays a significant role during UPSC preparation.
Coaching institutes help aspirants to create well-structured study plans and set realistic goals.
These study plans, made under the guidance of an experienced mentor will help in covering the entire syllabus efficiently, reducing the chances of wasting time on irrelevant kinds of stuff and missing out on important topics.
Collaborative Learning and Motivation
In a coaching institute, all the people are like-minded. Being surrounded by like-minded aspirants in an institute improves collaborative learning and healthy competition.
Interacting with peers who share similar goals can motivate and keep candidates on track during their preparation journey.
Building Confidence and Motivation
UPSC preparation is a long and challenging journey that sometimes can be mentally draining. Coaching institutes play a crucial role in building candidates' confidence and motivation.
Regular tests, positive reinforcement, and continuous support through mentorship keep aspirants focused on their goals, even during difficult times.
Interview and Personality Development
Apart from written exams, the UPSC process also includes an interview (Personality Test) stage.
Coaching institutes conduct mock interviews and personality development sessions to enhance candidates' confidence and presentation skills.
Is It Necessary to Join Coaching for UPSC Preparation?
The majority of the successful candidates (maybe 90% of toppers) seem to have taken coaching to crack UPSC Civil Services Examination.
The coaching may be online or offline.
In most instances, it is seen that coaching helps in improving the performance of candidates. It usually saves valuable time and effort for candidates.
While coaching institutes can provide valuable support, joining them is not mandatory for UPSC preparation. There are a minority of aspirants who have cracked UPSC CSE through self-study.
However, coaching institutes offer structured guidance, expert mentoring, and a competitive environment that can be advantageous to the aspirants.
Can Coaching Replace Self Study?
Self-study is very important while preparing for the UPSC IAS exam. As per the past results announced by UPSC, many candidates have scored in this exam only by self-study, but they also needed guidance at one point or another.
While coaching institutes can be helpful and supportive, they can't replace self-study completely. It's important for aspirants to strike a good balance between coaching and self-study, knowing their strong and weak points, to improve their chances of success in the UPSC exam.
In the end, a dedicated approach that combines both coaching and self-study is the key to reaching their full potential and fulfilling their dream of becoming civil servants.
Conclusion
Coaching institutes play an important role in UPSC preparation. It provides structured guidance, expert faculty, undivided attention, and regular practice through mock tests. While joining coaching is a personal choice, it can be proved beneficial for many aspirants.
Above all, self-study, dedication, and perseverance remain the pillars of success in this examination. Candidates must find the right balance between coaching and self-study to unlock their full potential.
Article Written By Priti Raj