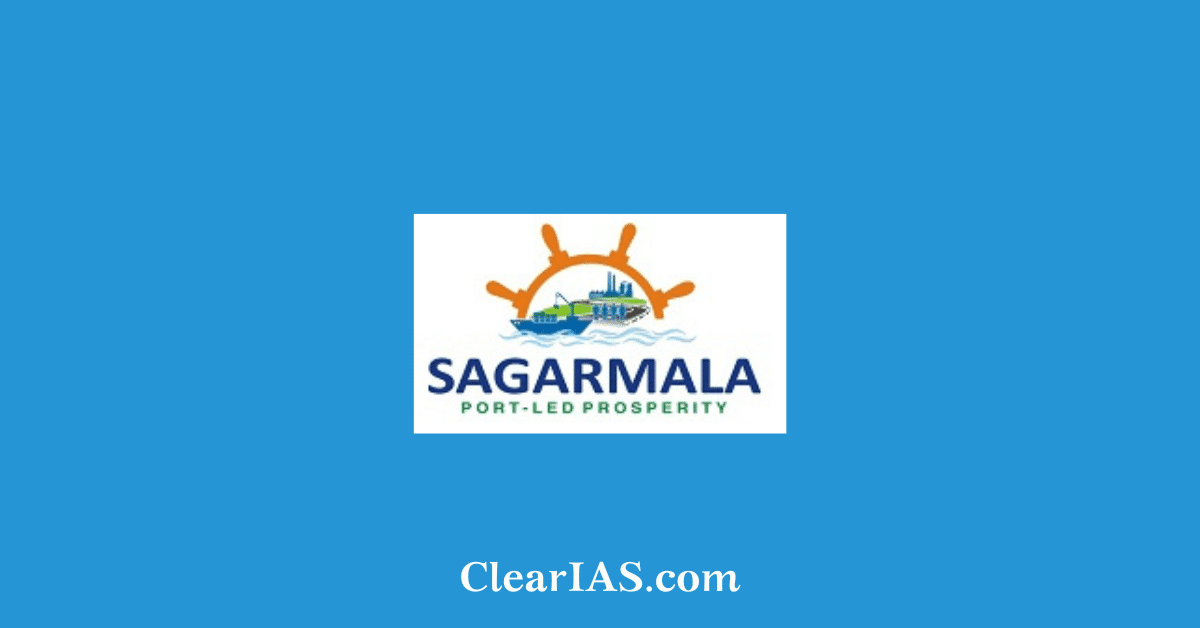 The Indian ports play a primary contributing role in this fast-growing economy, around 95% of merchandise trade passes through Indian seaports. However, as compared to foreign ports, Indian ports continue to trail behind in a number of areas. In order to address all the problems faced by Indian ports, the Sagarmala project has been launched. Read more about it.
The Hindi words "Sagar" and "mala," which both mean "garland," are combined to form the name "Sagarmala." It was initially released in 2003 but never gained traction. In 2014, it was reinstated.
It helps to improve and foster the businesses and eventually the economy of India.
It boosts the Indian economy and global supply chain and improves its reputation at the global level.
What is Sagarmala Program?
The Sagarmala Programme is an initiative by the Shipping Ministry to utilise India's 7,500 km of coastline and advantageous location in the Indian Ocean Region.
It is a port-led development initiative that aims to enhance infrastructural growth, which will improve logistical competitiveness, increase industrialisation and job creation, and ultimately support the growth of the coastal economy as a whole.
It strives to improve connection with major economic centres and beyond by expanding rail, inland water, coastal, and road services. It also promotes the optimal modal split and develops access to new growth zones.
What is the Vision of Sagarmala Project: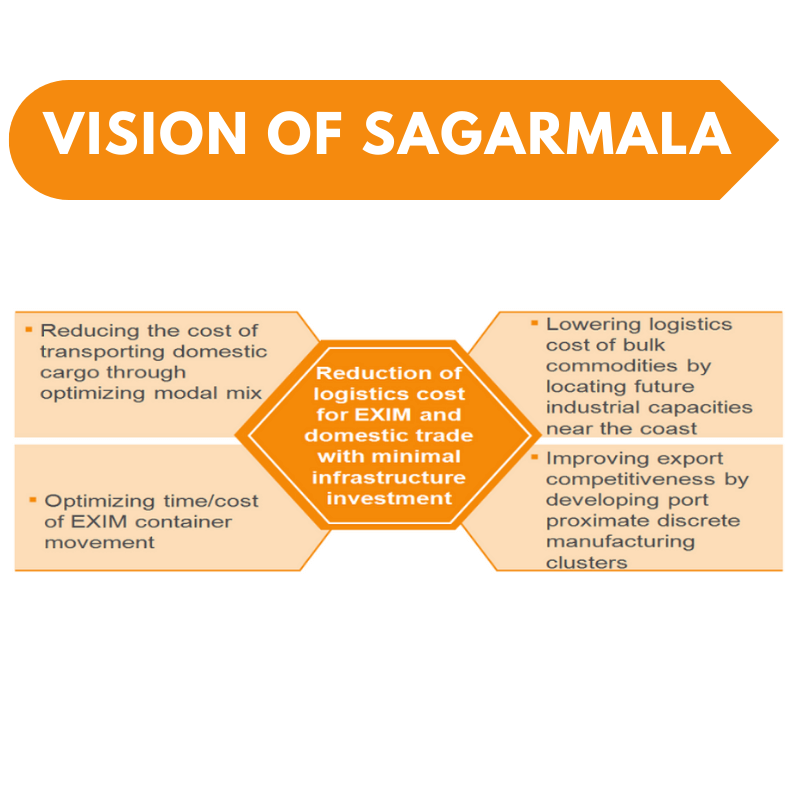 Reducing the cost of domestic freight by optimising the modal mix (a combination of several transport modalities).
Locating future industrial facilities close to the shore will lower the cost of logistics for moving bulk goods.
Creating distinct industrial enclaves close to ports to boost export industry competitiveness Additionally, this would support the "Make in India" effort.
Reducing the time and expense of shipping EXIM containers.
What are the pillars of the program?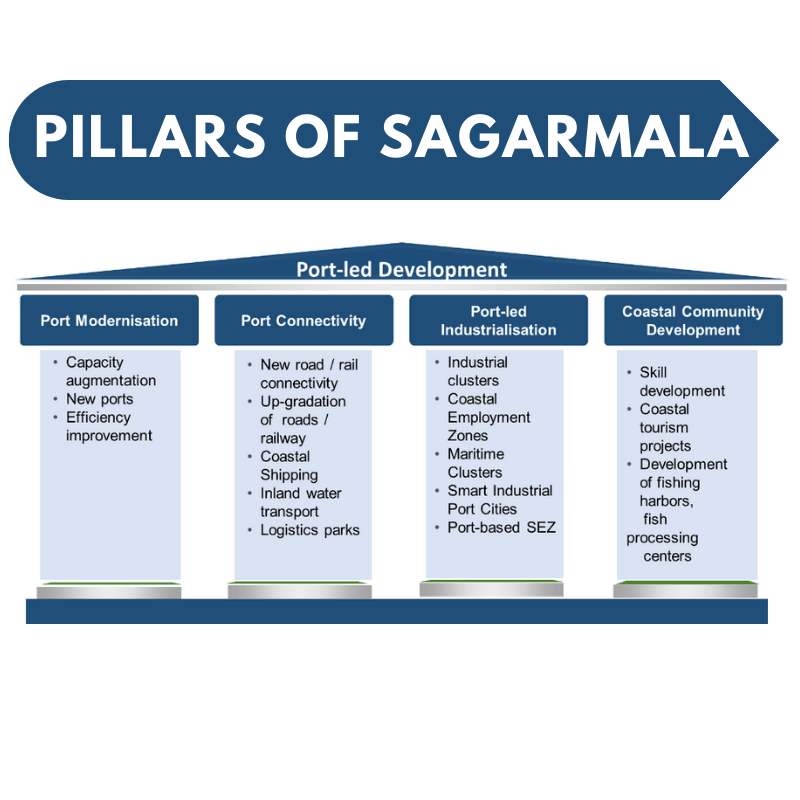 Port modernisation includes the creation of new ports as well as increasing the capacity and efficiency of existing ports.
Port connectivity includes the creation of logistics parks, the use of inland waterways and coastal shipping, as well as the development of new rail and road connections and the upgrading of existing ones.
Industrial clusters, coastal employment zones (CEZ), maritime clusters, smart industrial port cities, and port-based special economic zones are all examples of port-led industrialisation (SEZ).
Development of fishing ports and fish processing facilities, coastal tourist initiatives, and community skill building include coastal community development. An eco-friendly means of freight transportation is coastal shipping and inland canal transit.
Institutional Framework of the Program:
The programme was created with platforms for collaboration between federal, state, and municipal authorities and was intended to be executed along the lines of cooperative federalism.
The Public-Private Partnership (PPP) approach is primarily used to carry out projects.
The National Sagarmala Apex Committee:
It is chaired by the Union Minister of Shipping.
It also comprises Cabinet Ministers from other ministries with stakes in the program and the Chief Ministers or Ports' Ministers of the maritime states.
Sagarmala Coordination and Steering Committee:
It is chaired by the Cabinet Secretary.
It also comprises stakeholder ministries' Secretaries and the maritime states' Chief Secretaries.
State Sagarmala Committee:
These are chaired by the respective state's CM or the Minister of Ports.
Sagarmala Development Company:
Sagarmala Development Company (SDC), which was set up under the Companies Act, 2013, comes under the administrative control of the Ministry of Shipping.
It provides equity support to the project Special Purpose Vehicles (SPVs) and funding support for the residual projects under the Sagarmala Programme.
The SDC would identify port-led development projects and assist project SPVs in project development and structuring activities, bidding out projects for private sector participation, putting suitable risk management measures in place for strategic projects, cutting across multiple states/regions and obtaining requisite approvals and clearances.
Why is port-led development crucial for India?
India has a vast coastline of more than 7,500 kilometres and is situated along important global trade routes in the Indian Ocean.
However, capacity issues and a lack of modern facilities at Indian ports significantly extend the time it takes to carry products into and out of the nation, which has limited India's contribution to global commerce.
Creating inland canals out of rivers can also reduce domestic logistical expenses.
By 2025, Sagarmala may increase India's exports of goods to $110 billion and provide an estimated 10 million new jobs (four million in direct employment).
The Sagarmala Project will enable India to improve its game in terms of commerce, logistics, and port development.
The Sagarmala Project will assist in establishing a network of roads, trains, and waterways. It will ultimately drive down the cost of various goods since water transportation is 5%–6% less expensive than other means of transportation. Additionally, it will contribute to an increase in India's GDP.
The Sagarmala Pariyojna can provide more than a million people with assistance and full-time employment near ports and beaches.
The initiative will make it easier for those who live close to ports to make a good income. The funding will aid in the development of rural communities close to ports or beaches. Additionally, more accessible transport choices will boost tourism at these important locations.
Enhanced port connectivity and infrastructure will increase marine security. Furthermore, China's Maritime Silk Road makes it strategically important. China has enduring difficulties. India must thus have a hold and a link between ports that can permanently fix such problems.
Having inland waterways will help encourage domestic logistics cost reductions. Overall transportation expenses will go down as a result.
The turnaround time taken is about 4 days, which is about 2 days at the global level. Hence, the Sagarmala Project is a game-changer in the field of logistics as it cuts down the turnaround time and costs related to it.
Apart from the turnaround time, the last mile connectivity is also an issue, as it is necessary to ensure the easy movement of cargo, which will eventually lead to economic growth and increased productivity.
The participation of inland waterways cargo is reduced as it counts up to only 6%, which is much less than other countries like China, the USA, etc.
Other Coastal Developments by GOI under Sagarmala Project
In the 72 districts close to the shore, about 18% of Indians are said to reside. Furthermore, 12% of the population of mainland India resides in these districts.
The Sagar Mala Project, which the GOI (Government of India) is implementing, includes coastal improvements like fisheries, maritime tourism, and skill development for locals.
Additionally, a significant initiative undertaken to boost employment prospects and economic growth is the expansion of cruise tourism.
Fisheries Business
The Sagarmala Programme calls for the collection of money by the Central Ministries and State Governments for the provision of infrastructural facilities, social development projects, fisheries business, aquaculture, cold chain development, and other purposes related to their governing.
Tourism in Coastal Areas
Under Sagarmala Pariyojna, the Ministry of Tourism and the developmental tourism departments are promoting marine tourism. Such as Coastal circuit development under the Swadesh Darshan Scheme (Ministry of Tourism), the Promotion of cruise tourism, Creating several National Maritime Heritage Museums in the Complex locally and the Building of underwater galleries and restaurants at Beyt Dwarka.
Additionally, the Sagarmala Project just began conducting skill gap analyses in over 21 Indian coastal regions.
The Deen Dayal Upadhyaya Grameen Kaushalya Yojana, which is administered by the Ministry of Rural Development, has established goals that the skill development programmes are achieving.
Community Skill Development
The ministries adopt an integrated strategy as part of the Sagarmala Scheme to raise the standard of living for everyone who lives close to the shore.
People are given instruction and skill development so they can make a sufficient living.
Their efficiency would be increased by training so they may readily assist Sagarmala's development initiative.
What are the challenges?
An ICRA assessment claims that the programme is suffering from a lack of timely financial support and investment mobilisation.
Creating a business-friendly atmosphere and real incentives to draw in the private sector are additional challenges.
In certain places, there has been opposition from local fishing communities and environmentalists. Following concerns from the neighbourhood fisherman, the Karnataka High Court has halted construction on the Karwar Port.
The Sagarmala Program benefited from the centre's decision to weaken the Coastal Regulation Zone Notification at the end of 2018, however, it was extremely risky for the delicate coastal ecology.
This is because of the fact that Sagarmala and Bharatmala were designated as "strategic projects," hence free from the requirements of CRZ. This suggests that land from environmentally delicate CRZ-I zones can be recovered and highways developed there.
In addition, there have been cases when Sagarmala projects hastened coastal erosion and increased pollution from industrial clusters.
Port expansions need extensive seabed dredging, which damages long areas of productive fishing grounds and topples jetties.
Over time, fishing port access has been restricted, there is less room for storing small artisanal boats, and fishing harvests are unreliable. The effects of living adjacent to mineral handling facilities and groundwater exhaustion are already having a considerable negative influence on the fishing communities, who are also suffering as a result of this.
The project's coastal community development pillar has received less funding than desired.
The fishing community is also concerned that this ambitious scheme would result in displacement and have a negative impact on their industry.
Fishermen believe that the initiative has been created to displace them from their hamlets and privatise the sea.
The trade initiatives that serve as the foundation for the Sagarmala programme have been significantly impacted by the COVID-19 problem. Fresh blueprints are now required as a result of this (Maritime Vision 2030).
The Sagarmala Project, a tremendously expensive undertaking, links the ports of several Indian towns.
For all Indian ports to overcome operational issues, sufficient infrastructure is needed. Even while Indian ports' operational efficiency increased with time, there was still a long way to go before it was up to par with international norms.
The TAT (Turnaround Time) at primary ports for India is 2 and a half days. This exceeds by a gap of 24 hours compared to the global average time of only 1 to 1.5 days.
It takes longer for merchandise to reach its destination since ports along the Indian coastline are not properly linked. This causes extra delays due to traffic on the maritime routes, which slows down the overall operation. Additionally, even though roads and railroads are usually solid options for moving things, doing so raises the cost of logistics and the cost of the items themselves.
The price of industrial goods like coal, iron ores, cement, steel, etc. will decrease along with transportation costs if there is greater interconnecting for cargos transported over inland waterways.
Conclusion
The Sagar Mala Project's intensive and efficient port operations and coastal community development have the potential to dramatically increase India's GDP. It has already given residents of 72 districts along the coastal area growth, jobs, and essentials of life.
By 2035, it is anticipated that all Sagarmala Project objectives would have been accomplished. The government has been incredibly successful in reaching its goal thus far thanks to the Programme's quick daily progress, and we have great faith in its capabilities, strength, and power.
Although coastal development is important for economic growth, it shouldn't come at the expense of thousands of marginalised people's livelihoods and environmental deterioration. Therefore, the project must receive the required finance and adjustments to make it more accessible and environmentally sustainable.
Article written by: Aseem Muhammed