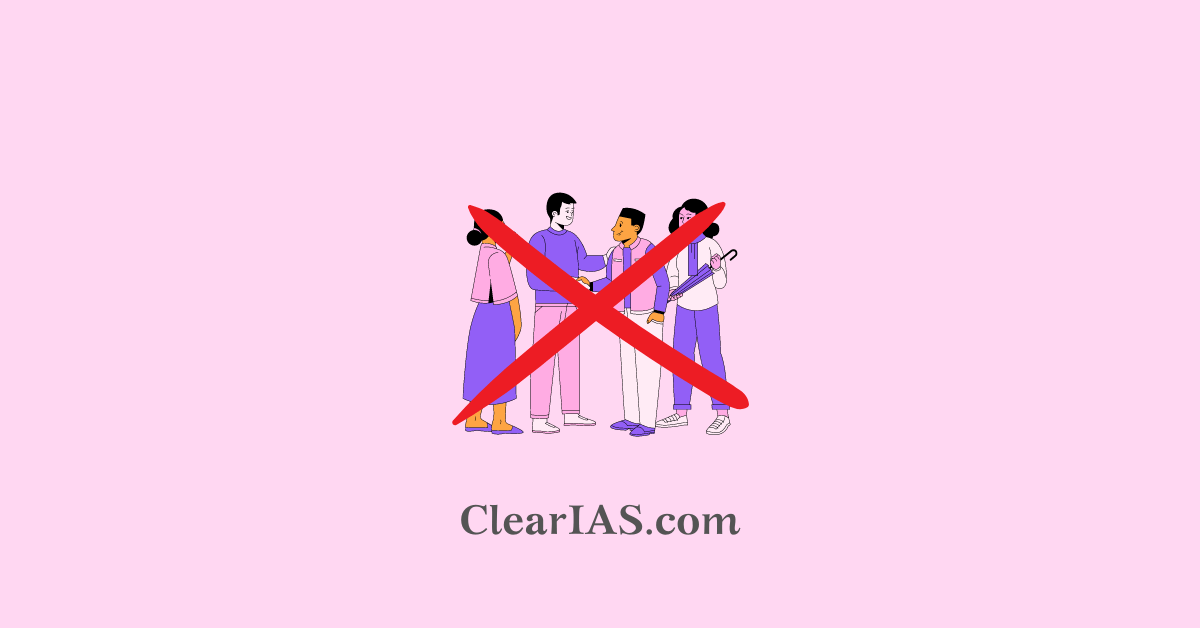 What does Section 144 of CrPC mean?  Know how Section 144 meaning and use evolved based on different Court rulings.
This colonial-era law empowers a district magistrate, a sub-divisional magistrate, or any other executive magistrate authorized by the state government, to issue orders to prevent cases of danger or nuisance in a region.
Section 144 has its origin in colonial legislation but it is re-enacted in 1973 CrPC as The Code of Criminal Procedure, 1973.
It provides the authority with the power to issue an order in circumstances of imminent danger or annoyance.
What is Section 144 of CrPC?
If a District Magistrate, Sub-District Magistrate, or any other Executive Magistrate specifically designated by the State Government in this regard determines that there is sufficient cause for proceeding under this section and that immediate prevention or speedy remedy is desirable, the Magistrate may, by written order stating the relevant facts of the case, order any person to refrain from engaging in a particular act.
Section 144 can be imposed if the magistrate believes that such a directive will likely avoid any injury to any person lawfully employed. Believes that such an event potentially can be a threat to human life, health, or safety and can be a disturbance of public peace and order.
What is the meaning of Section 144 of CrPC?
View this post on Instagram

Under Section 144 of CrPC, a magistrate of a state or UT can issue an order preventing a meeting of four or more people in a given area.
Important features of this Section
The order can be directed to an individual, to the place that people visit frequently, or to the person of a particular location/area.
Internet blackouts have also been observed in accordance with Section 144 orders. The Telecom Suspension Rules of 2017 permit these closures.
It imposes limitations on handling and moving weapons of any type within the specified jurisdiction. Three years in prison is the maximum penalty for such an offense.
Furthermore, all public gatherings and protests will be completely prohibited while this ban is in effect.
Obstructing law authorities from breaking up an illegal gathering is considered a punishable offence.
Duration of Section 144
No order made in accordance with this provision may be in effect for longer than two months (02 Months) after it is made.
The State Government may, by notification may extend the validity at its discretion for two additional months, up to a total of six months. So, its implementation cannot extend beyond 06 months.
Drawbacks of Section 144
The issue is that because Section 144 is written in such broad and ambiguous words and with so little effective control, it ultimately gives the executive very extensive discretion in deciding whether to prohibit gatherings. As a result, it serves as a sword rather than a shield to stop acts of violence committed in public protests and marches.
Recent News
Recently, the Rajasthan government announced the imposition of Section 144 of CrPC in the state after the horrifying murder of the tailor in Udaipur, Rajasthan.
Amid the Agnipath scheme protests, section 144 is imposed in Jaipur, Gurgaon, Ghaziabad, and other several places of the country.
Imposition of Section 144 in Cyberabad (area outskirts of Hyderabad) for 3 days to avoid any riot or affray in Bhartiya Janta Party's national meeting.
Court rulings: Important Judgments of Supreme Court
Babulal Parate vs. State of Maharashtra and Others: The first significant case before the Supreme Court was "Babulal Parate vs. State of Maharashtra and Others," which was filed in 1961. Where the court refused to strike down and stated that it is "not correct to say that the remedy of a person aggrieved by an order under the section was illusory".
Ram Manohar Lohia case 1967: the court rejected the challenge saying "no democracy can exist if 'public order' is freely allowed to be disturbed by a section of the citizens".
Madhu Limaye vs Sub-Divisional Magistrate 1970: As per Supreme Court, a magistrate's authority under Section 144 is not an ordinary power flowing from administration but a power employed in a judicial manner and which can withstand further judicial scrutiny.
Ramlila Maidan Case: The Supreme Court criticized the government for using Section 144 against the crowd in Ramlila Maidan.
Recent Court Ruling about Section 144 Meaning and Usage
The Supreme Court's panel, which included Justices R Subhash Reddy and B R Gavai, stated that enacting Section 144 will directly affect the public's fundamental rights. Therefore, it stated in its judgment on petitions challenging the closure of the internet and restrictions on people's movement in J&K, that this power "should be used responsibly, only as a tool to preserve peace and order." When there is a threat of danger, Section 144's remedial as well as preventative powers can be used, but the threat must be of an "emergency" nature and must be intended to avoid obstruction, irritation, or harm to any person who is legitimately employed, the court ruled.
But in reality, this criterion is hardly ever followed. The extensive application of Section 144 over the past few days is proof of this. For instance, without any evidence that there was a legitimate fear of violence, Section 144 got imposed on the cities, affecting millions of people. In fact, the police and government justified the Section 144 order by pointing to unrest in other parts of the nation and potential annoyances caused by protestors. But neither of those justifications is allowed by our Constitution.
Criticism of Section 144
It provides absolute power to the magistrate without justification.
Any remedy against the order lies with the magistrate himself in the form of revision of the application.
According to the provisions, If a person's fundamental rights are in jeopardy, they can file a writ petition to have the High Court involved. There are worries that the rights may have already been violated before the High Court steps in.
Imposing prohibitory order over a large area irrespective of the security situation of a particular area.
Article Written By: Priti Raj