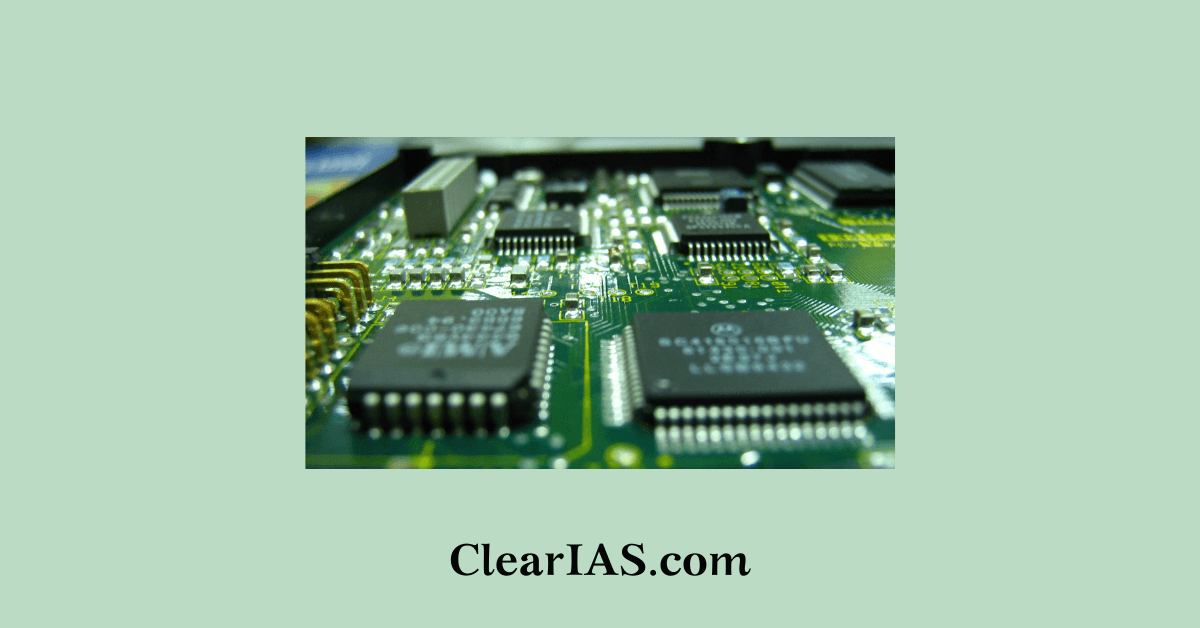 What are semiconductors? What are the uses of semiconductors? Who are the global producers? What is the recent crisis? Read further to know more.
From high-end automobiles to washing machines, every device possible on the market is powered by semiconductor chips or computers.
However, there has been a sudden and escalating shortage of semiconductors globally, and because of the quick proliferation of COVID-19 globally, experts have issued a warning about the ongoing shortage of semiconductor chips.
What are Semiconductors?
Semiconductors are substances that exhibit conductivity intermediate between that of conductors (often metals) and that of non-conductors or insulators (such as most ceramics).
In addition to pure components like silicon or germanium, semiconductors can also be mixtures like gallium arsenide or cadmium selenide. Conductivity is the measure of the ease at which an electric charge or heat can pass through a material.
It is an electrical circuit made up of several transistors and wire that has been fabricated on a semiconductor wafer.
Computers, smartphones, appliances, gaming hardware, and medical equipment all contain integrated circuits (ICs), which are electronic devices made up of many of these parts. These devices find widespread use in almost all industries, especially in the automobile industry.
Chips, or integrated circuits as they are more widely known, are maybe the smallest but most demanding product ever produced on a global scale.
Compared to 20 years ago, electronic parts and components now make up approximately 40% of the price of a new internal combustion engine vehicle. Semiconductor Chips account for the bulk of this increase.
Semiconductor chips are widely used for?
They are used to power a variety of gadgets, including game consoles, laptops, smartphones, and household appliances.
Despite their small size, they carry out a variety of tasks including data transport and power screens.
The fundamental components that act as the brain and heart of all contemporary electronics and information and communications technology goods are semiconductor chips.
The shortage of these chips affects sales of products like vehicles, refrigerators, computers, TVs, and other electronic devices because they are now a necessary component of modern autos, household appliances, and vital medical equipment.
Leading Producers of Semiconductor Chips
Taiwan Semiconductor Manufacturing Company (TSMC) in Taiwan and Samsung Electronics in South Korea are the industry leaders in semiconductor production.
American semiconductor manufacturer Intel recently announced plans to erect two new chip facilities in Chandler, Arizona.
Developing semiconductor chips requires accuracy. It takes longer than three months to produce and uses massive factories, dust-free spaces, expensive machinery, molten tin, and lasers.
Reasons behind the current global shortage
As a result of the pandemic, the car industry nearly went out of business in 2020. The demand for the medium-level chips used in the manufacturing of cars, as opposed to the tiny chips used in smartphones or laptops, increased as a result of inaccurate forecasts made by the automakers that underestimated the recovery in car sales late in 2020.
Covid-19 Pandemic – The effect of the pandemic was two-fold:

Manufacturing came to a standstill during the pandemic, which impacted the supply chains of products that needed one or more of these chips.
Lockdowns increased the growth in sales of laptops, tablets, and mobile phones to the highest in a decade, as everything from school to the office became online.

Disasters: Production plants in the US were affected by the cold and in japan by wildfire.
China-US Trade War: Chinese smartphone manufacturers started hoarding semiconductor chips and increasing their inventories to prepare for US penalties that would cut them off from their main suppliers.
An expensive and long process of manufacturing– Fabricating advanced logic chips requires extraordinary precision, along with huge long-term bets in a field subject to rapid change.
Impact of Semiconductor Shortage:
Due to the worldwide supply chain disruption, prices of commonplace electronics and appliances, such as TVs and smartphones, have skyrocketed, which has a direct impact on consumers.
The supply chain will be significantly disrupted by the lack of semiconductors, and the production of many different types of electronic equipment would be limited.
Numerous businesses have been impacted as a result of the ongoing global shortage of semiconductor chips.
The loss of 7.7 million vehicles from production is anticipated to cost carmakers USD 210 billion in sales this year.
Initiatives to resolve semiconductor shortage:
There are multiple initiatives are present at the global and national levels. Which are mentioned below.
Global Initiatives
By introducing packages to encourage increased chip manufacture, various nations are attempting to protect their interests.
In Arizona, TSMC, which has a 24% stake in the semiconductor industry's supply chain, is building a $12 billion complex.
Germany and Japan have persuaded TSMC to open fabs for specialized technology in their nations.
Indian Initiatives
The Design Linked Incentive (DLI) Scheme has been introduced to support at least 20 domestic semiconductor design companies and help them reach a revenue of more than Rs. 1500 crores during the next five years (2022-27).
The goal of the Chips to Startup (C2S) Program is to teach 85,000 highly competent engineers in the fields of Very-large-scale integration (VLSI) and Embedded System Design.
A $10 billion package of incentives to promote semiconductor production in India has been authorized.
The Production-Linked Incentive (PLI) program was established for the manufacturing of semiconductors and display boards.
Way Forward
Develop raw material supply capabilities: In addition to enhancing chances for the semiconductor equipment, replacement parts, and service industries, this will benefit the Indian gas, materials, and mining industries.
Fab manufacturing (semiconductor fabrication plant is commonly called "fab")- Locking down the market for domestically produced semiconductors is crucial for developing the ecosystem needed for fab manufacturing.
Fab clustering-To ensure that semiconductor supply chains and related businesses are in one place to create linkages.
Encourage manufacturers and start-ups in India to engage in and master complicated R&D.
Click here to read more such articles
Article Written by Remya