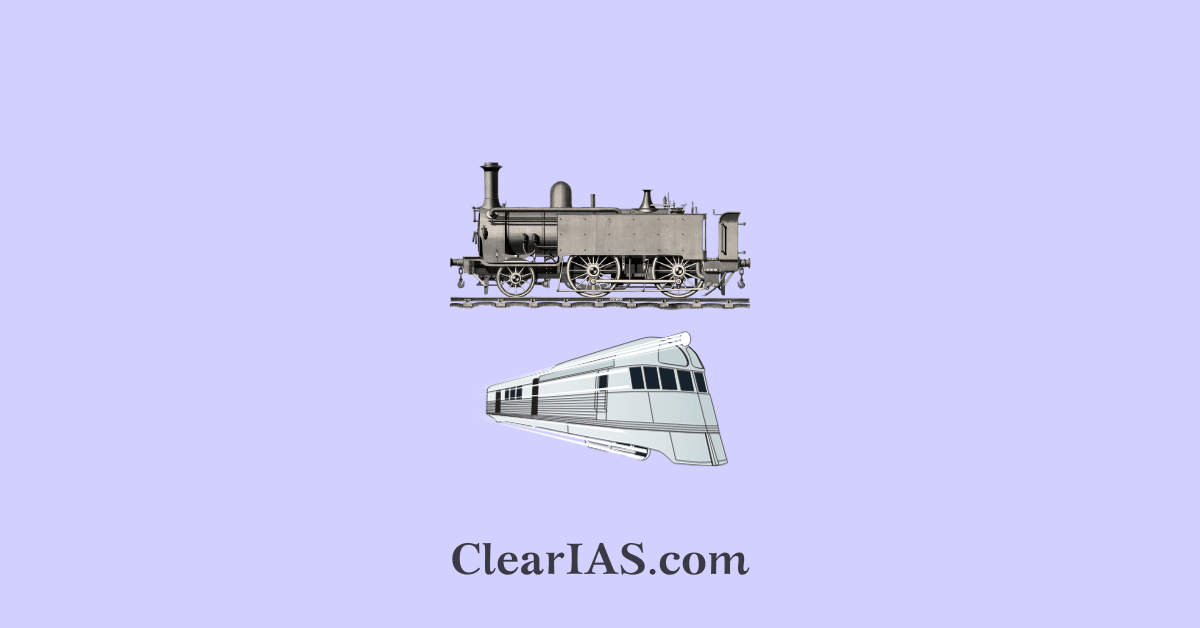 The socio-economic effects of railways were significant in the societies around the world. Railways played a crucial role in the Industrial Revolution by providing efficient transportation for raw materials, goods, and people. This accelerated the growth of industries and the overall economy. Read here to learn more about the global impact of railways.
Railways revolutionized leisure travel and tourism. They made it easier for people to take vacations and explore distant destinations.
The development of railways also influenced literature, art, and culture. Trains and railway journeys became iconic subjects in various forms of creative expression.
Railways have had a transformative impact on the global economy, society, and culture. They have played a central role in shaping the modern world and continue to be essential components of transportation networks in many countries.
History of Railways around the world
The history of railways worldwide is a fascinating journey that spans several centuries and has played a pivotal role in the development of transportation, industry, and commerce.
The concept of using tracks to facilitate transportation dates back to ancient civilizations like the Greeks and Romans, who used grooved stone or wooden tracks for moving heavy objects.
Wagonways: In the early modern period, various European mining regions developed wagonways or wooden rail systems to transport coal and minerals from mines to nearby waterways.
Steam Locomotives: The development of the steam engine by James Watt and others in the late 18th century paved the way for the first steam-powered locomotives. In 1804, Richard Trevithick built the first full-scale working steam locomotive.
George Stephenson, known as the "Father of Railways," designed and built the first successful steam-powered locomotive, the "Rocket," in 1829. This locomotive was used on the Liverpool and Manchester Railway, the world's first public railway line.
The success of early railways in Britain led to a period known as "Railway Mania" in the 1830s and 1840s, during which numerous railway companies were founded, and thousands of miles of track were laid across the country.
Spread Across Europe: The success of railways in Britain inspired other European countries to develop their rail networks. France, Belgium, and Germany were among the early adopters.
First American Railway: The Baltimore and Ohio Railroad, chartered in 1827, is often considered the first American common-carrier railroad.
Transcontinental Railroad: The completion of the First Transcontinental Railroad in the United States in 1869 marked a significant milestone. It connected the east and west coasts of the country and revolutionized cross-country travel and trade.
Railways in Asia: The construction of railways in Asia, including India, China, and Japan, played a crucial role in modernizing transportation and commerce in these regions.
Africa and Australia: Railways were also constructed in Africa and Australia to facilitate the transportation of goods and people across these vast continents.
In the 20th century, many railways transitioned from steam to electric and diesel locomotives, improving efficiency and reducing pollution.
High-Speed Rail: Several countries, including Japan, France, and Germany, developed high-speed rail systems that allow trains to travel at significantly faster speeds, making them competitive with air travel.
Modern Railways: The development of urban transit systems, such as subways and light rail, has revolutionized city transportation, reducing congestion and pollution.
Magnetic Levitation (Maglev): Some countries have invested in magnetic levitation trains, which use magnetic fields to lift and propel trains at very high speeds, virtually eliminating friction.
Also read: History of Railways in India
Socio-Economic Effects of Railways Worldwide
Railways, as a mode of transportation, have had significant socio-economic effects worldwide.
Economic Growth:
Railways are crucial for the efficient movement of goods, including raw materials, finished products, and agricultural produce. This contributes to economic growth by reducing transportation costs and improving market access.
Railways played a pivotal role in the industrialization of many countries, enabling the expansion of industries by providing reliable and cost-effective transportation for raw materials and manufactured goods.
Urbanization and Regional Development:
Railways have facilitated urbanization by connecting rural areas to cities and enabling the movement of people in search of employment and better living conditions.
They connect remote and underserved regions to urban centers, helping to reduce regional disparities in economic development.
Employment:
Railways create jobs in construction, maintenance, operations, and administration. These jobs often provide stable employment opportunities, especially in rural areas.
The railway sector generates additional employment in related industries, such as manufacturing, logistics, and hospitality.
Tourism:
Railways often pass through scenic areas, and heritage railways attract tourists, contributing to local economies through tourism-related businesses like hotels, restaurants, and tour operators.
Reduction of Environmental Impact:
Rail transport is generally more energy-efficient and has a lower environmental impact compared to road or air transport.
It reduces greenhouse gas emissions and air pollution, contributing to better air quality and public health.
Improved Access:
Railways improve access to education and healthcare facilities in remote areas. Students and patients can travel to urban centers more easily, reducing the urban-rural divide in access to essential services.
Railways provide a faster means of transportation, reducing travel times and improving the efficiency of business operations.
Railways help alleviate road congestion in urban areas by diverting the transportation of goods and passengers to rail lines
Cultural Exchange:
Railways facilitate cultural exchange by allowing people to travel and experience different regions and cultures. This can promote tolerance, understanding, and a sense of shared identity.
Rural Development:
Railways encourage agricultural development by providing a means to transport agricultural products to markets. They also facilitate the import of fertilizers and machinery.
Conclusion
While railways have numerous socio-economic benefits, challenges also exist, such as the high cost of infrastructure development and maintenance, the need for modernization and innovation, and competition from other transportation modes.
Additionally, the impact of railways can vary depending on factors like infrastructure quality, governance, and investment levels in the sector. Therefore, the socio-economic effects of railways can differ significantly from one country or region to another.
Previous year question
Q. Bring out the socio-economic effects of the introduction of railways in different countries of the world. (Answer in 150 words) (GS Paper 1 2023)
-Article by Swathi Satish